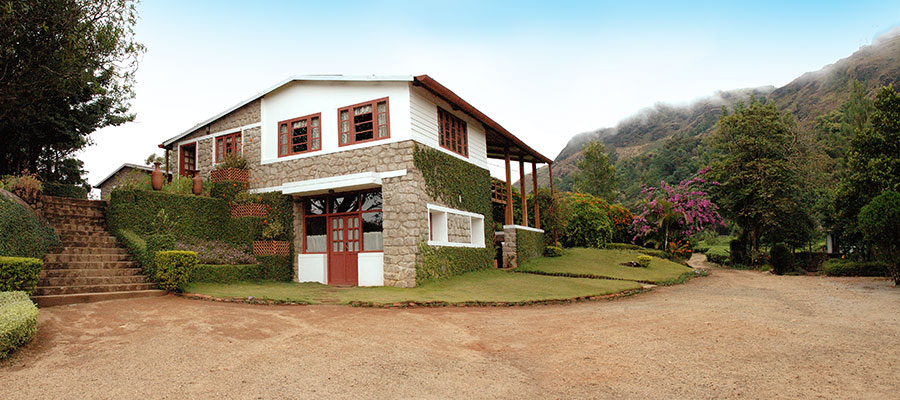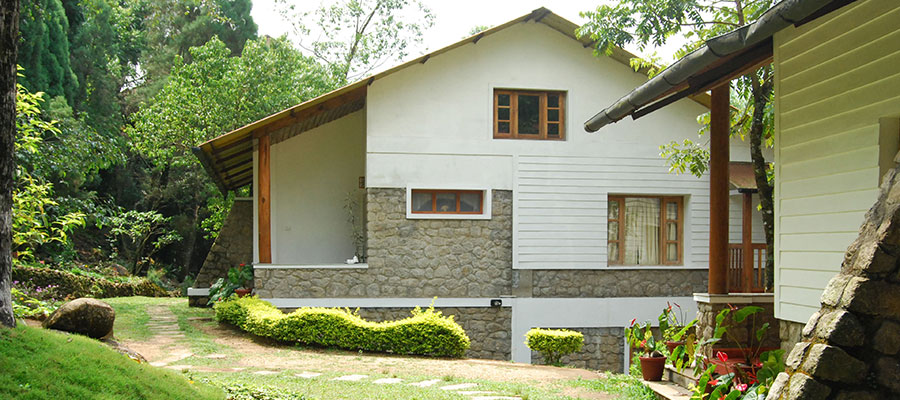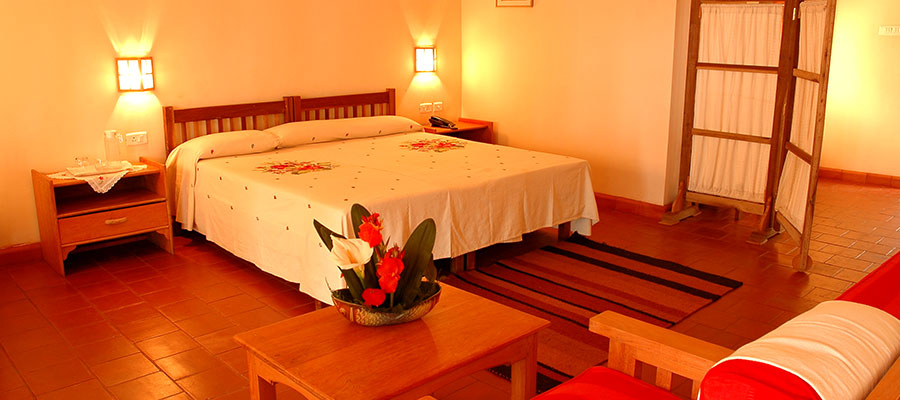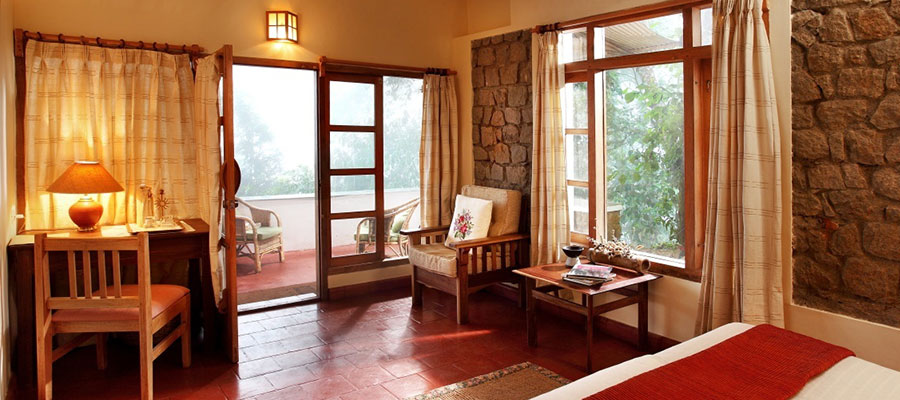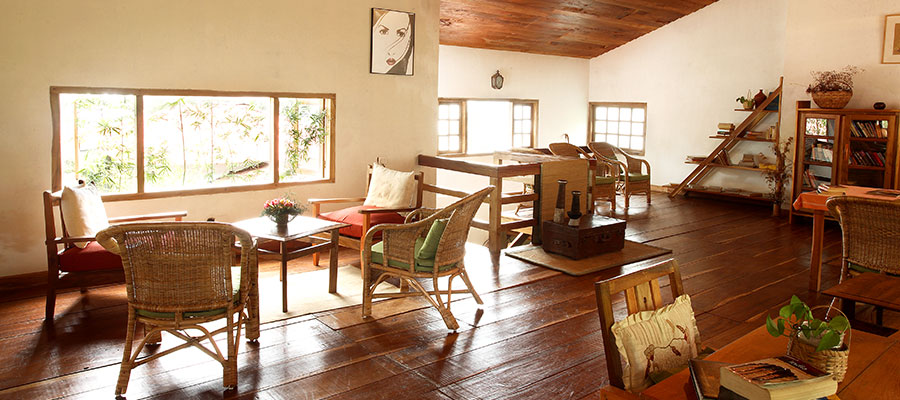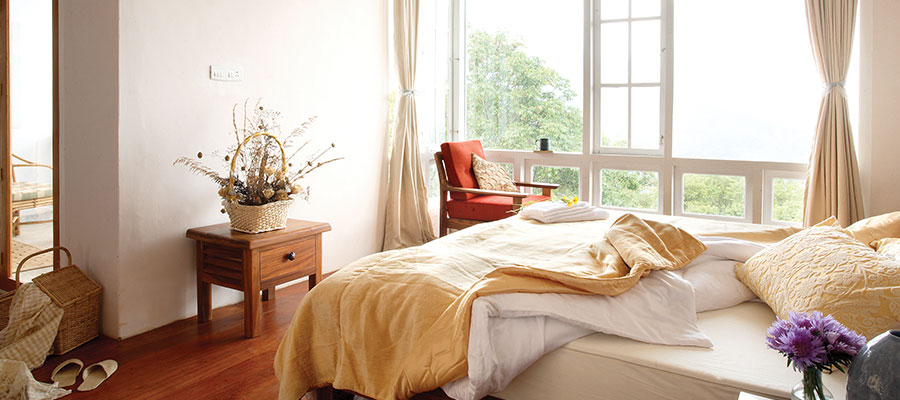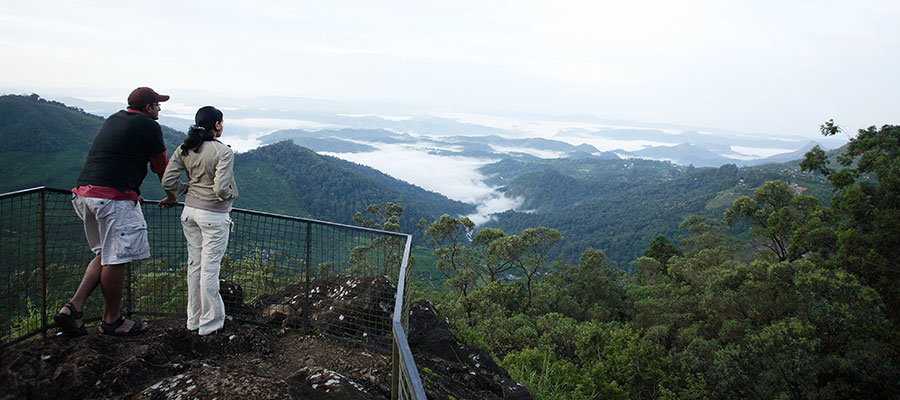 The Windermere estate is a charming cardamom estate perched on high hill, among verdant green tea plantations and misty blue mountains. A nature retreat with a Scottish Highlands feel, the estate includes 55 acres of undulating rises and dips covered with cardamom & coffee, located on the slopes of the Western Ghats.
The resort is a low-key, tranquil place offering beautiful nature walks and activities and is recommended for nature lovers. With hosts living nearby, the guests are ensured of efficient service and a personal care.
Accommodation
Windermere Retreat has 18 plush home style accommodations with comfortable wooden beds, handmade with local teak and maple wood. Cotton linen and hand embroidered furnishing gives the rooms a unique charm.
Rooms are set in bungalows built like the plantation homes of yore with high gabled roofs and wooden and terracotta floors.
The categories of room at Windermere are:
Garden Room: The Garden rooms comes with a private verandah with either a valley view or garden view.
Cottage: Named after the crops that grow around the estate, the cottages are all valley view. The two Coffee Cottages comes with a cozy sit in area, and the rest six 'Cardamom', Vanilla', & 'Tea' cottages have their own balconies.
Planter's Villa: The 1,200 sq ft planter's Villa come with wooden flooring, a sitting area, a semi-dining area, big bathrooms and a balcony that offer a breathtaking view of the mountains.
The rooms do not have air-conditioning or fan and none of these are required.
Dining
Windermere is a gourmet's delight offering the choicest of meal using the fresh produce from their inhouse farm. A team of very efficient chefs whip up traditional Malayali, oriental and continental meals, often using Dr Simon's own family recipes. The menu features more meat dishes including bacon, sausages and locally-raised beef, pork and mutton.
The Barn: The Barn is the main restaurant of the estate offering a variety of Continental, Oriental and Indian cuisine. The restaurant is exclusively reserved for in-house guests.
The Hut: The Hut is a rustic space serving tea and snacks. With smoothened stumps of eucalyptus and oak trees as chairs and large hunks of wood nailed and riveted together to form a table, the Hut is the perfect place for a casual relaxed evenings.
EXPERIENCES
Windermere offers many experiences for the nature lovers. Guided nature walk through the cardamom plantation is a daily activity at the estate. The 4 km route takes about 2 hours to cover, and packs more than a few exhilarating moment through dense covers of evergreen forests.
Morning walk through tea plantations to the nearby waterfall can be organized for early risers. Apart from this, the guests can visit a tea factory and museum.
The other activity at the estate include birdwatching tours, trip to the nearby Eravikulam National Park and Yoga sessions in the morning.