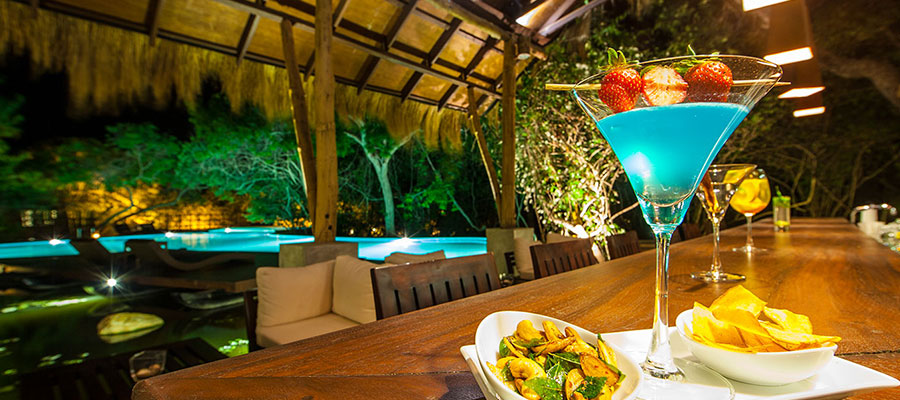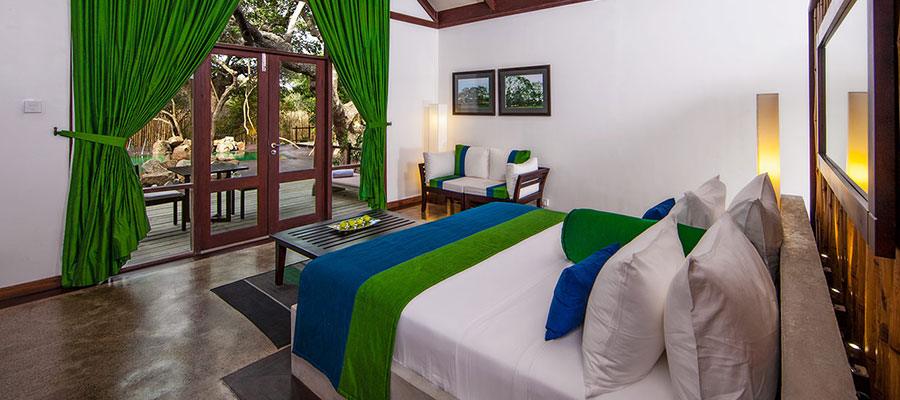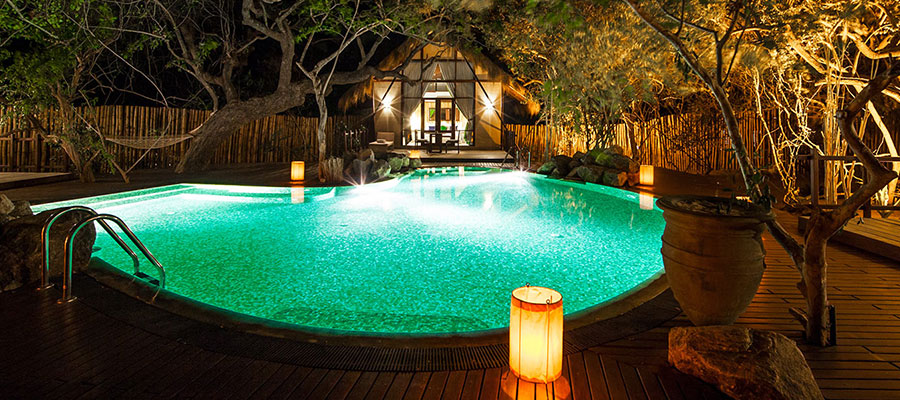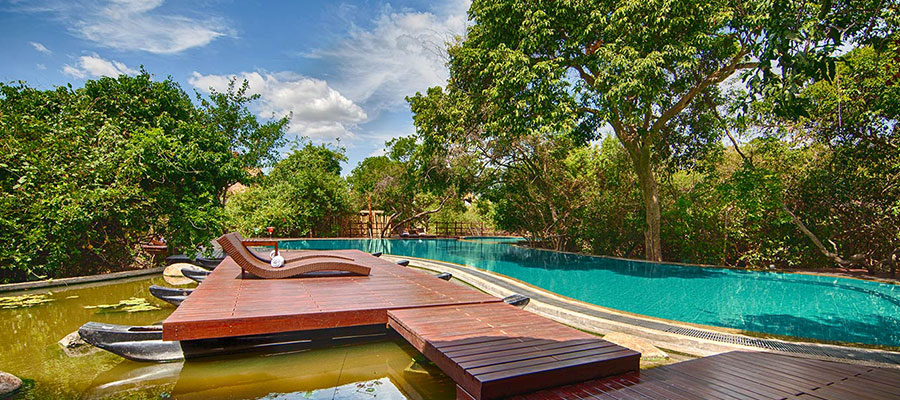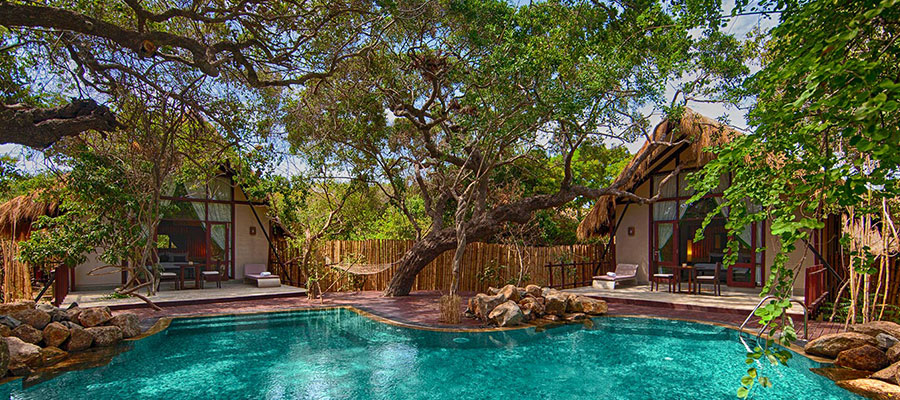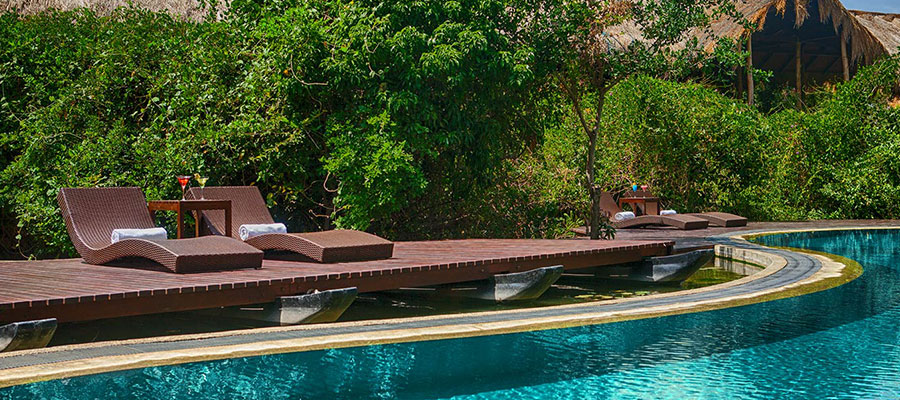 Located close to Trincomalee, this ocean beach resort has artfully incorporated existing trees and natural plant life into the hotel's design, making guest feel like they are in a luxurious tree house. The guestrooms are well adorned with warm colours and modern conveniences while the resort offers a myriad of facilities from a restaurant catering the best seafood and fusion dishes as well as a fitness centre, bars and wellness facilities.
Accommodation
Built in harmony with nature and providing guests spectacular views of the ocean, the Jungle Beach Resort offers 48 luxurious villas crafted by local materials yet emanating a modern feel. Each villa tucked deeply within luscious foliage, offers utmost privacy and seclusion. Spacious 650 square feet villas, each one luxuriously appointed with king sized beds, high-end entertainment systems, private decks and outdoor rain showers (excluding Lagoon Villas). crafted by local materials yet emanating a modern feel.
The Villas at Jungle Beach can be categorised into:
Beach Cabin: Overlooking the beautiful Indian Ocean, the Beach Cabins are located along a private beach. The cabins offer exquisitely adorned living spaces with a vaulted ceiling, roofs thatched with Iluk leaves and a private out-door terrace. The cabins feature polished cement floors, organic cotton covered furnishings, beautiful Sri Lankan artifacts and complimentary WiFi. The cabins have their own private walkway to the seashore adorned with sparkling sand, where one can lounge while being attended to by helpful staff, or can hide away in a private clearing under the stars for a beach front signature dining experience-one of the many on offer.
Jungle Cabin: These are stand alone cabins with spacious interiors featuring polished cement floors, organic cotton covered furnishings, beautiful Sri Lankan artefacts with King –Size bed, down pillows, luxurious cotton bed linen and terry bathrobes. The villas also have a large bathroom with indoor and outdoor rain showers, an outdoor living space with two day beds, a dining table and chairs.
Lagoon Cabin: Lagoon Cabins are designed to an eco friendly concept and offer breathtaking views of the surrounding area. Each of the lagoon cabins offer a tasteful spread of luxury and traditional deco tucked away amidst a serene backdrop of thick foliage.
Jungle Cluster Villas: A cluster of Villas allows groups to share the adventure, with their own private pool. Cluster Villas offer a private ambiance with the traditional UGA luxurious amenities and service. These spacious rooms are adorned with beautiful artifacts and come with a large bathroom with indoor and outdoor rain shower.
Dining
Restaurant: The elegantly designed spacious restaurant overlooking the lush green vegetation and pool, offers mouth-watering dishes made with a light fusion of contemporary international and Asian flavours, using the freshest locally sourced seafood and healthy natural ingredients. The restaurant also serves authentic Sri Lankan cuisine immersed in local ingredients and flavours. Succulent seafood platters prepared from the fresh catch of the day is the highlight of the unique dining experience at Jungle Beach.
Private Dining: The guest can choose the backdrop for their gastronomic journey of discovery. Imagine tasting exotic cuisine amidst a lush green jungle backdrop bringing one closer to nature or having a romantic picnic on the beach, lulled by the gentle sound of waves as one sits under a canopy of stars. From exquisitely prepared five course meals to delectable local seafood dishes, private dining at Jungle Beach lets guest savour the unique flavours of authentic Sri Lankan cuisine in truly enchanting settings.
EXPERIENCES
At the Resort:
Cookery: Guest can join one of Sri Lanka's top chefs to learn how to prepare some of this island nation's signature dishes characterised by its wide variety of aromatic spices and fiery heat along with the distinctive infusion of coconut.
Nature Cycle Trail: Guest can get an insight of rural life on a gentle cycle ride to Maduwakulam Tank via the saltpan. Marvel at the sheer variety of Sri Lanka's abundant wildlife including water and migrant birds (depending on the season) in addition to wild peacocks, parakeets and hornbills, as well as the possible sighting of elephants and crocodiles that inhabit Maduwakulam tank.
Guest can also enjoy Jet Skiing, Kite Making, Horse Riding or perhaps relax in the swimming pool or take an Ayurveda massage or rejuvenating beauty treatment at the Spa.
Excurions: Below stated excurions are possible from Jungle Beach:
Whale and Dolphin watching: The tour is available from May to October and duration of the tour is 3.5 hours including 1.5 hours travel time.
Pigeon Island Marine National Park: Discover the spectacle of this protected tropical underwater world with over 100 species of colourful corals teeming with 300 types of reef fish, as well as Black Tip reef sharks and a variety of rays and sea turtles. Options include diving and/or snorkelling.
Kokkilai Bird Sanctuary: Situated on the Kokkilai Lagoon, this sanctuary is home to the rare and endangered Black-necked Stork as well as large numbers of pelicans and hundreds of migratory birds.
Thiriyai Temple: The ruins of the most ancient Buddhist Dagaba in Sri Lanka, Girihandu Seya situated on top of a 212 foot rock, offer stunning 360 degree views of the surrounding countryside only recently accessible and Thiriyai itself, which was once an old seaport of the Jaffna Kingdom. Immerse yourself in the tranquillity and reflect on the fact that the Dagaba is believed to enshrine a relic of hair from the Lord Buddha himself.
Trinco City Tour: Guest can take a tour to explore the history and spiritual aspects of Trincomalee.
Fishing in the Mangroves: Experience the serenity of the mangroves at dusk and the slower rhythm of life of the local fishermen. Marvel at the abundance of Sri Lanka's endemic and migratory birdlife and other wild life such as crocodiles, monkeys and possibly elephants in the beauty of an untouched paradise framed by the backdrop of spectacular sunsets. Guest can also add to the experience by trying their hand at fishing.
Fishing in the Sea: Guest can experience the thrill of fishing out in the ocean with knowledgeable local fishermen. Equipment and refreshments provided.
Velgam Vihara: The little known ruins of this ancient monastery, venerated by Sinhala and Tamil Buddhists alike as the ancient stone inscriptions testify, lay hidden in the dense jungle near the picturesque Periyakulam tank. Combine this with a visit to the Kanniya Hot Wells mystified in legend and believed to be a part of an ancient spiritual network,whichgives rise to the notion that thesewaters have magical healing properties.
China Bay Golf Club: A refreshingly new Sri Lankan golfing experience set in 171 acres of lush greenery and trees. Every aspect of the course has been newly crafted with views of one of the most spectacular bays in the region. Clubs and caddies available.
The other attractions near Trincomalee are the Hot Springs, Lovers Leap and the Temple of a Thousand Pillars.