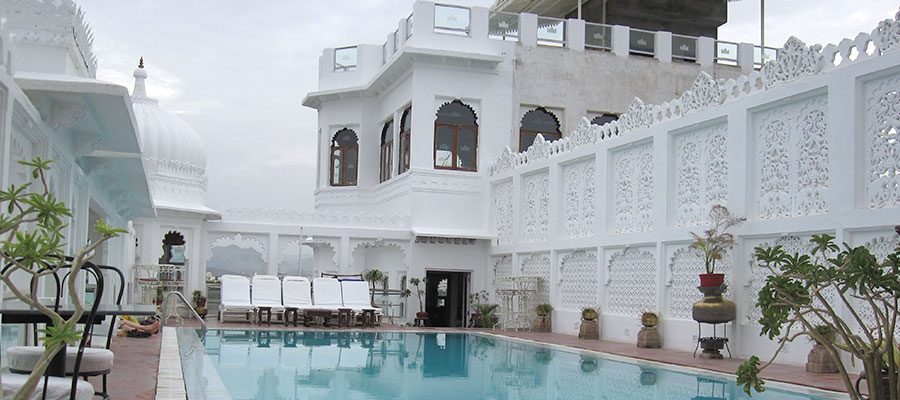 A short, pleasant stroll from the heart of old city, UdaiKothi is a remarkable hotel set in a serene and picturesque surroundings of the Lake Pichola. Conceptualised, designed, created and run by Kunwar Vishwavijay and his wife Bhuwneshwari Kumari, UdaiKothi is a superbly modern hotel, which pampers guests' with all the facilities, amenities and luxuries of the 21st century. UdaiKothi offers guests the best of both world; the latest standards, blending happily with old-world charm.
Spacious lawns stretch out on the South side of the hotel, bordered with multicolored climbing Bougainvillea and other beautiful shrubs and flowers, an ideal venue for large celebrations.
Accommodation
Udai Kothi has 64 well-appointed Luxury Rooms and Suites with International Amenties and traditional decor. Each guestroom has its own character and style, with carefully selected furniture and décor. The rooms have a delightful view that can be savored form the window seat. The rooms offered by the hotel are the Deluxe room, Super Deluxe room, Garden View Suite, Lake View Suite and Udai Suite.
The amenities included are air conditioning, colour television, internet access, mini bar, safe, telephone, in-room menu, tea/coffee maker, complimentary Wi-Fi access, writing desk, music and DVD player.
Dining
The hotel has an elegant rooftop restaurant with its cool palm court making it a perfect retreat from the midday heat. Dine in the evening in a romantic ambience, muted lighting, gentle music, shining cutlery and spotless napery. The reflection of the illuminated palaces in the waters of the lake and the twinkling lights of the city won't fail to enchant guest.
One can either choose to relax or swim in the Udaipur's only rooftop pool while being pampered with drinks, snacks or meals, and musical entertainment in the evening.
Experiences
Wedding: The hotel specialises in the creation of celebrations that are unique, personalized and elegant. The hotel can work with the ideas of the guest and blend it with their experience to design a beautiful, memorable wedding day that is unique to the personality and style of the guest.
Boat Ride on Lake Pichola: The Hotel has its own boat which starts from the ghat (lake side) 2 mins from the hotel and it will take you around the lake giving you the view of the lake palace, city palace and some other ghats. The boat rides can be availed of during the day and evenings. Days provide magnificient view and the evening are absolutely romantic.
The hotel also offers an in-house Spa and a Rooftop Jacuzzi for those looking to relax and unwind.