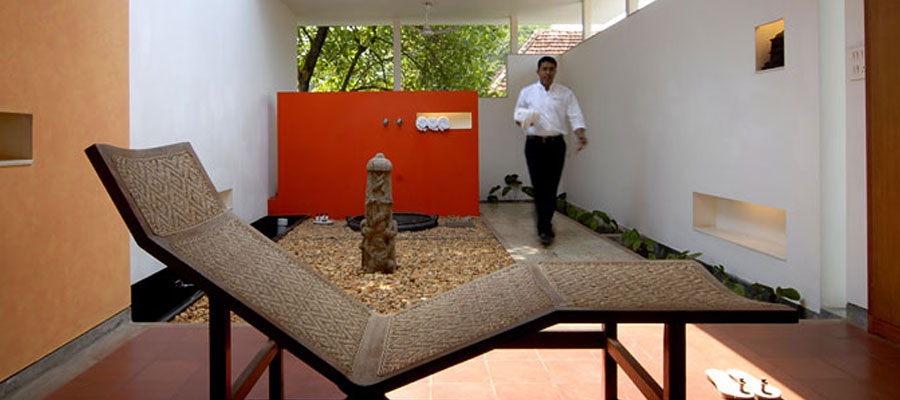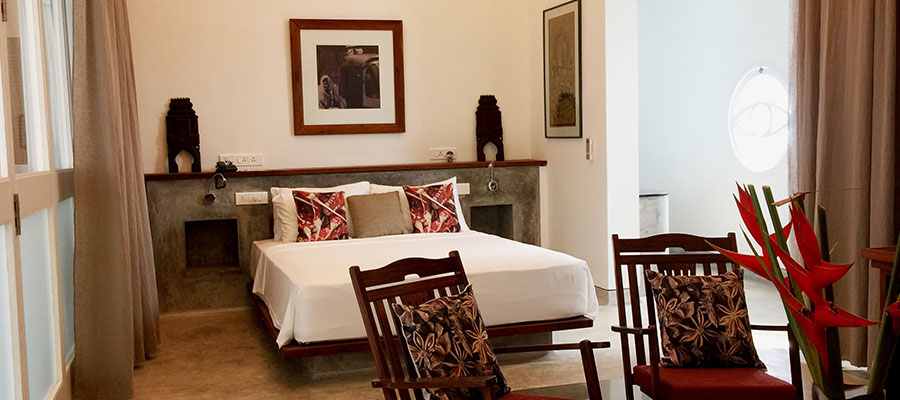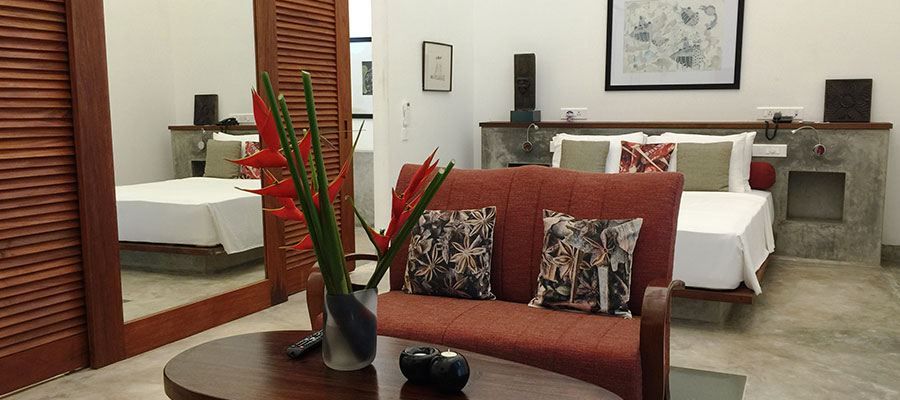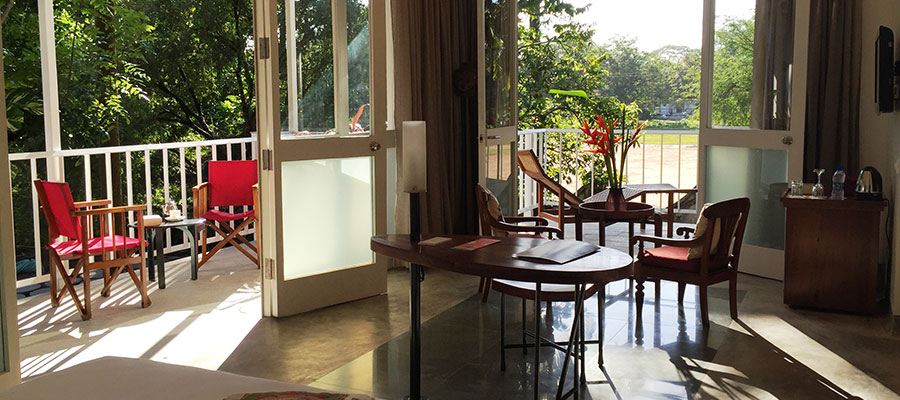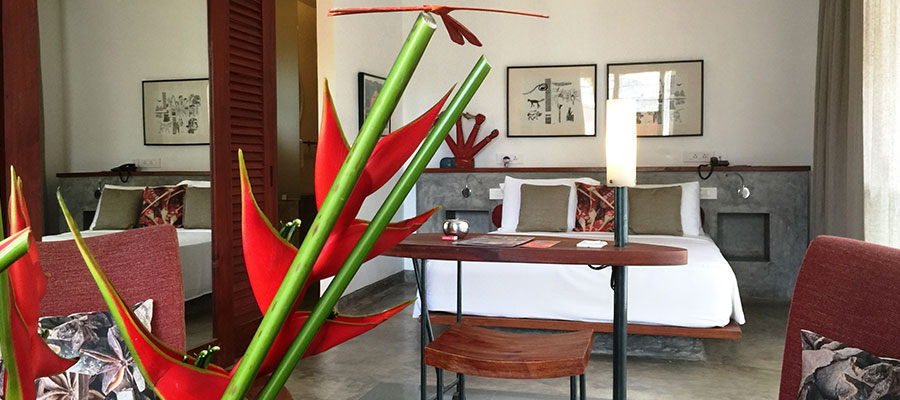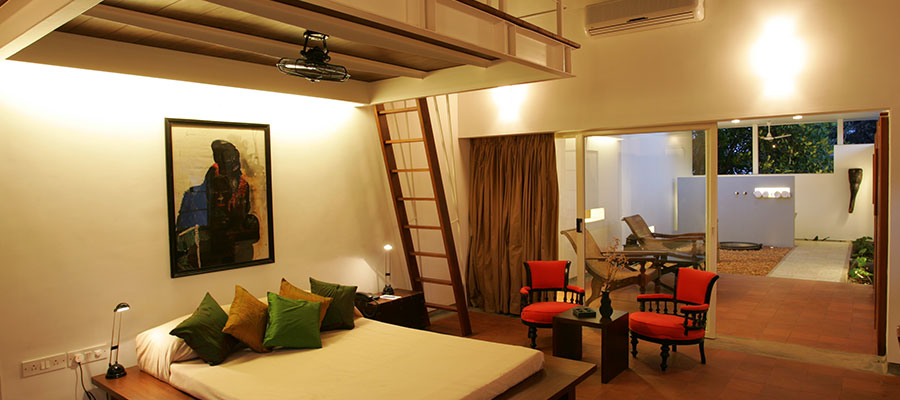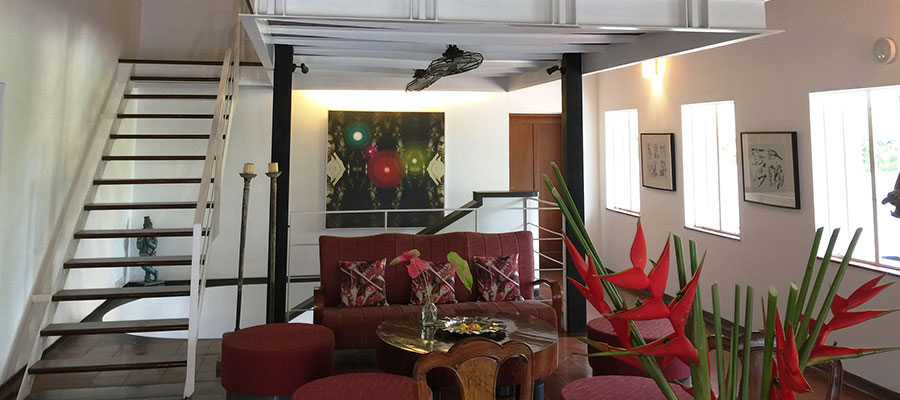 Trinity is a three suite contemporary design inset in an old building that housed the offices of the once mighty Dutch East India Company. Giving the feel of a contemporary apartment, it's ideal for those who want more privacy than they'd get staying at a hotel. An intimate city retreat that looks more like a smart art gallery than a place to stay, Trinity offers 'a world within' to the paradise lover.
Facing the Parade ground, Trinity is located opposite St. Francis Church in the heart of historical Fort Cochin. It is ideally located for walking through Fort Cochin, sightseeing, antique and curio shopping at Jew Town and tours into the backwaters. It is a two minute walk from The Malabar House and 45 km from Cochin Airport.
Accommodation
The trinity has 3 suite rooms well equipped with all modern facilities The three rooms at the Trinity are:
The Red Room - The largest room with patio terrace and open 'garden' bathroom,. The room is equipped with TV, mini bar, DVD player and an additional mezzanine bed. The original lithograph of M.F. Hussain is the highlight of the room.
Blue Room - The Blue Room comes with an open 'garden' bathroom and an additional mezzanine bed. Designed with contemporary Indian art, the room is well equipped with A/C, TV and DVD player.
The Yellow Room - Styled with contemporary tribal art and photography, Yellow room has an open patio & a separate dressing area. The room is equipped with TV, & DVD player.
Dining
Trinity guests can avail the services of Malabar junction, the acclaimed restaurant at Malabar House. A gourmet, restaurant specialising in refined & market fresh food, the restaurant is reputed for having one of the finest seafood in the South.
The guests also have access to Divine, the wine lounge at Malabar House.
EXPERIENCES
Trinity offers all the activities and experiences offered at Malabar House. Also, the guests can avail the Ayurveda facilities at Malabar house