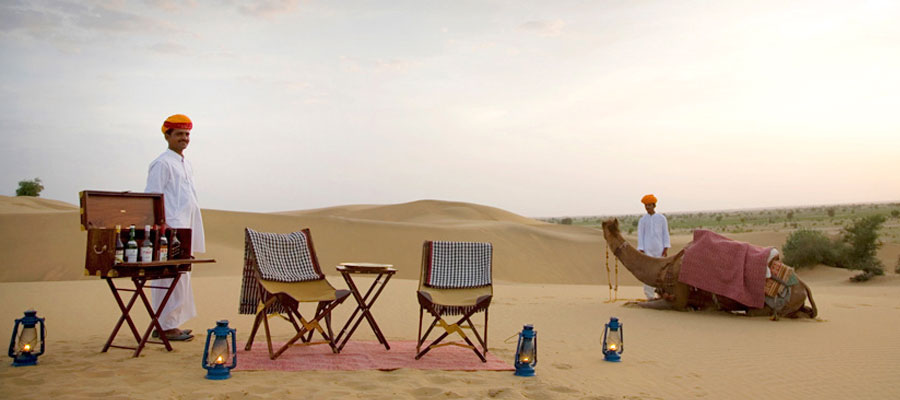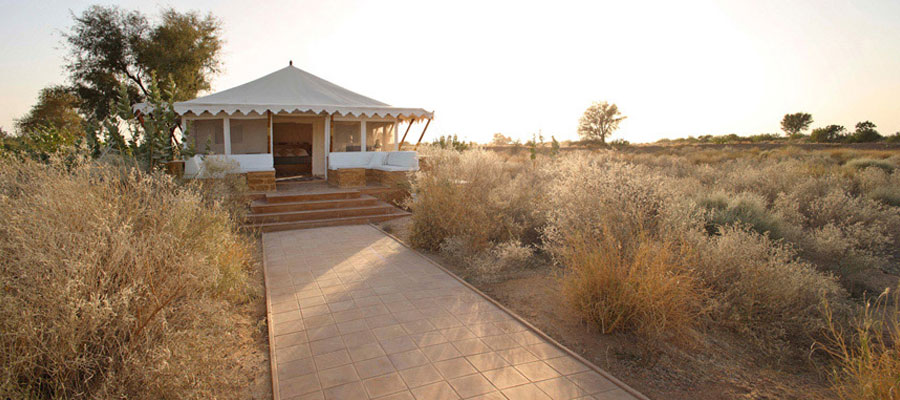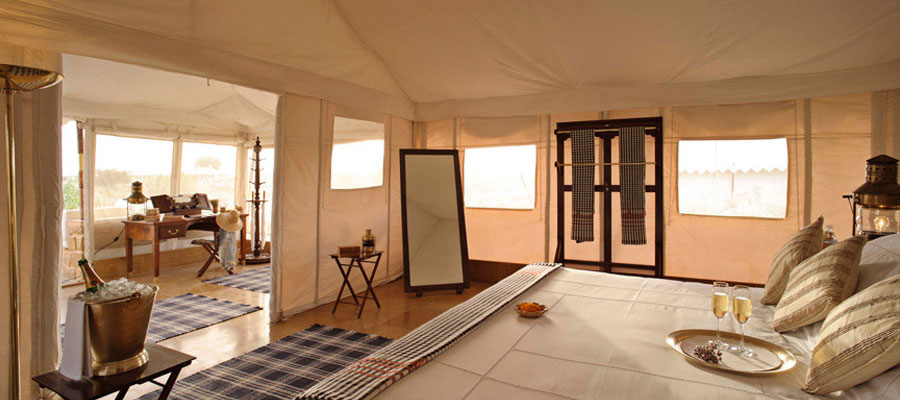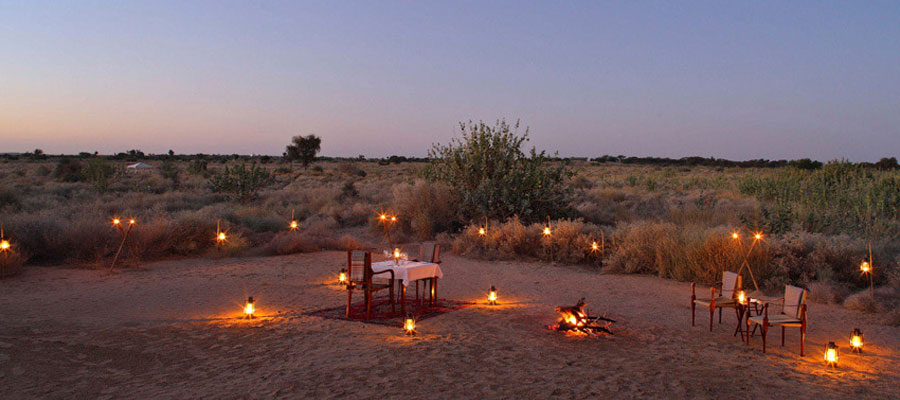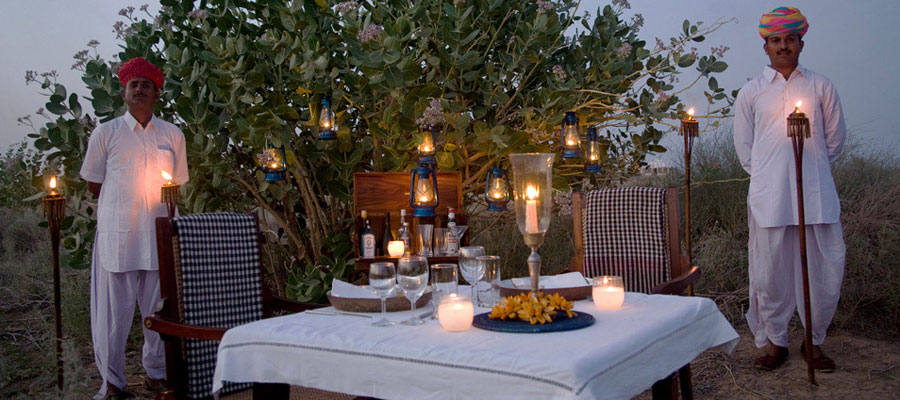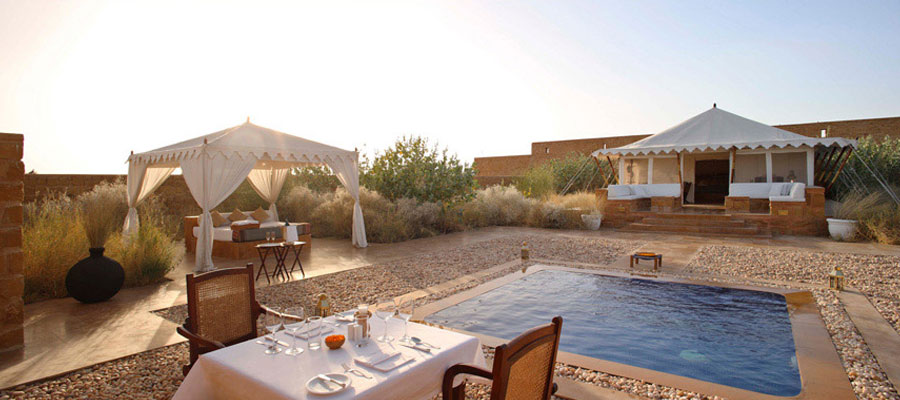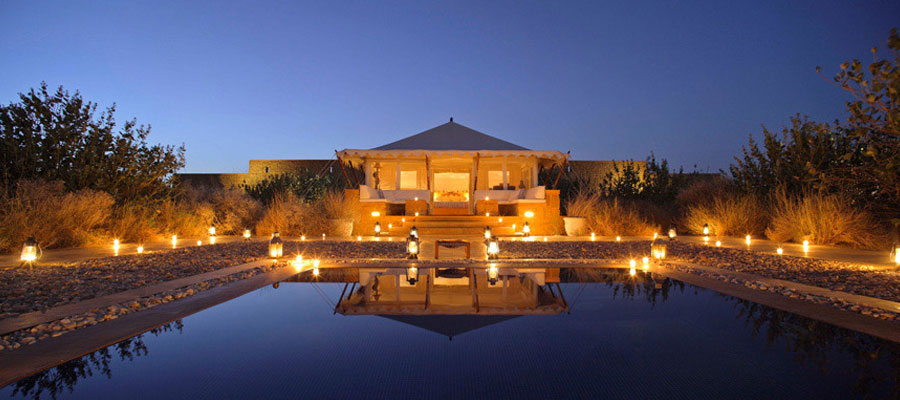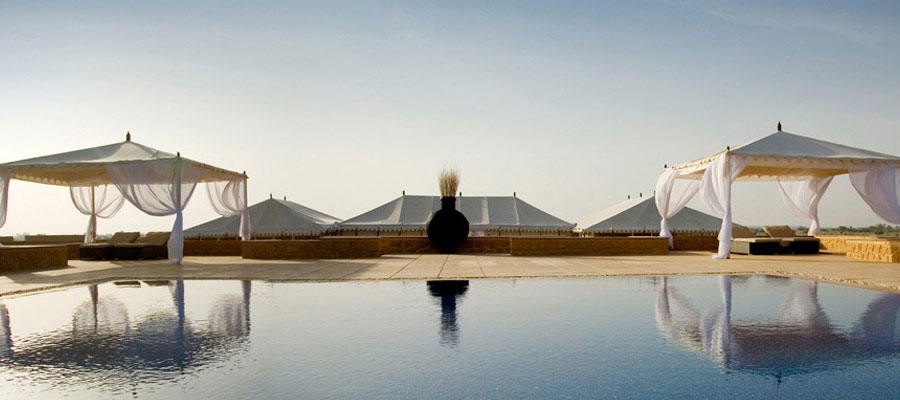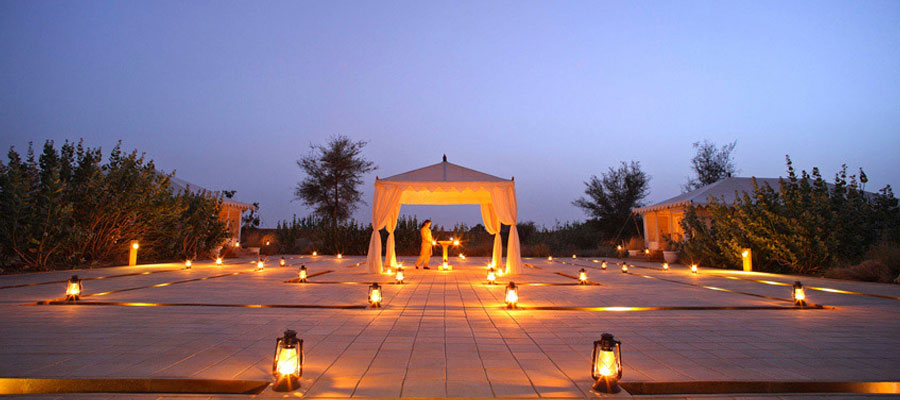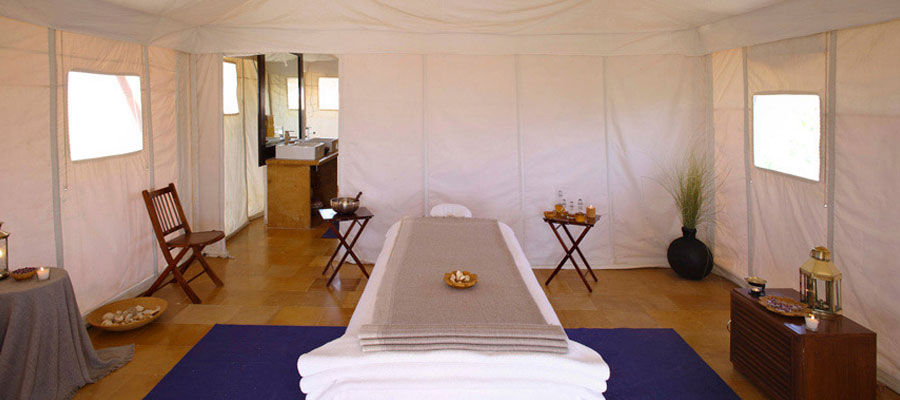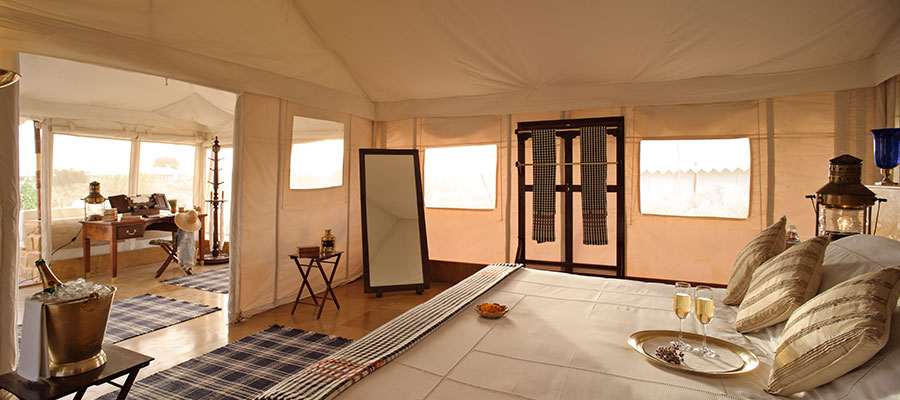 The Serai, a luxurious desert camp and spa, located close to the medieval city of Jaisalmer is a spectacular getaway. Set on a hundred-acre private estate of indigenous desert scrub, The Serai draws inspiration from the designs of the royal caravan sites of Rajputana; blending their dash and vivacity with modern amenities and services.
The Serai is the culmination of a dream, a veritable recreation of a lifestyle enjoyed by the rulers of Rajputana in repose. The camps are the perfect place to venture into the mystical environs of Jaisalmer or discover its fabled golden fortress, now a UNESCO World Heritage Site.
Accommodation
The Serai has 21 elegantly designed tents furnished with old camping style furniture. The Tents at Serai are categorized into:
Tented Suites: There are fourteen tented suites with king size beds set on a stone platforms, with soft linen, tartan throws, plump pillows and sand-coloured cushions.
Luxury Tented Suites: These suites come with a private walled garden and sunken heated dip pool with Jacuzzi.
The Royal Tent: An epitome of luxury, the Royal tent is in a private encampment with a private garden and has a spa, an outdoor pool and a private tent to dine and lounge in.
All the tents at Serai are raised on honeyed sandstone and each has a terrace lounge, a sitting room and an airconditioned bedroom with ensuite double-sink bathroom.
Dining
The Resort has a separate Dining Tent that serves sumptuous local delicacies as well as delicious western repasts drawn from daily changing menus that are meticulously planned to give the guests eclectic offerings using fresh ingredients. Alternatively, the guests may choose to dine anywhere on site and the hosts are always on hand to create an experience tailor-made to suit your particular desires, or moods.
The resort also has a separate bar tent furnished with deep club-chairs set around plush accoutrements and campaign furnishings. The drink menu is comprehensive and offers all the cocktails, mixers and liqueurs, wines and champagne, and there are even custom blended tea and post-prandial Cuban cigars.
Experiences
The camps are perfectly located for excursions to the fabled, twelfth-century desert kingdom of Jaisalmer. Explore the historical Jaisalmer Fort or marvel at the intricately carved Jain temples.
The camp also offers camel safaris; desert drives and sundowners on the sand dunes.
The camp has a highly acclaimed Sujan Spa that is ensconced in a walled garden. The Spa created by the world renowned spa company 'Raison d' Etre', comprises four treatment tents. An eclectic menu of therapies from rousing reflexology to cleansing scrubs and relaxing massages using organic, ayurvedic products is designed for complete relaxation and rejuvenation.
The Serai has a pool styled as a traditional Rajasthani step-well and offers an elevated view of the sprawling symmetry of the camp.