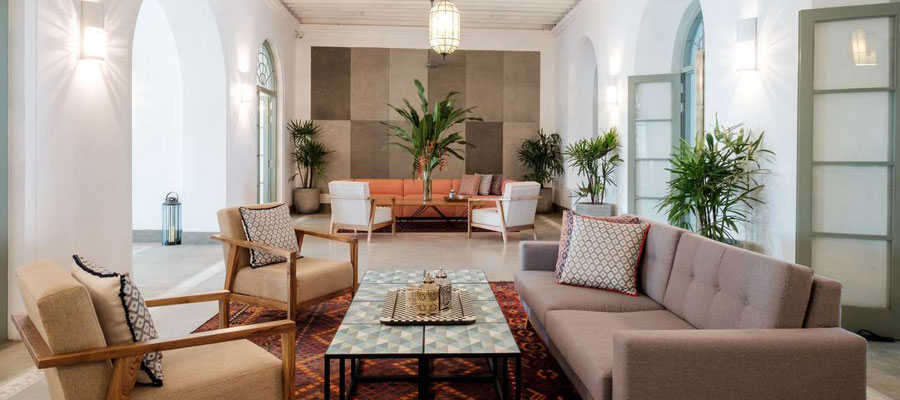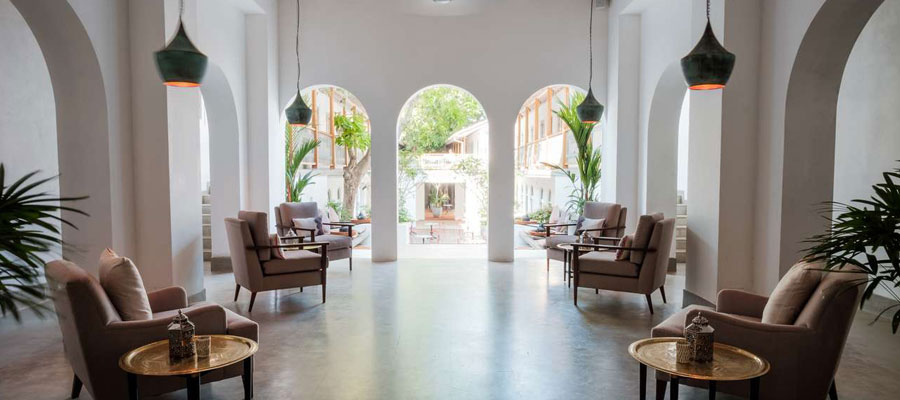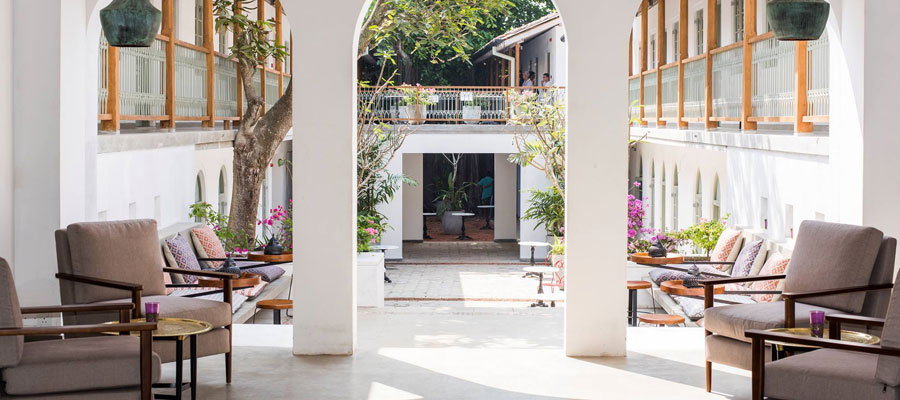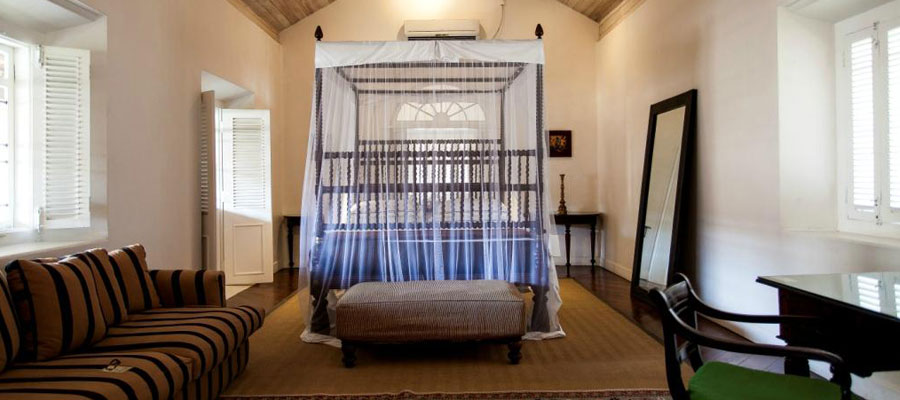 The Fort Bazaar is a beautifully renovated town house hotel, built around a traditional Galle Fort private courtyard in the heart of the Galle Fort area. The Fort Bazaar is an ideal location for guest to explore the Fort's legendary atmosphere or walking the walls of the Fort. Once occupied by spice, tea and gem traders, the Fort Bazaar has undergone an incredible 9 year renovation and is now Galle Fort's newest boutique hotel, restaurant and bar.
Accommodation
The hotel offers 18 tastefully designed rooms categorised as:-
Bazaar bedroom: Overlooking the central courtyard, the bazaar rooms come with high ceilings, king size Balinese Four Poster Bed, gym bag with yoga mat, en-suite bathroom with rain-shower, basin and WC.
Banyan bedroom: Banyan bedrooms come with high ceiling, king size Balinese Four Poster Bed, a private terrace or verandah, ensuite gym bag with yoga mat, en-suitebathroom with rain-shower, basin and WC.
Upper suite: Upper suite are large suites with king size Balinese Four Poster Bed, gym bag with yoga mat, en-suite bathroom with rain-shower, bath tub, double basin and WC. The suites have a large private balcony with fantastic views across the Galle Fort to the Indian Ocean.
Upper Family Suite: Similar to upper suite in all aspects, these suites have an additional loft Bedroom with twin Balinese Beds. This extra bedroom makes the suite ideal for families.
Dining
The hotel has a multicuisine restaurant named the Church Street Social. The restaurant is a hit with the in-house guests' as well as the walk-ins. Styled in contemporary design, the restaurant reflects the history of the locale and its Arabic influencers in its gourmet dishes which feature elements of traditional Moroccan, Turkish and Middle Eastern cuisine.
The menus include tapas, and rustic family-style sharing platters of quality imported cold meats, charcuterie, cheese, homemade pickles, pâtés and dips. Asian fusion flavours featuring fresh fish and contemporary versions of Sri Lanka's traditional cuisine also feature highly, including black pork curry and lagoon crab salad.
Also on offer are some innovative cocktails from the bar or guests' choose a bottle from the wine cellar.
EXPERIENCES
Fort Bazaar offers many interesting activities for its guests. The experiences offered are:
Galle Fort: Guests' can take a guided walking tour of Galle Fort or take a specially prepared picnic up to the guide's favourite spot on the wall and enjoy watching the fort jumpers or the gorgeous sunsets.
The High Tea Experience: Around 4pm, guests' can experience the locally sourced single estate teas and homemade scones, sandwiches and cakes. The high tea can be served in your room, on the verandah or out on the lawn and is complimentary for resident guests.
Surfing: A visit to the surfing hotspots of Midigama and Weligama can be organised.
Cooking Session: Guests' can take a session with the chef to cook Sri Lankan curries, Malay or middle eastern inspired dishes.
Mirissa Whale Watching: Guest's get an opportunity to the world's largest whales and pods of sperm whales, which are only slightly smaller in size, and playful spinner dolphins.
Guided Bicycle Tour: Guests' can take a bicycle tour to enjoy the peace and serenity of the paddy fields, nestled just minutes inland. Mainly flat, guests can cruise at their own pace on a variety of pre-planned routes and will be accompanied by a guide and a trailing Tuk-Tuk with supplies such as fresh coconut.
Tea-tasting session: The hotel can arrange a private tour of the Finlays Tea factory, accompanied by a professional Tea taster and finished with your very own 'Tea Tasting'.
Spa: The hotel has Balinese Inspired spa named the "Z spa". The spa offers a range of treatments and internationally trained therapists from across Asia. All products are chemical-free and made in Sri Lanka by Ophir; the blends are based around the therapeutic benefits of red, green, pink and black tea.