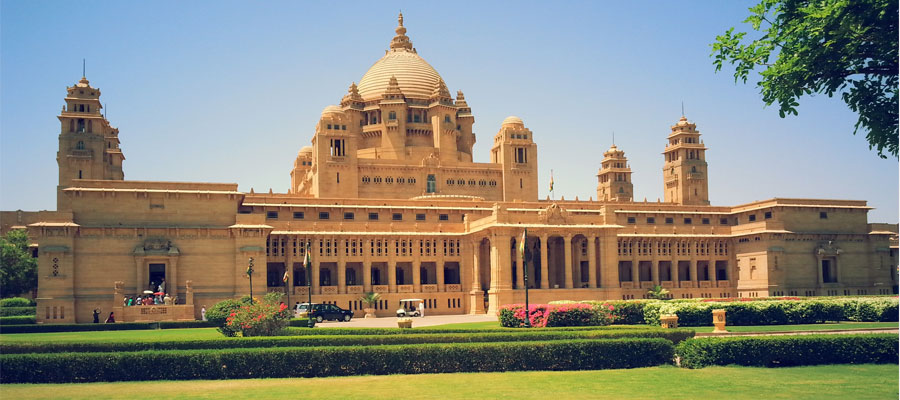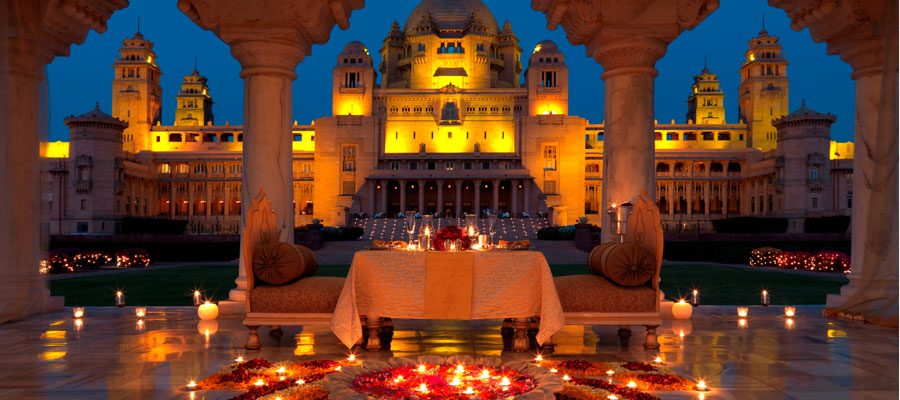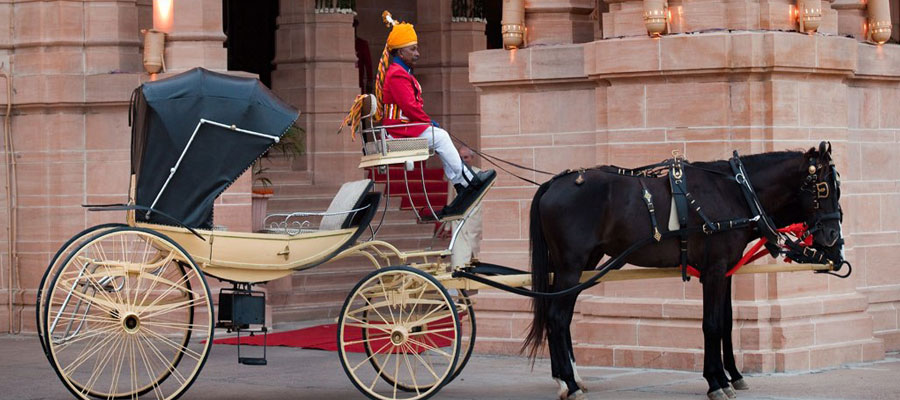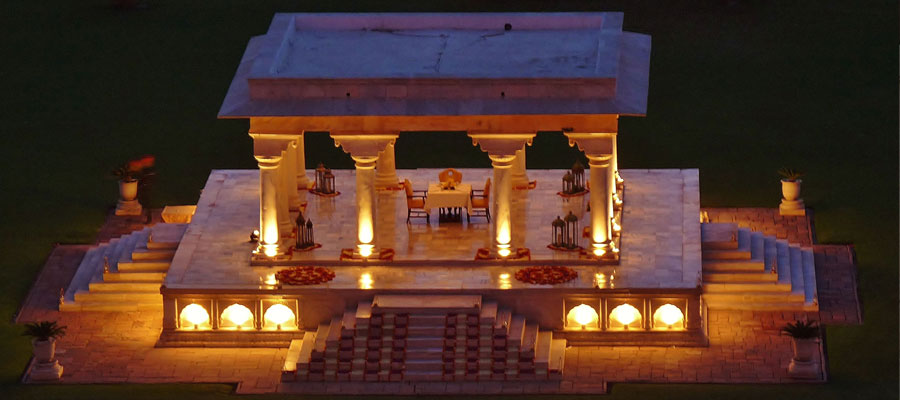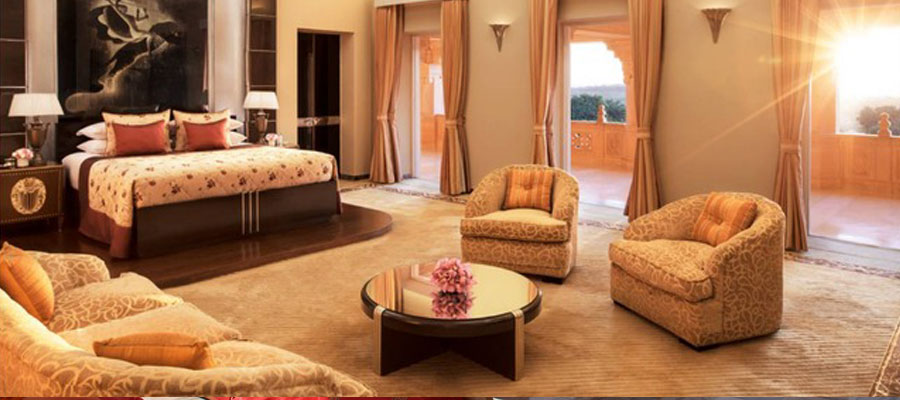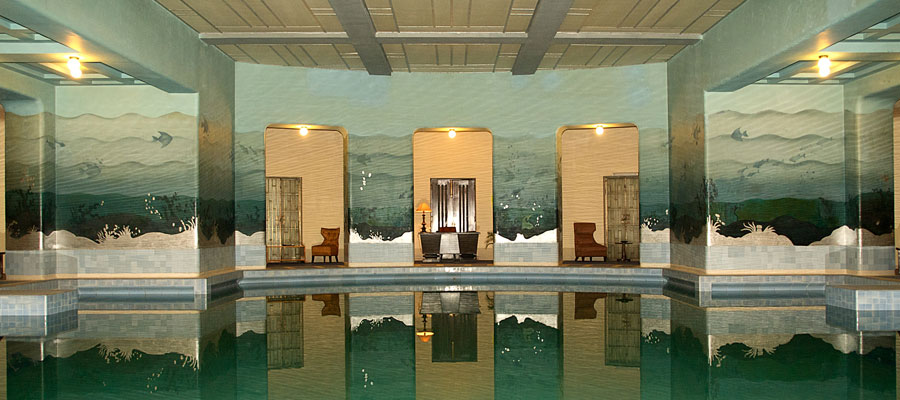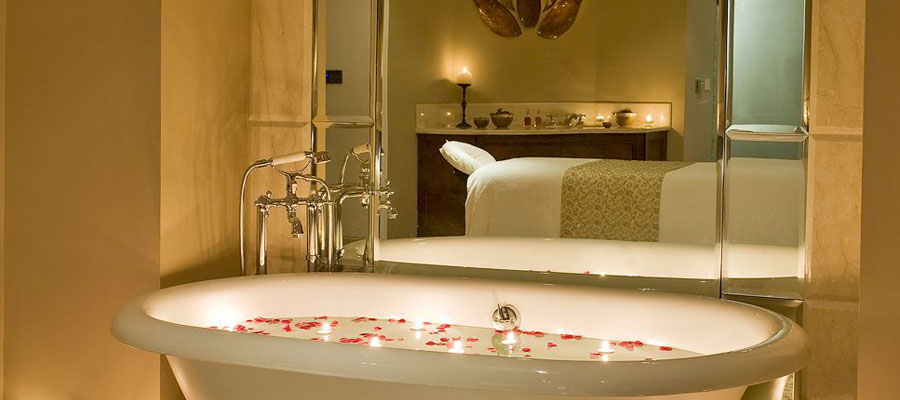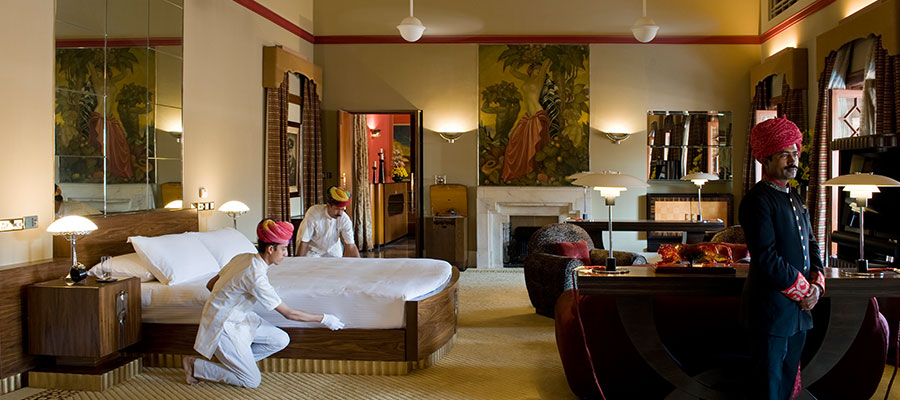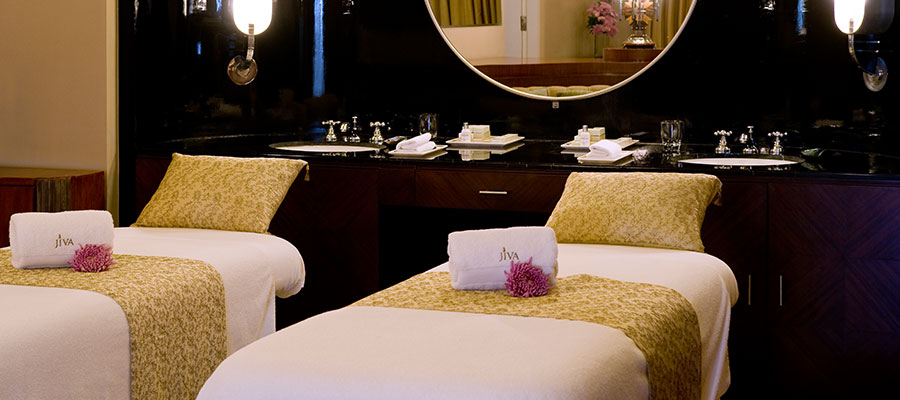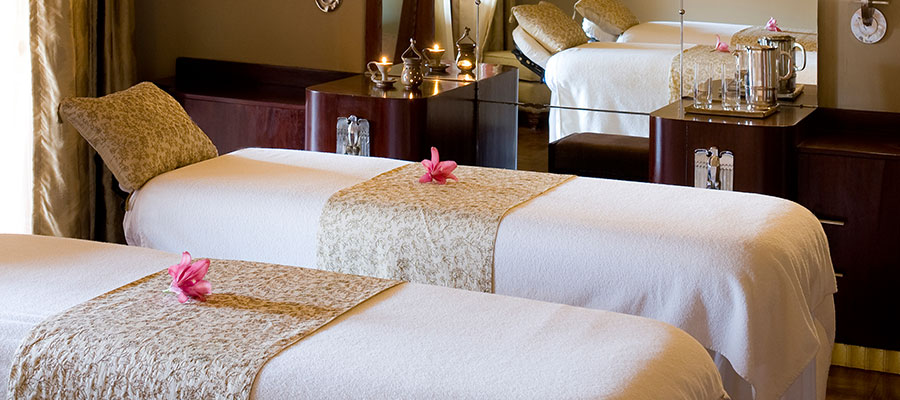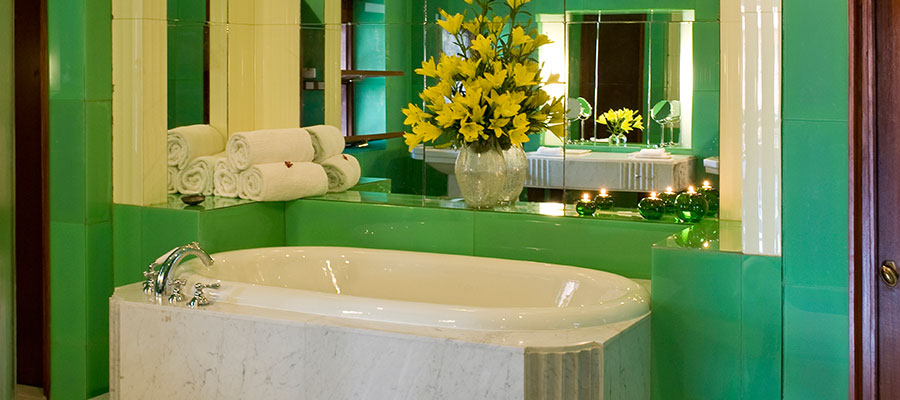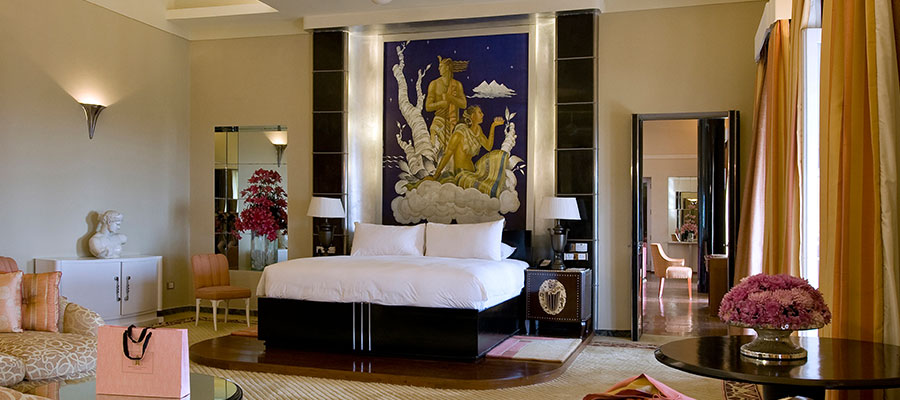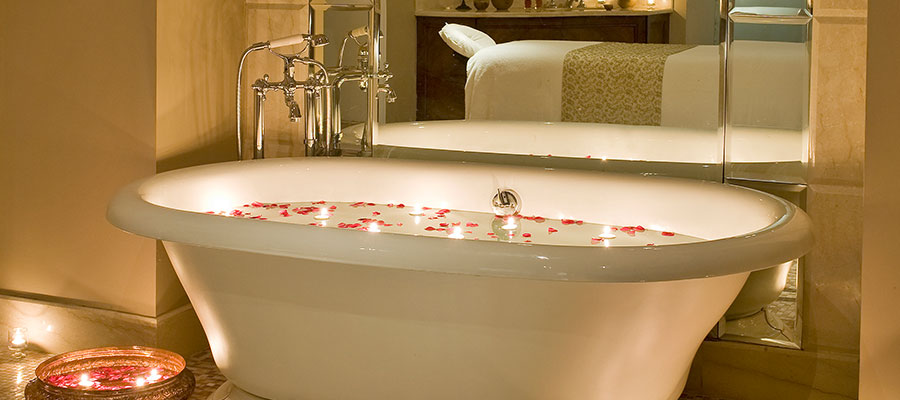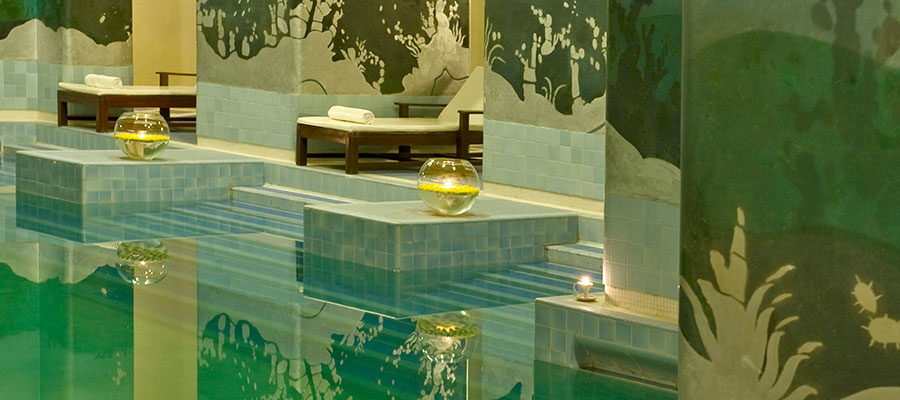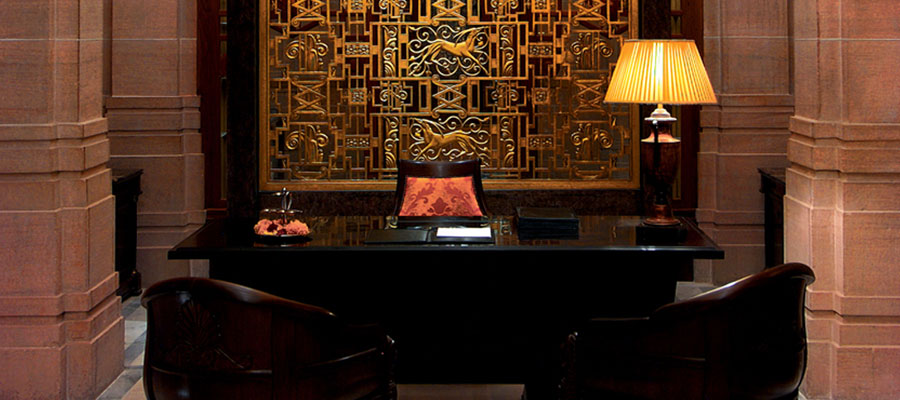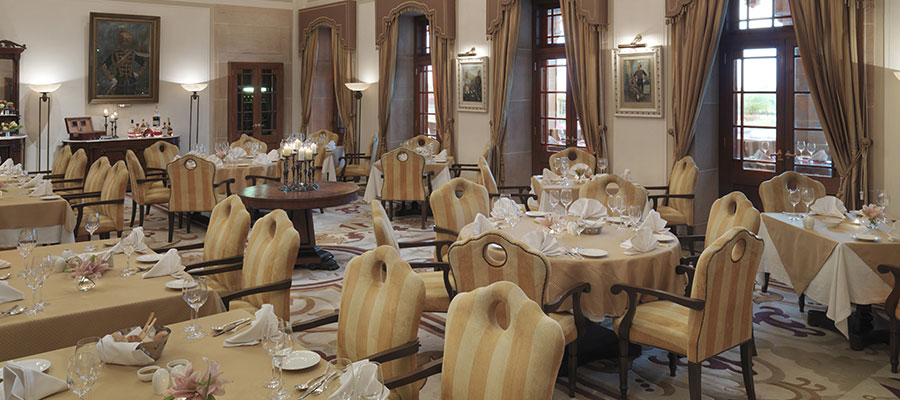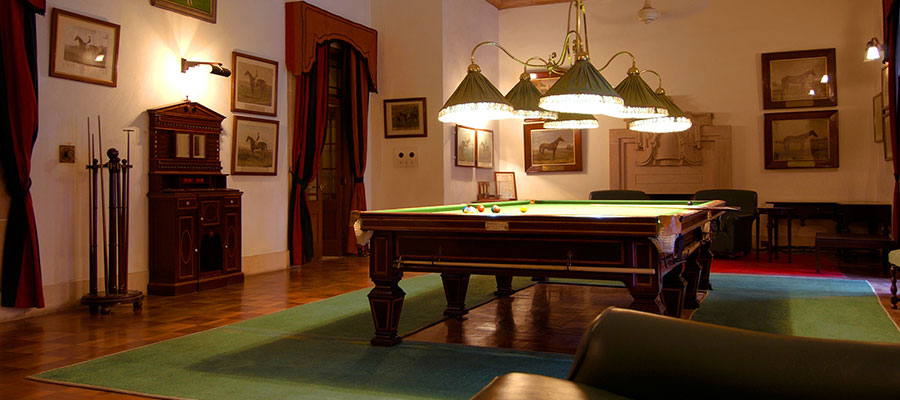 Umaid Bhawan Palace is the last of the great palaces of India and one of the largest private residences in the world - set amidst 26 acres of lush gardens.
The palace is a blend of eastern and western architectural influences. Its majestic 105 - foot high cupola is influenced by the Renaissance, while the towers draw inspiration from Rajput tradition. The lavish interiors with gilt furniture and elegant artwork follow the Art Deco style, complemented by the exotic murals by Polish artist Stefan Norblin.
Umaid Bhawan Palace overlooks the desert capital of Jodhpur, a 15-minute drive from Jodhpur Airport and 1.5 miles from Jodhpur Train Station. Attractions like Clock Tower Market, Mehrangarh Fort and Jaswant Thada monuments are within 5.5 miles of the property.
---
Accommodation
Taj Umaid Bhawan Palace offers 64 rooms and suites, each showcasing the renowned Art Deco style with a distinct ambience.
Palace Rooms : Embellished with Art Deco interiors and equipped with modern conveniences, Palace rooms are a refreshing blend of old and new. Current amenities comfortably co-exist with original décor from princely times.
Historical Suites : These lavish yet, tastefully-appointed Historical Suites are the erstwhile residences of visiting Royalty. Each suite has its own unique theme and all have a different color scheme from classy maroons to gold and sage greens.
An eclectic mix of Art Deco / Neo classical, themed historical suites all have five-fixture feature bathrooms and private sit outs with stunning palace views of the panoramic lawns or courtyards.
Royal Suites : Royal Suites are presented in a luxurious Art Deco style with mirror-finished terrazzo, large bedroom and sitting area. Two bay rooms (living and bedroom) offer spectacular views of the sweeping Baradari Lawns and magnificent Mehrangarh Fort in the distance. Through every piece of furniture and every exacting detail, these suites truly embody a regal lifestyle.
Grand Royal Suites : The Grand Royal Suites were once reserved for visiting royalty. Each suite is different, with subtle underlying and unique themes of a favorite colour or princely passion.
Maharaja Suite : A much earthier and certainly a more masculine mood prevails in Maharaja suite. The Maharaja Suite has murals of leopards, tigers, horses and even of the famed Jodhpur sport, pig sticking. Flaming torch lamps in chrome, plush Ruhlmann sofas in faux leopard skin, the delightful mirrored bar in the drawing room and the original artifacts that still adorn the shelves make this an incredibly handsome suite.
Maharani Suite : Originally designed for and indeed once graced by the beautiful and charismatic Maharani. Designed in pinks, blacks, chrome and mirrors, this suite is indeed worthy of the queen for whom it was built, and all of the original Art Deco décor has been retained. The suite includes spacious drawing and dining rooms with an attached kitchenette, an enormous, private terrace with a spectacular view of the palace gardens and the Mehrangarh Fort, a dressing room with a wardrobe only a queen could find small, and the piece de resistance - a bath, carved out of a single piece of pink Italian marble.
---
Dining
Dining at the Palace, just like everything else, is a glorious indulgence. Fine restaurants, charming lounges and a slew of fairytale dining experiences satiate the palate and the spirit.
Risala
Risala, meaning "cavalry", is a blend of imaginative and sumptuous Continental and Indian restaurant. Outside the windows, one will find spectacular views of the gardens, the city and the magnificent Mehrangarh Fort, while the interior of the restaurant is adorned with royal and martial portraits. Guests can relax while savouring authentic collection of imported and domestic wines that have been acclaimed by Wine Spectator (for the 2nd consecutive year) with a label collection of more than 210 wines to choose from all the regions across the world. The menu consists of many recipes authenticated by time and honored by the royal kitchens of Maharaja.
Pillars
Set in a lovely colonnaded verandah, Pillars offers a perfect setting for a leisurely drink and snacks while reading the newspaper or simply enjoying the stunning sunset. Breakfast is regularly accompanied by the melodic chirping of native birds and one can usually gaze out beyond the pillars and witness peacocks strutting across the lawns in the crisp morning air.
This charming open-air cafe offers spectacular views of the city, the Baradari lawns, and the magnificent Mehrangarh Fort. The menu offers a wide selection of pre-plated meals, snacks, Rajasthani delicacies, full meals and teatime delicacies.
Sunset Pavilion
The Guests are taken in 1940s elevator with carved wood interiors and they make their way through the "Whispers" gallery to begin their journey. The walls have some unique and never before seen picture frames on Royal Family, Hunting Tradition, Vintage Cars, Jodhpur Flying Club etc.
Sunset pavillion serves royal barbecue and international grills. The entire food presentation is very unique. The guests are offered "Mulled Wine/Mulled Grape Juice" (warm) once they reach the restaurant.
The restaurant is the highest Dining Point in Jodhpur. Done up with all the embellishments and motifs from Jodhpur city.
The Trophy Bar
Entering the bar, one automatically experiences the soothing lounge music and finds themselves surrounded by artifacts and wildlife trophies collected by Maharajas during their tenures. Tiger skin cushions, gazelles, bears, large wild boar tusks, binoculars and a collection of fishing gear along with hunting, fishing and pig-sticking memorabilia all call out to immerse the viewer in the sporting lifestyle of maharajas past.
Besides offering a small menu of snacks and finger foods amidst the warm interiors, the drink menu at the Trophy Bar consists of a various selection of aperitifs, whiskeys, cognacs, tequilas, liqueurs, martinis and Bellini's, as well as Cuban cigars.
---
Experiences
Inside The Hotel
It is not just a palace, but also a house built for pleasure. There is a billiards room, underground pool, outdoor pool, marble squash courts, libraries, ball rooms, a whispering gallery, turret rooms and terraces with views of the city and yet more rooms to be discovered.
Umaid Bhawan Palace is home to a family museum, to Jodhpur's royal train and a fine collection of vintage cars including a Silver Ghost Rolls Royce. There are tennis courts and croquet lawns, secret gardens and stables, a boutique filled with treasures, a library, a bookstore and a gallery for fine antiques.
Champagne Museum Walk
The Palace Museum houses a fine collection of Victorian and Edwardian timepieces, porcelain and objects d'art, 19th and 20th century weapons, royal miniature paintings, I models of aeroplane and exquisite crockery from the Maharaja's personal collection.
Brandy & Billiards
A late-night frame of snooker can be fun, especially when one has a personal marker, a glass of solid Indian brandy in hand and the possibility of a late night dip in the subterranean Zodiac pool.
Ali Akbar Hall
Named after the renowned court musician and sarod maestro Ali Akbar Khan, this amphitheatre is a spacious venue that can be booked for watching films or for lecture demonstrations and audio/video presentations.
Astrologer
The ancient rulers of these desert kingdoms were fierce believers in their court astrologers, and would rarely make a move without the stars aligning in their favour. Guests are invited to experience the mystique of this age-old practice and the astrologer predicts the furture by looking at guest's palm and the stars.
Yoga Studio
The yoga classes consist of Asana (yoga posture), Pranayama (breathing techniques), and a short relaxation meditation. The teachers are committed to the science and ideals of yoga.
Outside The Hotel
Perched high above the desert capital of Jodhpur, Umaid Bhawan Palace is the last of the great palaces of India and one of the largest residences in the world - set amidst 26 acres of lush gardens. Built by Maharaja Umaid Singh during 1929 - 1942 and named after him, this exquisite palace was also known as Chittar Palace because of the local Chittar sandstone used. It is a splendid example of the Indo-Colonial and Art Deco style of the 1930s. A unique feature of this palace is the fact that the hand - chiselled sandstone blocks have been put together by a special system of interlocking with no mortar binding.
Besides offering an architectural masterpiece to marvel at, Umaid Bhawan also provides plenty of activities for guests, as well as day excursions to nearby shopping and cultural attractions.
Sports and Activities
Visiting sporting enthusiasts will find plenty to do here.
Guest can enjoy a game of tennis on the tennis court, followed by a dip in the outdoor pool. Or one can challenge his or her favourite opponent on one of the marble-floored squash courts. Horseback riding or a friendly game of polo can be arranged upon request.
Vintage Car Rides
One can have vintage car rides that was once in the possession of an Indian royal family and a faithful butler at their side. They pass by in a rainbow stream of Architectural marvels, majestic gardens, postcard-perfect landscapes, the vibrant hues of local life and the butler spills the secrets of each wondrous sight and site.
Jiva Spa
Guests can experience the art of India's ancient healing wisdom in the romantic new setting of the Taj Spa as it offers traditional Indian beauty therapies, as well as hot bathtubs and steam rooms. Jiva treatments have been carefully recreated from the fabled lifestyle and culture of Indian Royalty and the healing therapies that embrace Indian spirituality.
Using the purest precious essential oils extracted from Indian herbs and pharmacopeias the resort has created unique Indian aromatherapy massage oil blends. All the products are 100% organic and natural. Healing hands of therapist offer a range of Indian body therapies including signature treatments.
The treatments they provide are exclusive to Jiva Spa and have been carefully recreated from the fabled lifestyle and culture of Indian Royalty and the healing therapies that embrace Indian spirituality. They offer specially tailored spa treatments suited to your exclusive needs, they provide as many treatments as you like, for as many hours or days as you like.
The Spa has separate men and women wet areas and changing rooms with lockers, change and shower facilities. The communal wet area encompasses an indoor and outdoor pool, steam, sauna and a temperature controlled Jacuzzi .The spa facilities include gymnasium relaxation lounge, tennis court, croquet and a squash court.