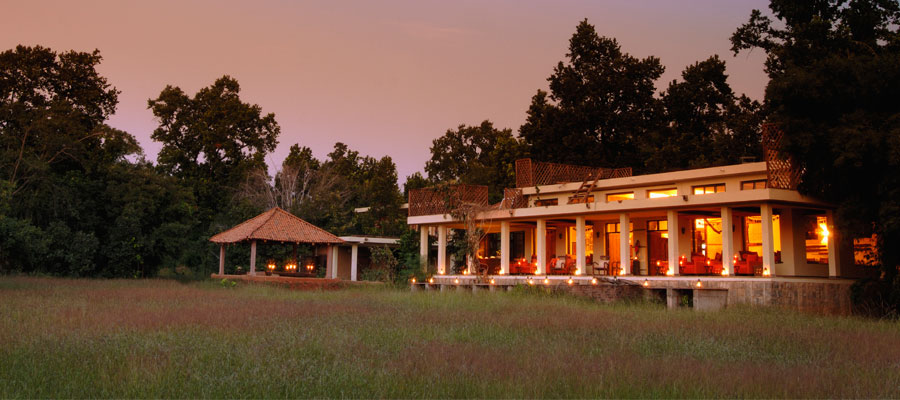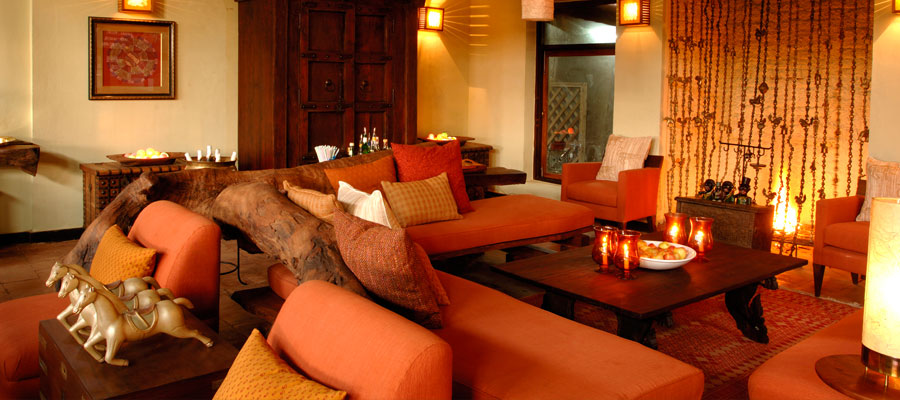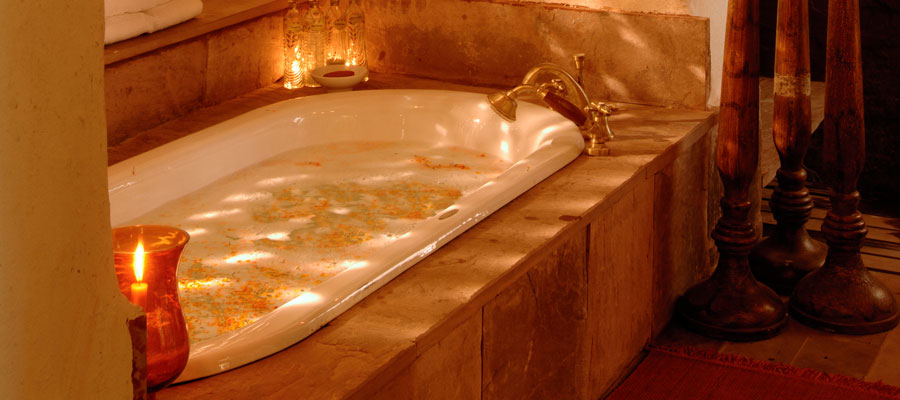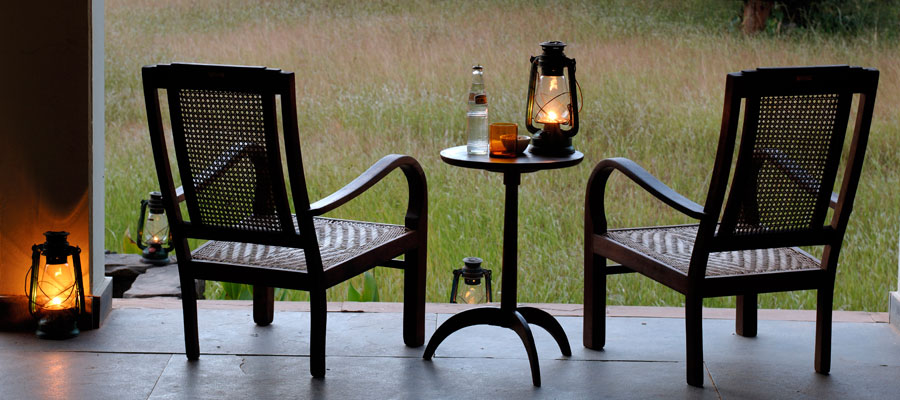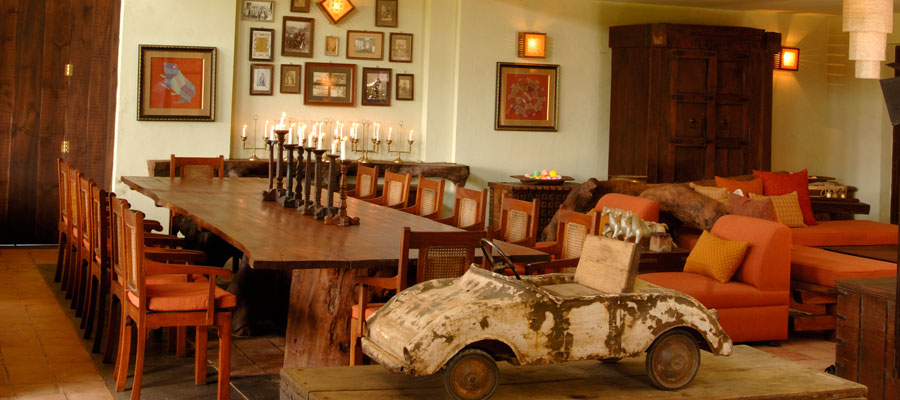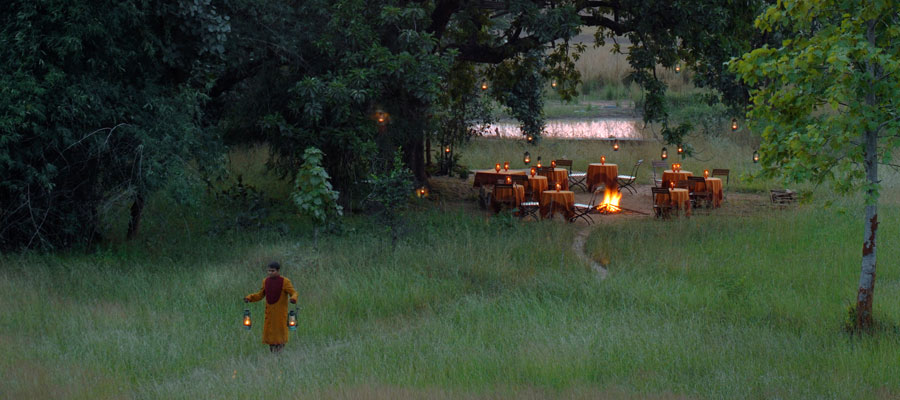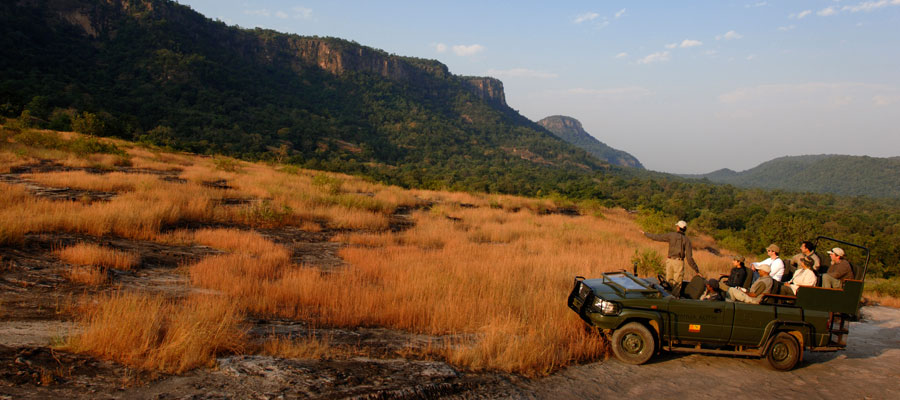 Nestled in the vicinity of the breathtaking Bandhavgarh National Park is the first of the Taj Safari Lodges. The name Mahua Kothi draws inspiration from one of India's most beautiful trees, the Madhuca Indica, or butter tree. The lodge sprawls over the 40 acre grounds, around the renowned former tented camp, Churhat Kothi, the accommodation and facilities of the lodge blend charmingly into the quaint and rustic surroundings.
It is collaboration between, Taj Hotels Resorts and Palaces with & Beyond and located near one of India's most beautiful national parks, Bandhavgarh National Park, famous for tigers. The sprawling property has beautiful cozy and well-furnished suites with a rural touch. Enjoy the jungle safari and get a taste of impeccable service and lush luxury.
It is situated in Village Tala in Bandhavgarh. Bandhavgarh National Park is situated in very close vicinity to the lodge. Guests must also see Three Cave Point, Shesh Shaiya, Chakradhara, Sidhababa and Bari Gufa in the national park. Travelers can also walk around the Village Tala, to observe the simplicity of village life or go to see the Chenchpur Waterfall. The distance from Jabalpur Airport is approx. 20 km and from Jabalpur Railway Station is approx. 5 km.
Mahua Kothi promises an experience that is unconventional, focused on guests' individual needs and emotions, knowledgeable, sophisticated and innovative. Lodges are not operational from 1st July onwards till 15th October, as the national parks are closed due to monsoons.
---
Accommodation
Mahua features twelve brand-new cottage suites, called Kutiyas. Each charming suite is filled with quaint local touches: wooden shutters tapered hand-finished walls, stone floors, and open rafters with roughly-hewn beams, handmade pottery roof tiles and rust and burnt orange local textile furnishings. Guests can shower off their journey in the en-suite bathroom, pamper themselves with hand-blended, all-natural, guest amenities from the Jiva Spa, relax with a game of marbles or Chaupad or indulge in an in-room Ayurvedic massage.
The guest areas feature high ceilings, terracotta tiles, overhead fans, a fireplace, huge windows with window seats, and a spacious 600 square foot verandah that captures the jungle breeze perfectly.
The original Kothi lodge, comprising the guest areas, remains intact although it has been extensively renovated. Offering the gracious charm of a country house, the lodge has been constructed in the local style by families from the neighbouring community.
---
Dining
Dining in Mahua Kothi is an exciting and unexpected safari in itself, with several deliciously surprising twists and turns. Fresh local ingredients, homemade accompaniments, fruits and veggies grown in backyards, ancestral cooking and dining customs, and quaint village traditions create never-before dining experiences that give each guest as much of a thrill as the daily game drives.
Breakfast is served with the first rays of the sun. Take a piping-hot breakfast to sustain you in the forest. For a more leisurely first meal, one can make their way to the colorful vegetable garden in the backyard for the charming Baghiya breakfast - a sumptuous meal laid out on a bullock cart.
At lunchtime, guests have the options of dining by the pool, having a picnic under the Mahua tree or taking their lunch to the nearby watering hole.
In the evening, everyone is encouraged to enjoy exquisite teas or cocktails made from the sap of the mahua tree, fine Indian wines, icy cold Indian beers and pomegranate syrup. Later, guests can dine under the stars, out on the terrace, with live spit-roasting, generations-old khud cooking, thali dinners and folk dances. Post dinner we offer exclusive desserts and surprise treats in each guest room.
Guests may also choose to request a cosy private dining experience in their private courtyard or on the terrace if they wish.
---
Experiences
The Adventure Awaits
The adventure begins as any proper undertaking should - with afternoon tea. Then, Mahua Kothi's naturalist offers a fascinating orientation of what to expect on the safari drives into the jungle. Soon, it's time to depart on an afternoon drive in a rugged 4X4 through Bandhavgarh's dramatic landscape, searching out the region's rich wildlife, including tiger, sloth bear, leopard, jungle cat and wild dog. Bird enthusiasts can try their luck at spotting Mahua Kothi's ten Star Birds, from the gorgeous Indian peafowl (peacock) to the shaheen falcon.
Throughout your stay, you will travel in comfort in a specially designed Tata 4x4 open vehicle. That is when you are not spotting tigers from the safety of an elephant's back. You are invited to indulge in twice-daily safaris on the reserve, tick off Bandhavgarh's ten Star Birds (a book listing the area's top ten birds that bird-watchers can check off), or just absorb the sights and sounds of local villages.
Inside the lodge, guests can wander into the open kitchen that lets everyone witness the simple joys of churning butter, hand-grinding masala, chopping garden-fresh vegetables with sickles and rotis being expertly made on a chulha.
---
Safari And Wildlife Viewing
The heart of the Mahua Kothi experience is the interpretive safari and wildlife excursions brought to the lodge by the expertise of conservation specialists, & beyond. Taj Safari guide undergoes an intensive 14-20 week training programme, the first of its kind in India. As a result, these expert naturalists are able to provide wildlife enthusiasts and adventure travelers with distinctive, interpretive wildlife experiences in India which are based on a proven and sustainable eco-tourism model. Their sharp understanding of the jungle seasons and animal behaviour truly makes for a memorable Safari experience.
Bandhavgarh National Park
Bandhavgarh National Park, located among the picturesque hills of Vindhya and Satpura, supports one of the highest densities of tiger populations in India. Bandhavgarh's dramatic landscape comprises tropical forests and woodlands, steep rocky hills, with flat grasslands in the valleys below. An ancient 1,000 year old fort featuring the reclining statue of Lord Vishnu, and the dense Sal jungle combined with the grasslands make Bandhavgarh one of the most beautiful parks in India.
Fauna
Bandhavgarh's hilly open terrain includes many large grassland meadows that offer good chances of tiger sightings. The density of its big cat population has made Bandhavgarh world famous. The Park is also blessed with a large variety of mammals: leopard, chital (spotted deer), Sambar deer, dhole, nilgai, wild boar, chinkara, sloth bear, rhesus macaque, black faced langur, jungle cat, hyena, porcupine, jackal, fox, and wild dog.
Flora
Bandhavgarh has a large variety of tree cover and excellent tree and foliage concentration. Approximately half the Park is covered with fir trees, while mixed forests are found in the higher reaches of the hills. In the slightly higher elevations, there is a more mixed vegetation of sali, saj, saja, and dhobin, etc. Beautiful stretches of bamboo and grasslands extend to the north. The main wildlife viewing takes place in the core of the Park with its picturesque, wooded hills.
Naturalists
Naturalists are more than just guides. Vigorously trained by & beyond, they have an encyclopedic knowledge of every inhabitant of the forests, and every secret nook and pathway of the wilderness. Warm, personable, and genuinely excited about sharing their knowledge, they are an integral part of what makes the Taj Safari experience unique.