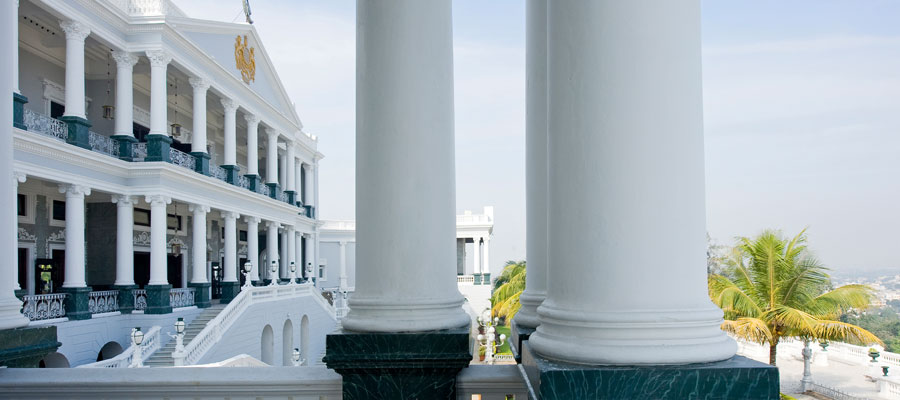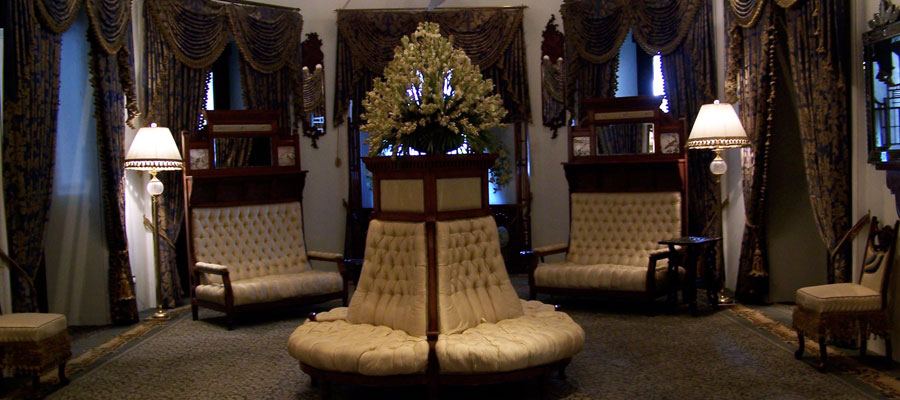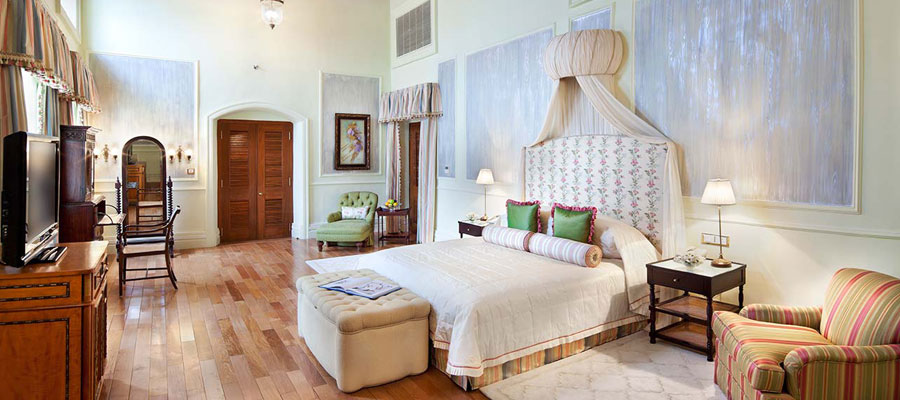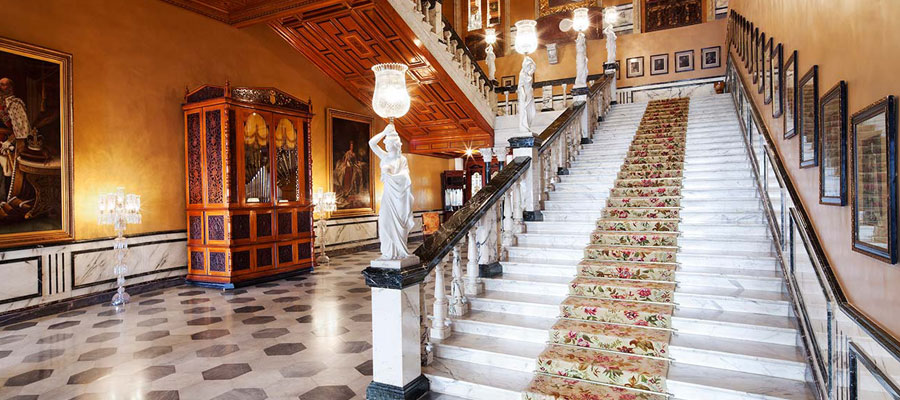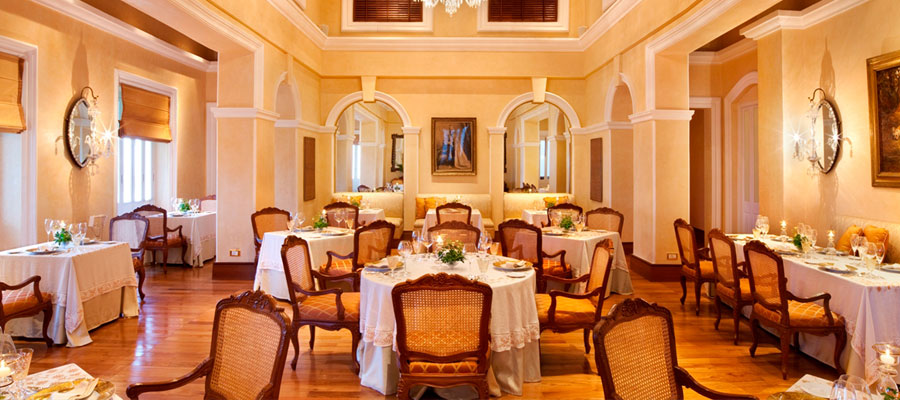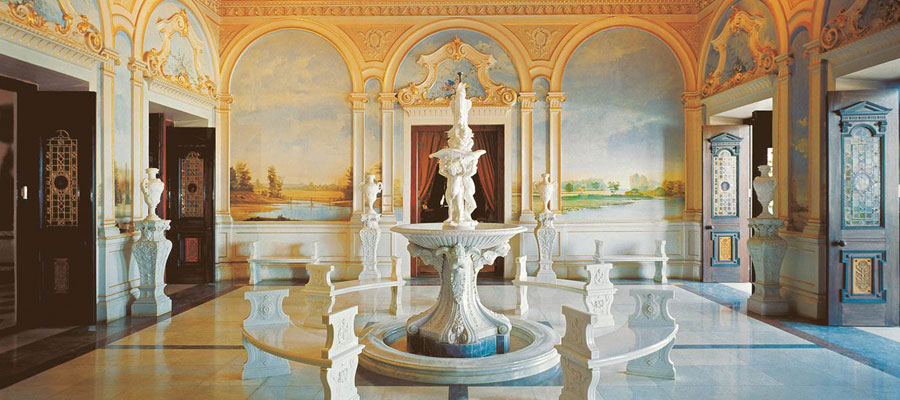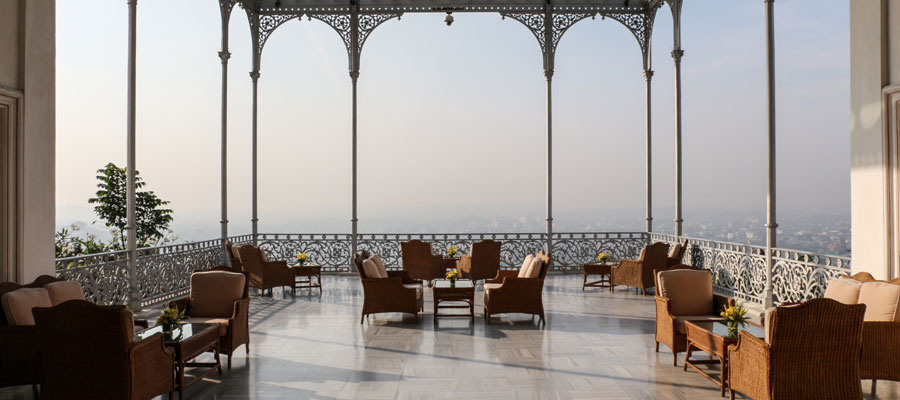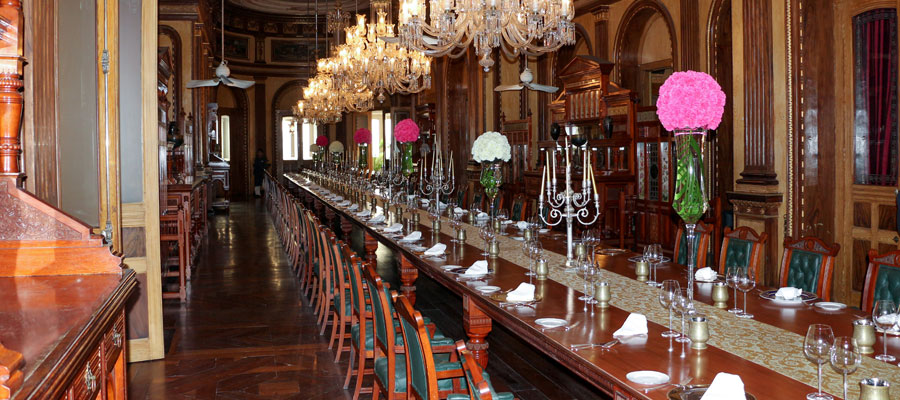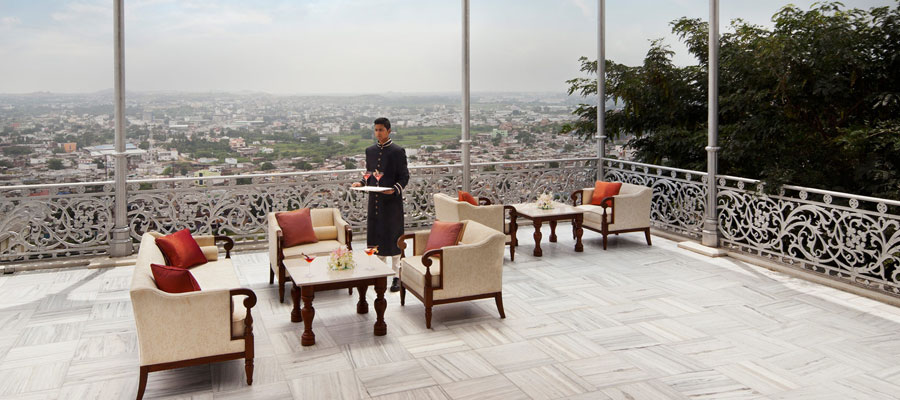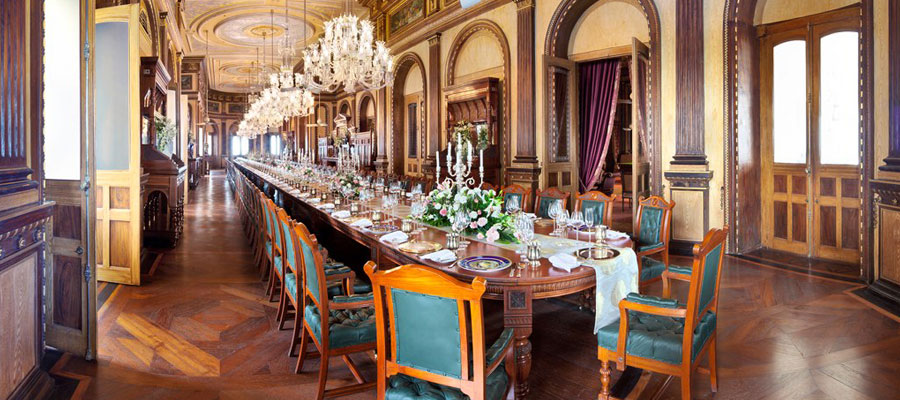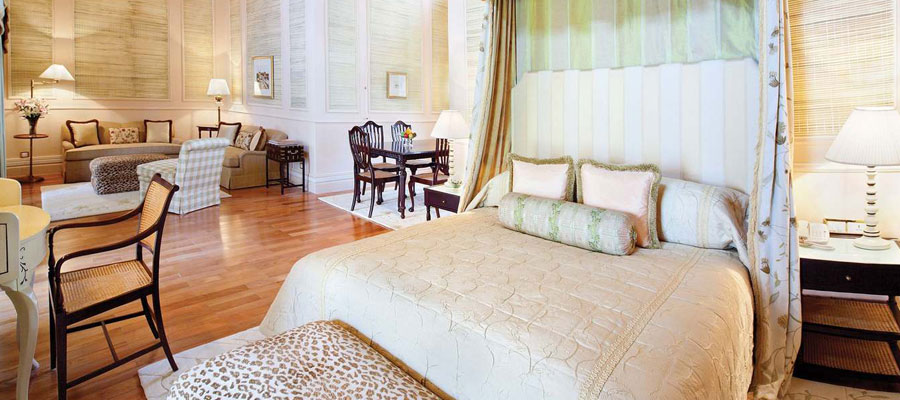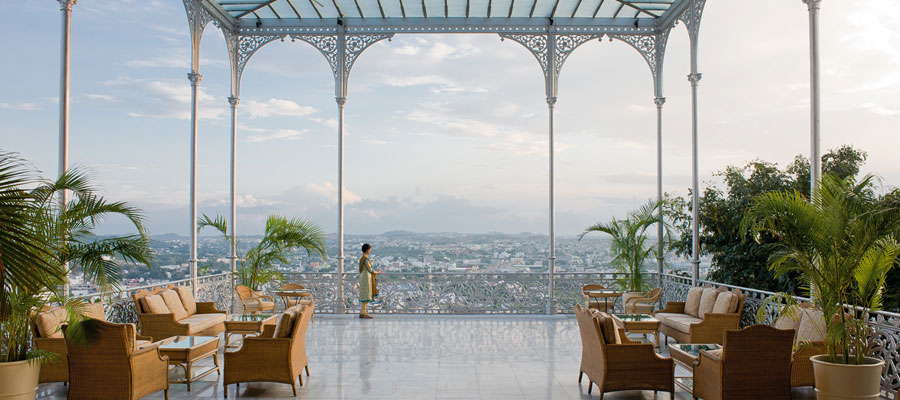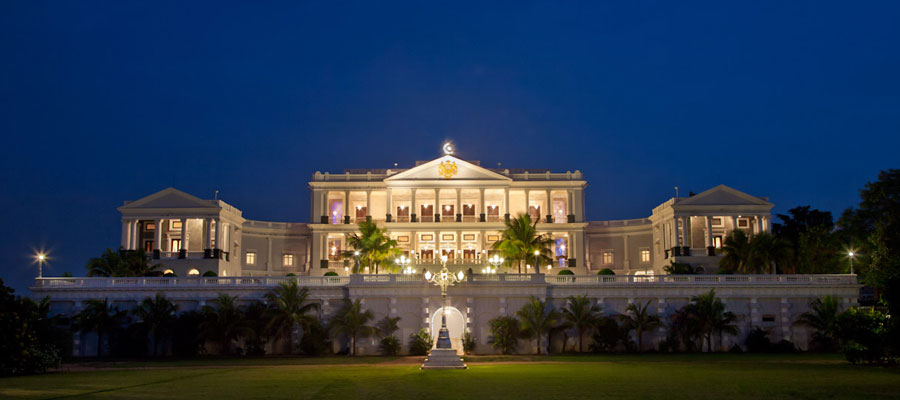 Taj Falaknuma Palace is 2000 feet above Hyderabad; this luxurious 5-star property features a blend of colonial and Indian designs. It is 3 miles from the beautiful Charminar monument and Chaumallah Palace. Offering free parking, it is about a 20-minute drive from Rajiv Gandhi International Airport and Banjara Hills.
Taj Falaknuma Palace's 60 beautifully refurbished and lovingly restored rooms allow you to journey into the clouds and into the glided ages, where grandeur and excess is celebrated and savoured in equal measure. It Features high wood-beamed ceilings, these spacious rooms are furnished with pastel shades, floral fabrics and fine wood fittings. In-room comforts include down comforters and Egyptian cotton linens.
It houses a heritage walk with beautifully crafted objects from the world over and a first-rate spa. Afternoons can be spent in the oak-paneled Palace Library or in the Billiards Room. Other features are a landscaped pool, fitness facilities and custom tailoring.
---
Accommodation
Luxury Rooms : At Taj Falaknuma Palace, Luxury Rooms are glimpses of royalty, shaped by Italian marble flooring, valance curtains, colonial furniture, Egyptian cotton linen sheets and Ploh bathrobes. All Luxury Rooms face a Central Courtyard, which is green, lush and brimming with nostalgia.
Palace Rooms : The Nizams of the past would wholeheartedly approve of the Palace Rooms in all their opulent glory. These rooms are about richness, beauty, perfection and luxury, all of which have been channelled through the medium of royalty. You can see the commitment to these ideals in the rich fabrics, gleaming oak wood floors, hand-painted walls and its literal reflection in the bathroom's mirrored tiles.
Historical Suites : Owing to their location in the Scorpion-shaped palace, Taj Falaknuma Palace's Historical Suites are also called Pincer Suites. Time stands still in delicate Edwardian artwork, antique furniture, grand high ceilings and luscious fabrics.
Royal Suites : The Royal Suites with opulent furnishings and intricate architecture are located in the Zenana Wing. The timber used across the rooms is well seasoned 120-year-old Burma teak.
Grand Royal Suites : Even though you are 2000 feet above the city, the Palace's Grand Royal Suites will catapult you to a different kind of high. Spectacular panoramic views impatiently duel with the lavish artistry of the interiors as both compete for your attention. Additionally, the carpets in these Suites have been custom-made in Turkey to complement the existing upholstery.
Grand Presidential Suite : The Grand Presidential Suite was once the sanctorum of the Nizam, a man once thought to be the richest in the world. It is arguably the largest Presidential Suite in the country and by virtue of its former resident, the most magnificent - a place where royalty is celebrated in its purest and most unimaginable form.
The Suite is a self-contained oasis of luxury, a declaration validated by the presence of a private swimming pool, a private Jacuzzi, ornate furnishings and soothing marble fountain. It is where the past breathes the same air as the present, where intricately detailed restoration work rubs elbows with state-of-the-art facilities and experiences. Evidence of Her Highness Princess Ezra's personal dedication to its restoration can be seen everywhere, right from the custom-designed furnishings from Turkey, to the Cararra marble floors, which make up the bathrooms.
---
Dining
The culinary experience at Taj Falaknuma Palace is inspired by centuries of indulgence, they take a leaf out of those experiences that have captivated the Nizams and their distinguished guests. They recreate and reinterpret tastes and traditions of a bygone era, while keeping contemporary palates in mind.
The Palace also has a staggering collection of the rarest whiskies, single malts, luxury vodkas and cognacs, including Louis XIII, supplemented by an unrivalled selection of the finest handmade cigars from all over the world.
Adaa
"Dum" or Cooking slowly under pressure forms the backbone of traditional Hyderbadi cuisine and the food is prepared "ithmenaan se," which translates into "with a lot of patience." Enjoy gastronomic gems culled from a series of state Banquet Menus. Using nouvelle culinary techniques, each dish has been painstakingly recreated with the same authenticity and attention to detail, which is the hallmark of a royal kitchen.
The rich interiors with its intricately carved mirrors and life-size portraits of the Nizam punctuate the ambience with the right kind authenticity as you enjoy food from a luxuriant past.
Celeste
Inspired by the Renaissance, Celeste serves classical Italian and Mediterranean fare. Chefs have collaborated heavily with European connoisseurs to bring you the best, as ingredients have been sourced from every part of the world.
Breakfast at Jade Verandah
It is the truly best way to wake up on winter mornings. Breakfast at Jade Verandah is not just about a comprehensive a la carte menu or traditional Hyderabadi, Turkish and South Indian dishes. You might just be joined by a breakfast mainstay who may not always be invited but is always welcome. Allow yourself to be entertained by the Palace's Peacocks as they display their plumage in a show of pride, as the first rays of the morning sun dapple through the coloured glass.
The Jade Room
The Palace's Jade Room was where dignitaries from across the world, kings, diplomats, artists and luminaries used to congregate and trade stories. Given that this was used for royal gatherings, including King George, Queen Mary and the last Russian Tsar Nicholas II, it is only fitting that this be the most spectacular of all the Palace venues. Like its namesake, this room has rare collections of jade along with priceless treasures collected from around the world, Victorian style hand-painted ceilings and Belgian cut-glass chandeliers. The Jade Room also commands some of the best views of Hyderabad in all of Taj Falaknuma Palace, which make it the ideal place for afternoon tea. Afternoon Tea menu options include a Traditional English fare, a regional selection with Indian accents and a Champagne chocolate tea. Amongst an impressive array of teas from around the world is our very own 'Nizam's Blend' created especially for you.
Hookah Lounge
The Hookah Lounge, with the ever-present fragrance of Jasmine, aims to recreate the romance of princely India during an era when smoking was an art in itself. The Lounge offers you a wide selection of Flavoured Hookahs, served from beautifully handcrafted apparatus. Mood lighting via candles, instrumental music, low seating and sumptuous upholstery all come together to create the perfect evening.
Pool Side
The Rotunda, located by the pool, is sitting atop the flawlessly manicured tropical gardens overlooking the lush green landscape, the Rotunda is the ideal place to enjoy a light menu by the pool. We recommend the leafy salads and chilled starters.
Palace In-Room Dining
Let the gastronomic constellations come to your room instead. Choose from one of the most comprehensive Room Service menus as the Palace butler sets up a table a few feet from your bed. The service will be course by course with attention to the smallest detail, in the same way as visiting royalty was served decades ago.
---
Experiences
Inside the Hotel
Heritage Walk
The Heritage Walk at Taj Falaknuma Palace allows you to get better acquainted with the classic, timeless elegance of the Past, as it takes you through some of the world's finest handmade tapestries, French brocades, royal portraits, beautifully crafted, inlaid furniture from Kashmir, porcelain of the highest quality, objet d'art from different corners of the globe as well as crockery from the Nizam's personal collection.
Palace Library
Even if you read a book a day, it would still take you more than 16 years to go through the entire collection of the rarest books and manuscripts which make up the Palace Library. A replica of the one at Windsor Castle with its teak and rosewood book-lined walls, the Imperial Library at Taj Falaknuma Palace has something for every book lover as it traverses both time and subject. Included in the 5900 books on literature, art, history and religion are First Editions of the epic romance Titanic, Encyclopedias from the turn of the last century and one of the most revered and acclaimed collections of the Holy Quran in the country.
The Billiards Room
There is Snooker. And then there is Snooker on a custom-made table, built specially for the Nizam by Burroughs and Watts from London. Brandy and Billiards almost become incidental to a place where beauty is celebrated with unrestrained enthusiasm. Embossed leather paneling marries well with the gold and the red of the drapes which cloak the area in its opulence. Those waiting between shots can plot their next move on elevated, carved leather seating under which was once unearthed an ivory-handled cue stick engraved with the initials of the Nizam.
Champagne Palace Walk
The Champagne Palace Walk starts at the hour of sunset but ends in an altogether different time. A time when the Nizam was rumoured to be the richest man in the world. A time when polo playing royalty, martini-soaked lunches and princesses in billowing chiffons with emeralds the size of chandeliers played a part in tales of royal debauchery, extravagance, drama and deception. The Palace Historian will recount astonishing legends and myths about a dynasty mired in romance and mystery, set in the fitting milieu of palaces, wealth and women.
The Smoking Room
Boys will be men in the Palace's Smoking Room, an area off-limits to women even today. An ode to exaggerated whimsical masculinity, this room is distinctive with its patterned leather walls, timbered ceiling and is finished in rich mahogany wood. If cigars aren't your thing, walnut wood screens give you semi-private access to a range of beautifully crafted 'hukkas' transporting you to an era where smoking was as much an art as it was a way to pass the time.
Bespoke Tailoring
If all you have is a day or two to feel and look the part of a Hyderabadi nawab, then that is all the time you need. Your valet or concierge can organize custom-made Sherwanis in beautiful fabrics and flattering silhouettes. It can be turned around almost overnight in a city noted for its contribution to Indian fashion, and all at good prices.
Jiva Spa
Get one with mind, body and soul as the Royal Jiva Spa transports you to a time when relaxation was both a finely-honed art and a practiced science. With a philosophy rooted in traditional Indian approaches to wellness, the Jiva Spa is all about holistic rejuvenation and centers you like nothing else will. Rejuvenation experiences are masterminded by well-trained experts armed with exclusive natural products and a gentle approach to all round healing.
Jiva's wellness journey does not end with our Spa treatments. The signature massages and the beauty routines form just one part of our belief system. True wellness is about a holistic approach towards a sound mind, healthy body, and food that comforts and heals. Our Spa wellness menu employs the finest principles of Ayurvedic cooking, in a cuisine devoid of additives, proprietary sauces and preservatives.