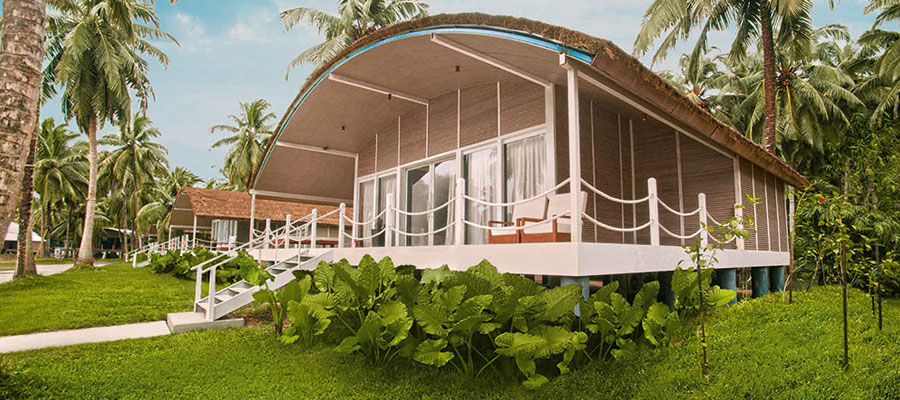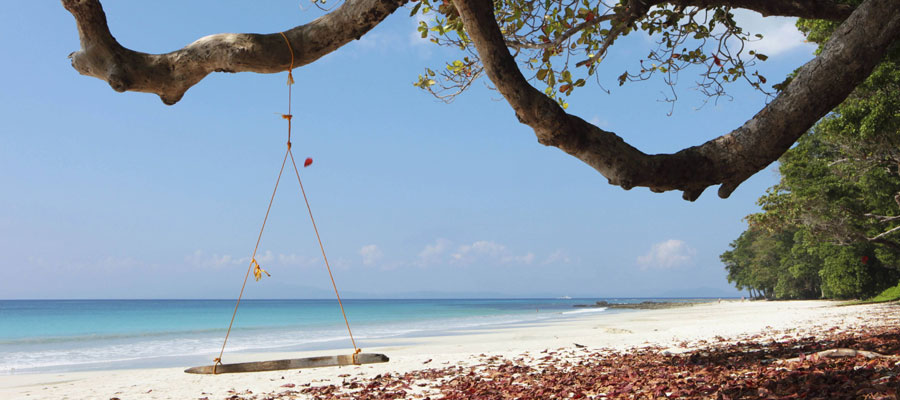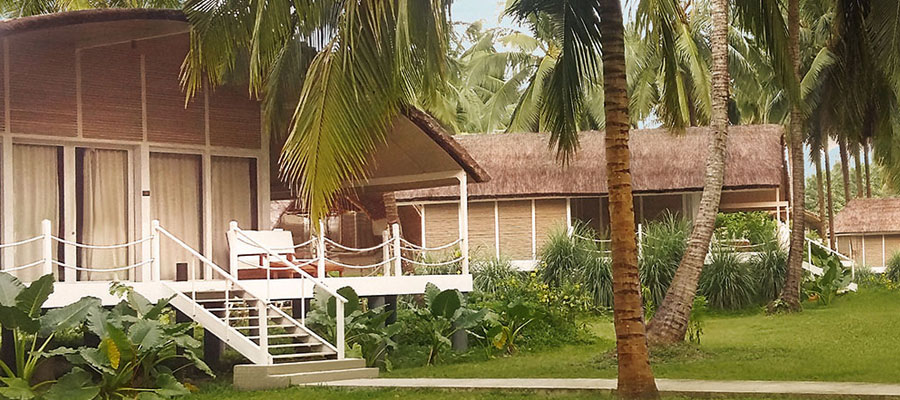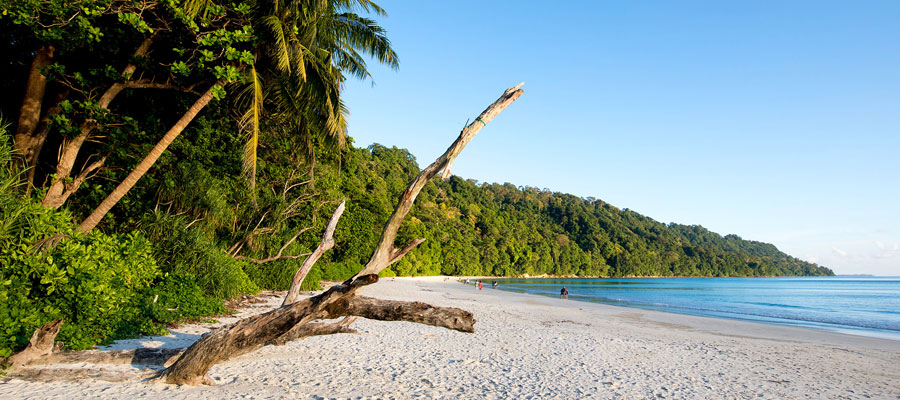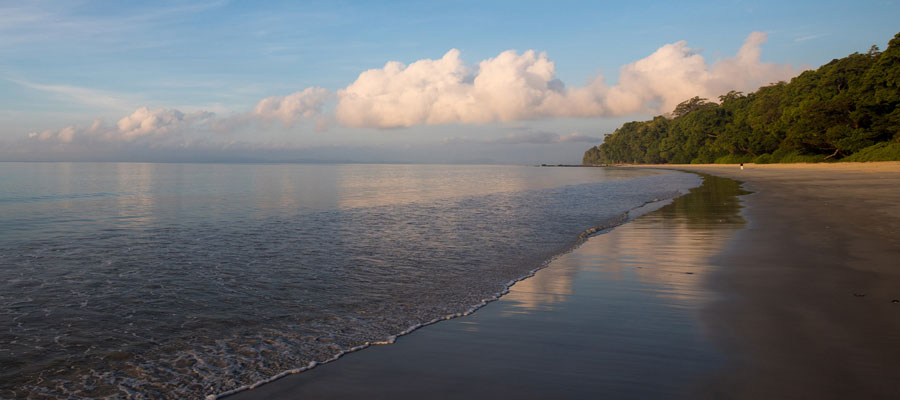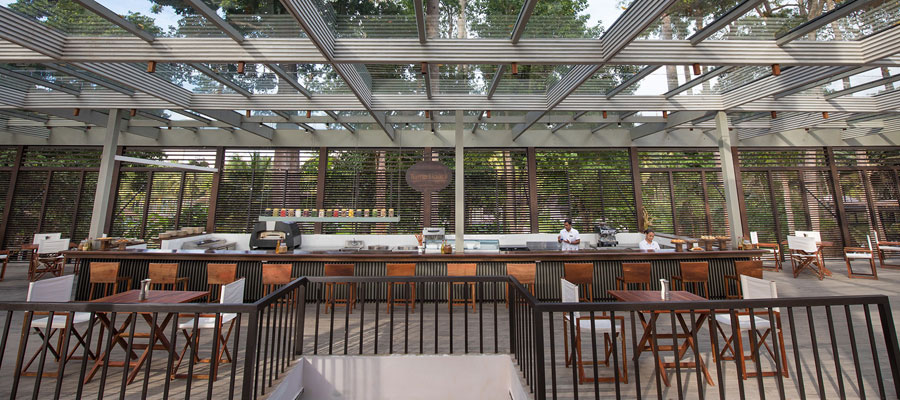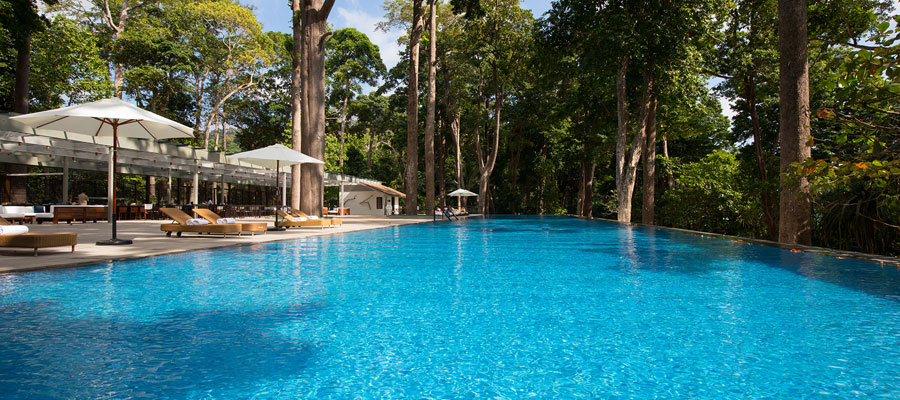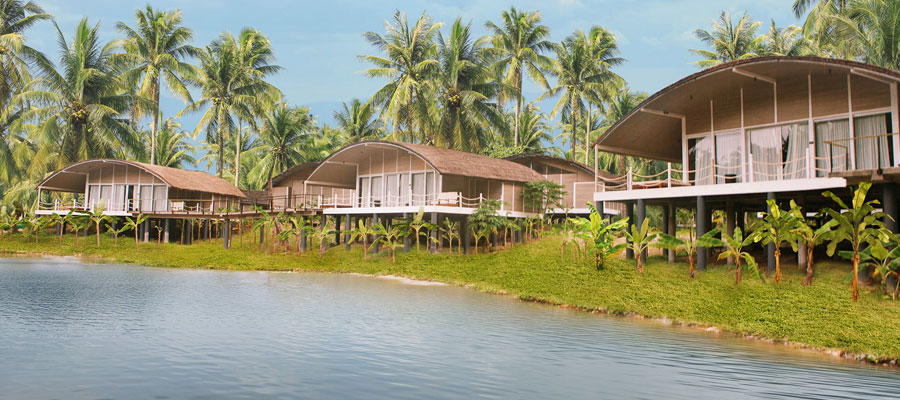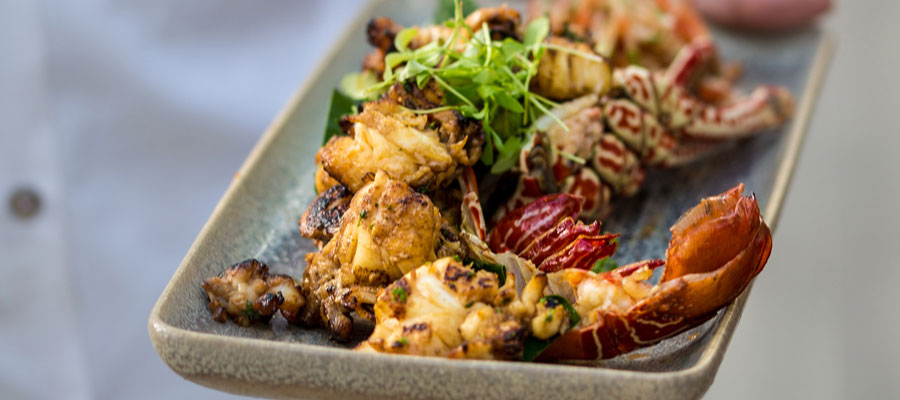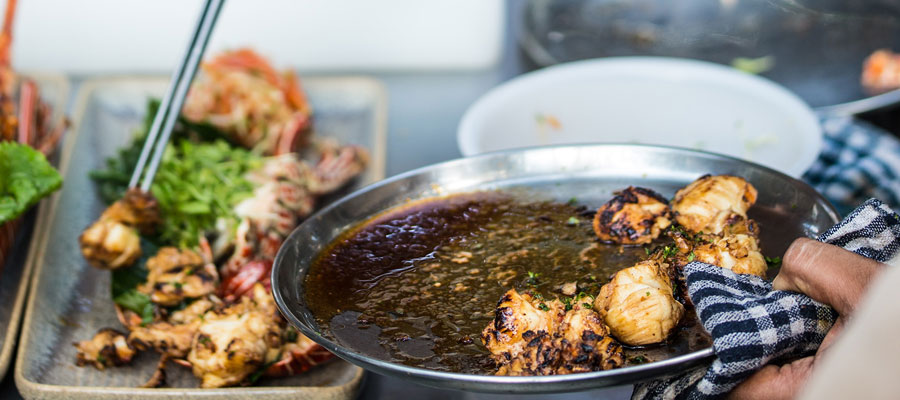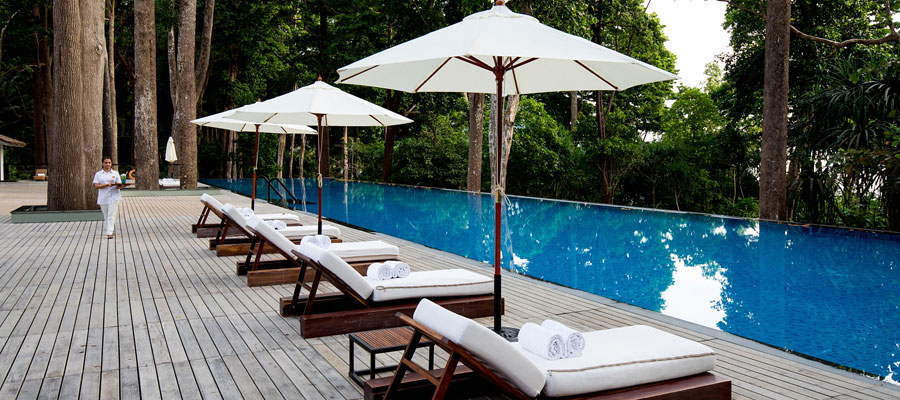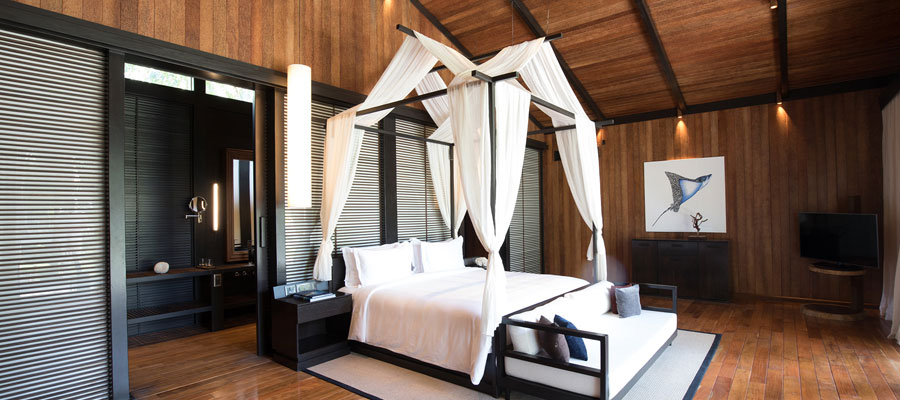 Occupying 46 acres on the famed Radhanagar Beach at Havelock Island, Taj Exotica Resort and Spa, Andamans is a luxurious gateway to a globally significant biodiversity hotspot in the Bay of Bengal. Fringed by strip of mangroves and a river overlooking the beach, the resort is a homage to the secluded Andaman and Nicobar archipelago stretching for 700 kms from the southern tip of Burma towards the north of Sumatra; a magical medley of rainforests, national parks, wildlife sanctuaries, unspoilt beaches and ancient tribal cultures.
The island is an endless source of delight and discovery. Unravel the secrets of the outdoors and underwater life with exclusive experiences in game fishing, night kayaking in the mangroves, turtle nesting excursions, scuba diving and snorkelling. Whether witnessing a remarkable sunsets or savouring an exquisite meal at an amorous table for two in our mangroves, the Taj Exotica Resort and Spa, Andamans opens up the luxuriant secrets of this secluded Eden like never before.
Accommodation
The ultra-luxury resort hotel will have 75 villas with a presidential villa of 6,400 sq. ft. The villa designs are inspired by the pitch-roof style of the traditional Jarawa huts whose leaves slope to about a foot or two from the ground. The traditional huts have thatched roofs; at Taj Exotica Resort & Spa the roofs retain the distinctive pitched style but use natural wood that complements the wooden-clad walls and the clean, contemporary interiors that use natural colours for a relaxed beach-side vibe. The categories of room at Resort are:
71 luxuriously appointed villas (150 sq. mt.)
3 luxury villas with private pools (270 sq. mt.)
1 Presidential 3 bedroom duplex villa (600 sq. mt.)
Dining
THE SETTLERS An intimate community dining experience in a glamorous setting with sensational cuisine, The Settlers is our ode to the immigrant communities that were brought from the mainland to the island over 70 years ago. The concept was extensively researched by Executive Chef who travelled with his team across the Andamans – from Diglipur and Baratang through Rangat and Mayabunder – to collate a diverse menu with secrets from the kitchens of Tamilian, Bangla, Bihari and Keralite communities from India, as well as settlers from Burma and Indonesia. The cyclical menus are crafted to showcase a wealth of community recipes with innovative twists using the phenomenal locally-sourced produce. Freshly-picked arugula, eggplant, chillies, mangoes, mulberries, custard apples and jackfruit from our own garden are complimented by Andaman black pepper, wild coriander, over a 100 varieties of man kochu (taro root), kolekatta (green cress) thankuni (bitter cress) and kamranga (starfruit). The indigenous seafood includes lobster, mud crab, mangrove king crab, red snapper, barracuda, trevally, kokari and 25 varieties of line-caught grouper. Extensive all-vegetarian menus are available on request. Bringing the uniquely inclusive island cuisine to a communal fine dining setting, The Settlers is special experience for gourmands.
TURTLE HOUSE: Located besides the Olympic-size infinity pool which looks out at the beach, Turtle House is our global grill restaurant, serving wholesome meals with generous servings all day. Its relaxed neighbourhood bistro vibe is perfect for long lunches and breezy dinners under the stars, surrounded by a fragrant, live kitchen. The menu features American, European, Middle Eastern and Indian classics enhanced with local ingredients. The standout sandwiches, burgers and mango-wood oven baked pizzas can be washed down with smoothies and shakes made from fruits straight out of our orchard. The Surf and Turf section pairs Seared Pork Tenderloin with Asian Spice Grilled Snapper Fillet and Smoked Duck Breast with Crusted Grouper. For post-swim tipples, our resident mixologist blends an arsenal of in-house syrups, bitters and kahluas with local chillies, berries and curds for distinctive cocktails.
Experiences
Inside the Hotel
NIGHT KAYAKING IN THE MANGROVES
A mangrove safari is de rigueur in the Andamans. At the Taj Exotica Resort and Spa, we take this adventure to the next level by opening up a scintillating new dimension to the mangroves by moonlight. Post-sunset, guests are driven to the jetty, where experienced local kayakers guide you into lifejackets and row in pairs towards the unique aquatic ecosystem of tangled roots half submerged in the water. While providing a barrier against storms and large waves, the mangroves are a breeding ground for many species, including brightly-coloured fiddler crabs, shy mud skippers, blue-eyed Andaman bulbuls, parakeets, kingfishers, white bellied sea eagles, night jars and blood clams. The most fascinating aspect of night kayaking is the phenomenon of bioluminescence. As you plunge your paddle into the water or run your hand through it, hundreds of tiny, glowing, star-like phytoplankton - aquatic organisms that provide food for whales – light up the calm, dark water. With our expert guides leading you into the narrow channels and hidden nooks in the mangroves, this delightful experience tops any itinerary on the island.
GAME FISHING
The Andamans is a virgin, world-class destination for game fishing and angling with an environmental-friendly catch-and-release policy. We give our guests a head start with laidback to adrenaline-pumping itineraries for everyone from passionate anglers to rookies. Getting into well-equipped boats at the Havelock Island jetty, the crew begins setting up fishing rods, helping you get comfortable with them and begin trolling within 10 minutes of leaving the shore. Moving between Peel Island and Nicholson Island, you can start jigging and popping for huge Red Snappers, a variety of Groupers, Coral Trout, Swordfish, Spanish Mackerel, Trevally, Sailfish, Wahoo, Marlin, Dogtooth Tuna, Yellowfin Tuna and Bonito. The fishing season runs from October through May, but you can snare GT's and doggies all year round. Longer trips – especially to Barren Island, the only active volcano in South Asia, 98 kms from Havelock – can be organized on request.
SNORKELLING AND SCUBA DIVING
The crystal clear turquoise waters of the Andaman's are home to one of the richest coral reef ecosystems in the world, where over 135 marine species thrive, thanks to an unusually low diving impact. The best diving sites on the archipelago are concentrated on Havelock Island, from Minerva Ledge with a massive, thick-lipped Napoleon Wrasse in residence, to the gently sloping Neil's Cove and the famous Johnny's Gorge where massive Manta Rays, coral-chomping Humpback Parrotfish, flamboyant Lionfish, Stingrays and Blue Stripped Snappers abound, divers are always assured of left mesmerizing underwater vistas. For wreck diving fans, the MV Mars site near Havelock is a relaxed 15 meter dive through the remains of a 2006 boat wreck. The resort facilitates itineraries for beginners to professionals – including Bubblemaker sessions for young children - to experience the most magical moments that the island has to offer.
TURTLE NESTING
The Andaman and Nicobar coast plays host to two the largest nesting populations of two of the four sea turtle species that nest in India - Giant Leatherback and Hawksbill turtles - between December and February each year. While Diglipur and Mayabunder are the nesting hotspots in the state, it's commonplace to find these massive endangered amniotes, often weighing up to 2000 pounds right in our backyard. To help guests understand the nesting process, our resident naturalist guide leads small groups at night onto the beach to observe the female turtles laying eggs, lost in a trance-like state. The hatchlings scramble towards the sea - 1 in 1000 make it to adulthood – in a fight for survival, that makes for an enchanting experiential for guests of all ages.
BIRDING AT CHIDIYATAPU
Lodged at the southernmost tip of the Andamans, Chidiyatapu (Bird's Island) serves up a treat for birders and photographers, with sightings of Purple Moorhen, Lesser Whistling Teal, White bellied Sea Eagle, White-breasted Kingfisher, Andaman Treepie, Racket-tailed Drango, Scarlet Minivet, Green Imperial Pigeon, Glossy Staling, and Andaman Cuckoos and Bulbuls. The resort drafts an overnight itinerary for guests to enjoy a breathtaking sunset on the tip of the island, as Edible-Nest Swiftlets swoop past you into a sharp cliff drop below. A 30 minute private ferry ride away from Port Blair – where you can make relaxed pit stops to visit Asia's largest sawmill, Chatham and the infamous Cellular Jail – the island is also a haven for snorkelling and crocodile-spotting.
FLORA AND FAUNA DISCOVERY
Andaman and Nicobar is home to some of the richest varieties of flora and fauna, sheltered within a canopy of tropical rain forests, nine national parks and nearly a hundred marine and wildlife sanctuaries. Over 1300 of the 2000 plus species of plants here – including mangroves and the majestic Andaman Padauk - are endemic and not found in mainland India. Of the approximately 7000 animal species, 907 are natives, like the Masked Palm Civet and Andaman Boar, joined by 106 endemic species, including the Andaman Barn Owl, Fulvous Breasted Woodpecker, Andaman Cuckooshrike and Green Imperial Pigeon. Apart from the natives,Havelock hosts exotic visitors like the Giant Leatherback, Olive Ridley and Hawksbill turtles during the year. Simply walking around the resort, the beach, the island and diving underwater throws up delightful surprises every day. Our resident naturalist is always at hand, delighted to assist you in identifying different species and charting personalized trails for both adults and children keen on exploring the island's rich life forms.