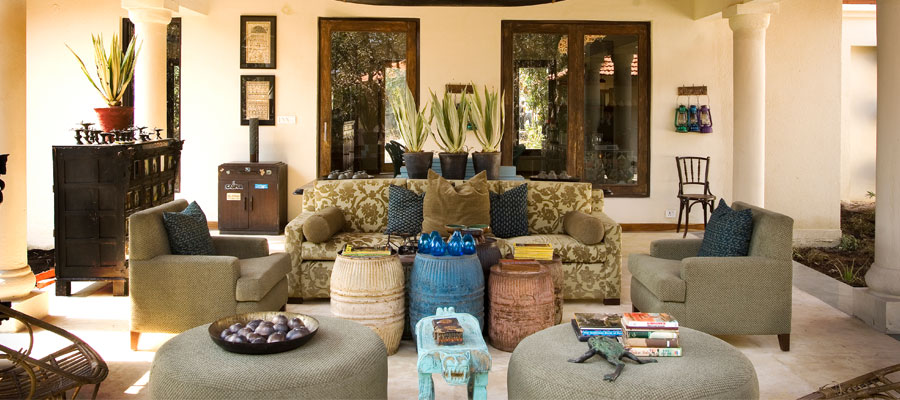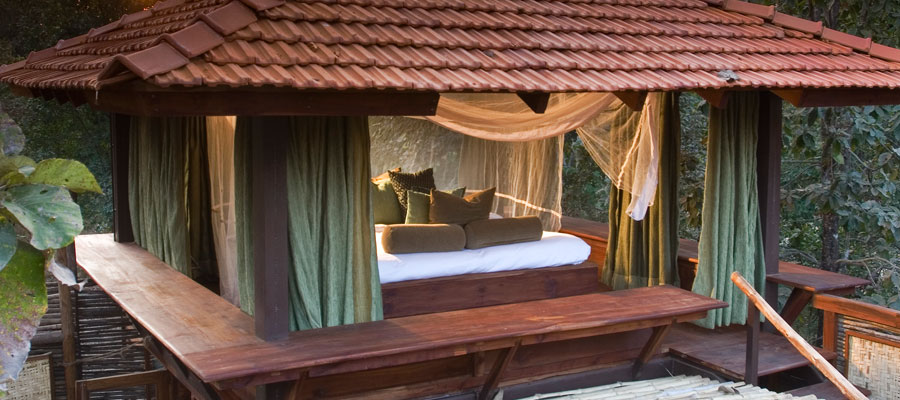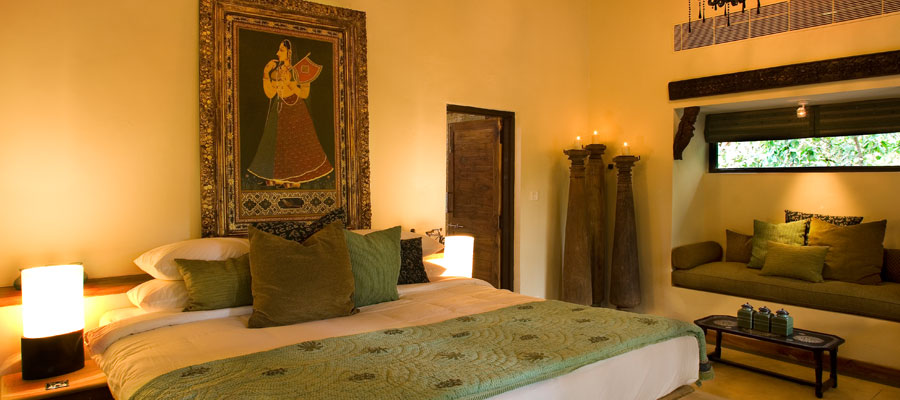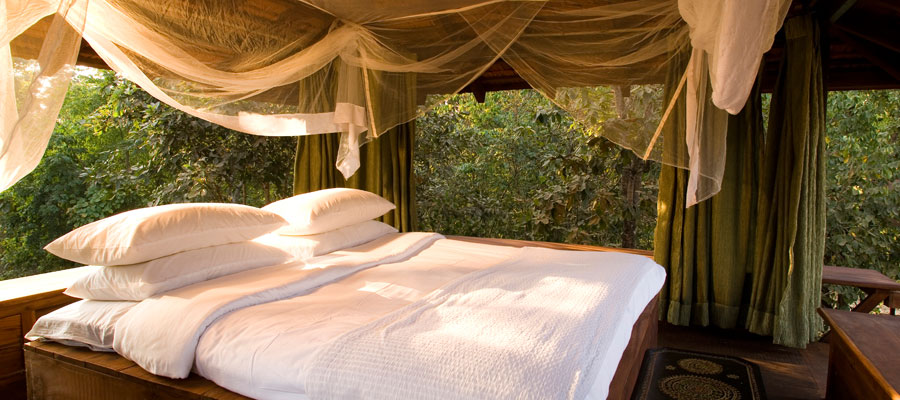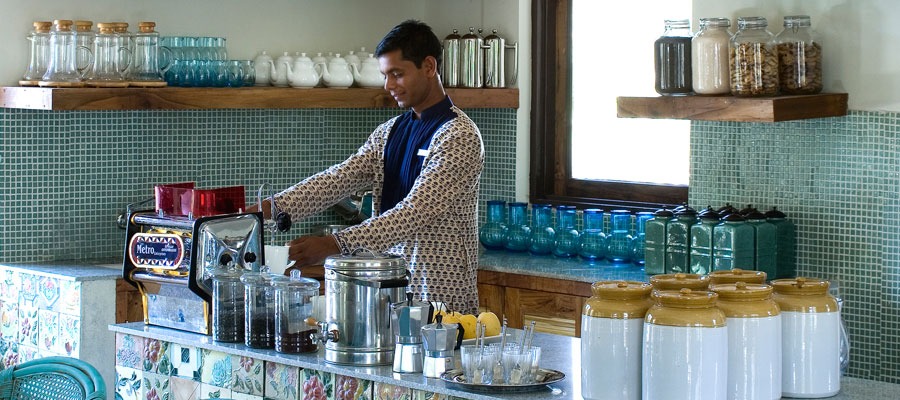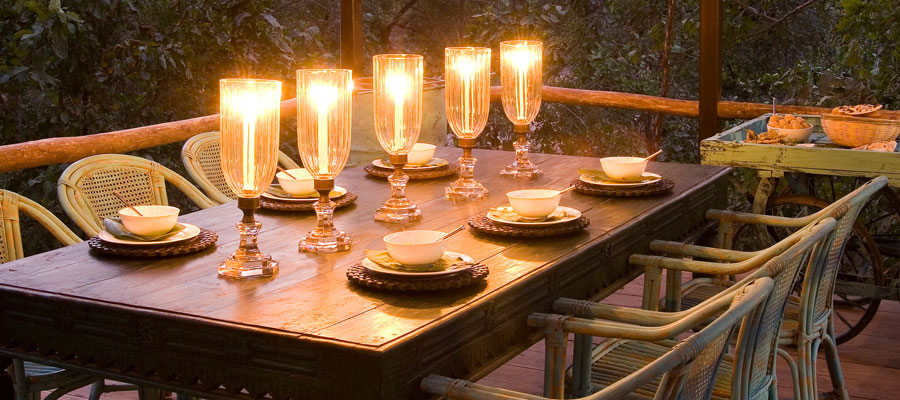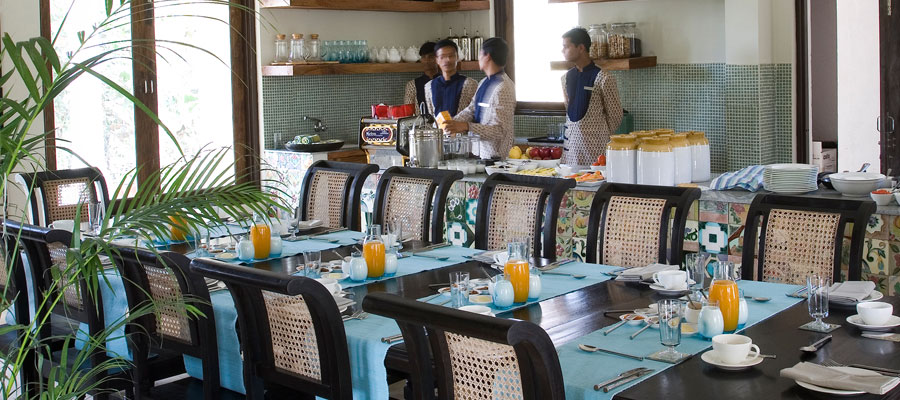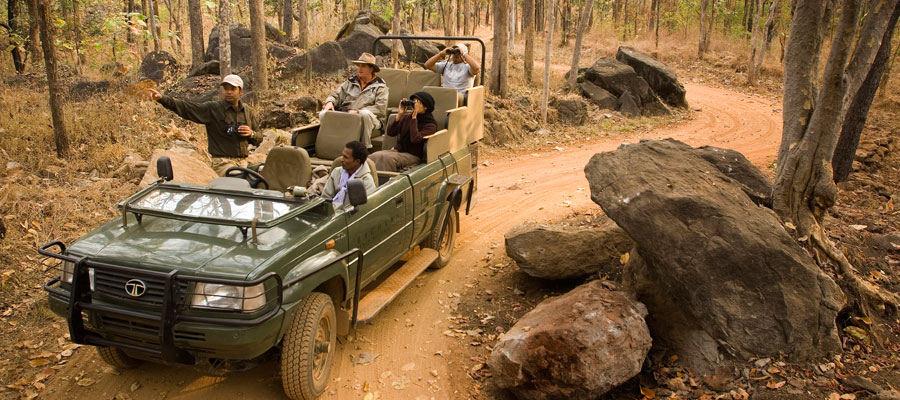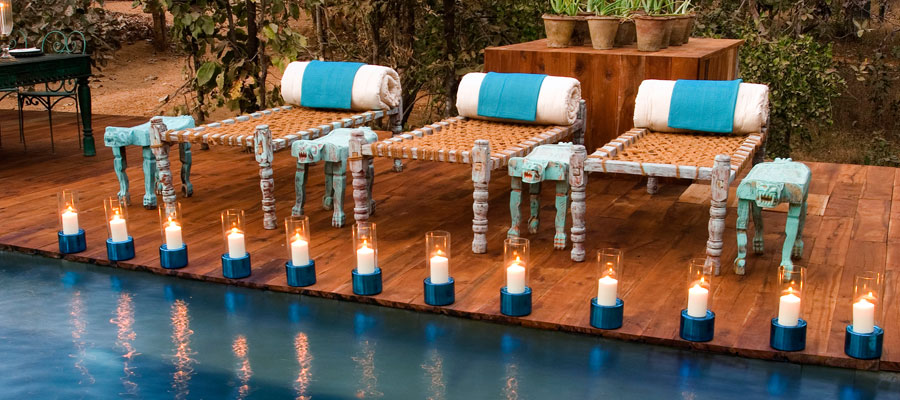 Roam the jungle in search of tigers and other elusive creatures. Listen intently for the distinctive call of the eagles or one of the 300 other species that may fascinate you. Take daily walks and drives with skilled naturalists or simply enjoy a lazy afternoon at the lodge. This is just a taste of the excitement which awaits you at Baghvan, a Taj Safari Lodge.
Baghvan Lodge is located by a lovely stream, surrounded by forest, on the edge of the sprawling Pench National Park. Its spacious, rustic standalone suites and airy guest areas make a wondrous starting point for your journey into the wild. Named after the king of India's jungles, the regal Bengal tiger ("bagh" = tiger, "van" = garden), Pench National Park provided Rudyard Kipling with the perfect backdrop for his classic tale "The Jungle Book". This unique wildlife experience is complemented by luxurious accommodations, warm service and delicious regional cuisine served in a truly adventurous setting.
The property is located in Village Avarghani in Pench. Just 10 minutes from the Park entrance, one can enjoy Jungle Safari twice a day. Guests can visit Alikatta elephant camp and watch the gentle giants. There is also a village nearby, where the guests can go and see how the villagers involve in the art of making pottery. Sitaghat, Alikatta, Bodhanala range, Raiyakassa are some of the beautiful tourist spots, which should not be missed in the national park. The distance from Nagpur Airport is approx. 106 km and from Nagpur Railway Station is approx. 99 km. Taj Baghvan, Pench is aptly named as it is located on the edge of Pench National Park, known for its varied wildlife.
Lodges are not operational from 1st July onwards till 15th October, as the national parks are closed due to monsoons.
---
Accommodation
The 12 individual bungalows feature lovely roof top sleep-outs known as Machaans for the guest to relax after an adventurous day. Wake up with the soft first rays of the sun filtering through the Jharokha (wooden latticed bay window) in your rustic-yet-contemporary air conditioned bungalow. Enjoy nature on your terms with large courtyards, private shaded sit outs and an outdoor shower. The machaan is protected with a mosquito net, refreshed with an overhead fan and accessorised with a hookah. In the summer months, a traditional Khus screen is sprinkled with water, which cools the breeze wafting in and scents it with a lovely fragrance.
A.C, hair dryer, minibar, laundry bag, express laundry service, writing desk, in-room safe etc. are some of the in-room amenities provided by Baghvan.
---
Dining
Mealtimes in Baghvan are adventures in themselves - a series of delightful encounters with nature. Different dishes are introduced at each meal, offering a range of mouthwatering culinary experiences. Dine on the deck overlooking the nullah (dry riverbed), a favoured route of the Pench tigers, or have your meal brought to your machan so you can dine in the privacy of your own suite. Picnics can also be ready-made for an outing to Khoka Lake.
The day begins with breakfast on your private verandah. Then your first safari commences. After the morning's adventures, light, healthy lunches are served on a sweeping shady deck surrounding the swimming pool. Before you venture off on your afternoon game drive, afternoon tea is served. After an exciting drive in the jungle, return to the lodge and settle down under the banyan tree for cocktails.
Dinners are a true highlight, with an abundance of flavours and textures on offer. Guests are invited to mingle with our expert Indian chefs in Baghvan's interactive kitchen and learn how to prepare traditional dishes of Central India – recipes and spices provided.
---
Experiences
The Adventure Awaits
As guests arrive at Baghvan, they are welcomed with a refreshing ice-cold sweet and salty lime soda. Then the adventure begins. Once everyone gets settled, the Baghvan's naturalist presents a fascinating orientation of what to expect on the safari drives. Guests are then escorted into the jungle so they can witness first-hand the region's rich wildlife, including tiger, leopard, and wild dog, gaur, and sambar, chital and brilliant birdlife.
Travel in comfort in a specially designed Tata open 4x4 safari vehicle, spot tigers from the safety of an elephant's back, indulge in twice-daily safaris in the reserve, tick off Pench's ten Star Birds (a book listing the area's top ten birds that bird-watchers can check off) or just absorb the sights and sounds of local villages.
Inside the lodge, guests can absorb the culinary traditions of the state in the interactive open kitchen that spills out into the dining area, or spend the early afternoon indulging in an in-room Ayurvedic massage, then stroll along the shaded deck down to the river bed and cool off in the pool that hugs its contours. Or one can simply browse away the time in the Safari shop or library.
Safari And Wildlife Viewing
The heart of the Baghvan experience is the interpretive safari and wildlife excursions brought to the lodge by the expertise of conservation specialists, &beyond. Taj Safari guides undergoes an intensive 14-20 week training programme, the first of its kind in India. As a result, these expert naturalists are able to provide wildlife enthusiasts and adventure travelers with distinctive, interpretive wildlife experiences which are based on a proven and sustainable eco-tourism model. The jungle is brought to life by their skilled interpretation during nature walks and jeep safaris.
Pench National Park
One of India's rich yet lesser-known parks, Pench National Park, is a typical Central Indian teak jungle, with hilly terrain and several jungle streams. It supports a rich variety of wildlife, including the tiger, leopard, wild dog, and gaur, and sambar, chital and brilliant birdlife. The Park's open habitat lends itself well to wildlife viewing and offers striking views of the area's sheer beauty.
Fauna
Pench National Park is home to a number of exotic creatures as well as endangered species. The tiger is the dominant predator here, and there are an estimated 25 of them in these prey-rich forests. Other predators include leopard, dhol (Indian Wild Dog), wolf, hyena, and jackal and jungle cat.
There is a rich birdlife with over 300 recorded bird species. Fascinating birds include parakets, hornbills, kingfisher, barbets, minivets, orioles, wagtails, and a host of raptors including the crested serpent eagle, crested hawk eagle and white-eyed buzzard.
Flora
The forested area is a blend of southern tropical dry deciduous forest and tropical moist deciduous forest, along with other beautiful species of shrubs, trees and climbers. Pench National Park's diverse flora includes: Teak, Mahua, Tendu, Bija, Amaltas, and Palas. Bamboo occurs mostly in the valleys and along the water courses.