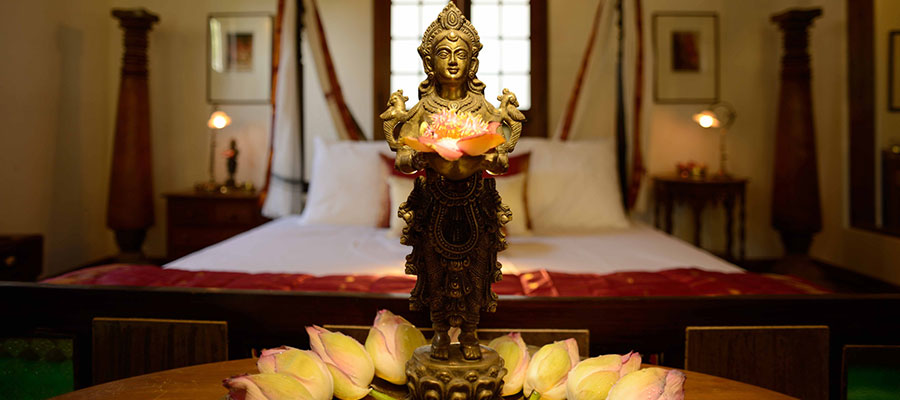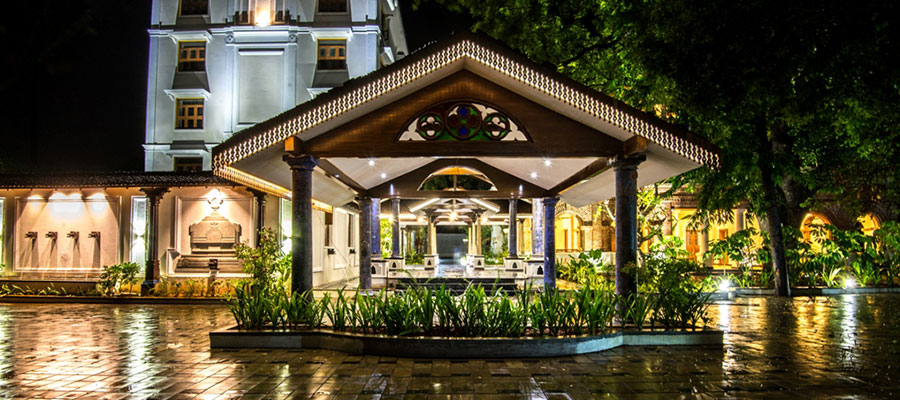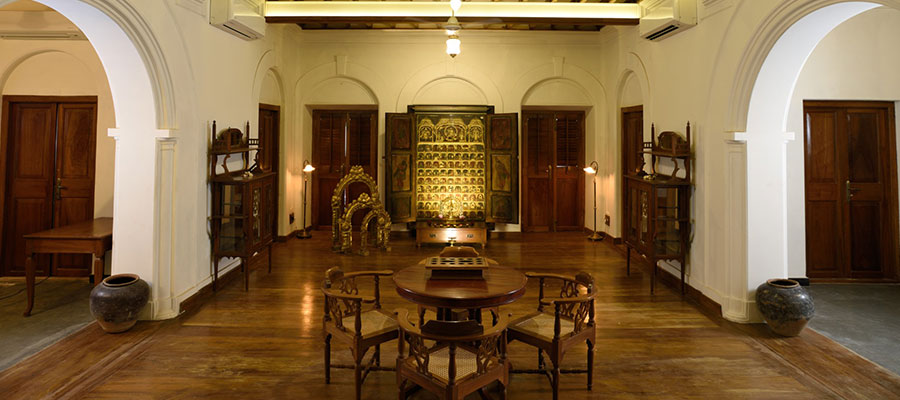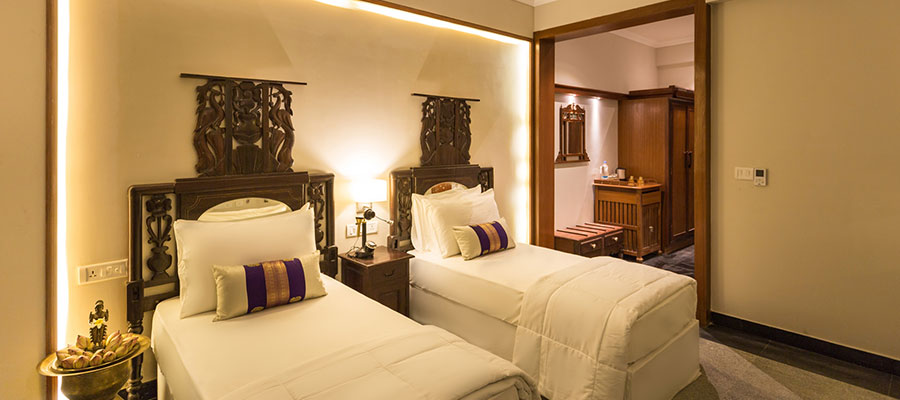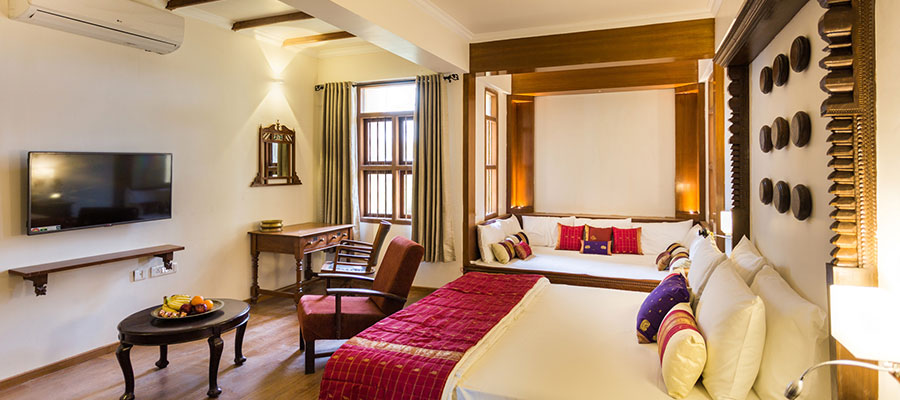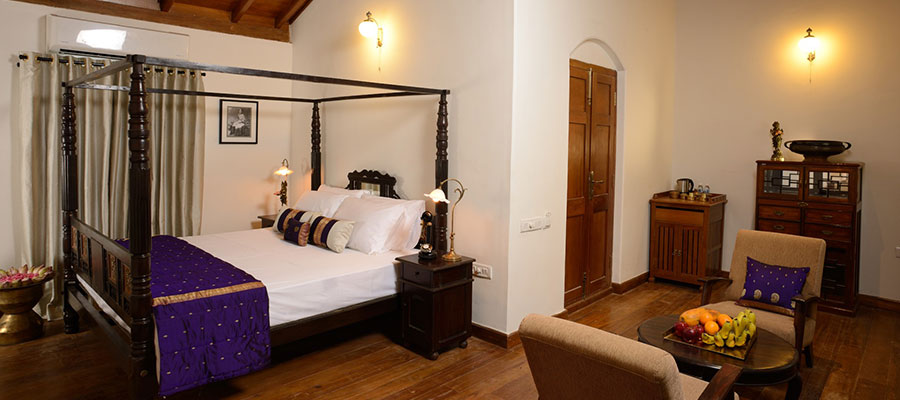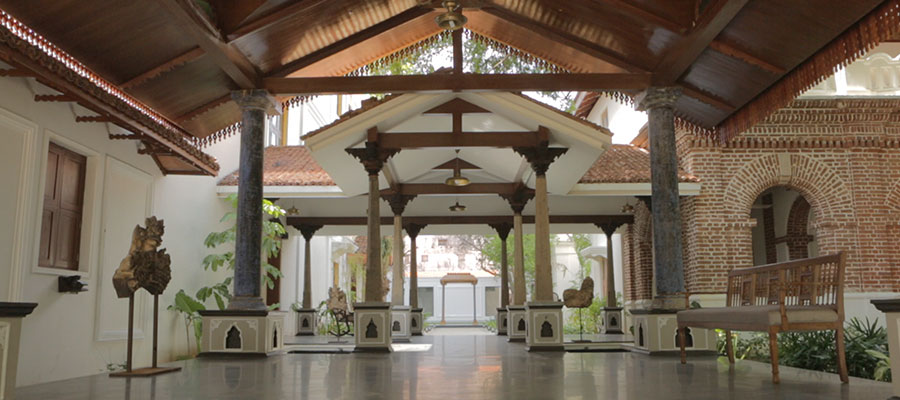 Located in a quiet lane in Tanjore, Svatma is a former grand family residence that has been lovingly restored in a luxury heritage hotel with a new additional wing. Built as an elite family residence, part heritage, part new build, the lovingly-restored Svatma hotel is Tanjore's most exciting new luxury opening . Surrounded by beautifully landscaped grounds, Svatma has been lovingly designed and restored as a testament to tamilan art and culture.
Designed by and for exacting individuals with Spirit, Svatma is the epitome of tamilan culture and art evolved into a space-time capsule of mystique and allure. It is the indescribable romance of contemporary artists flirting with curated antiques and experimenting with ancient art forms in a space resonating with the chanting of Vedas.
Accommodation
Svatma have 38 rooms, all unique and influenced heavily by the ancient Tamil style. There are no standard rooms and suites at Svatma. The spaces are envisioned in a manner most unique to private rooms within a large elegant family home. There are verandas, hallways, lounges and spaces to congregate for the sociable and nooks, bowers and secluded corners for those wanting to retreat. All the rooms are ample in size with en-suite facilities and a delightful blend of traditional dark woods, airy white walls with state of the art technology.
Based on their locations, the rooms can be categorized into:
Heritage Wing : 5 rooms and 2 suites with verandahs are in the main heritage building.
New Wing : this wing has majority of the rooms.
Dining
The hotel is entirely vegetarian; all ingredients are organic and carefully prepared perfect for health conscious foodies.
Aharam restaurant is an all-day fine food restaurant with a unique menu exploring Tamil cuisine.
Nila restaurant is a terrace dining restaurant for those who want a romantic dinner under the stars.
Palaharam is a joyful affair of coffee and tiffin in the veranda. The special hand-poured filter coffee, traditional health drinks and gourmet ethnic snacks presented in a quirky fashion make it a most memorable hangout.
EXPERIENCES
The experiences offered at Svatma are:
Sightseeing trip to the Brihadeeswarar Temple complex, listed in the UNESCO World's Heritage sites
Culinary class with personal training session on simple vegetarian local cuisine for nutrition and good health.
Bronze casting demonstration of the famous cire perdue or lost wax technique by master craftsmen.
Chanting of Veda by priests with the inherent meanings explained, training to chant Gayathri Mantra & Shanti Mantra.
Chamber concert by vocalists, percussionists, flautists in carnatic tradition with a discussion on mood evoked by Raga renditions.
Lecture demonstration on Tanjavur style of dance or Bharatanatyam by proficient dancers.
Visit to Temple site with an academic expert on restoration, architecture and iconography
Demonstration of handloom weaving and wearing techniques
Tanjavur painting technique with gem stones inlay demonstration.
The Hotel also houses a swimming pool fitted with jacuzzi and lounges for relaxation
The hotel has Arogyam the Gym and Yoga centre with experienced tutors who can guide the body to a path of fitness using traditional asanas and simple meditative practices. Soukyam, the luxury spa has four private full body massage/treatment rooms as well as a relaxation area for foot and shoulder massages.