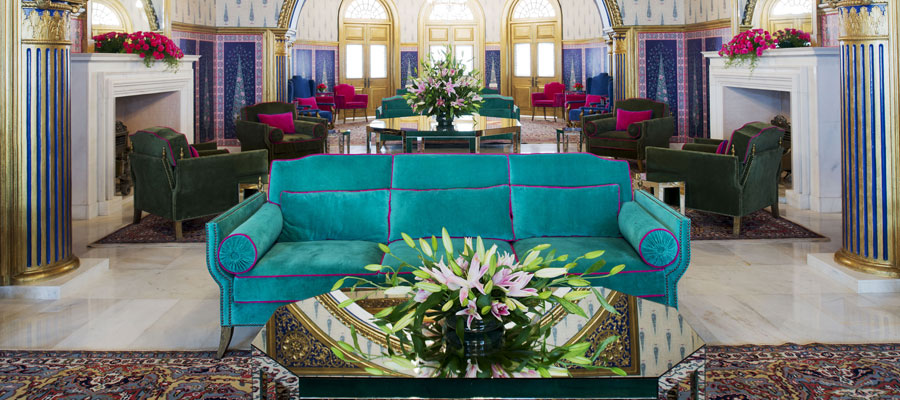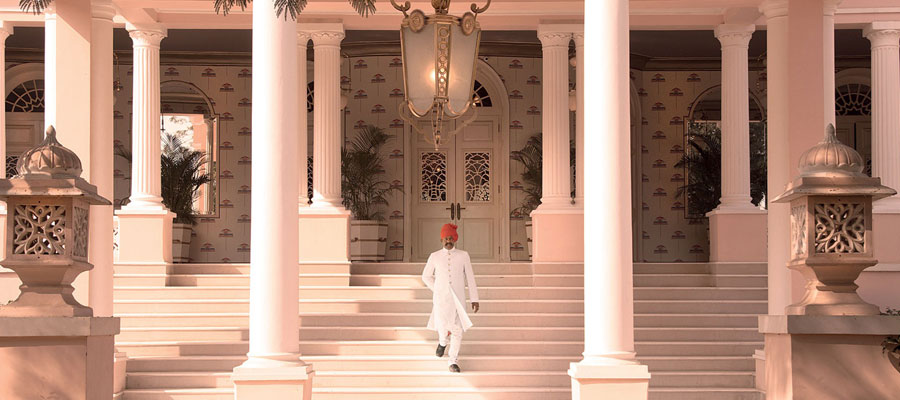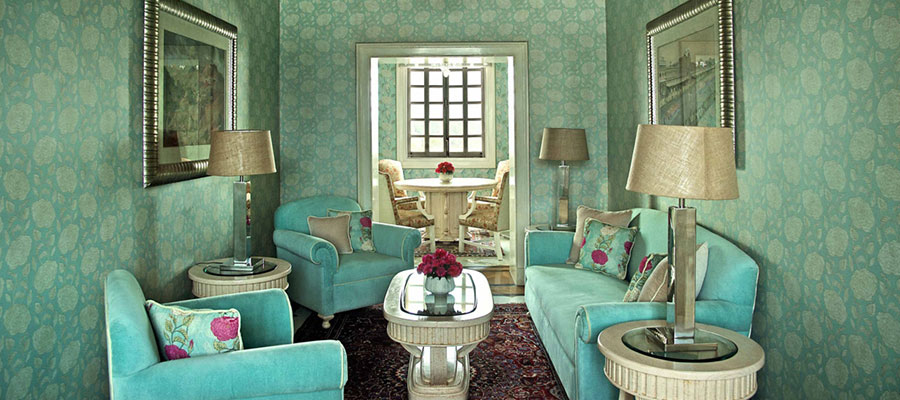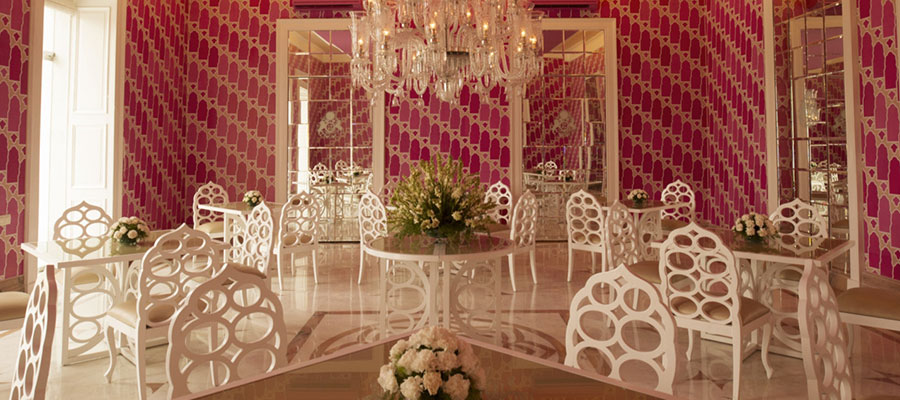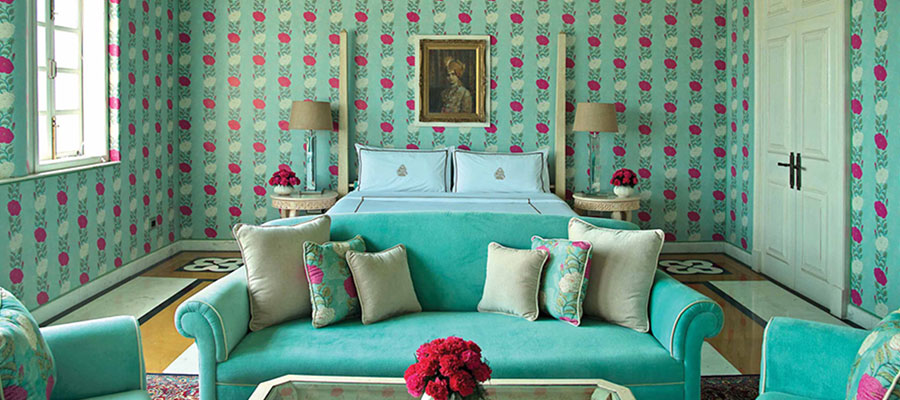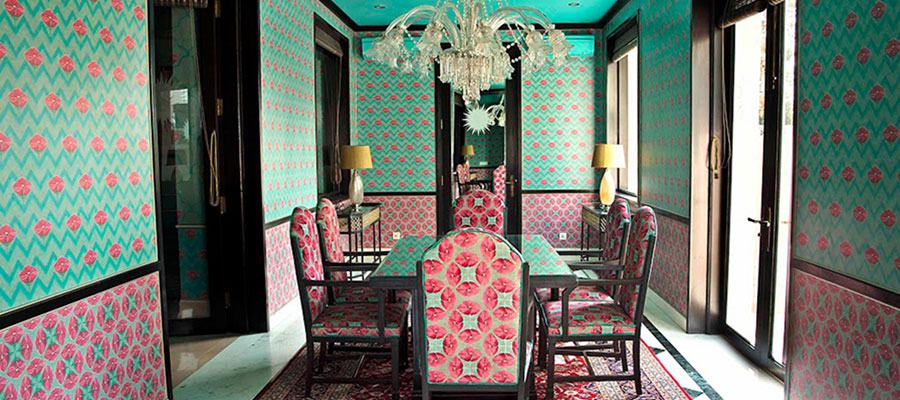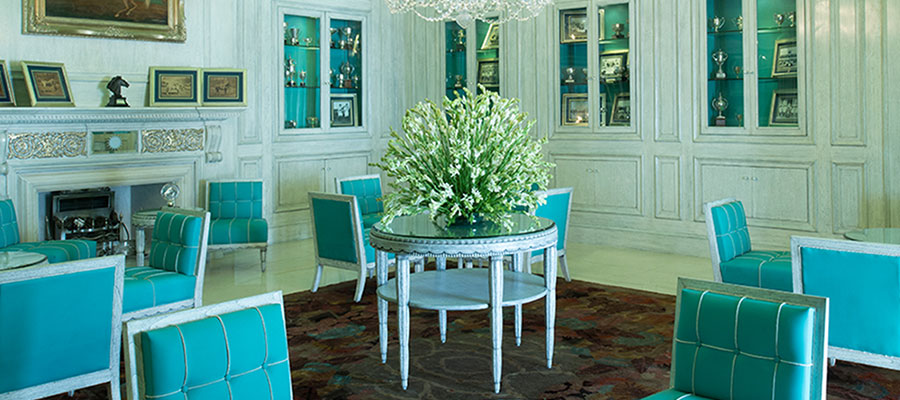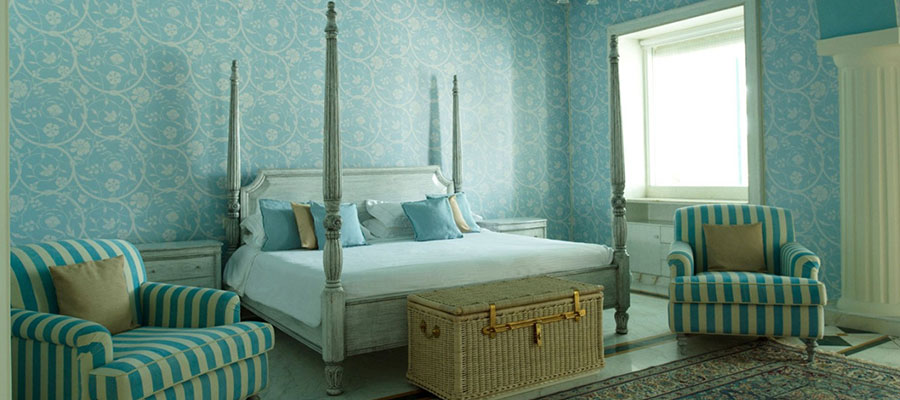 Raj Mahal Palace Belongs to the Royal Family of Jaipur, this exquisite private palatial home is set in the prime location in the center of Rajasthan's bustling capital. Rajmahal Palace is one of the oldest and most treasured properties in the 'Pink City' of Jaipur. Its an enclosed oasis, secluded in exquisite gardens, Rajmahal Palace eludes a sense of celebrated history. The tall bay windows, mirrored doors and exquisite interior décor allow guests to be transported to a new era of regal living.
Accommodation
The spacious and light-filled apartments, suites and rooms of Rajmahal Palace have undergone extensive refurbishment. Wallpaper, specially created for each room, tells the many stories of Jaipur, its rulers, their legacies and the collective history of the State.
Each room is completely unique. That vibrant diversity, set within the stringent unity of the grand design, is the reason of the reinvention of Rajmahal.
The Palace has major 4 categories of rooms:
Palace Rooms : There are further 5 types of Palace rooms:
Madho Niwas 1 : One double bedroom Suite Size: 468 sq ft. Have dressing Room and En suite Bathroom.
Madho Niwas 2 : One double bedroom, Suite Size: 411 sq ft. Having dressing room and En Suite bathroom.
Champa Room : One single bedroom, En Suite Bathroom. Suite Size: 288 sq ft.This charming single suite was the favourite room of H.H The Late Maharaja Sawai Bhawani Singhji of Jaipur . He always preferred to sleep here over any other room in Rajmahal.
Sukh Niwas 1 : One Double Bedroom, Suite Size: 342 sq ft with dressing Room and En Suite Bathroom. It also has a shared sitting room and verandah.
Sukh Niwas 2 : Suite One Double Bedroom ,Size: 441 sq ft with dressing Room and En Suite Bathroom. It also has a shared sitting room and verandah.
Palace Suites : Place Suites are further divided into 3 categories:
THE PRINCE OF WALES SUITE : One double bedroom, Suite Size: 938 sq ft with dressing room and En Suite bathroom. This suite is named after prince of whales who always used to stay her wherever he use to visit Jaipur.
THE PRINCESS OF WALES SUITE : One double bedroom, Suite Size: 960 sq ft with dressing Room and En suite Bathroom. This suite is named after Diana, Princess of Wales when she accompanied Prince Charles on his visits to Rajmahal Palace.
THE RESIDENT'S SUITE : One Double Bedroom, Suite Size: 862 sq ft with dressing Room, and Ensuite Bathroom. This suite became the center of many political activities throughout the period from 1823 until the Independence of India in 1947. Rajmahal Palace was the official residence to the British Resident Political Officer of the Agent General for Rajputana during this period.
Royal Suites : The hotel has 4 types of Royal Suites:
THE MOUNTBATTEN SUITE : It has a Drawing Room, Double Bedroom, Dressing Room, En Suite Bathroom, Pantry. Suite Size: 1271 sq ft. These stylish one bedroom suites at Rajmahal provide a sense of luxurious apartment living in the heart of Jaipur, offering guests a great deal of comfort and privacy.
THE QUEEN ELIZABETH II SUITE : This family suite consists of one large double bedroom, en-suite bathroom, dressing room, drawing room, dining room and a separate double bedroom and bathroom, perfect if travelling with children. Suite Size: 1530 sq ft.
Originally built for Her Majesty Queen Elizabeth II when her and the Duke of Edinburgh on their State Visit to India in the winter of 1961
THE KENNEDY SUITE : This suite has a Drawing Room, One Double Bedroom, Dressing Room, Dining Room, En Suite Bathroom. Suite Size: 1024 sq ft.
Named after its former guest, the glamorous Jackie Kennedy whose famous trip here in 1962 was documented in a blizzard of photographs. She stayed in this room for almost 3 months during her time in Jaipur
THE YUVRAJ SUITE : One double bedroom, Dressing Room, En Suite Bathroom.
Suite Size: 647.6 sq ft
The Yuvraj Suite served as part of the private quarters of two successive Maharaja's of Jaipur.
Royal Apartments : The 2 Royal Apartments in the palace are named as:
RAM NIWAS - THE MAHARAJA'S APARTMENT (Compromising of The Maharaja & The Yuvraj Suite) : Apartment Size 3126 sq ft
This two bedroom apartment is truly fit for Royalty and comprises of an elegant living area, with a separate bar and drawing room that opens out onto a private terrace, ideal for alfresco dining and entertaining. There is also a private dining room where up to 8 can be seated surrounded by original portraits of Jaipur's Maharaja's. - The Yuvraj Suite is the second suite belonging to The Maharaja's Apartment. This consists of one double bedroom, dressing room and en suite bathroom and is positioned towards the entrance of the apartment, just beyond is the main vestibule. Here the guest will enjoy complimentary Chauffeur Service to and from Jaipur Airport.
THE MAHARANI'S APARTMENT : Apartment Size 2899 sq ft
The apartment offers guests a vast master bedroom, combined sitting room that leads into dressing room, en suite bathroom, an elegant private dining room, full service kitchen and a grand entrance hall. Double doors lead down to an enclosed private verandah and heated plunge pool.
Here guests will enjoy the services of a private butler for the duration of their stay as well as a complimentary Chauffeur Service.
Dining
The Collonade: The Collonade is open 24 hours a day for resident guests and for lunch and dinner to non residents. Its the perfect place to meet for a coffee, enjoy a light lunch or catch up with friends over an informal dinner and cocktails. During good weather, guests can sit on the lawns and enjoy the views of the Palace Gardens.
51 Shades of Pink: This place is opened for Breakfast for resident guests only. Lunch for both residents and non residents.
The Orient Occident: With its high ceilings, gilded mirrors and original artworks, an evening spent here is one that will be remembered forever. The carefully crafted menu offers authentic Indian recipes and the finest of European cuisine.
The Polo Bar: Originally the library, and now aptly named The Polo Bar, this calm space allows guests to enjoy a drink surrounded by the original silver polo trophies of The Maharaja of Jaipur and old team photographs. This is the perfect place to unwind after a day spent exploring the city. You may enjoy signature Martinis, Manhattans and classic cocktails. Sample from a grand collection of fine premium international spirits, single malts, cognacs, and pair them with a fine cigar from the extensive menu.
Afternoon Tea: Afternoon Tea is an essential ritual at Rajmahal Palace. A choice of champagne, and a discerning selection of the finest Indian teas, combined with a delicious menu makes for an unforgettable afternoon.
Private Dining: For those wishing to celebrate a special occasion or to simply enjoy some time alone there are few better ways than indulging in an exclusive evening within one of the residential private dining rooms or in a unique location in the Palace Grounds. The Palace Chef will personally meet with you to create your perfect culinary experience.
Organic Garden: The Rajmahal Palace Organic Kitchen Garden has been carefully planted to provide delicious fresh herbs, vegetables, and salads for kitchens.
EXPERIENCES
A sense of well-being is at the heart of Rajmahal Palace, the beautiful art deco swimming pool with views over the gardens is the perfect spot to indulge and relax. The SUJÁN Spa, offers a carefully selected menu of therapies that can revitalise and relax your mind and body.
Rajmahal Palce is perfectly located for excursions into the famous Pink City of Jaipur. You can explore the historical Forts and Palace or be guided through the bustling local markets in search of traditional and intricately made crafts. Culinary Tours, Historical Guides and Photographic walks are just some of the memorable and sought after experiences that can be arranged.
The other excursions that one can enjoy are The Royal Box Polo Match Experience, Cricket, Horse Riding, and Excursion in a Vintage Car, Clay Pigeon Shooting and Elephant Polo & Safari.
Special Events
The Royal Family of Jaipur has hosted legendary parties and events at Rajmahal Palace over the centuries. Now Rajmahal Palace brings the same spirit alive again in this intimate and infinitely refined environment in its latest avatar.
It is available exclusively for a private 'book-out' for weddings, for parties, for long or short stays. For a night, for a week, for two people or for two hundred, join the few who know its secret.