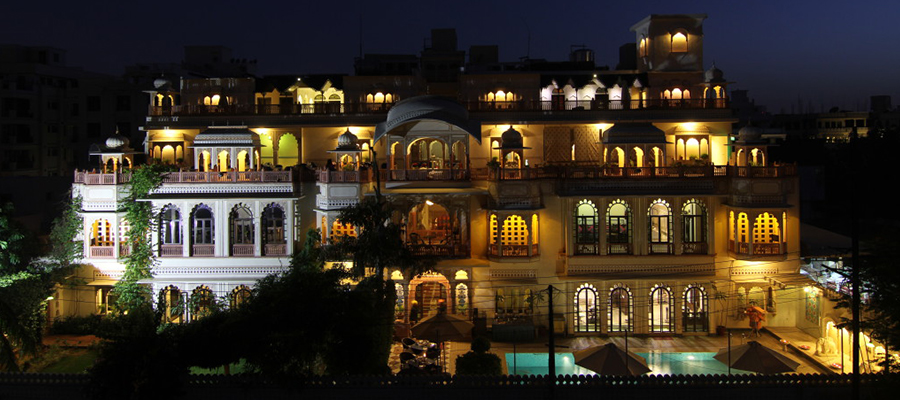 Shahpura House, located in a plush residential area of Jaipur, was once the residence of erstwhile rulers and scion of the Shekhawat clan of Rajputs. The house was converted into a hotel by Maharaj Surendra Singh ji and has welcomed visitors from all over the world. Shahpura retains its character as a family home, where the members of the erstwhile ruling family welcome you personally as their honored guest.
The house has a traditional Rajput architect, a mixture of Mughal and Indian, a façade with domes and frescoes. The family portraits add to the charm of this hotel, where tradition still runs strong. Like many historic houses, Shahpura House is a curious mixture of the old and the new.
Accommodation
The rooms at Shahpura House are unique; luxurious and beautiful, yet equipped with the most modern facilities to make a guest feel utterly at home. Each room is embellished with marble and semi-precious stones accompanying with marble bathrooms and private verandahs and lobbies
There are 65 rooms in total and categories are as below:
Deluxe Rooms: Base rooms of Shahpura House equipped with the modern facilities and lavish bathrooms.
Suites: Tastefully designed and furnished rooms with a traditional architecture of Rajasthan and are decorated with frescoes, colored aarish and typical wall surface finish that takes back to several centuries.
Royal Suites: These rooms have elegant period furniture and fittings, the murals and entire décor will take you in the bygone-era of the maharajas. Rooms are spacious, have king size bed/twin bed, and some of them have attached balconies facing towards the pool. Some are highlighted with mirror work and gold work done on the arches (ideal for honeymooners).
Shahpura Suites: These are the most spacious and tastefully designed suites at Shahpura House. It offers complete privacy and has a spectacular view of the city, which can be enjoyed through their common terrace. These suites have large sitting area and their private elevators to the floor.
Dining
While at Shahpura house, guest get an opportunity to indulge in the fine dining restaurants and legendary bars where culinary masterpieces and exquisite ambiance blend in delicious harmony.
Sapphire Restaurant: The multi-cuisine restaurant offers both Indian and international cuisines. Stunning view of the amber fort and surroundings can be enjoyed from the restaurant, while you enjoy authentic home cooked flavours using only the freshest ingredients available.
Rasa – An Indian Alfresco Dining: This is an Indian Speciality Restaurant offering the most delicious Indian cuisines.
Terrace Restaurant: An ideal place to relax after a long, tiring day of sightseeing and shopping with a refreshing drink, a candle – lit dinner under the Stars, soft music, muted light and beautiful evening breeze. Winter evenings are special with bonfires and live musicians as you are pampered by the warm, very friendly and efficient staff. It is an experience in itself.
Pool Side Restaurant: A perfect way to relax and rejuvenate by giving yourself over to a quiet meal as you admire the swimming pool that surrounds or unwind with a refreshing drink.
Bar: Featuring spectacular sunset views, the Bar at Shahpura House is a fun relaxed space integrating the colours and energy of Rajasthan. An eclectic mix of drinks such as spirits stirred with pomegranate juice are available alongside more familiar favourites.
Experiences
Guest can play a game of Chess, Carom at pool-side, relax on sun drenched lawn or request for a cooking class with a chef or request for a Camel safari.
Spa: The luxurious spa overlooking the swimming pool is a haven of serenity. Trained therapists pamper body and soul with rejuvenating treatments.
Marionette Show: Shahpura house has artist who perform their show during the night time under the stars. The show has become a regular feature after the meals.
Baggi Safari: In olden times the royals used to go on Royal Baggi driven by four white horses for the entertainment or to the lakes during summers. The hotel can arrange for its guest to experience the Royal Baggi Safari and explore the nearby surroundings and feel the beautiful atmosphere of the calm/quiet area of the city.
Rajasthani folk dance: A great attraction of Rajasthan is the Rajasthani dances. Bringing alive the Thar Desert of Rajasthan, the dancers at Shahpura house present a wide variety of amazing dances every evening.