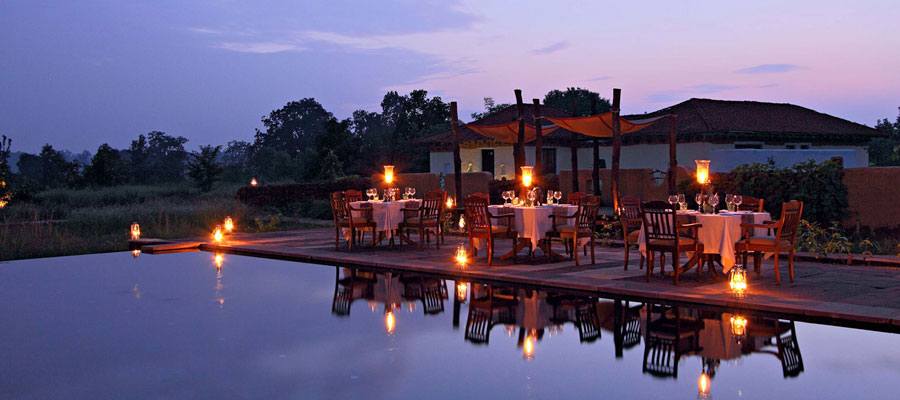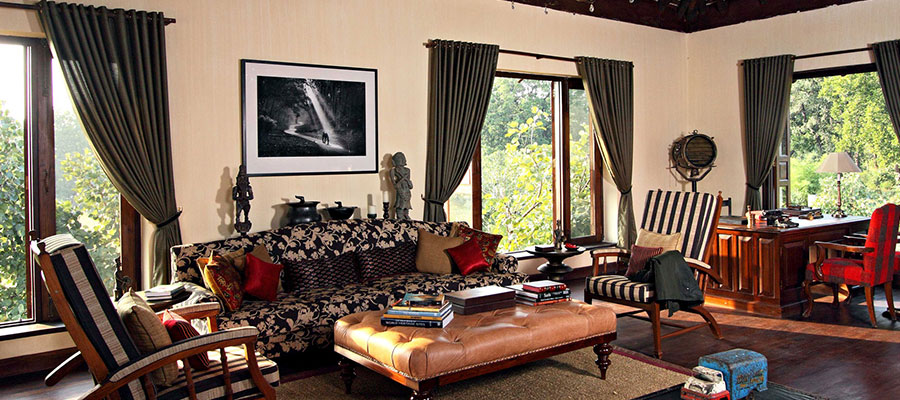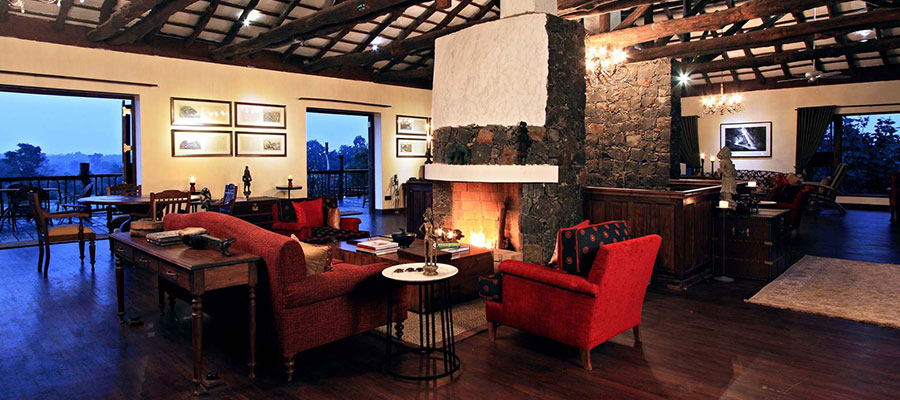 At the Samode Safari Lodge, Bandhavgarh, you will experience the real Indian jungle. One of the few places in the world where you can still see wild tigers.
Accommodation
Samode Safari Lodge has a necklace of private villas strung around the main lodge building. Each villa has an elegant living area with a spacious lounge, a bedroom with a modern en-suite bath, a dressing area, a unique open-air bath court and a private verandah with a view.
Dining
Dining is an indulgent treat and a daily surprise – different menu, different venue – either indoors or alfresco. Enjoy gourmet dining at the main restaurant; barbecues around a campfire, a table set for you out in the bushes; long lazy poolside meals, or romantic dining in the privacy of your own villa. Exciting cuisine and excellent wines await you.
The picnics are a special treat – be prepared for thoughtful service under the sky and the trees – the very air adding flavor to your food.
Experiences
The main lounge is the heart of the lodge. Built on the first floor of the main building, it is tastefully decorated and comfortably furnished. With a wooden floor, two large wood burning fireplaces and great views, the lounge opens onto a large wooden open air deck which overlooks the property. Read in a cosy corner, sunbathe on the deck or just nurse your drink while staring at the fire; the lounge will help you relax after the safari.
Below the main lounge, on the ground floor of the main lodge building lies the pool room which also houses a well stocked library.
Samode Safari Lodge offers a choice of activities. Take a dip in the heated open air swimming pool, work out in the well equipped gymnasium, jog along the trails near the lodge, go for nature walks, cycle, visit mardari village.
A fully equipped spa allows you to combine your wildlife experience with the therapeutic benefits of a modern spa.