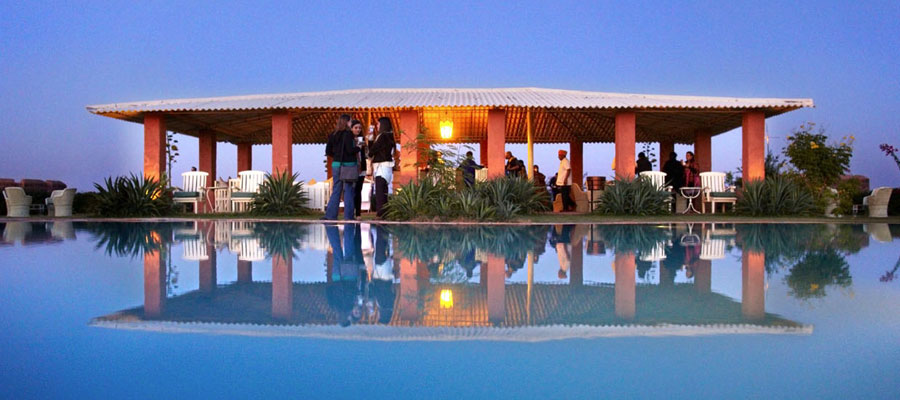 The Camel Camp, Osian is very conveniently located 60 kms from Jodhpur- Which makes possible for even a individual traveller to experience the desert and a camel safari rather than travelling all the way to Jaisalmer.
Besides the comfortable camel safari one also gets to see proud local tribes--- Bishnois, Bhils, shepherds, potters, weavers etc.
Accommodation
The tents at Osian are African Safari tents with ethnic Indian interiors. They are fully carpeted, mosquito proof, well furnished with ensuite toilets.
Dining
Food in the camp is served in a common area near the swimming pool. In front of the mess hall is a large floored courtyard with tables and chairs set around. This is the entertainment area pre-dinner. Entertainment consisted of traditional Rajasthani dancing accompanied by a band.
EXPERIENCES
Camel ride, village tours and Jeep safari is possible at the camp. The guest has the option of taking a camel ride to the oasis village Khetasar. On the way one gets to see Blue bulls, Gazelles, Foxes, Hare etc. One can also visit the local potter, weavers, Bishnois huts along the Safari route. Since it is a longer ride, its recommended to have a Jeep on the way back to the camp.
Evening cultural performance : Every evening the resort organizes folk entertainment followed by a candlelit dinner.
Temple Visit : Visit to nearby Jain temples at Osian can be organized.