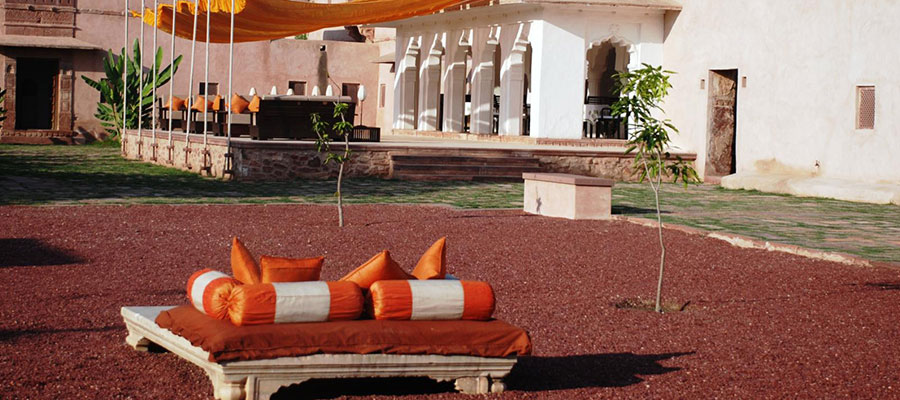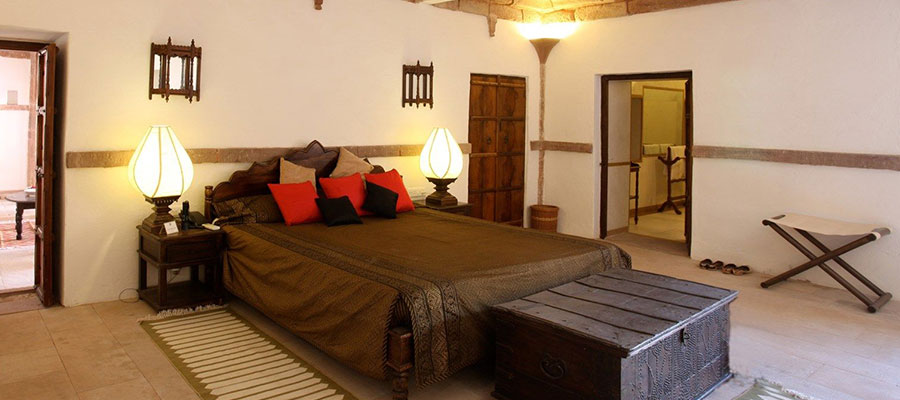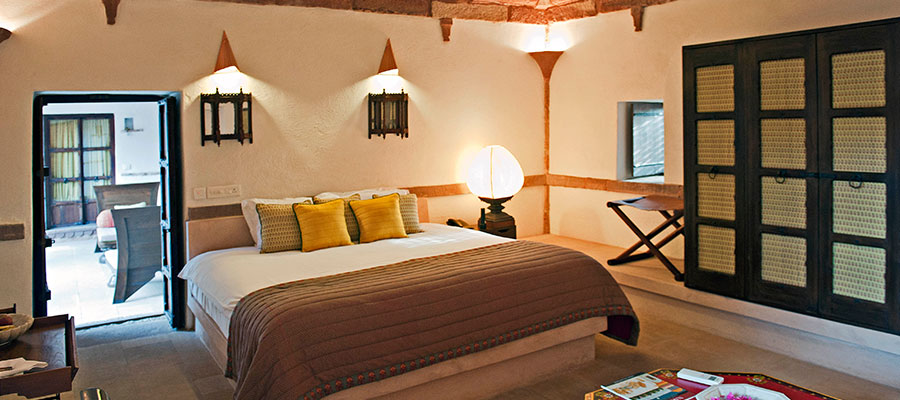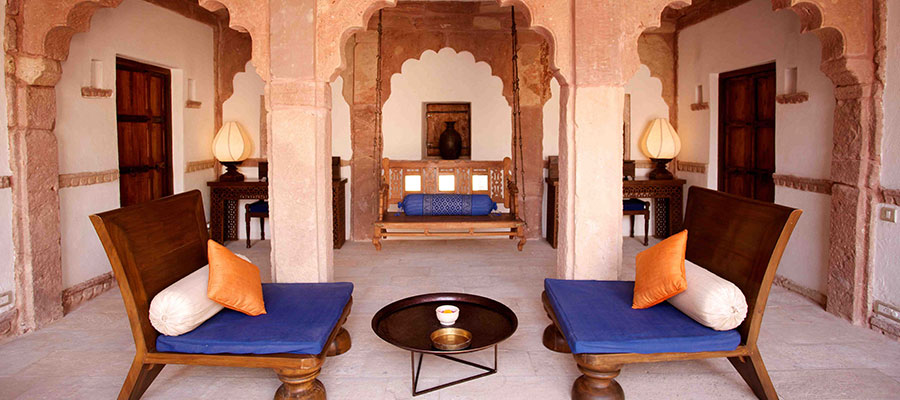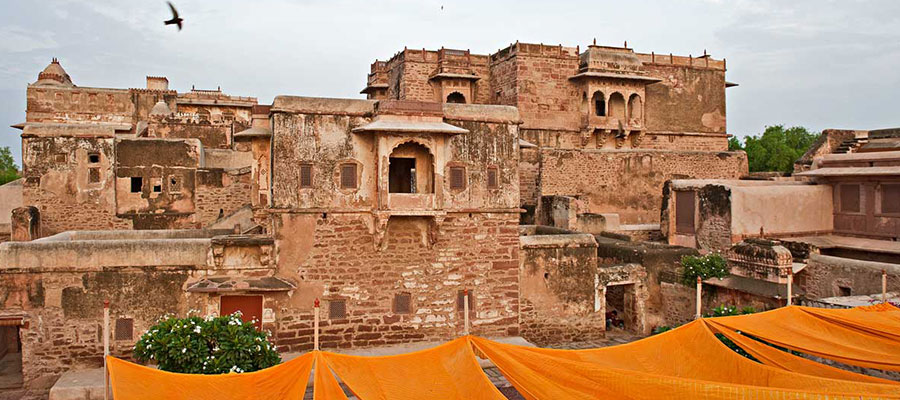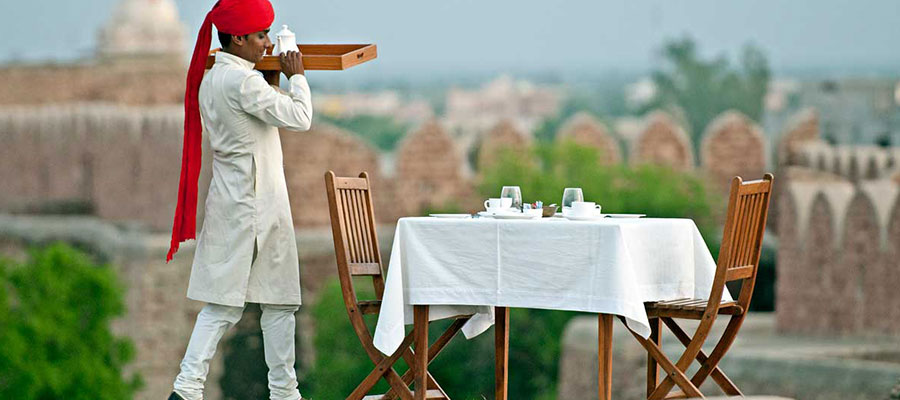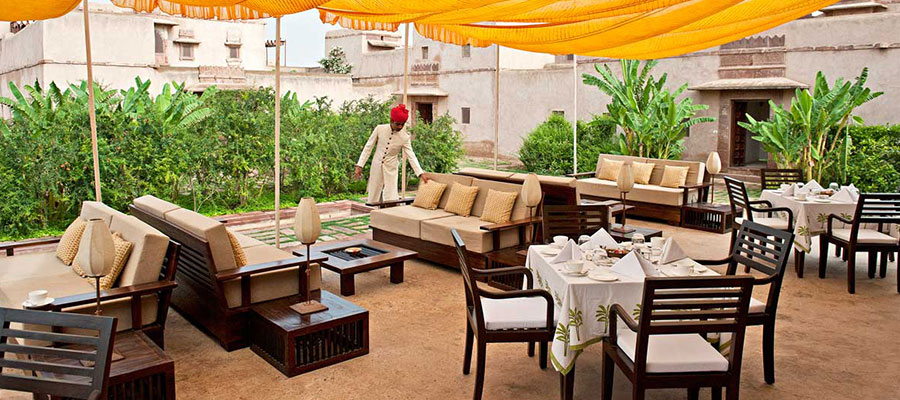 Ranvas is a heritage property in the purest sense, giving its guests the chance to experience a living legacy of a regal residence as they have been carefully revived to offer elegant and inviting accommodation. All the refurbished havelis are named after one of the rani's.
Accommodation
There are 33 rooms spread through 10 havelis. Each haveli comprises of three rooms ranging from single to queen size and suite level. Intimate lounge, shaded terrace and sit-outs are extensions to the suites and are ideal to relax with a drink or to read a book. The rooms and suites are beautifully furnished with rich fabrics in vibrant colors and elegant prints while antique furniture and local artifacts add a timeless charm to each suite. The en-suite bathrooms are spacious and well lit, with all modern fittings yet have an Indian feel. Each haveli has a suite on the first floor with a private terrace.
Dining
Bardari
It is the many pillared all day dining and partly open to sky. It serves local mughal Sufi cuisine and a host of international cuisine to suit your plates.
Ambar Darbar
It is an indoor restaurant which offers an A la carte menus inspired by the Ranis's royal kitchen. It can also be turned into a conference room when required.
EXPERIENCES
There is no other way than exploring the fort and the nearby area, when residing within it. A visit to the museum & palace at Ahhichitatagarh fort reveals a fascinating history and art heritage which have been expertly restored. Take an excursion to Nagaur town and the surrounding desert by camel, horseback or car or visit the local bazaar for sampling craft.
Visit the nearby temples or stroll around the gardens and if not interested, then simply relax by the swimming pool or in the lounge.
If you are visiting in the month of January or February, you can visit the annual Nagaur Cattle Fair. Also, every year, the Sufi Spirit Music Festival is held here and is a magnificent fusion of cultural heritage and spiritual fervor.