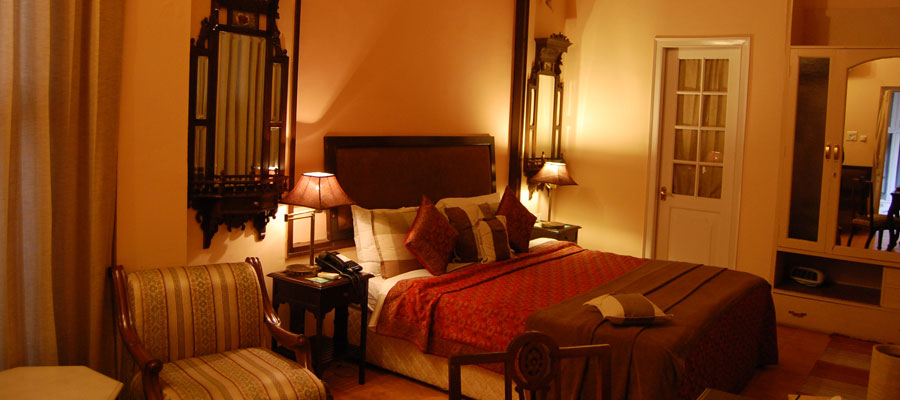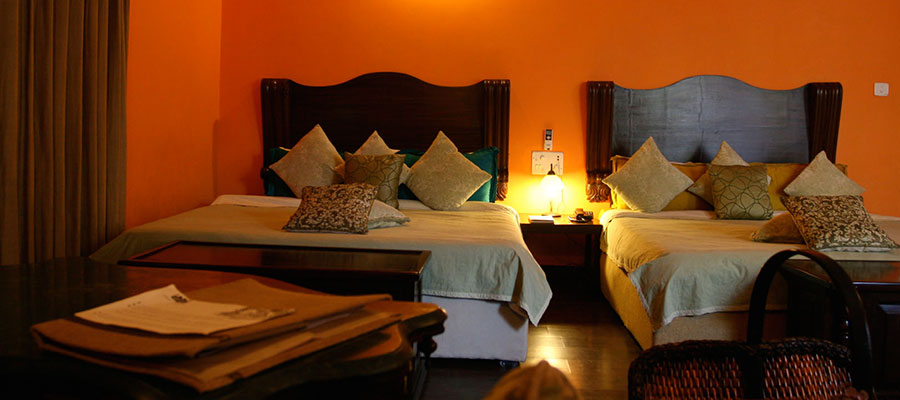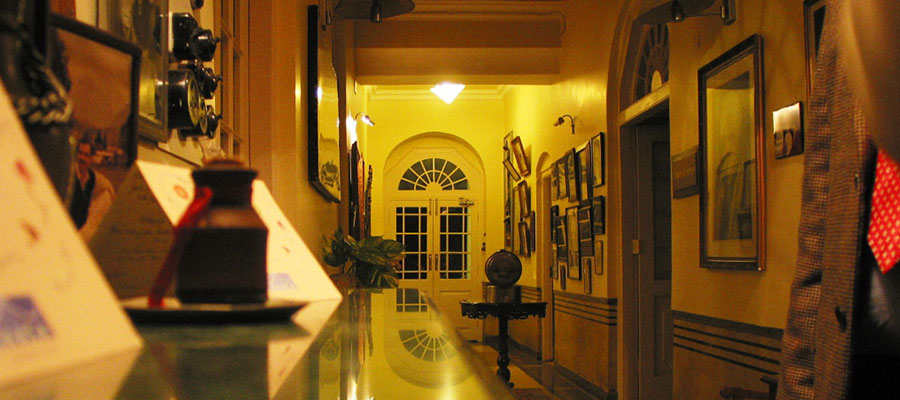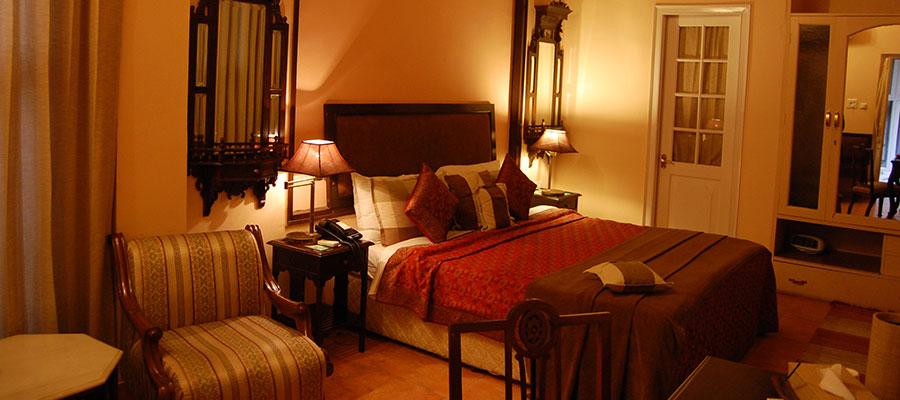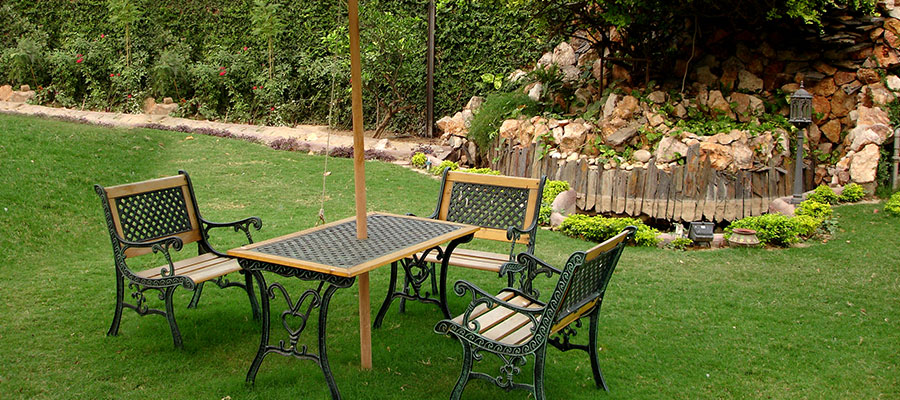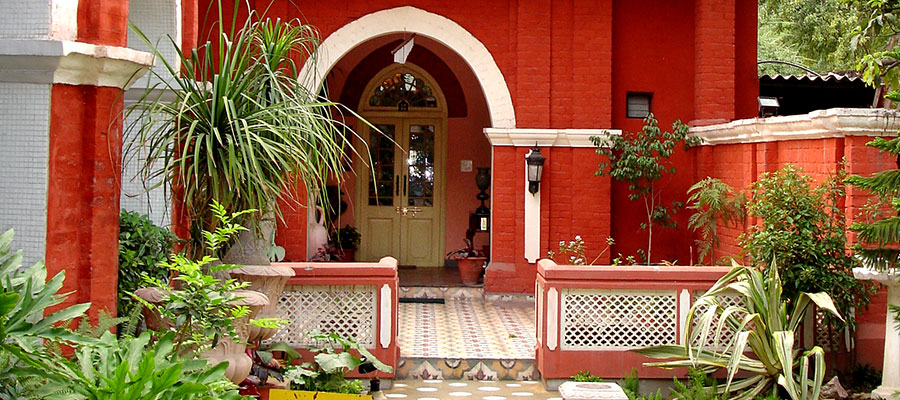 Housed in one of Amritsar's oldest mansions, Ranjit's Svaasa is a luxurious spa retreat in Amritsar. This haveli which is about 250 years old, was run in the 19th and early 20th centuries as a guest house for visiting officials from abroad. This haveli is renovated and converted into a heritage hotel open for all, Ranjit's Svaasa now offers heritage accommodation, friendly service, spa treatments, yoga, meditation and organic cuisines to its guests.
Accommodation
Ranjit Svaasa has 19 rooms categorized as:
Luxury Rooms: Luxury rooms are the base category rooms that open to their own courtyard or private terraces.
Svaasa Suites: Svaasa Family Suites is a specially designed suite with two King size Beds. The rooms have private patios.
Ratnavali Suites: Ratnavali Suites is the luxury Svaasa signature suite featuring Heritage poster beds, walk in closets and spacious bathrooms.
Junior Presidential Suite: Junior Presidential Suites is a premier luxury Svaasa signature suite having 02 bedrooms with ensuite bath.
Presidential Suite: The Presidential suite is a large penthouse with two bedrooms and baths, a sitting room with TV and a sun bathed dining area.  The suite has a patio area overlooking the courtyard as well as the fields.
All the rooms at the hotel come with classic original big windows and high ceilings and is uniquely designed with traditional Indian fabrics and warm colour tones. Each of the room is equipped with air-conditioning with thermostat, spacious bathrooms with shower cubicles and complimentary toiletries, lemon tea makers, walk in closets, in-room safes, broadband internet access, dual line telephones with data port, fax and other business facilities.
Dining
Eating at Ranjit's Svaasá is truly a homely affair and the food is wholesome and delicious. Healthy cooking practices are incorporated and a number of condiments are freshly prepared and served on a regular basis. The dining options at the hotel are:
Herbs cafe Lounge: A plush lounge by the North Verandah with old tapestries to settle in, play the piano or enjoy a chat over our organic beverages and nibbles.
Dining by the Garden: This 30 seat eclectic dining bustles with buffet breakfast in the morning & dinner with soothing music by the candle light.
Empire Lounge: The unofficial business lounge supporting complimentary wifi internet access and a laptop for your use, incase you forgot your own.
Atrium: A roof top atrium quietly settled high in an all-white high windowed conservatory that lets in light and air complimenting the mood.
EXPERIENCES
Feeding Lunch At Amritsar's Blind School and feeding the cows at the Gaushala - There are various experiences offered at the heritage hotel. The guests are offered to visit the blind school run by the family trust, spend some time with the children and feed them lunch. The other activity at the hotel is a visit to the in house cow shelter (Gaushala), where over 200 cows are kept. The guests can feed the cows hay if they wish.
Ride Around Town - The guests can also enjoy a memorable ride on a private horse cart (tanga) to visit the evening procession of the Holy Book at the Golden Temple. Or the guests can take a joyous tanga ride to the royal historic Ram Bagh Gardens and visit the local market.
Cooking Demonstration - The hotel organizes cooking classes for the cooking enthusiasts. Home hosted dinner with a local punjabi family of Amritsar is also organized on request.
Spa - The hotel also has an in house Spa, called the Svaasa Spa with four therapy chambers. Freshly prepared and customized therapies enriched with speciality organic / natural ingredients enrich the spa experience to greater levels of tranquility. Ayurveda, Alternative Medicine, Acupressure, Universal Therapies, Diet & Nutrition are holistically incorporated to address the guest's wellbeing.