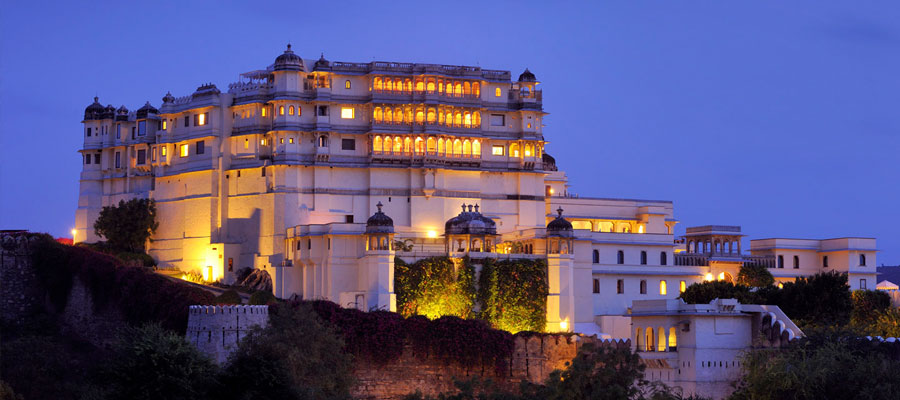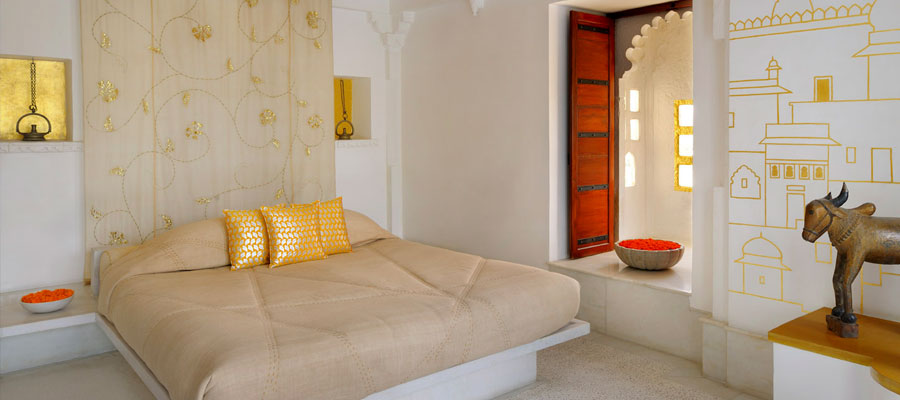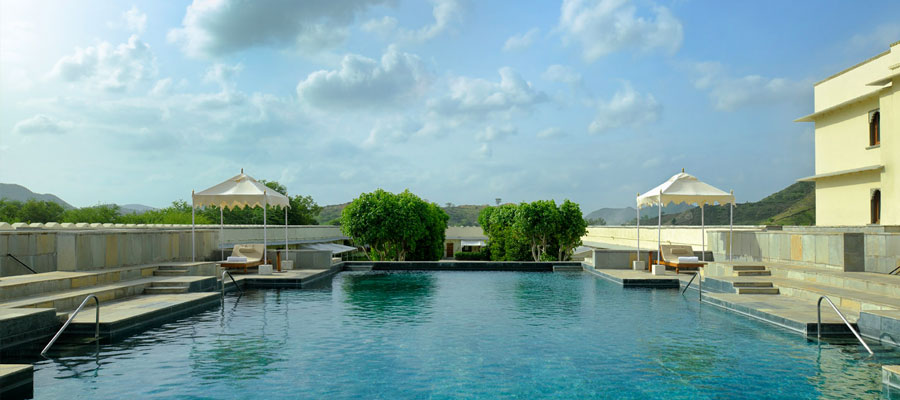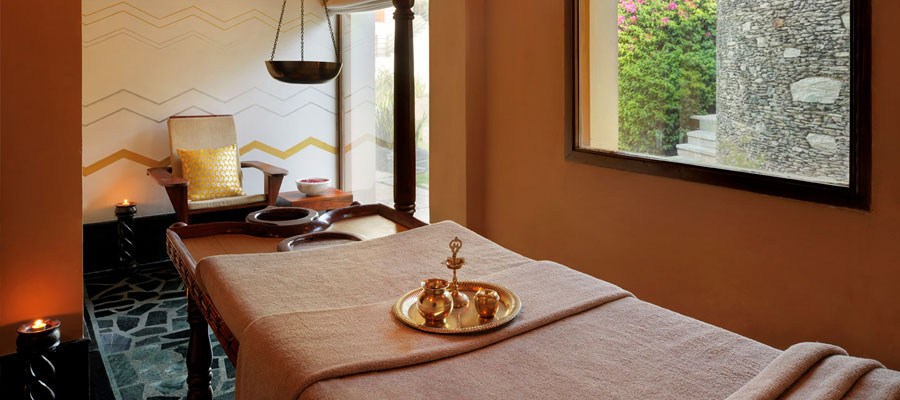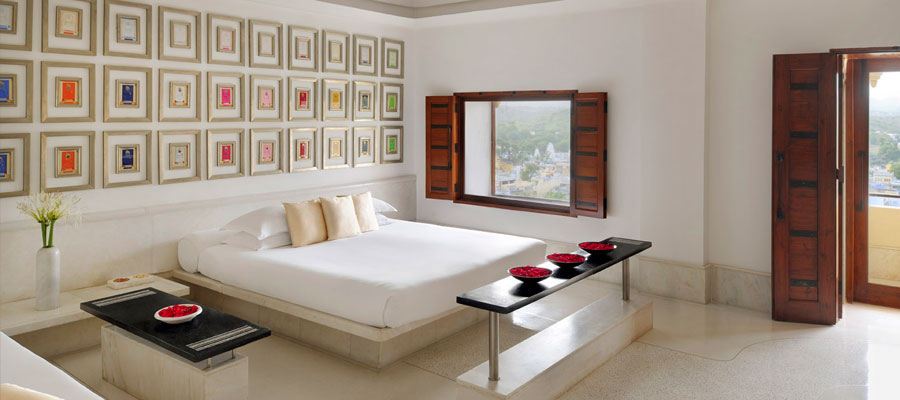 RAAS Devigarh, situated 27 kilometers North-East of Udaipur stands, in two worlds: the traditional and the modern. Its ambience is an eclectic mix of skillfully crafted designs, old and new, functional and purely aesthetic. Local materials like marble and semi-precious stones have been used in contemporary designs to create an elegant beauty. Personalized service complemented by a wide range of modern facilities goes towards making RAAS Devigarh a comfortable and attractive retreat. The fort, surrounded by lush green fields and mountains on three sides, overlooks the village of Delwara and is close to the temples of Eklingji and Nagda. The combination of a traditional Rajasthani village, the towering fort and the temples, makes for an interesting mix.
Accommodation
RAAS Devigarh is an all suite Boutique Hotel housing 39 Suites. Out of which 17 are Garden Suites, 11 are Palace Suites, 10 Aravali Suites and 01 Devigarh Suite (Presidential Suite)
Garden Suites : have a separate open sitting area with shed of roof tent in every garden suite. The white & green marble combination is used in all these suites. Shape of trees is been carved on the marble wall of the bed. Spa & swimming pool is very close by these suites. Bedroom & living room is combined.
Palace Suites : have total 16 palace suites. All are different to each other. These suites are located in main palace in different courtyards. Few of them have the beautiful balcony facing the village. All the suites have their own different features & themes. Separate living room, study table and separate bedroom.
Aravali suites : The landscape area is much bigger than palace suites from where we can have very beautiful view of Aravali hills. The one and only duplex suite is there in this category. We have separate bedroom, living room, area with domes, beautiful big balconies and semi-precious stones.
Devi Garh /Presidential Suite : is based on Lord Shiva's theme. In which we have separate Bedroom, Dining Room, Living room, Dressing Room, Bath- Room with attached to private Jacuzzi .Amenities and facilities would be remain same as Aravali suites. The private swimming pool is the again attach to the suite with the net and canopy.
Dining
Raas Devigarh has various Dining options :
Sheesh Mahal: This is the most magical venue. Traces of History in the form of faded frescoes and mirror work lend charm to it. Traditional low Indian seating and rows of candles transform this into a perfect venue for a very special occasion.
Hawa Gokhda: This Venue is a wonderful example of Rajasthan's rich art and culture tradition. As there were no Air Conditioners or Fans available in that time, this room has been designed in such a way that when ever you visit this place even in Summers also, you will find a cool breeze in this area. The dinner is served down in an ethnic Indian style with low sitting. The place is done up beautifully with flowers and candles, with music of live Indian classical instrument like Xylophone or flute, which makes it an unforgettable experience.
Ram Room: Once this intimate space situated near the private area of ladies known as "Zanana courtyard" served as the meditation room of Delwara's ancestral family - the original calligraphy on the walls is intact, offering a bridge into the past while presenting guests with an atmosphere of sophisticated modern elegance.
Restaurant Terrace: Overlooking the Aravali mountains and the palace, it is an ideal venue for breakfast, evening drinks, high tea, and dinner for approximately 30-50 guests.An inbuilt seating provides the perfect party place for casual and sit down dinners.
Pool Side: The open air swimming pool overlooking the Aravali hills makes it a mesmerising venue for dinner, ideal for big parties, private events and theme dinners. The venue is only available for residential guest on full fort hire.
Silver Lounge: An air-conditioned room where the furniture is covered with silver and the walls have mirror work, which reflect the candlelit warmth throughout the hall. Small groups can enjoy this unique atmosphere in comfort. Various conference set up combinations can be done apart from meal arrangements.
Garden Terrace: A venue which is ideal for the small get togethers and parties has a spectular three dimensional view of the front façade of the Palace.
Garden Lawn: This contemporary garden, transforms into an excellent dinner venue for small groups.
Main Lawn: The picture perfact backdrop of the 17th century fort and an ideal place for big parties, private events with performance or theme dinners.
EXPERIENCES
Guests at RAAS Devigarh can avail of an extensive range of activities, including: Pool Table, Table Tennis, and Croquet, Bicycles, Camels & Horse rides , indoor games, trekking and kite flying.