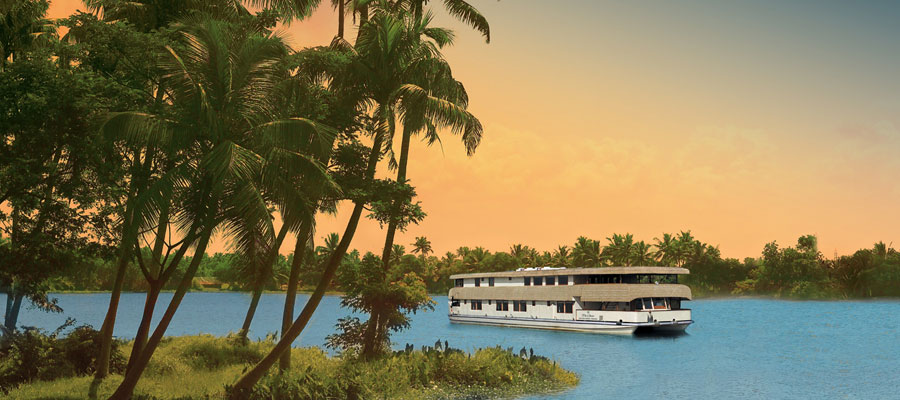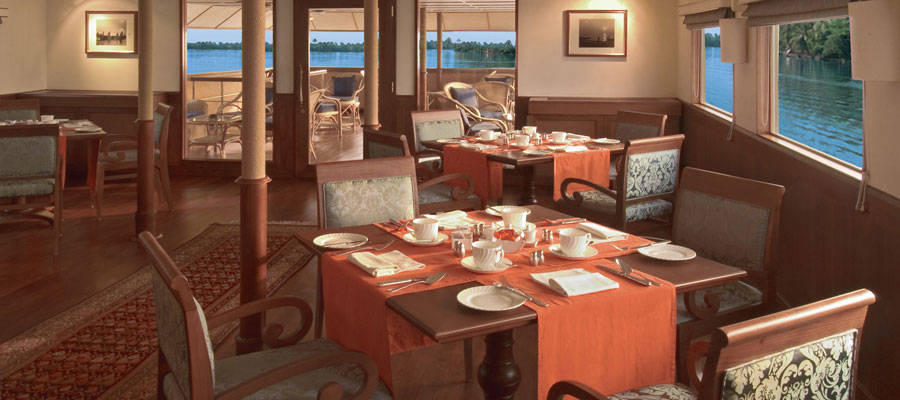 Located at a distance of 45 km from the city of Cochin, The Oberoi Motor Vessel Vrinda, is a luxury cruise sailing through the tranquil backwaters of 'God's own country' – Kerala. For those who really want luxury and are not interested in the more traditional boats – the Oberoi Vrinda is a great option and offers similar experience but with more modern cruise feeling. The cruise bring the guests up close to the natural finery, bucolic village settings and quaint glimpses of the tiny hamlets on the river banks as the cruiser meanders through a series of picturesque canals and lakes.
Accommodation
The Oberoi Vrinda have 8 deluxe cabins with ensuite bathroom featuring a glass-panelled, vari-pressure shower, a glass wash basin and exclusive, plant-based toiletries. The cabins are well furnished with king-size beds, panelled with rich, polished teak flooring and filled with natural light.  The amenities in the cabins include a 42" LCD television, a DVD player, an electronic safe and international plug points.
The cruise on-board services include a 24-hour personal butler, in-house entertainment and high speed WiFi.
Dining
The cruise has an all day dining restaurant that serves a multicuisine menu including the traditional regional fare. The restaurant is furnished in an elegant manner allowing natural light and views of the backwaters. From intimate arrangements of smart wooden tables, guests may enjoy delightful views of tranquil lakes and palm-fringed shorelines.
There is an exclusive traditional dance and music performances every night at dinner. In the outside sitting area, guests can enjoy a cup of traditional cardamom tea while relaxing on wicker chairs and watching the world float by.
EXPERIENCES
The Vrinda cruise provides many options of guided sightseeing excursions to the villages that the cruise crosses enroute. The cruise also offers a sightseeing excursion to visit St. Mary's Church, established by St. Thomas in 1721 and Sree Bhagavathy Kshetram – a 100-year old Hindu temple to Mother Goddess - at Nedumudy.
Other experiences include a visit to the Chambakulam snake boat yard, which displays one of the traditional long snake boats used in Snake boat races. Guests also get an opportunity to navigate through the narrower sections of the backwaters in a traditional rice boat.
Onboard experiences include various dance and musical performances like a Kathakali dance performance or a "Mohiniattam" recital or a Vrinda Vadiyam musical performance each evening.