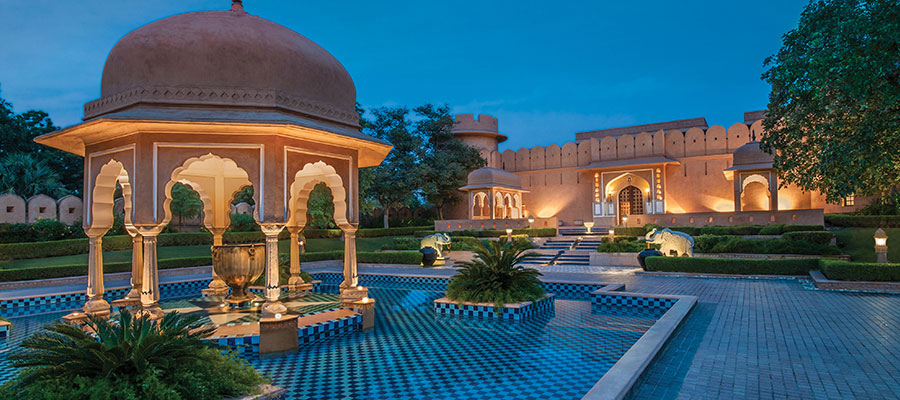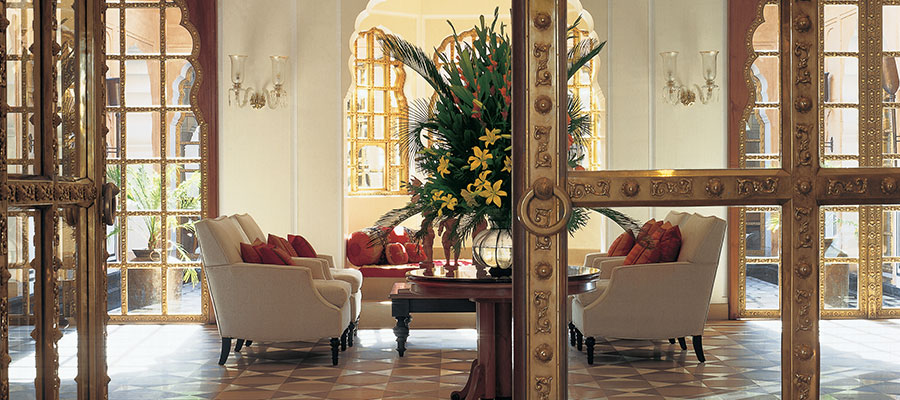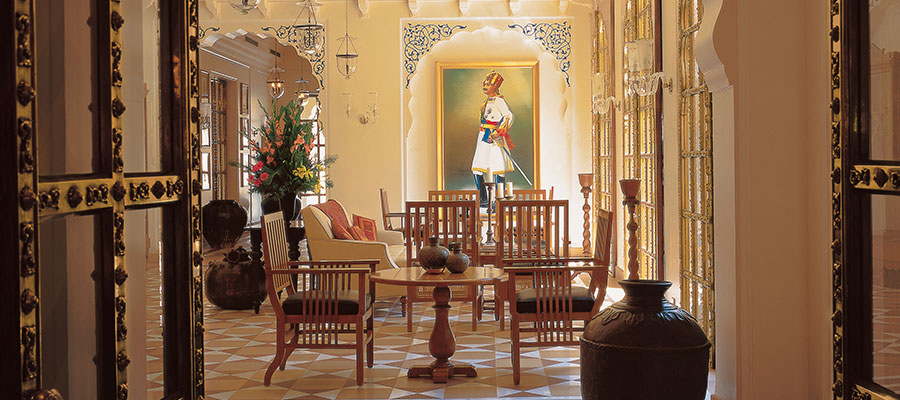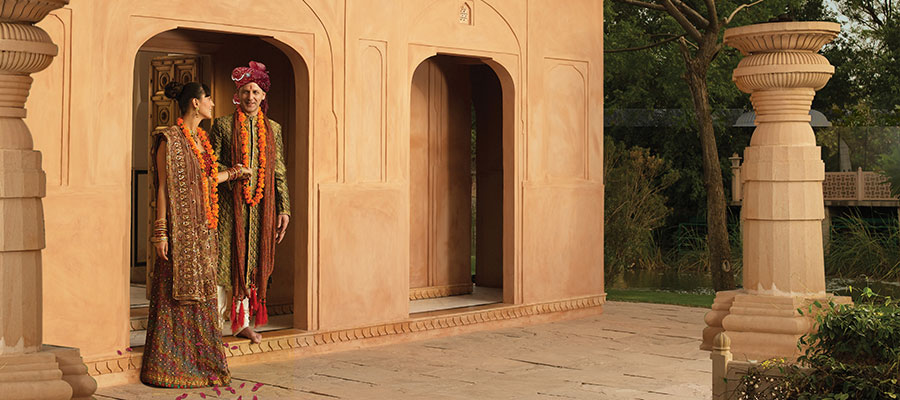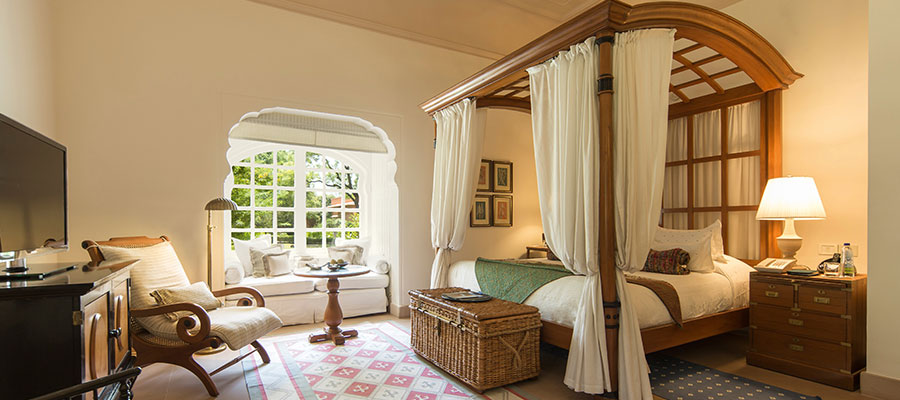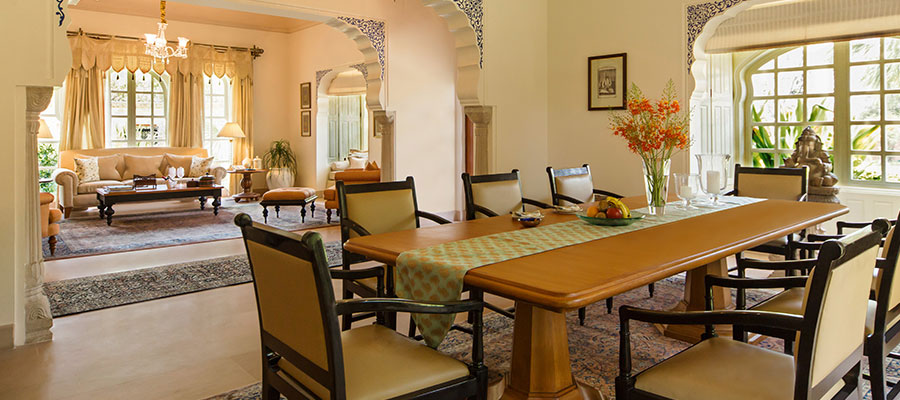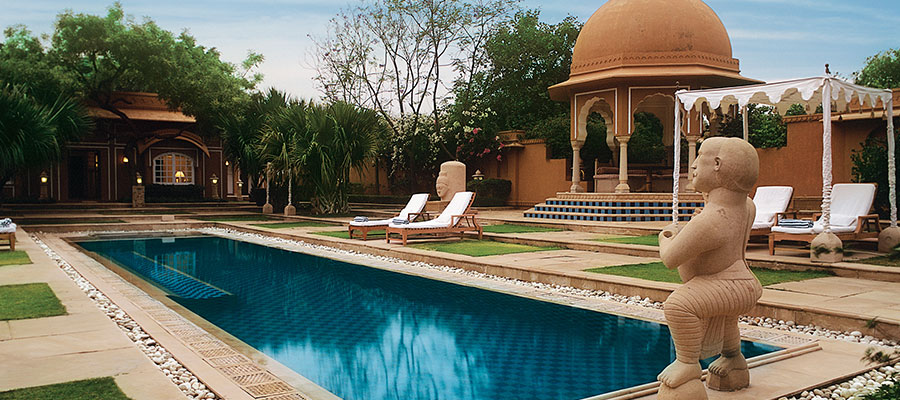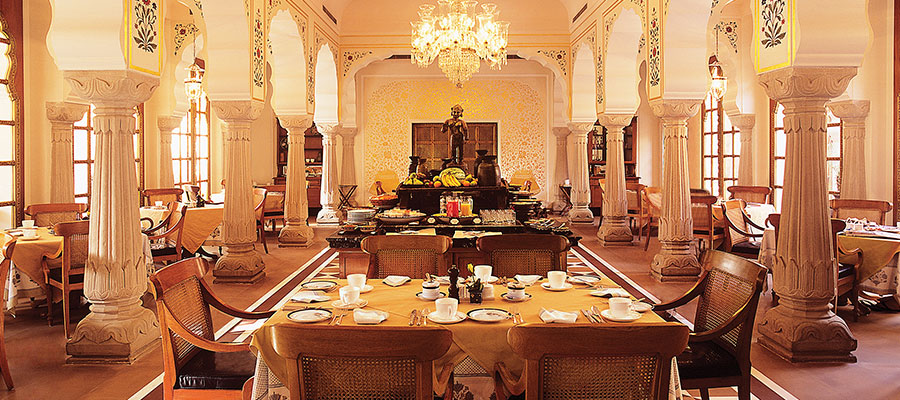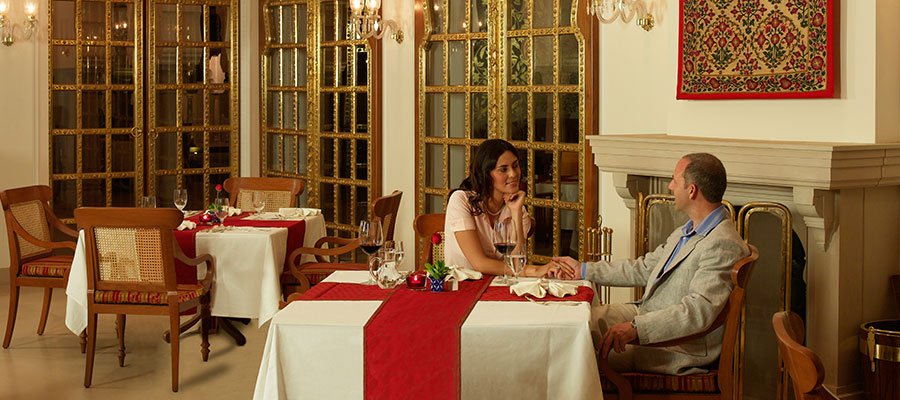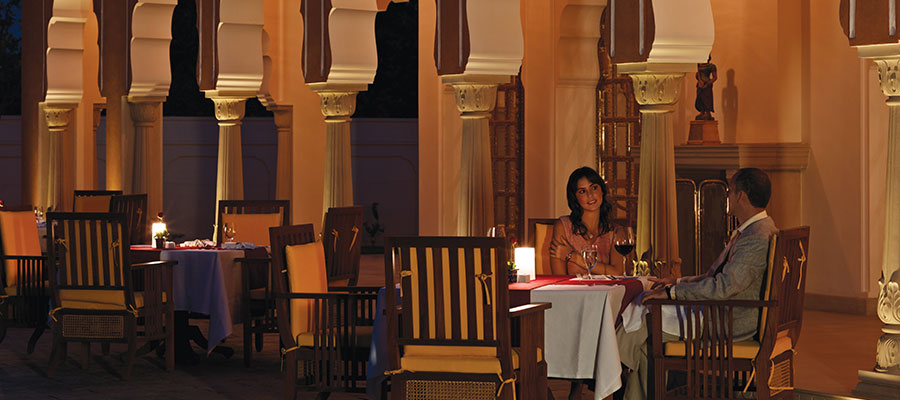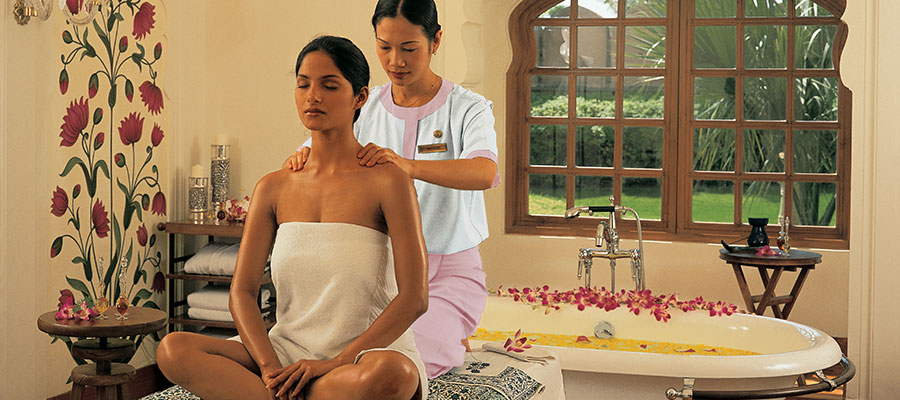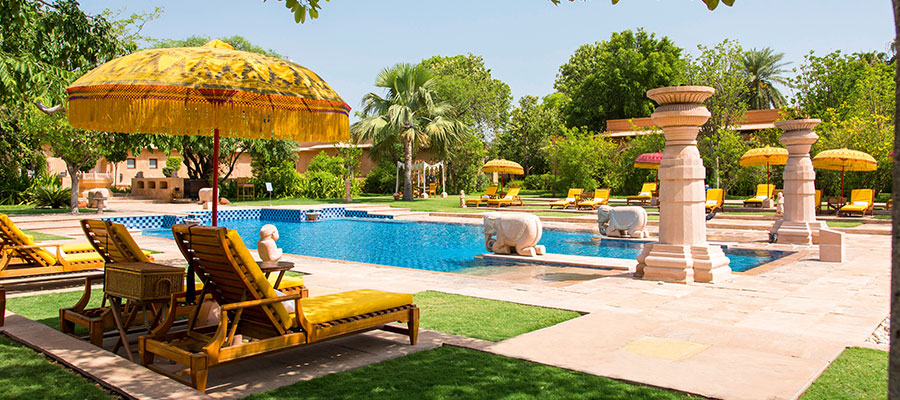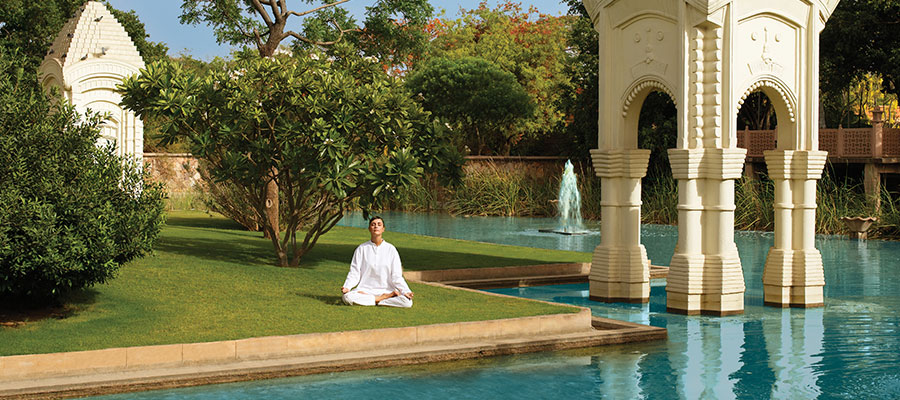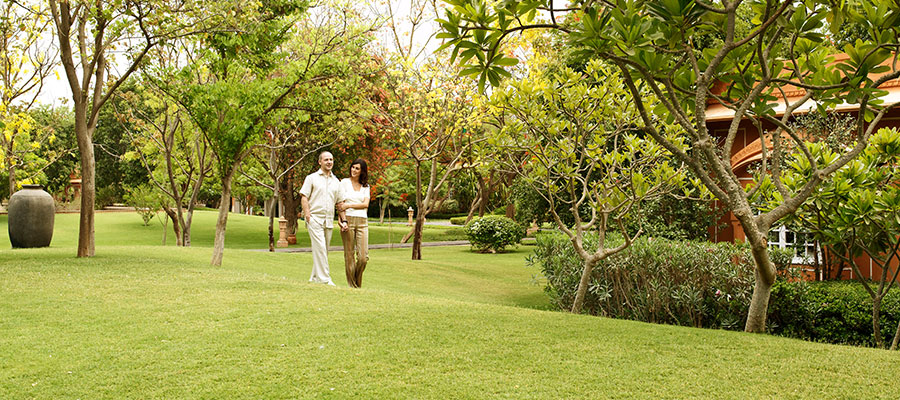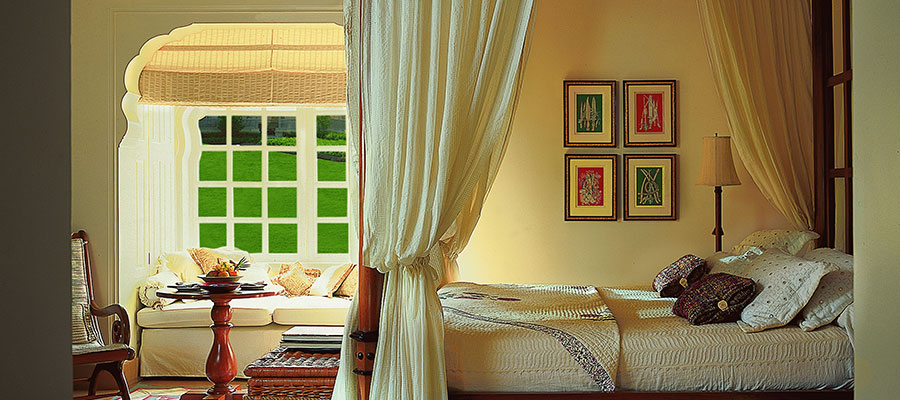 The Oberoi Rajvilas, is a royal resort set in a breathtaking beautiful landscaped gardens, filled with exotic birdlife. Built around an 18th century Shiva temple which affords chanting with a Hindu priest, meditation and morning yoga. The Oberoi Rajvilas is a haven of mystical peace and natural serenity. A royal resort, recreating the magnificence of princely Rajasthan, in a beautiful fort setting.
Accommodation
The rooms are laid out in small clusters that afford privacy for couples, and convenience for families or small groups wishing to stay near one another. Each cluster unfolds onto a courtyard crowned with a traditional fountain and framed by natural canopies abundant with native flowers.
Premier Room: Decorated with natural fabrics, in a neutral palette, the Premier Rooms are cool, calm spaces in which guests will feel instantly relaxed.
Luxury Tent: Luxury Tents are air-conditioned and triple canopied with weather and heat resistant materials and the interior of the canopy is decorated with traditional Rajasthani hand block printing, woven with gold thread and hung with regal tassles. For guests' privacy, each tent is situated within a traditional mud wall enclosure, which also houses a private garden and patios where they may relax or enjoy private dining.
Royal Tent: The Royal Tent is similar to the stately caravans that roamed the Rajasthani desert during the time of the British Raj. Traditional in design, these tents consists of two separate canopied areas and private garden, secluded within a traditional mud wall. One tent contains the master bedroom while the other holds the living room and dining.
Luxury Villa with Private Pool: The Luxury Villa features a charming private swimming pool, ornamented with fountains and rich azure tiles and the rooms are furnished with raw silk, organza and traditional wall frescoes.
Kohinoor Villa with Private Pool: The Kohinoor Villa includes three detached buildings and a private garden with an 60 foot (20 metre) long swimming pool, private dining pavilion and stage. The buildings are divided between ensuite master bedroom with lounge, ensuite twin guest bedroom, and separate lounge cum dining space.
Dining
Both Surya Mahal and Raj Mahal feature an indoor dining area, under cover seating that runs alongside the main hall and an outside courtyard with space for live folk music and dance.
Surya Mahal is open throughout the year and has an extensive menu of world cuisine. Raj Mahal is open during the cooler months of October to April and serves rarely found Indian delicacies.
The Rajwada Library Bar boasts a wide range of international wines, excellent single malts and classic cocktails.
Surya Mahal: Surya Mahal in Sanskrit means Sun Palace. During day this dining space is bright with natural light that flows in through windows. Open all day, the menu includes Western, Mediterranean and Asian cuisine, as well as Indian dishes.
Raj Mahal: The menu here features unusual dishes from the remote corners of India, sometimes deconstructed and reinvented by the chefs. It promises an incomparable culinary experience. Raj Mahal is open from late October to April.
Rajwada Library Bar: The guests can sip on a glass of wine, classic cocktail or single malt, and enjoy a game of chess, backgammon with friends at Library Bar.
Experiences
Elephant Safari to Naila: Enjoy and explore the landscape of the Jaipur countryside with a leisurely elephant ride combined with a gourmet picnic at the magnificent Naila Fort. The safari can be arranged either early in the morning or in the late afternoon.
Renewal of Vows: Nothing could be more romantic than renewing your marriage vows in a true Hindu ceremony. It is the day of pampering for the lady with the special beauty therapy and get their hands covered in Mehndi. Get an exclusive Indian hairstyle for the special evening. The gentleman can indulge in a special spa treatment that will leave them feeling rejuvenated and ready for the memorable evening.
A beautifully decorated horse-drawn carriage will take the bride to the decorated Shiva Temple, the Hindu Priest will be in charge of the ceremony and bless the couple. After the ceremony, enjoy a romantic dinner for two with a Sparkling wine and traditional Indian music at the pool overlooking the temple.
Chaarbagh Dinner: Enjoy a gourmet meal at this stunning venue with the soothing sound of flowing water and overlooking a landscaped tiered garden intimately lit with traditional lamps.
Poolside Dinner: Indulge in a Rajasthani Thali meal overlooking the pool and an ancient haveli (mansion) on one side and the 280 year old Shiva temple on the other. Lit up with mashaals (gas torches) and charmingly decorated with earthen lamps and flowers.
Private Cooking Session: Learn the secrets of herbs and spices used in Indian cuisine. Try your hand at authentic recipes of Rajasthan like Lal Maas or simple dishes like Rajvilas Chicken Curry or Dal.
Breakfast in the Herb Garden: Enjoy the tranquility of a refreshing morning walk with chef through the herb garden. Pick your own basil, thyme, sage and other herbs and let the Chef prepare a garden fresh breakfast, just for you. Some of the exotic herbs that are grown in the herb garden are Thyme, Marjoram, Sage, Italian Basil. Breakfast at herb garden is only available from October to March.
Puja Ceremony: Experience the traditional 'aarti', the Hindu ritual of offering prayers at dawn or sundown at the 280-year old temple of Lord Shiva. The temple is situated on a small island within the resort, surrounded by lush gardens and water features.
Junior Chef: Get a custom-made Rajvilas Chef's cap and embark on a delicious journey of learning to bake delicious cookies from our chefs. Chocolate-chips, oats and raisins, coconut, taste all the different varieties and decide which one is your favourite.
Block printing: Learn how to block print and become a block-printing artist. Use traditional, hand-engraved Rajasthani wooden blocks, dip them in vibrant colours and make your very own painting or scarf. Experience this traditional art form while making your very own souvenir.
Young Hoteliers Programme: Turn into a junior hotelier and take a complete tour of this magnificent hotel and its various departments to discover the world of hotel operations.