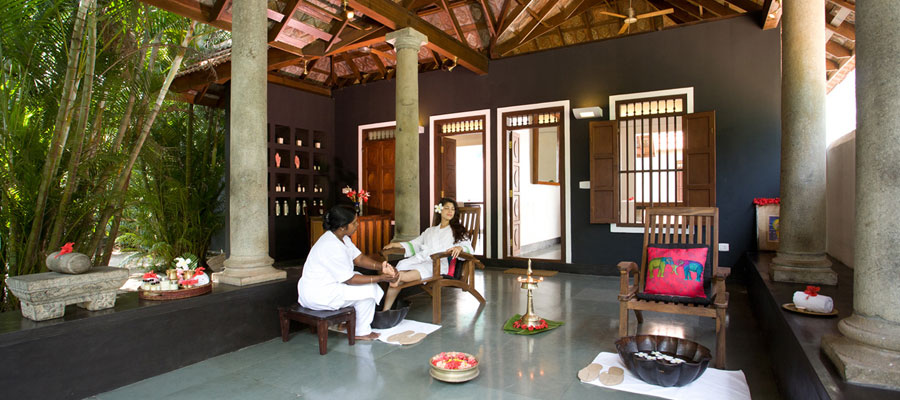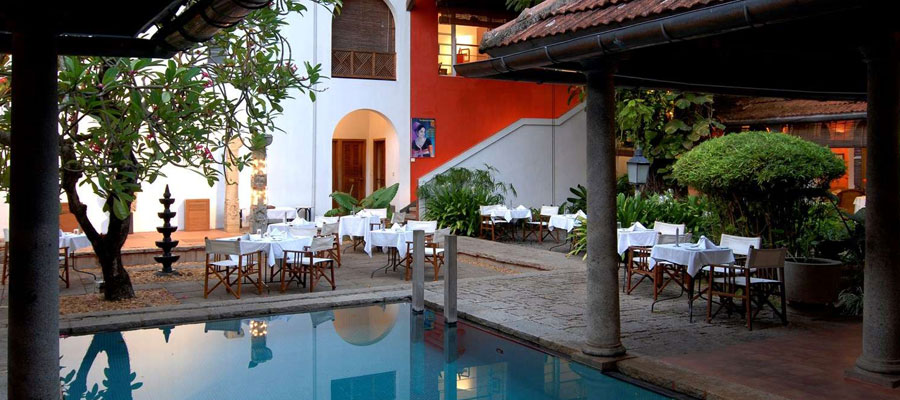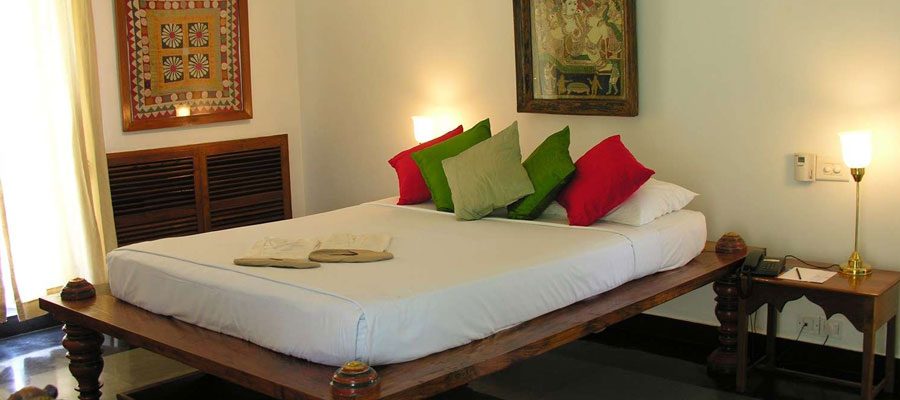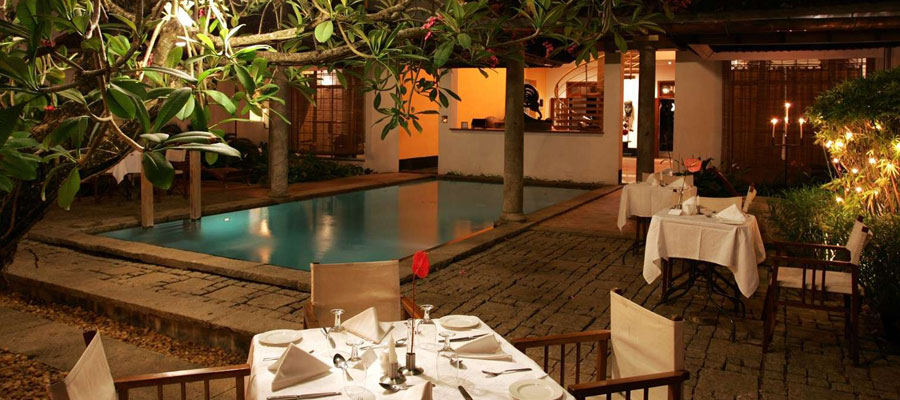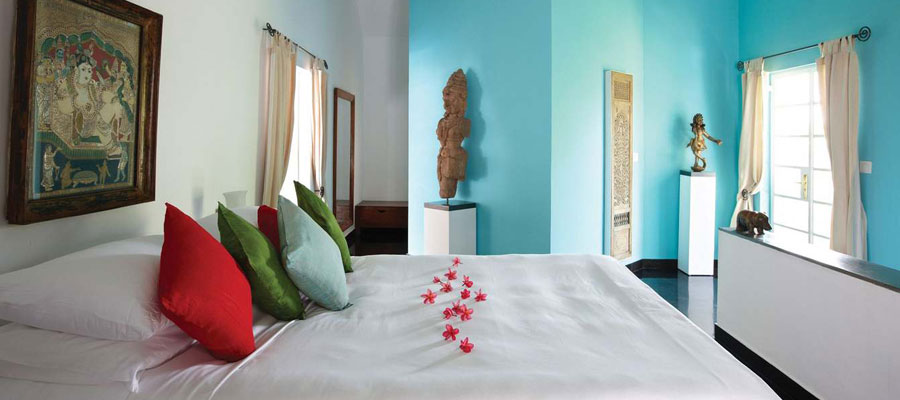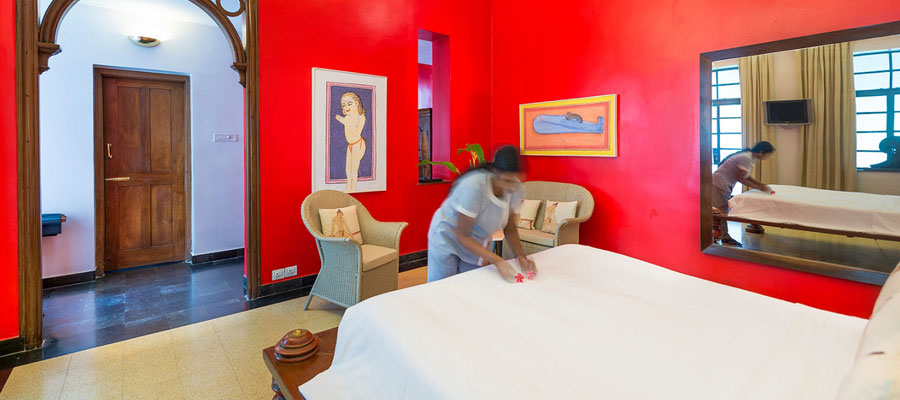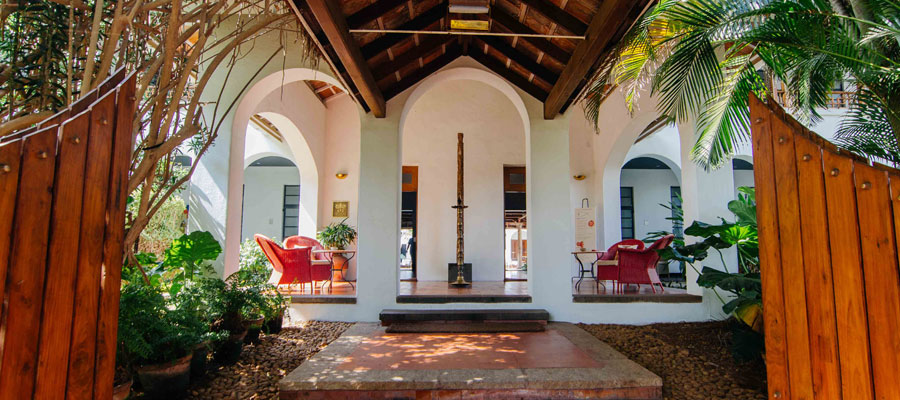 Ideally located in the heart of historical Fort Cochin, opposite St. Francis Church and 3 minutes walk to the Chinese fishing nets, the Malabar House is not just another Cochin hotel. It is a documented part of Fort Cochin's & Kerala's historical fabric. Its history dates back 1755, when Jan Herman Clausing, a Dutch, bought the property from Mathew Henrich Beyls. Subsequently owned by spice traders, tea traders & bankers, in 1996 it became Fort Cochin's first boutique heritage hotel.
Accommodation
The Malabar House has 17 unique rooms and suites, decorated with distinctive antiques and artwork highlighting Kerala's composite culture as a passage between east and west. The rooms are well equipped with all modern facilities like central air-conditioning, cable TV, telephone, mini bar,coffee maker, wire-free internet and safe deposit lockers.
The three categories of rooms at Malabar House is :
The Duplex Malabar Suite: A very peaceful maisonette, situated towards the patio of the building, on the first floor. It comprises a sitting room downstairs and a bedroom, bathroom and private terrace upstairs.
Roof Garden suites: There are 5 Roof Garden suites , all situated on the first floor. These are large rooms with their own terraces.
Deluxe rooms: There are 11 Deluxe rooms located on the ground and first floor. Some of the rooms comes with a garden and private sit out while others have terraced sit out. Few deluxe room have no sit out , but their USP is their view overlooking the pretty parade ground.
Dining
Malabar junction, the acclaimed restaurant at Malabar House is the crossroads of tradition & innovation, of South India & the west. A gourmet restaurant specialising in refined & market fresh food, the restaurant is reputed for having one of the finest seafood in the South. It offers a blend of Mediterranean, Indian and local cuisine. Garden dining – meals, snacks and drinks can be served in the garden by the swimming pool.
Divine, the air-conditioned wine lounge offers a selection of tapas and Indian & wines by the glass, Italian coffee, selection of teas, fresh juices and smoothies.
EXPERIENCES
Malabar House offers an array of experiences tailor made for the discerning traveller or small, culture oriented groups. Museum Tours, Heritage Walk in Fort Kochi, evening cruises in Cochin harbor, Kathakali or Theyyam dance performances, attendance at local church services, visits to Jew Town, the Synagogue and the Dutch palace, browsing and shopping in south India's largest antique market , visit to contemporary art galleries are some of the experiences offered at Malabar House. Day Trip to Purity (PureSpa resort) in the Vembanad Lake can also be arranged on request.
AYURVEDA
Ayurveda is science of life. It is an ancient system of healing that integrates the mind, body, spirit using herbs, nutritional guidance, yoga therapy, meditation and special purification and rejuvenation therapies suited to the individual's natural constitution. Malabar house offers well designed Ayurvedic packages for rejuvenation, better flexibility, reduction of fat tissues and treatments for rheumatism, arthritis, back pain, headache & stress related disorders. The treament offered at Malabar House are:
General Body massage - It tones up the muscles, increases blood circulation, relaxes joints, stimulates the nerve system and is good for the senses and general fitness of the body.
Shirodhara - A treatment in which herbal oil is poured in a rhythmic manner on the forehead. It is extremely beneficial in case of migraines, headaches and insomnia.
Kalari massage - A traditional synchronized massage done on the floor by 2 masseurs. In this massage the vital energy points are stimulated thereby harmonizing the flow of energy.
Ela Kizhi - It is a process in which herbal leaves are tied in a cloth bag. This bag is dipped into hot medicated oil and then applied all over the body. It relieves from body pain, stiff joints, back aches and similar ailments.