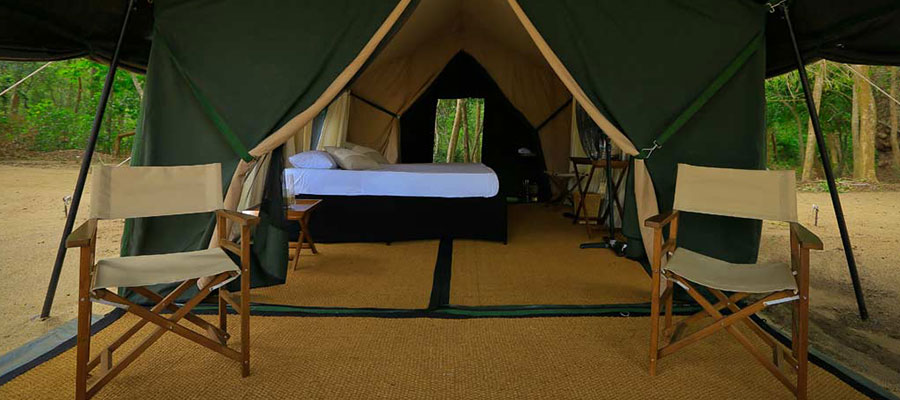 Set in a four-acre of beautiful property bordering the Yala National park, the Leopard Trails Camp are luxury camps, located just 6 kms (about half an hour) from the Katagamuwa entrance to Yala National Park.The camps provides an authentic Sri Lankan safari experience in spectacular solitude, with all the contemporary luxuries and soothing comforts. Elevating home comforts to chic and contemporary heights in the depths of Yala National Park, Leopard Trails is the perfect launch pad for exploring this beautiful wilderness.
Although from time to time the location of the camp changes, (it is a mobile camp), it is always situated just a stone's throw away from the Yala National Park boundary, perfect for being the first safari jeep into the park in the mornings, something that the highly qualified Leopard Trails safari guides pride themselves on.
Accommodation
The Leopard Trail consists of five comfortable African safari style tents, each with its own en suite bathroom, with flushing toilet and outdoor shower. The tents are simple with basic and essential furnishings and features a twin or a double bed, bed side tables and a luggage rack. Each tent has a verandah with and outdoor camping chairs. Coir carpeting is used for the floors.
Dining
The Leopard Camp has a communal lounge tent that contains the dining area, lounge, bar and a small library, and is furnished with sofas and lounge chairs. All meals are included in the stay and include both Sri Lankan and Western dishes, created from locally grown vegetables, and locally sourced meat and fish.
Experiences
The main activity offered by the camp is jungle safari in the Yala National Park accompanied by a trained guide. The camp also offers a nature walk/trail within the Leopard Trails estate accompanied by the naturalist. The walk takes about an hour through untouched wilderness home to numerous birds, wild buffalo and deer and ends up at a rock boulder with spectacular views across the jungles.