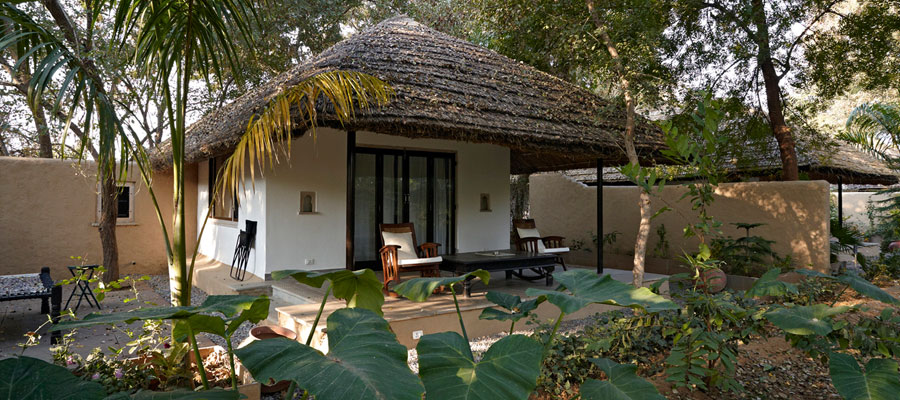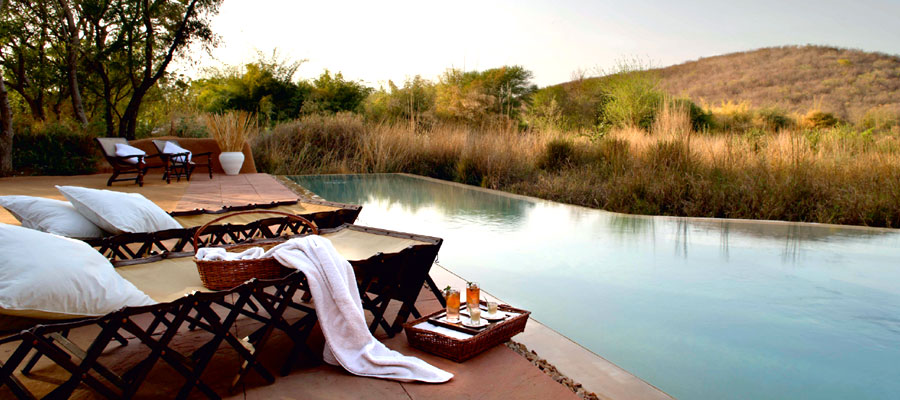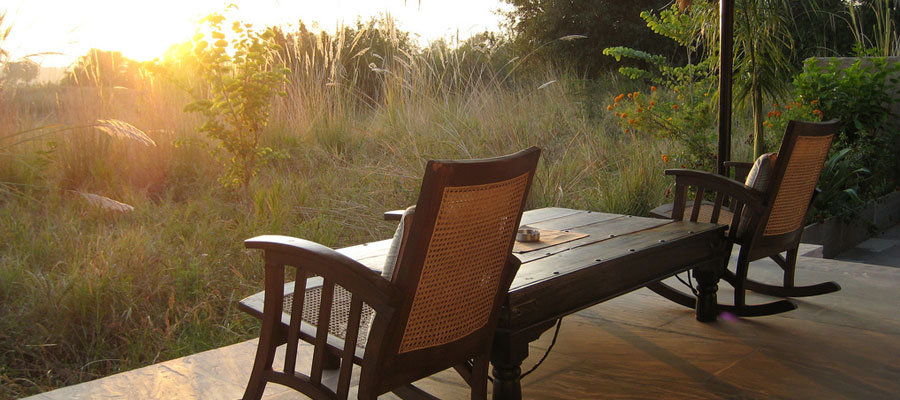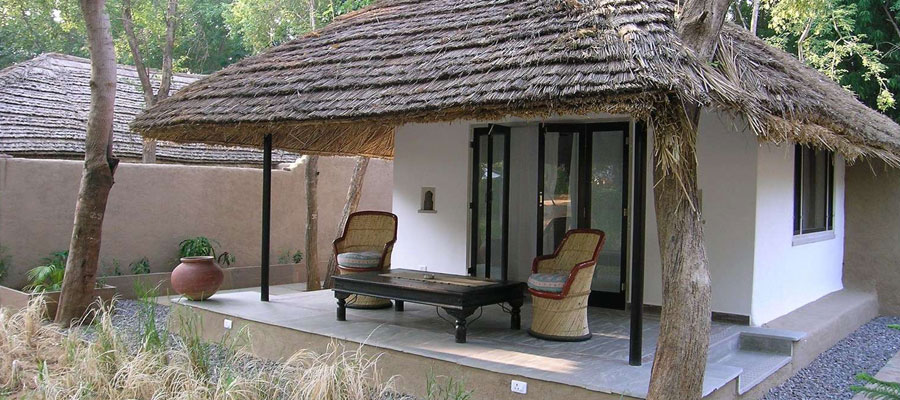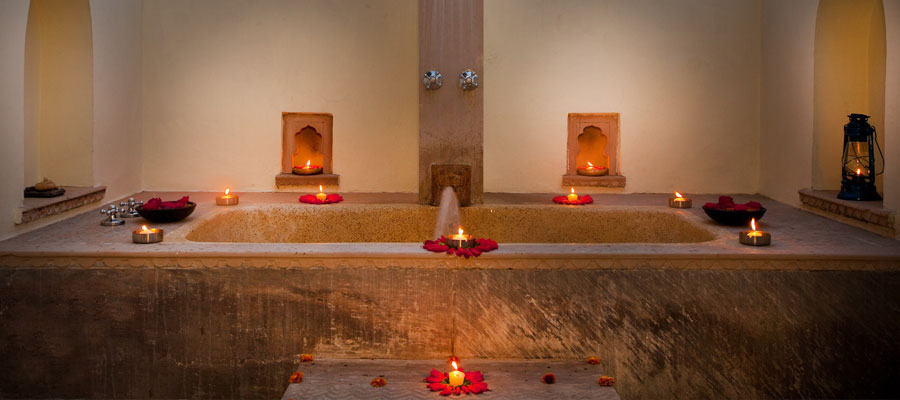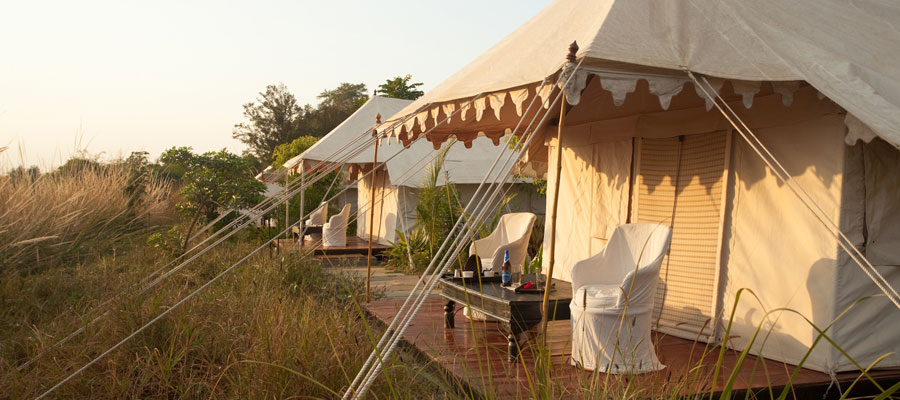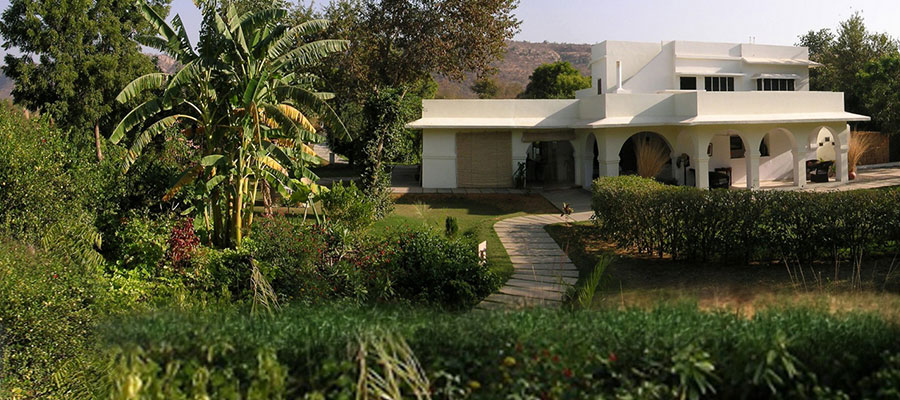 Khem Villas is a beautiful decampment tucked away amidst green thick forests in Ranthambore. Established by converting a vast open green land into a natural habitat by planting local trees and creating small water bodies, Khem Villas resort is an ideal place to spend unforgettable holidays when on Ranthambore wildlife tour.
This traditional guest house with its luxury comforts and serenity all around, is a perfect place for nature and wildlife lovers who want to separate themselves from the busy city life and breathe in fresh air. Because of its proximity to the Ranthambore National Reserve, you can occasionally witness the pug marks of various wild animals such as jackals, leopards and tigers.
Khem Villas is situated 12 Km away from Sawai Madhopur Junction and 150 Km away from Jaipur International Airport.
Accommodation
There are 17 rooms at Khem Villas which are divided into three categories including:
Standard rooms: There are 4 standard rooms housed in the main building of the hotel. Well-appointed with all modern facilities, each room has bay window that overlooks the adjoining rural landscape. Wooden flooring, teak furniture, white fabrics, soft lighting and ample space all around, provide for functional yet luxurious living.
Luxury cottages: The Cottages at Khem Villas are part of a private compound of 1600 sq.ft.  The area includes a spacious and comfortable bedroom, a bath with an open to sky outdoor shower and a large, old fashioned tub. A private courtyard and veranda look over to the Tiger reserve beyond and runs down to the lake within the premises of Khem Villas.
Luxury tent: The luxury tents at Khem Villas is erected on a wooden platform and supported by a steel frame. Spacious and comfortable, with minimalisic, modern appointments, the tents combines uber luxury with uncrowded minimalism. The bathrooms are designed using natural materials like bamboo and wood to give a rustic charm without compromising on comfort and functionality.
Dining
The Dining room at Khem Villas is a pristine white space with open arches overlooking the gardens. A multicuisne restaurant, the dining room provides a satisfying selection of Indian; Western and Oriental vegetarian Cuisine. Non vegetarian dishes are not allowed in the hotel. Most of everyday ingredients are sourced from the organic farms in the premises. Even the milk is from the local farm where the cows are fed organic feed.
There is a bar adjoining the library, serving beers, spirits, soft drinks and other cocktails to the guests. Campfire is organized in the evening and is mostly hosted by the owners themselves.
Experiences
There are many experiences at the Khem Villas. The resort organises guided nature walk in a track of nearly 3 kms in its 12 acres of grasslands and thick forest. The guided walk gives the guests an opportunity to spot various birds and some wild animals that frequent the land and also provide the guests with a deeply informative and enriching experience of the Jungle. 
Game drives to see herds of Black Buck; the most magnificent gazelle of the desert is also organized by the resort.
Game drives in Ranthambore National Park is organized in collaboration with the Forest Department, Government of Rajasthan.
Other activities include excursion to Ranthambhore Fort; Day trip with packed lunch to the Chambal River; a short camel ride (arranged on Request) through the local terrain and villages; and a campfire every evening in the winters.
The resort also has a Spa, named the "Age Veda" where the visitors can connect with nature in spirit and body. Spread over a 30 acre plot, with small water bodies, natural grasslands and thick forest, the spa provides many therapies to relax and rejuvenate.