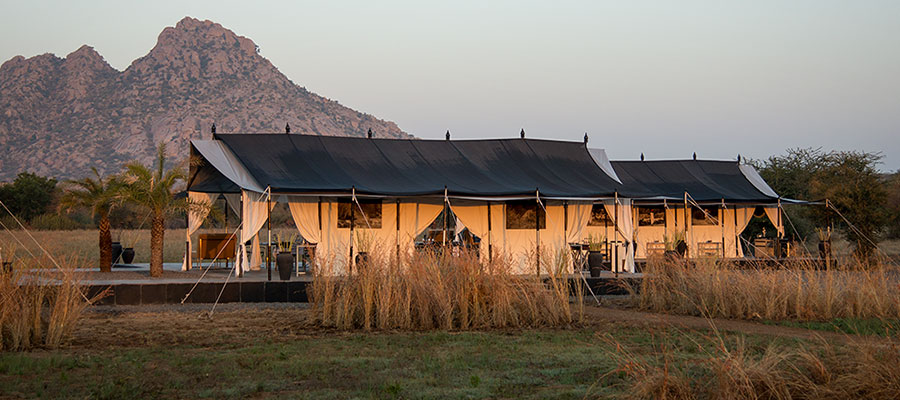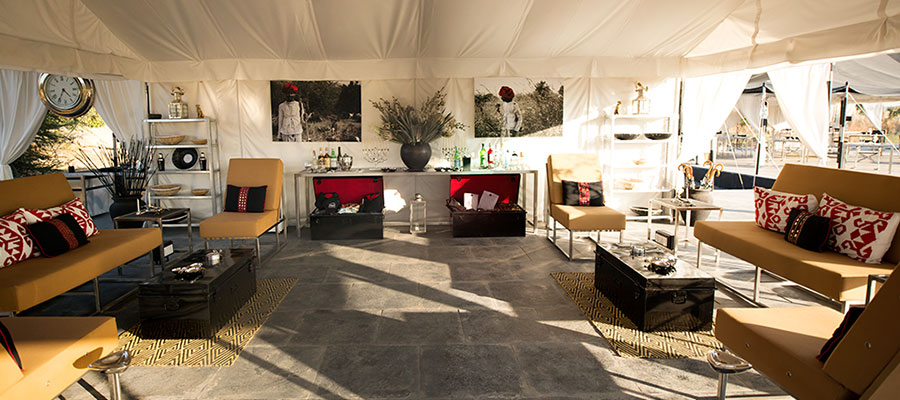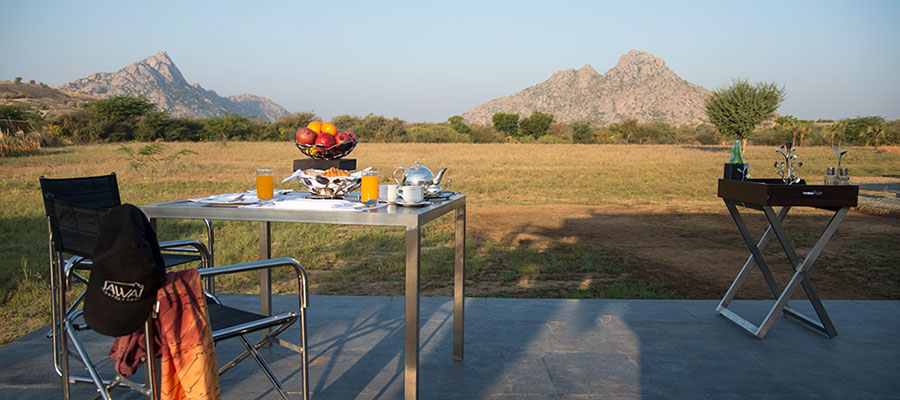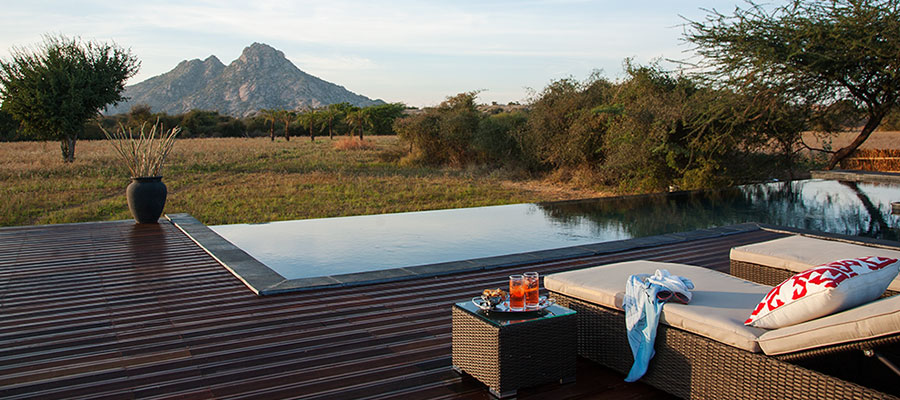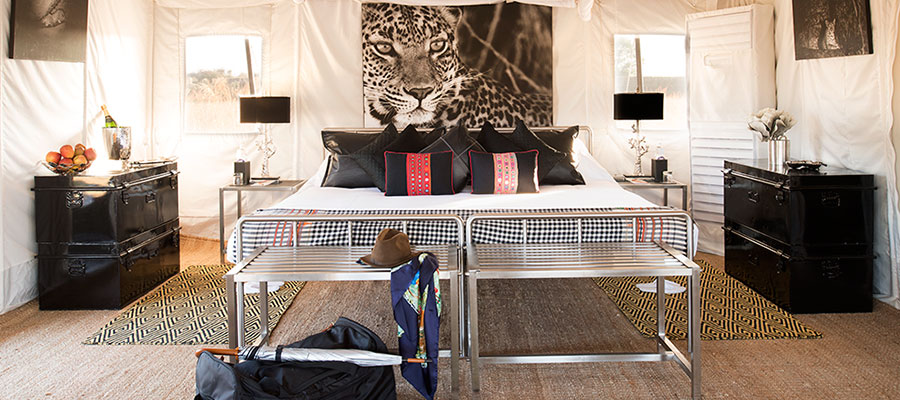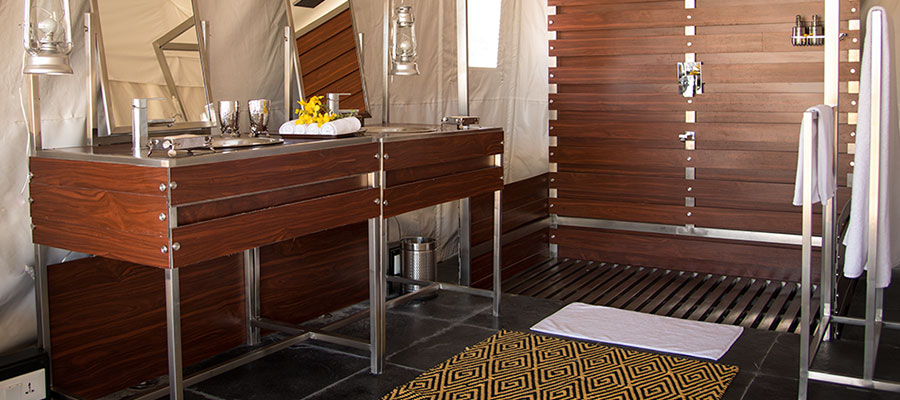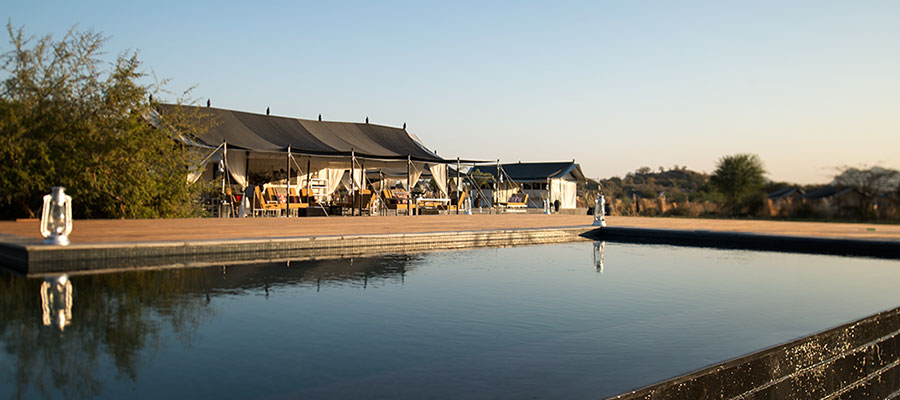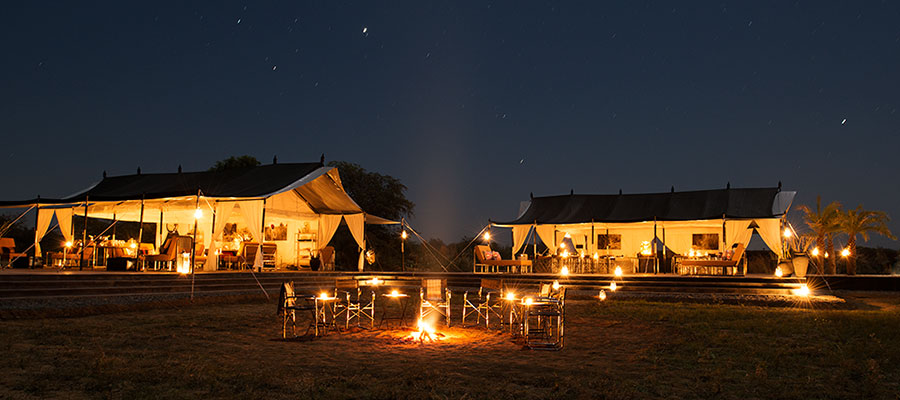 Jawai Leopard Camp, in the heart of Rajasthan's untrammelled wilderness is located between the former kingdoms of Jodhpur and Udaipur, and enclosed by the ancient Aravalli hill range.
Designed by the owners, Anjali and Jaisal Singh, Jawai represents a style that combines subtle opulence with abundant adventure. Inspired by the granite hills of the region, the camp embraces a modern and chic style whilst remaining authentic and true to its location. Originally based on the idea of a movable camp, and with a light footprint, Jawai is in harmony with its delicate ecosystem.
Combining the thrill of discovering magnificent animals with a sensual indulgence of contemporary luxury pleasures — which include spa, private dining, sunset champagne, Jawai is an offering encapsulated in the singular vision of a wild beauty of leopards
Accommodation
Jawai Leopard Camp comprises eight luxurious tented suites. The spacious, creamy-white tents are hand stitched, dotted with red throws and pillows, a nod to the signature turban of the local Rabari, nomadic herders.
Created with canvas, stainless steel and leather accoutrements, each luxury tent at Jawai is designed with its own private veranda, equipped with a writing desk and seating area that looks onto unobstructed, spectacular views of the dramatic wilderness around.
The use of local stone and stainless steel brings an understated elegance to the camp. Each tent is equipped with a smart and efficient, en suite bathroom. Decorative artefacts have been handcrafted in metal, using age-old traditions of Indian workmanship, by renowned artisan, Michael Aram. Personal touches include wildlife photography captured by owners, Jaisal and Anjali Singh, displayed on the walls of each suite. State of the art cameras and 'His and Her' binoculars are gifted to guests during their stay to enhance their sighting experience.
Dining
The mealtimes at Jawai follow the rhythm of safari drives and excursions, with no 'set time' for when guests have to eat. Meals are created using homegrown produce from Jawai's own kitchen garden or fresh-farmed ingredients sourced from local farmers.
Jawai has a separate dining tent that offers inspiring views of the hills and serves buffet style salads and fresh pasta or fish procured from local fishermen, cooked right in front of the guest in the live kitchen. Dinners around the campfire or the Boma are a time for sharing tales from the day of exploring and for making new friends.
Breakfasts in the bush and picnics in the wild, luncheons by the lakes and embracing dinners under constellations of an unending sky, make for stunning options.
Guest can also choose to dine at the unique and secluded locations like a granite kopje, which serves as a private dining room overlooking the expanse of the JAWAI wilderness.
EXPERIENCES
At the Camp
Wellness and Fitness: A wellness expert offers meditation, yoga and the channelling of latent energy by the lake. This experience can also be conducted at poolside or in the privacy of guests tent. The long stretches of natural roads, steep granite hills and clean atmosphere make Jawai a perfect, chic outdoor fitness centre.
Excursions: Below stated excursions are possible from Jawai Leopard Camp:
Wilderness Drives: JAWAI's leopards, birds and people are a great attraction across the region. Following the schedule of the wild neighbours, Jawai recommends an early start for morning game drive, certainly before the sun is up. The customized 4x4 jeeps, with a guide on board will lead guests to discover new areas, new animals and create memories with people.
Temple Trail and Rural Excurion: The guest can experience a tour through narrow village streets, walking with cattle, making new friends, meeting some distinct village personalities, exploring village trade, gaining valuable insights on Indian village society, communities and beliefs, indulging in some favourite rural past-times to learn about different occupations such as potting, bangle making, weaving, iron-smithy, and music. Each place of worship in the JAWAI region has its own little story. There are over 300 temples and shrines dotting the landscape. The tranquil atmosphere of these temples, each with a distinct character, generates positive energy.
Shepherd's stroll, Adventure hikes and Treks: Sujan offers a variety of hikes and treks including the choice of a leisurely stroll looking for nomadic shepherds or a gentle hike through the fields, bush and rocks of JAWAI, or a challenging trek to one of the neighbouring hills around the area.
Kumbhalgarh and Ranakpur: A visit to Kumbhalgarh, a UNESCO World Heritage Site can be organised. The excursion can be extended into a half-day outing with a picnic and a visit to the intricately carved temples of Ranakpur, an architectural marvel, less than an hour away. This excursion includes a car, a guide and packed lunch.
Sunset Vintage Jeep Ride: A colonial breezy ride in a vintage jeep with hills on either side and through beautiful countryside, this drive is a perfect opportunity for magnificent landscape photography, watching villagers involved in tending their fields. The jeep will take guest to the edge of the JAWAI Bandh – a historical dam wall, which offers phenomenal view of the JAWAI Lake.
Nature Trail and Twitching: Guest will be able to see over 170 species of birds, crocodiles and get an insight into the life of the migrant fishing community of Jawai. Depending upon the season, guest guest will be able to observe traditional farming and irrigation techniques. The terrain of the walk is suitable for leisure and fitness with its gradual slopes and long flat stretches of grass.
Junior Ranger: A unique programme for young ones to discover Jawai through exciting 4X4 off-roading in the jeeps, ranger discussions, knowledge about wildlife and culture, and tips on photography. The Head of Experiences JAWAI, on completion of this programme, will award a certificate of participation.
Ranger Diaries: Jawa's Field Team use state of the art equipment for their discoveries in the field of wildlife and culture over the years. The ranger will take guest for a walk through the field area in camp and the guest will be guided through the equipment and procedures used in the field. Guest can see videos, graphs and the valuable documentation done by Field Team.
Jawai By Cycle: Off-road cycling expeditions accompanied by one of the expert guides allows guest to explore the beautiful landscape outside the confines of a jeep. This rigorous activity not only pushes one to the limit but also allows to explore areas that are usually out of bounds while on a jeep. Biking tour usually lasts couple of hours depending on the route, guest preferences and the guide's advice.