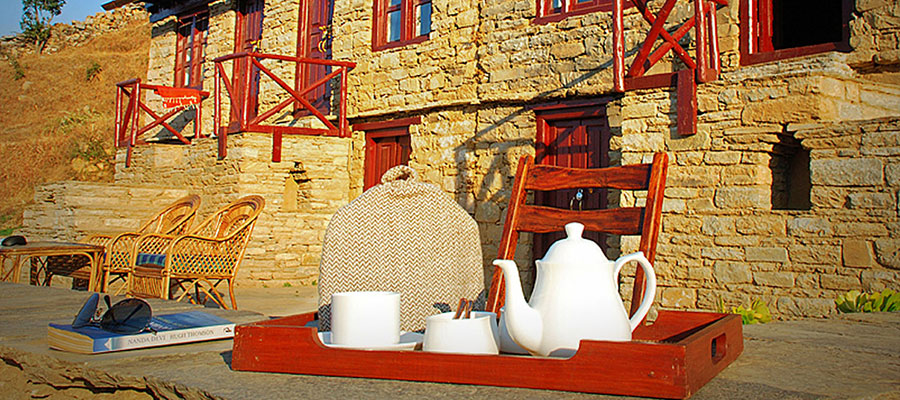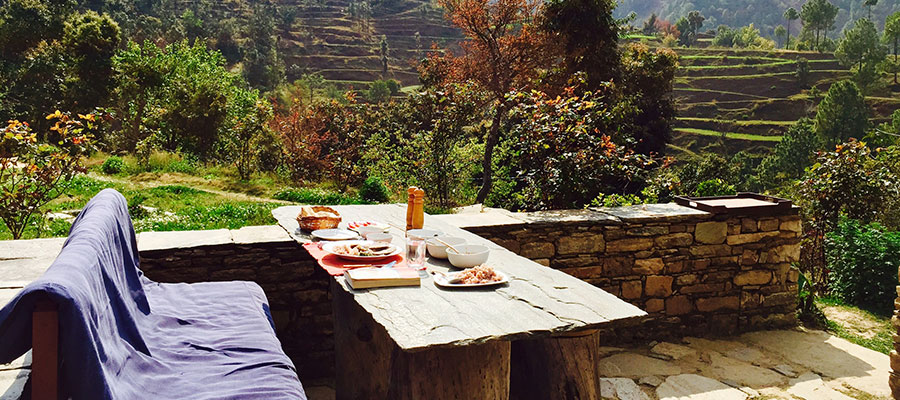 Itmenaan Estate is a hill retreat located in a peaceful rural setting near Binsar in the Kumaon Himalayas. A quaint haven nestled in the rural Indian Himalayas, this 10-acre estate includes virgin pine, oak and rhododendron trees, terraced fields laden with seasonal fruits and vegetables, and a small private perennial natural spring. Created using age old local construction techniques and local materials, the lodge is a fine balance of authenticity, comfort and ecological conservations, evidenced in every aspect of life at the lodge.
Accommodation
The lodge offers 4 tastefully designed rooms in two wings:
Main House: The Main House is a 100-year-old Kumaoni style stone house that has been painstakingly restored to create 3 tastefully designed bedrooms, Oak Room 1, Oak Room 2 and Kafal Room.
Deodar Cottage: Located close to the main house is the newly built spacious two-storey Deodar Cottage. The cottage has been built in traditional local architecture. Designed in duplex style, the cottage has a large bedroom on level-2 and a sitting room on level-1.
All rooms have king-size beds with luxurious mattresses and ensuite bathrooms, fitted with all modern fixtures. Each cottage offers stunning views of the valley and Himalayan peaks.
Dining
Itmeenan Lodge has a semi-open air dining lounge that serves delicious recipes that range from traditional Kumaoni, regular North Indian, to dishes from the Western world.
However meals are not restricted to one venue and can be served in the lovely front courtyard, or any exclusive dining area. There is no fixed time for meals and guest preference is given priority. Menu consists of dishes made from freshly grown vegetables produced either from the organic farms of the lodge or sourced locally.
Experiences
Itmenaan Estate offers many interesting activities for its guests. The experiences offered by the lodge are:
Farming and gardening within the Estate
Village walk to nearby villages to interact with the locals.
Trekking and Hiking to the highest point for enchanting views.
Nature walk in the forest.
Cycling through the hily terrain through local villages.
Excursion to Binsar wildlife sanctuary
Excursion to Jageshwar temple.
Excursion to Chitai Temple.
Excursion to Almora.
To the guests looking for experience , the lodge have devised a village walk and stay programme in the unspoilt villages of Kumaon Himalayas. Walks can also be organized that take the guest from one village to another.