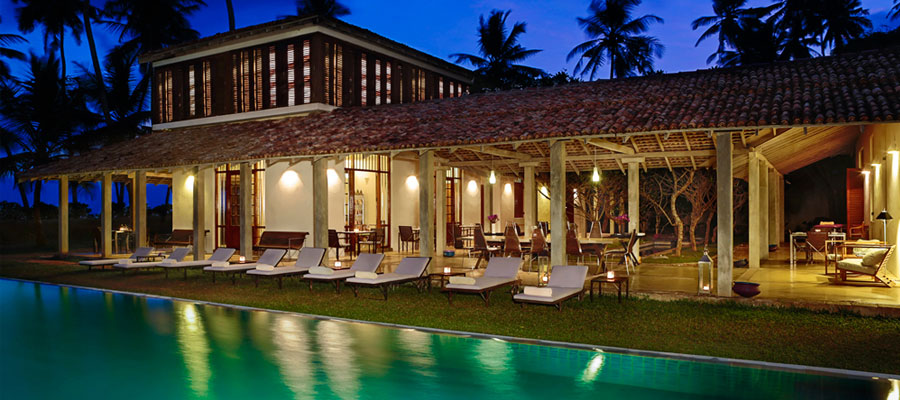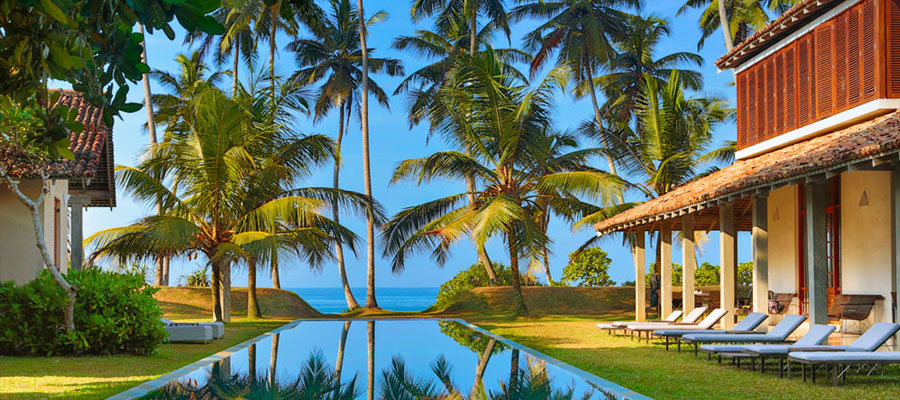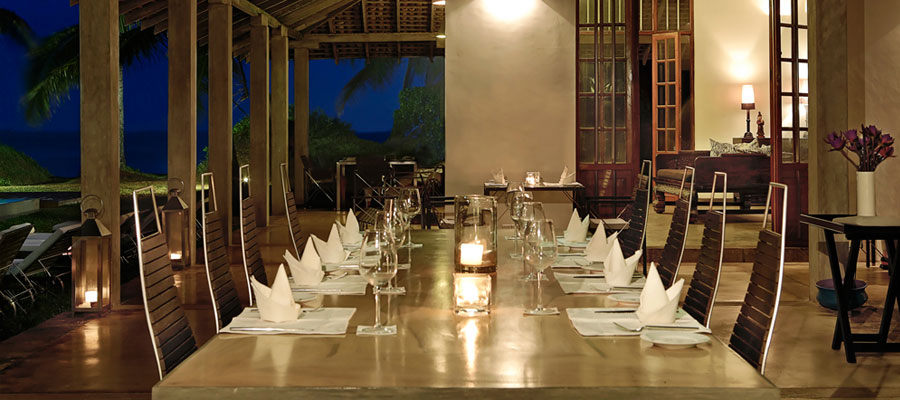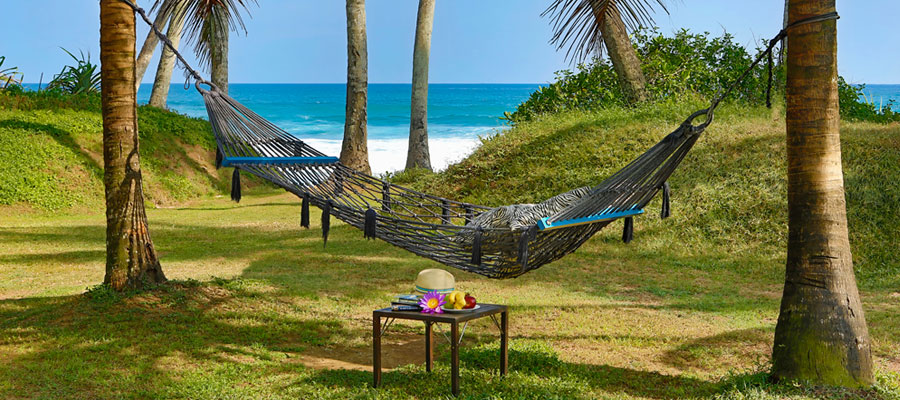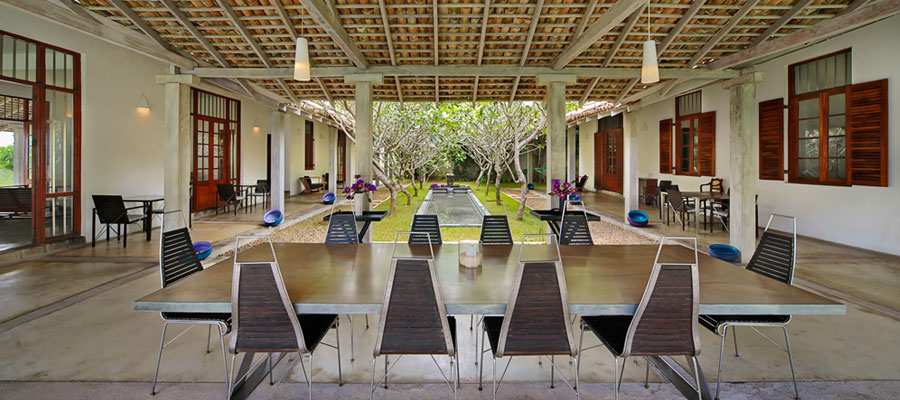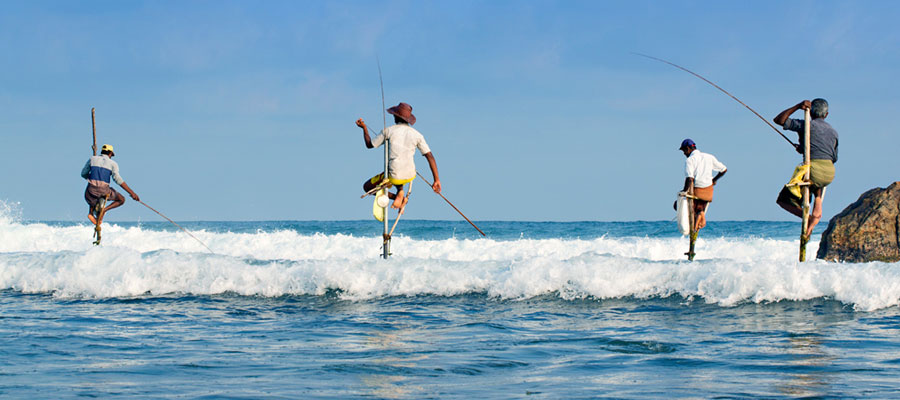 An intimate, elegant beach sanctuary offering 9 exquisitely furnished suites in 3 villas. Located on the West end of Thalpe bay on a long stretch of secluded and picturesque beach, the Frangipani Tree is sun, sand, trees, culinary, sensuous and spiritual indulgences.
Accommodation
All suites feature modern and elegant custom furnishings, four-poster beds with beautiful linens, covered terraces and verandahs with sun beds and private dining tables. The 3 villas at Frangipani are as below:
Hawksbill Villa: Offering panoramic ocean views, there are two suites- Hawksbill One and Hawksbill Two- in this villa. The suites are very spacious and feature a four poster bed, a sofa-bed, an armchair, a desk with a Bawa designed leather chair and a sitting area. The suite has the largest outdoor bathroom which is sheltered, has a bath tube, shower and separate garden.
Leatherback Villa: Located next to the swimming pool, there are two suites in this villa- Leatherback One and Leatherback Two. The suites are cosy with slightly low ceiling and an amazing outdoor bathroom featuring a shower covered with a roof and bath tub located in the garden. The suites also has private terraces with a great view and are ideal for couple.
Olive Ridley Villa: Olive Ridley is a two storeyed villa, located directly by the beach. There are 5 suites in this villa featuring a four poster bed, a sofa-bed, an armchair and a desk with a Bawa designed leather chair.
Olive Ridley one and two: These are spacious suites featuring with an outdoor shelter bathroom with a bathtub and shower.
Olive Ridley Beach Room: Offering ocean views, this suite comes with plenty of room and is most suitable for families with infants as it has indoor bathroom and is located on the ground floor. The suite can also accommodate a baby cot.
Olive Ridley Upper one and two: Offering the best views of the ocean, these suites are the most spacious suites at the hotel with an indoor bathroom and the best views. The suites can easily fit 2 extra beds in the room making it ideal for families as well as couples due to amazing views.
Dining
The Frangipani Tree offers a choice of Sri Lankan, continental and Mediterranean specialties. The menu changes daily and the chef plan meals in accordance with guests' preferences. The hotel is flexible with time and place of dining and private dining is encouraged. There is also a short and simple wine list and a choice of cold beer available.
EXPERIENCES
At the Villa: Guest can choose to relax by the pool, watch TV in the communal lounge or request for a private yoga session or a massage.
Excurions: Below stated excurions are possible:
Excursion to Mirissa for a whale and dolphin waching trip.
Visit to Ambalangoda Ariyapala Mask Museum, an established mask craft center and sales outlet for wooden masks worn during ritual folk dances and operas.
Guided inland bike or walking tours through bird sanctuaries and plantations.
Hot Air Ballooning trips (2.5-3 hours) at Galle are offered daily throughout the season from November to April when the winds are light and the sky is bluest.
Boat trip on Koggala Lake visiting Talathuduwa Temple Island, followed by a Spice Garden and a bird sanctuary.
Visit to moonstone mine at Meetiyagoda famous for its precious gems and moonstones. The guests can see or even go down into the deep, narrow shafts from which the stones are mined. The small visitor centre provides information related to this stone while the large shop on the premises sells moonstones as well as other stones.
Arrange a visit to the nearby turtle hatchery.
Scuba diving at the Unawatuna and Surfing at Weligama beach.
Safari trips to Yala National Park and Uda Walluwa National Park.