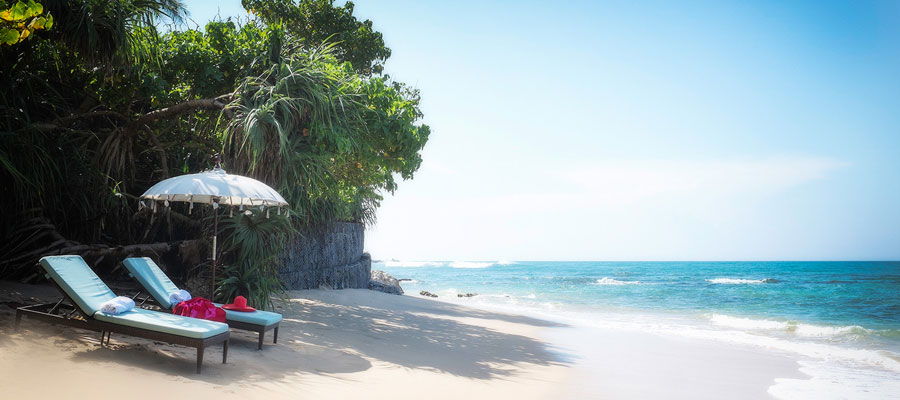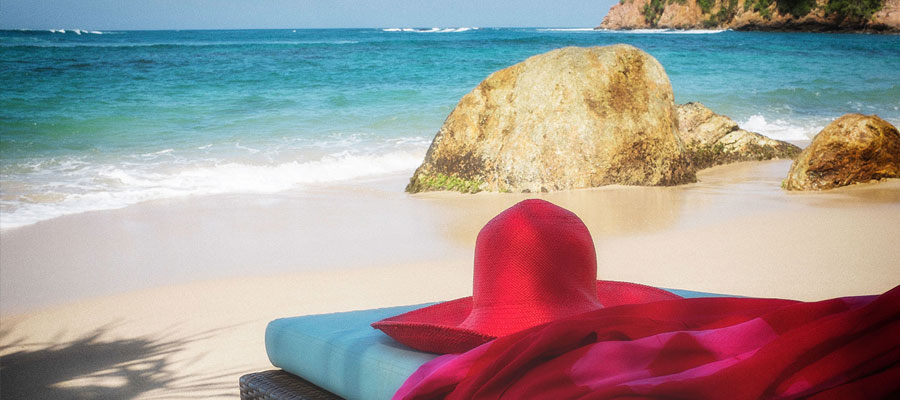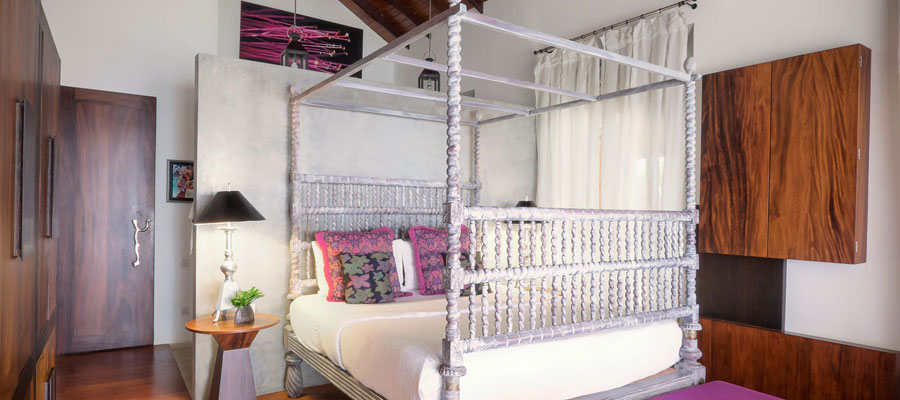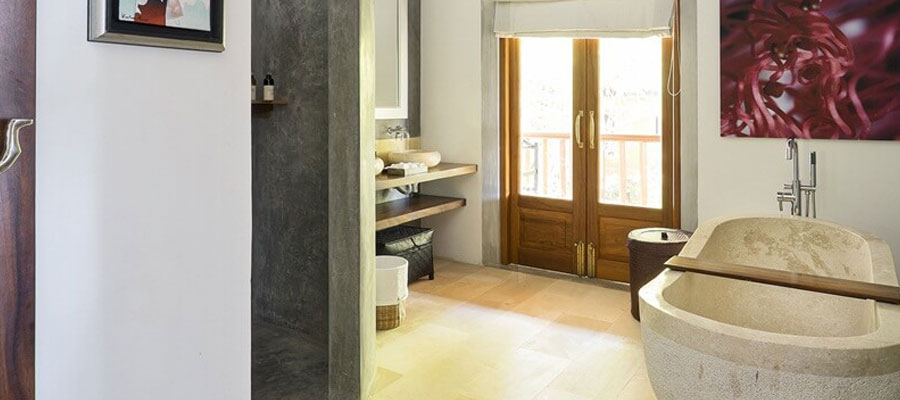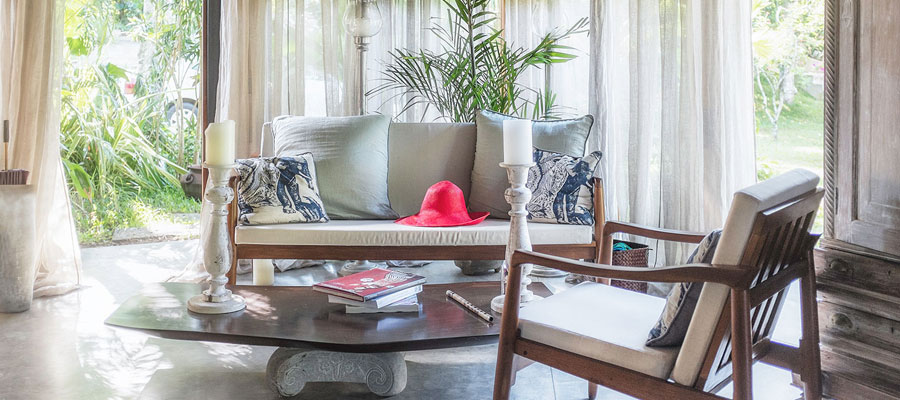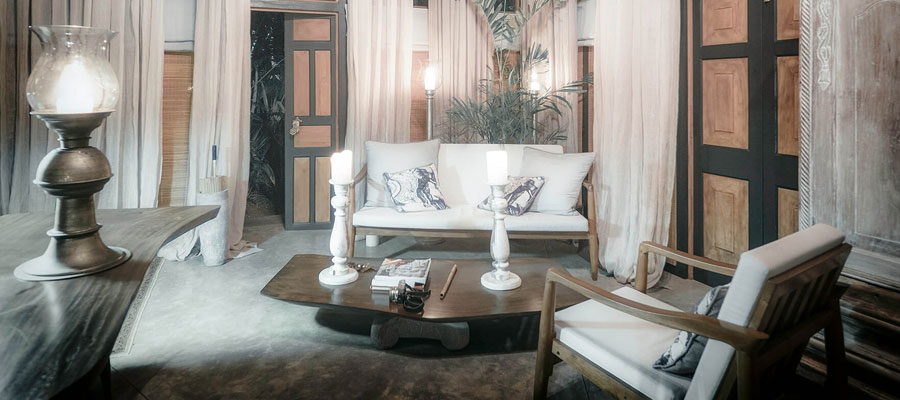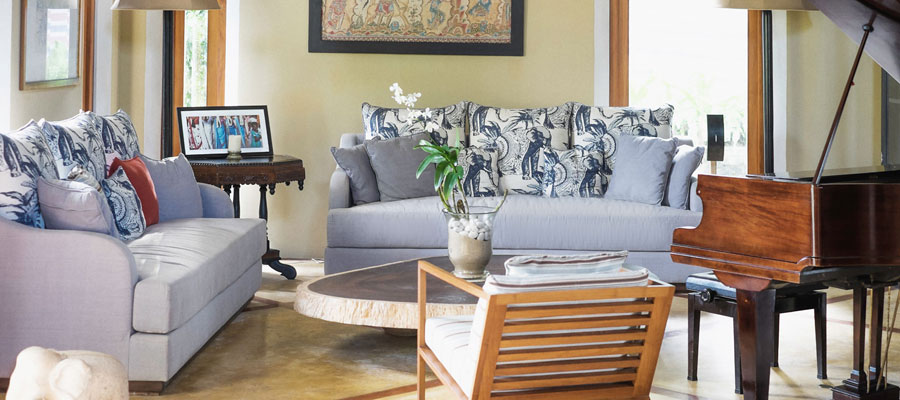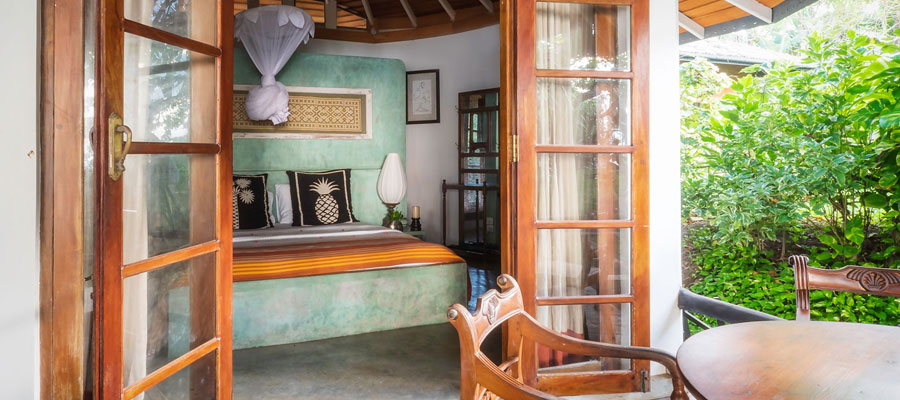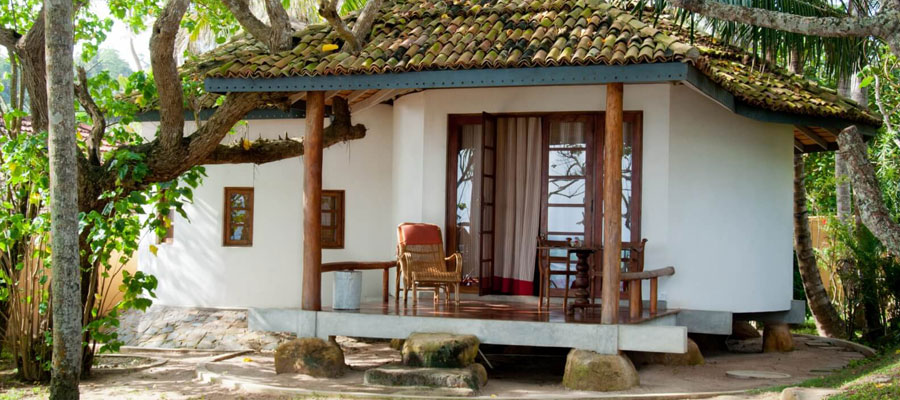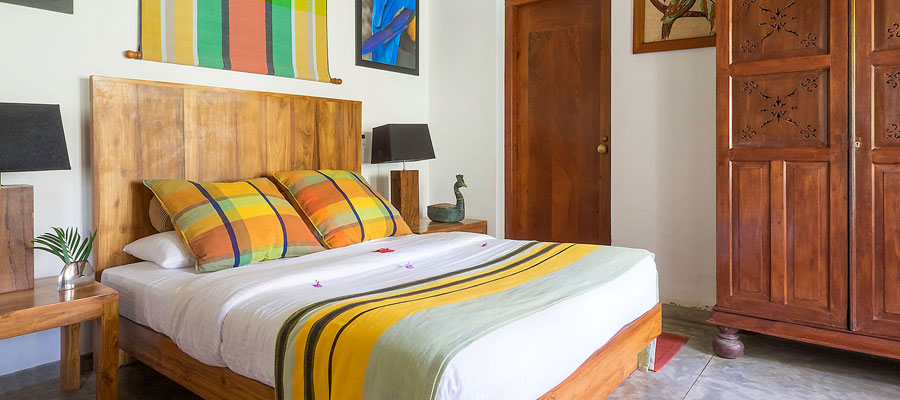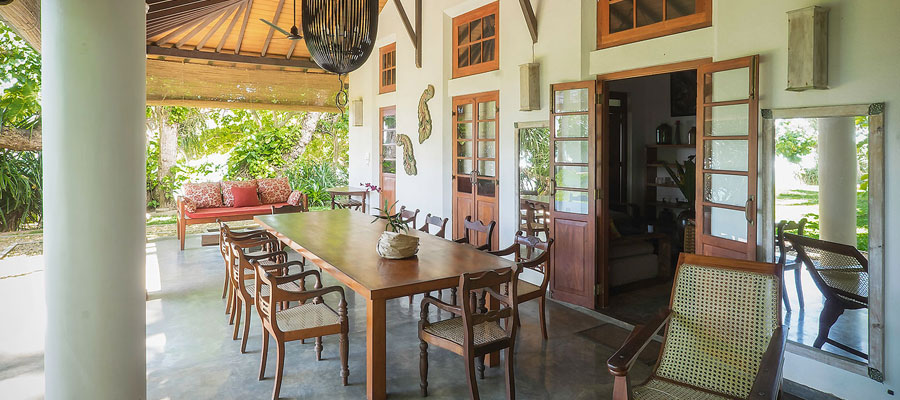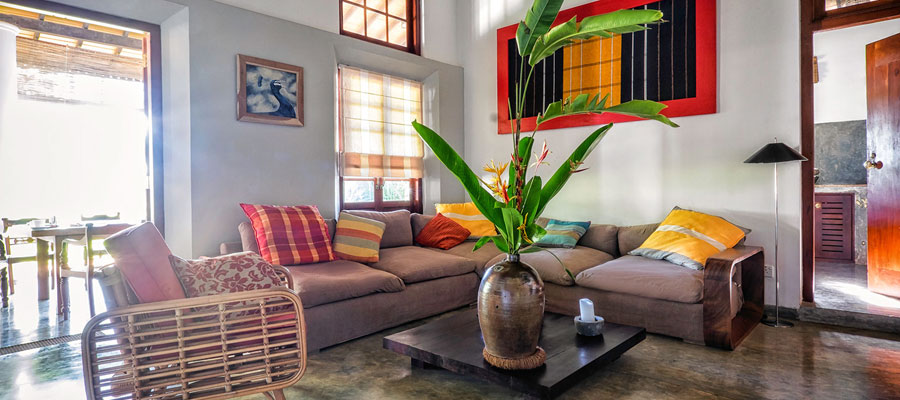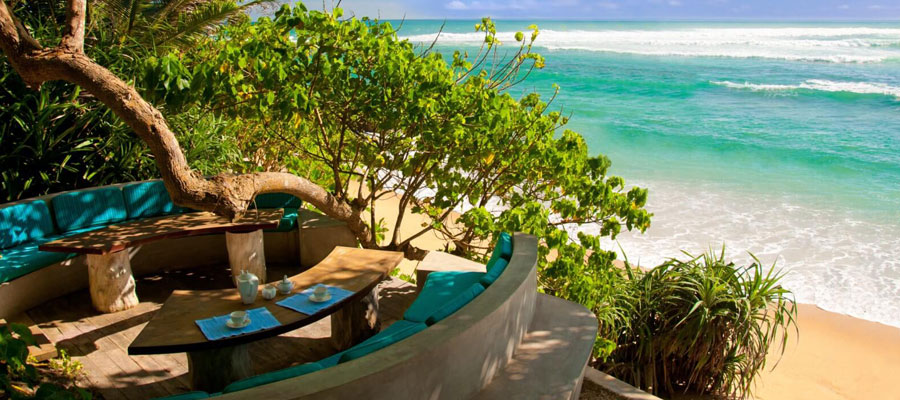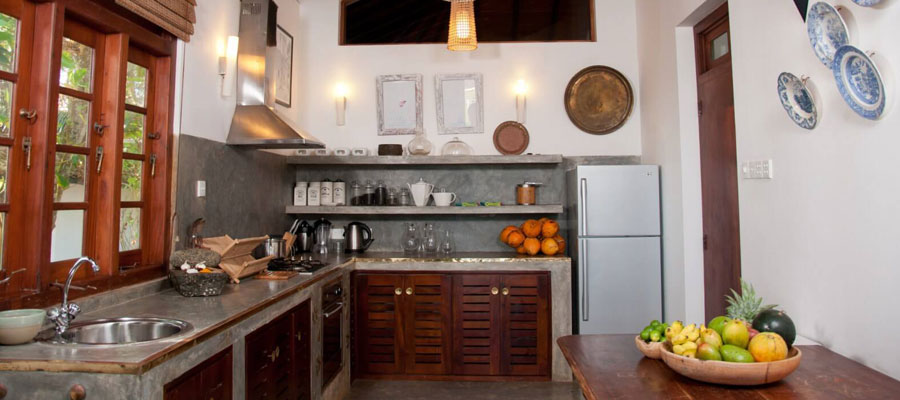 Eraeliya Villas and Gardens is a collection of villas and suites, set in a spacious ocean-side palm-shaded garden on a secluded beach a few kilometres west of Weligama and 45 minutes' drive from the historic UNESCO World Heritage Site of Galle Fort.
Eraeliya features five freestanding villas unique in style, furnishings and setting – are designed to appeal to a wide range of guests. Rooms are a blend of local and Asian architectural styles with a fresh and contemporary interior design. A garden spa, infinity pool, superb food and friendly service makes Eraeliya a perfect destination for a Sri Lankan holiday focusing on relaxation and inspiration. Eraeliya is also a stunning venue for a wedding or event for up to 25 guests.
Accommodation
Eraeliya features five individually designed villas offering a total of nine luxurious suites.
Villa Bawana: This is a two-storey contemporary-designed four-bedroom villa. The villa features four luxurious palatial suites, located in pairs on ground and first floors. Each suite has a Sinhala name- Diviya, Alaya, Samaya and Ramaya. The suites offer king size bed, sea views and a private verandah overlooking the hotel's infinity pool. Families and groups may book the entire villa on an exclusive basis or each of the suites may be booked independently. The villa also features a colonial-style high-ceilinged living area which features a library, a grand piano and a poker table – all integrated into a luxurious space decorated with original Asian artwork and antiques. A central passageway leads through the villa to the infinity pool and spacious pool deck offering views of the garden and sea.
Villa Walauwa: Designed in a typical Sri Lankan style, this is a two- bedroom villa. The villa's bedrooms have either a king size or queen beds and ensuite bathroom. The villa has a fully equipped kitchen and a large front terrace for living and dining area with superb sea views. The villa is perfect for family escape, promising privacy, independence and spaciousness.
Villa Nelum: This is a colonial style one bedroom villa ideal for couples and honeymooers or even a family as the sofa can be converted into an extra bed. The villa comprises a living room and a bedroom with low slung queen sized bed and an open plan bathroom featuring a freestanding marble bathtub. The villa blends Sri Lankan culture with modern style and luxurious comfort. The villa opens onto the lush gardens and is a short walk away from the sandy beach.
Villa Muhundu Bella: This is a colonial style one bedroom chalet tucked just above the sandy beach. Secluded and private, this intimate villa is an inspiring choice for honeymooners or romancing couples. The villa's geometry is fascinating. The bedroom (with a queen-sized bed) and dressing room occupy a circular space with a large glass door leading to a veranda that offers glorious panoramas of the Indian Ocean and the tropical garden where hibiscus plants blossom year round. To add to its uniqueness, a gently spiraling staircase mirroring a seashell leads from the bedroom and curves its way down into a contemporary bathroom with shower.
Villa Ambalama: This is a Srilankan style one bedroom villa designed to completely immerse its occupants in Sri Lanka's tropical lifestyle and unify them with nature. The villa's glass walls reveal the shady green of the garden, where Raspis bushes and tropical plants surround the bungalow to create a private space. There is an umbrella and a dining table to enjoy meals within the cool shade of the plants. The villa features a four poster double bed with mosquito net, a desk, a sofa and an armchair. The villa is furnished with eye catching furniture and a stunning jaffna antique carved doorway that leads into a large outdoor garden bathroom with open shower under the stars. With no TV, this villa is perfect for creative minds and those in search of pure inspiration.
Dining
Guest can dine wherever they like – in their room or in the garden beneath the twinkling stars. The Eraeliya has a restaurant serving local and international cuisine.
EXPERIENCES
At the Villas: For guest who wish to relax, there is a Tropical garden with large infinity-edged swimming pool. Beach Yoga, meditaton sessions, and a lush garden spa for massages and Ayurvedic treatments are also available.
Excursions: Below stated excursions are possible from Eraeliya:
Kogalla Lake: Guest can take a boat or kayak out on nearby Koggala Lake.
Galle Fort: Guest can explore Galle and its historic fort located just 45-minutes away.
Wildlife Parks: Day trips to the leopard-filled national parks of Udawalawe and Yala.