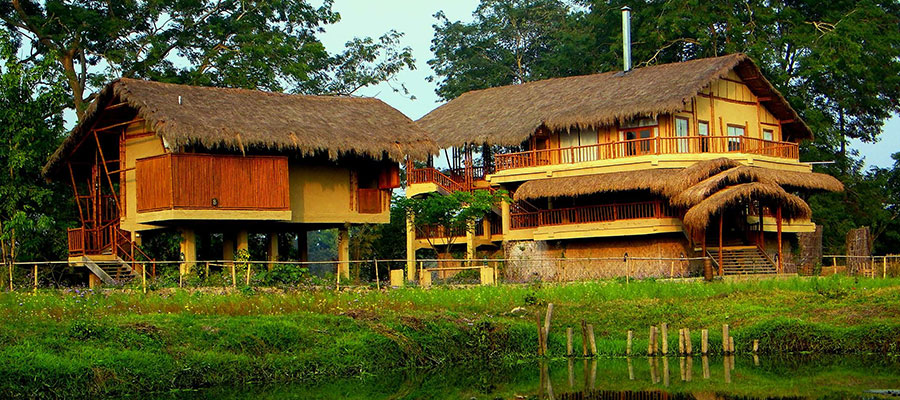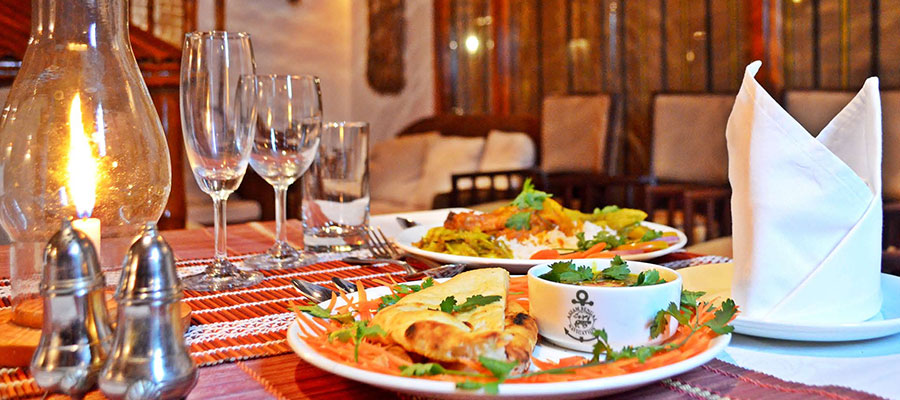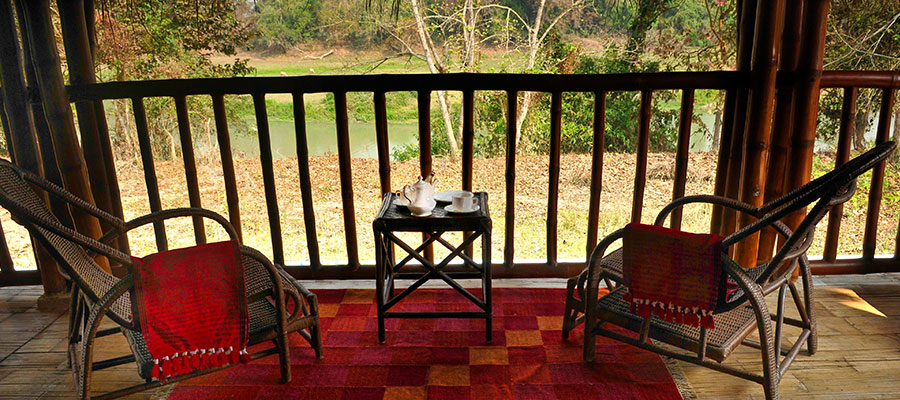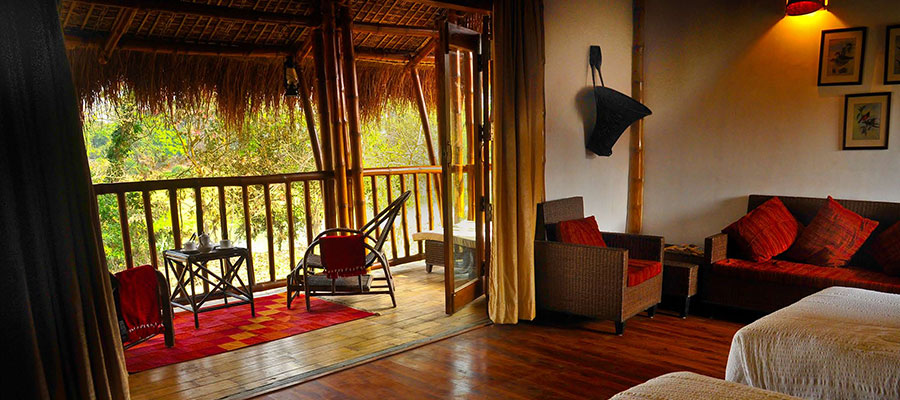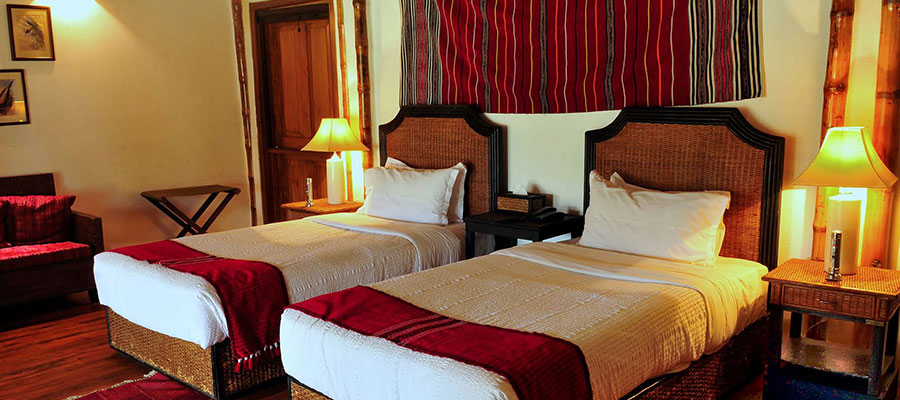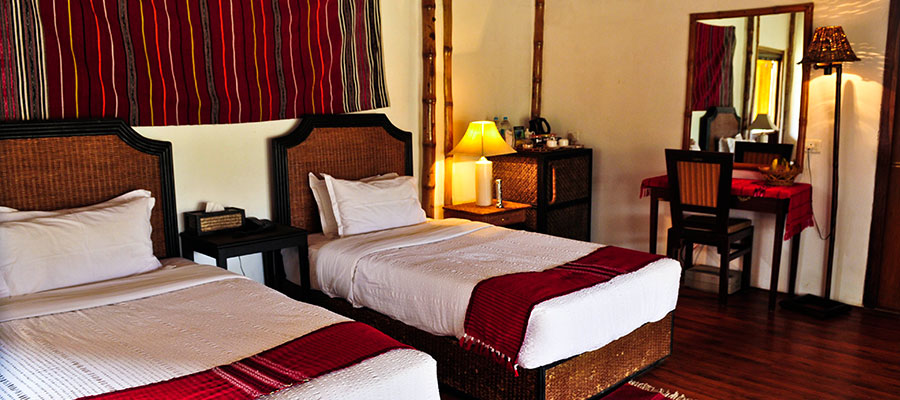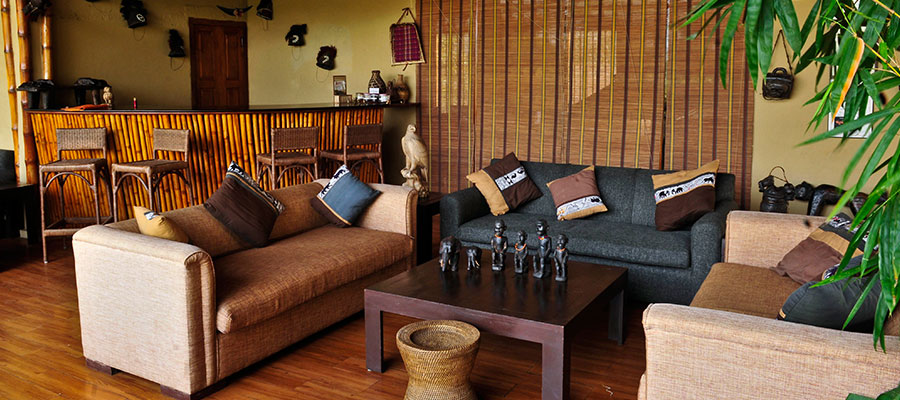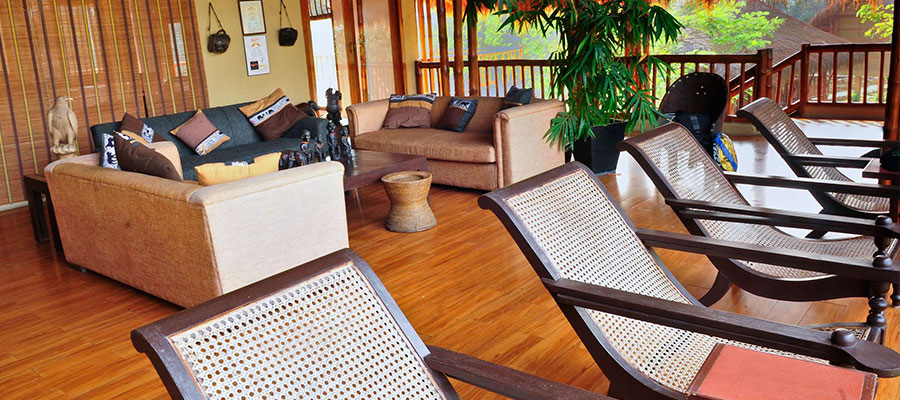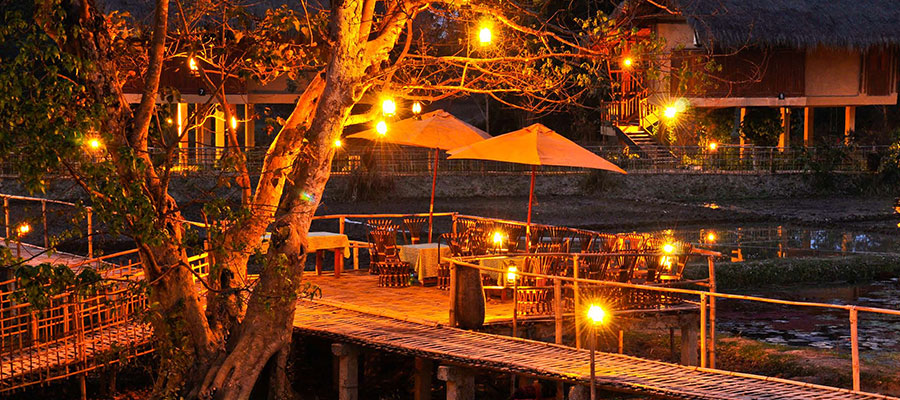 Located on the banks of the Diphlu River, overlooking the Kaziranga National Park, the Diphlu River Lodge is the newest and by far the best accommodation in Kaziranga National Park. The Lodge melds unparalleled comfort and service with the excitement of a wilderness experience. The grounds of the lodge have been carefully planned to preserve the natural environment with railed bamboo walkways over the paddy fields and crops, linking the cottages and machan together without disturbing the agriculture. The comfortable bungalow overlooking the river and jungle makes the stay very exceptional in Kaziranga.
Accommodation
The hotel has 12 cottages categorized as:
Individual Cottages: There are independent cottages, each with a wide folding glass door opening onto a verandah with inviting cane chairs.
Semi Detached cottages: These cottages are not completely independent. The semi-detached cottages have equally attractive large balconies overlooking the magical surroundings.
All cottages are made of natural materials like bamboo and woods. Each cottage is air-conditioned and have a comfortable bed, a spacious seating area, a writing desk, mini-bar and a small fridge, and electric kettle . All shower bathrooms are en-suite with a roomy dressing area and a fitted wardrobe containing a safe.
Dining
The Lodge has a multicuisine restaurant called the "Machan". This is an air-conditioned sitting and dining area, which opens onto two verandahs. Overlooking the Diphlu River and the Park beyond, the larger verandah has a well-equipped bar. The smaller verandah overlooks lovingly tended farmland and is an appealing location for al fresco breakfasts.
The restaurant serves continental, North Indian and Assamese cuisine made with fresh, locally produced ingredients whenever possible. The lodge organically grows their own rice, mustard and some vegetables.
EXPERIENCES
The experiences offered at the Diphlu River Lodge are:
Daily elephant and jeep rides with an accompanying naturalist in the Kaziranga National Park.
A two hour guided forest walk in the national park to experience and appreciate the details that may not be possible on an elephant or a jeep.
A day cruise on the Brahmaputra river to experience the unparalleled scenic beauty with picnic lunch on the beach.
A 02 hours dolphin safari on the mighty Brahmaputra River on a country boat to see the endangered 'Gangetic Dolphins', the National Aquatic Animal of India.
Assamese dance performance followed by a bonfire and sumptuous barbecue dinner
Village walks to the nearby villages, which includes engaging trips to the homesteads of three different tribes in the area; Bodo, Mising and Karbi.
Elephant bathing in the refreshing waters of the Diphlu River.
Guided visit to a rubber production unit accompanied by one of our. Your walk will take you through lush rubber forests, scenic vistas and charming village cottages.
A visit to a nearby tea garden to witness the process of tea plucking and processing.