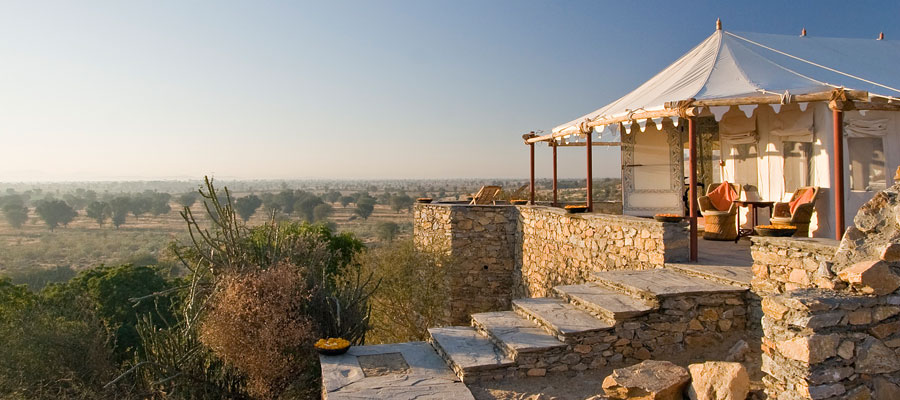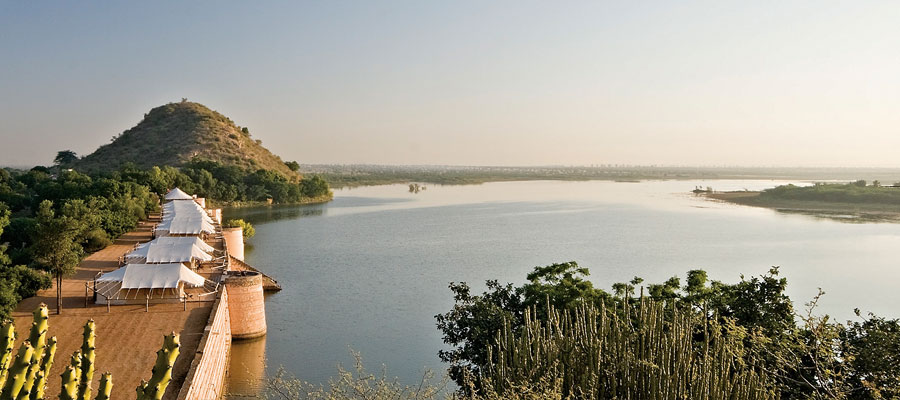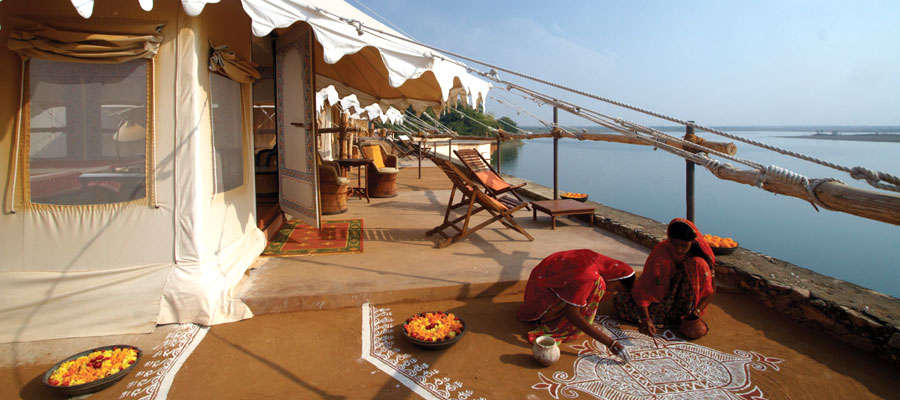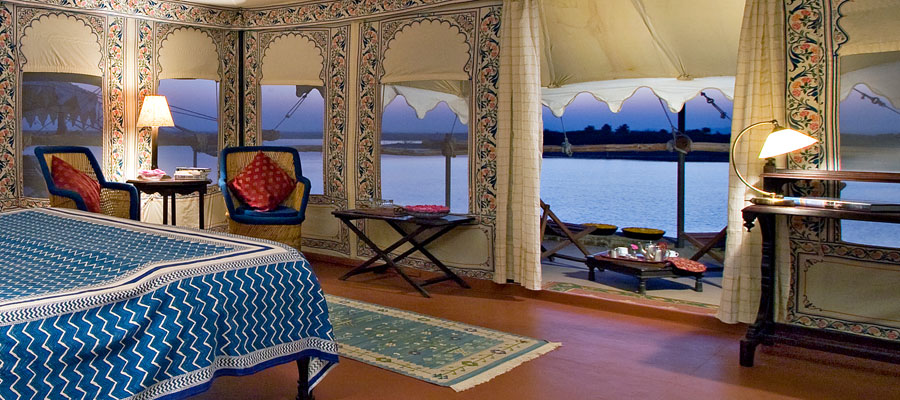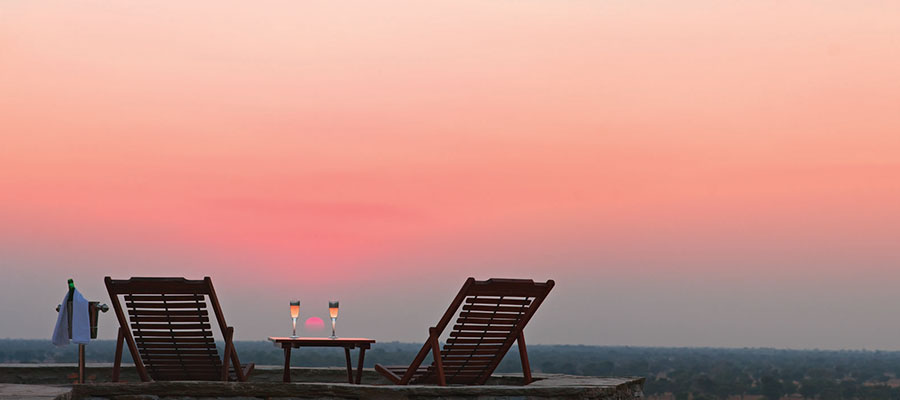 Chhatra Sagar, Nimaj, offers beautifully designed tents pitched on a 100 year old dam in a peaceful countryside in Rajasthan. Located in between Pushkar and Jodhpur, the camp with its lush green environs overlooking the mesmerizing lake, open spaces and enchanting views, is a lovely intimate place to stay after visiting the bustling Indian cities.
The stay at the camps is hosted by the charming members of the Nimaj family, who have owned the surrounding farmland for more than a century and have always worked towards betterment of the surroundings. The personalised attention of the hosts, exceptional service, delectable food and a wealth of activities makes the stay at Chattra Sagar a wonderful experience.
Accommodation
Chhatra Sagar offers 13 Luxury Tents, 11 located on the dam and 2 on top of the hill providing complete privacy and a breathtaking 360 degree view of the surrounding.
The spacious tents, face east overlooking the lake and have private sit outs offering panoramic views. The tents are comfortably furnished with locally crafted furniture, and have well appointed private facilities. Each tent is carefully hand stitched with interiors block printed in traditional floral motifs and has a comfortable bedroom with a private sitting area at the front. Amenities include WiFi and modern bathrooms finished in slate, complete with hot and cold running water, showers, bathrobes, slippers and a dressing area. The two tents on the hill top have private terraces with stunning panoramic views across the lake and the surrounding land.
Dining
Chattra Sagar has a separate dining tent overlooking the lake. However dining is not restricted to one place and the camp have plenty of space for alfresco dining including by the campfire under the canopy of stars. Traditional recipes that have been in use for generations by the family are used to prepare scrumptious meals for the guests. Exceptionally delicious and considered to be some of the finest in the region, the food is prepared by using vegetables grown organically in fields nearby.
Experiences
Farm and Villa Tour: A visit guided by the members of the family to these settlements makes one undertsand the traditional, rural Rajasthani lifestyle, which lays stress on harmony, conservation and the full utilisation of natural resources.
Bird Watching: Pristine wetlands, scrub forests, grasslands, and farms have made Chhatra Sagar a haven for birds. With a checklist of over 200 species, guests can enjoy birdlife from close quarters almost everywhere in the camp. For a more formal introduction, the camp organises bird walks along the trails.
Excursions to nearby cities of Pushkar, Ajmer and Jodhpur can be arranged on request.