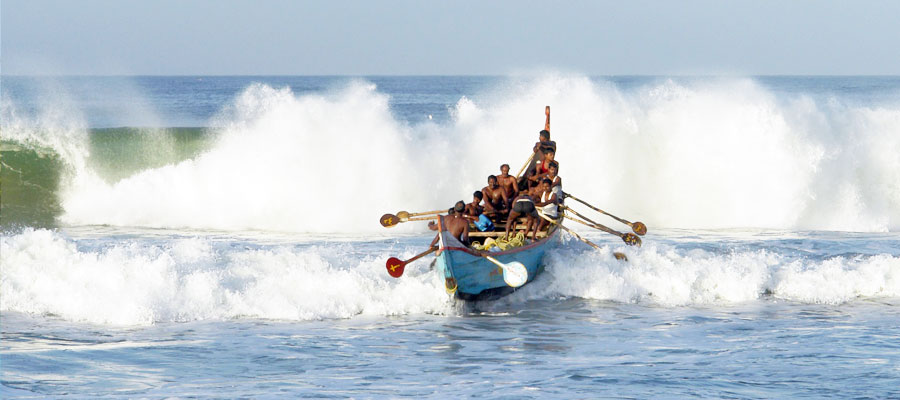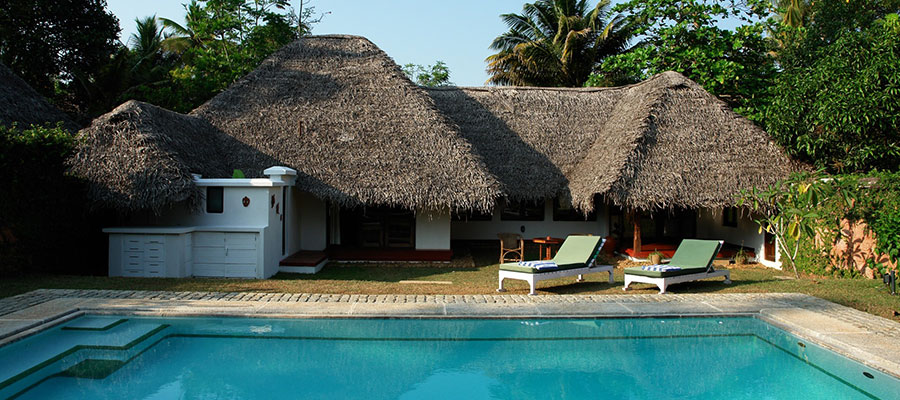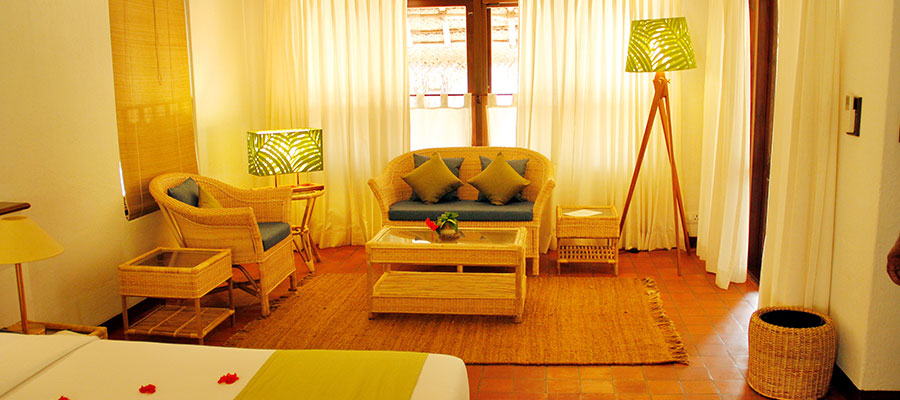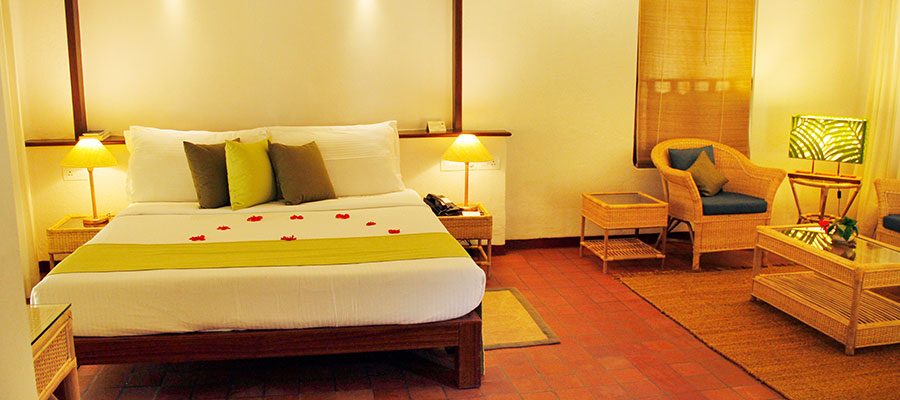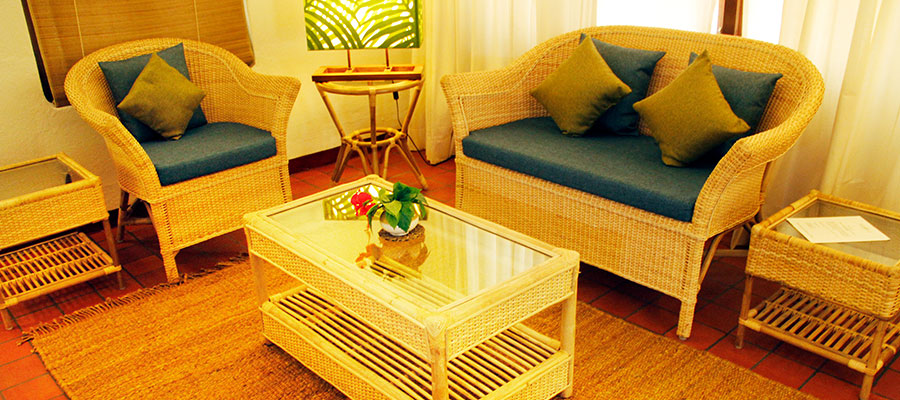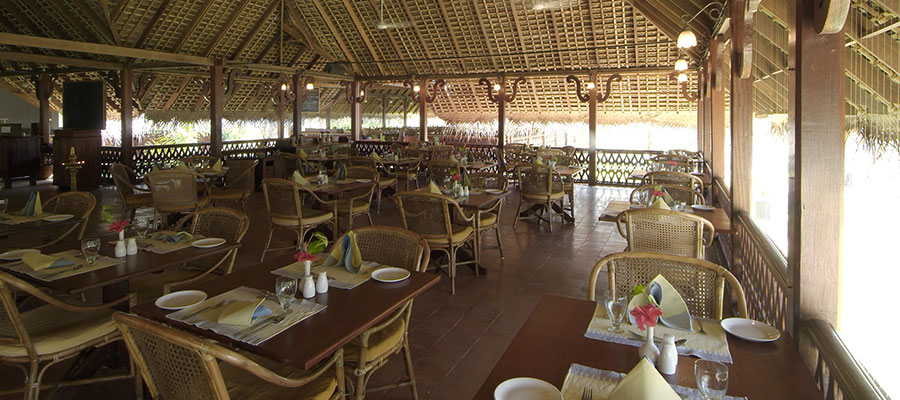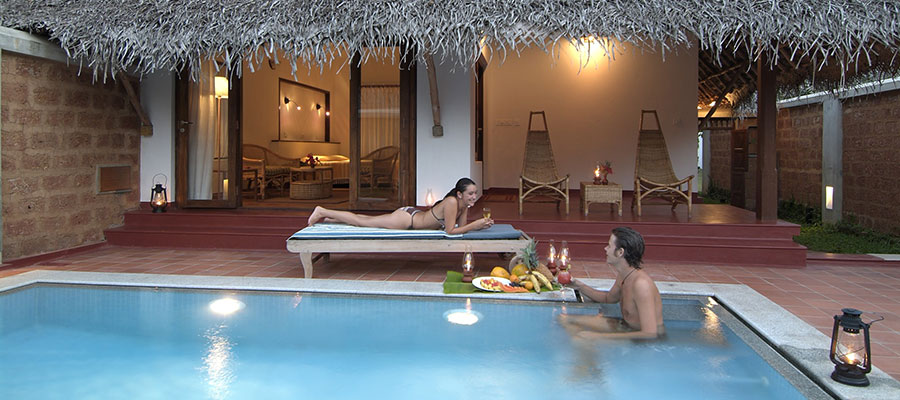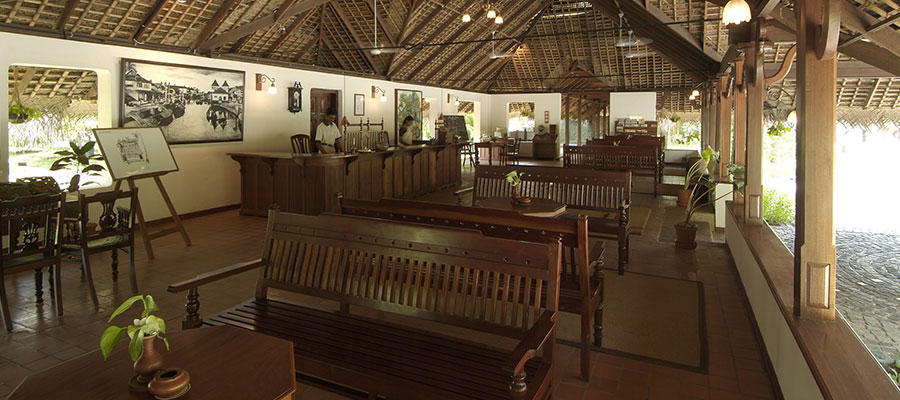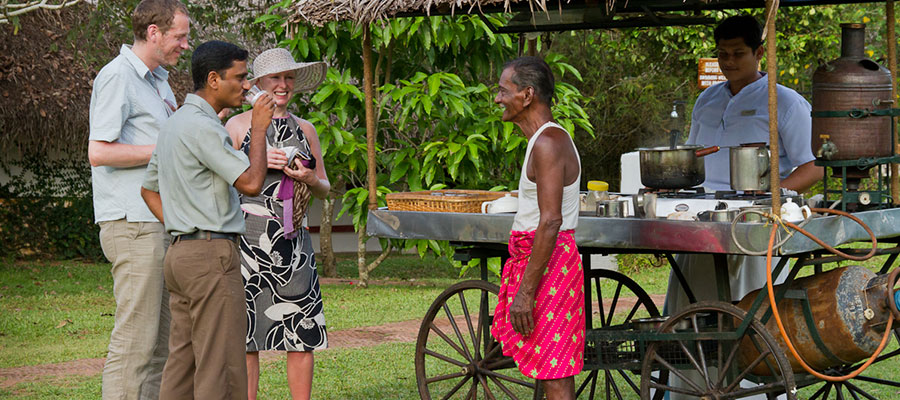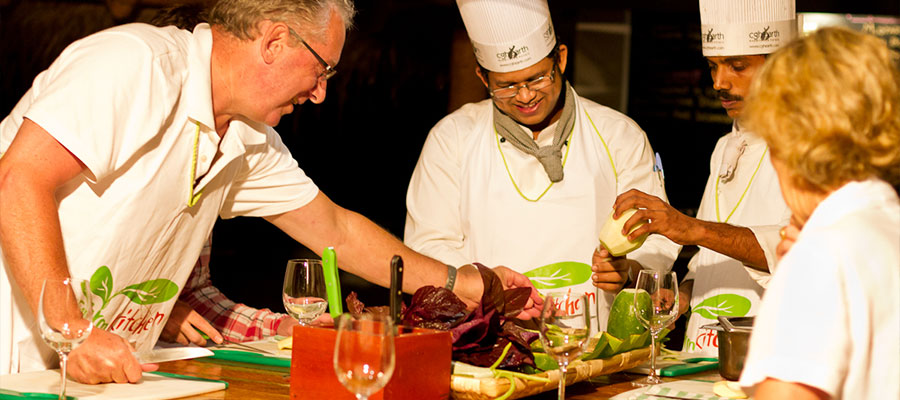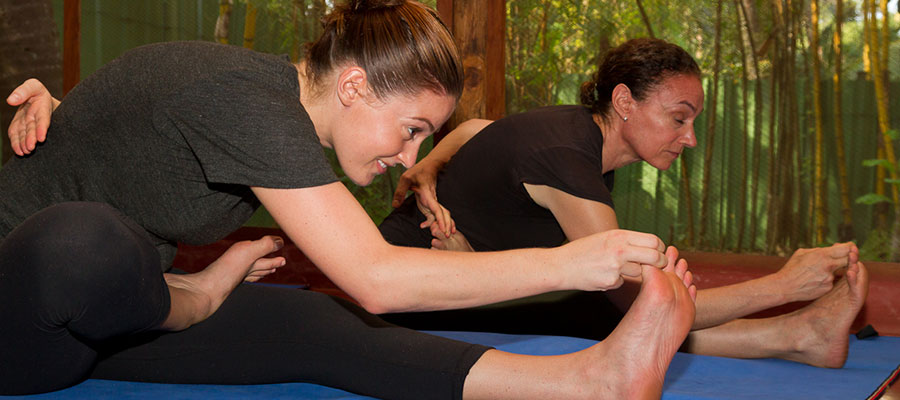 In a superb location set in 25 acres of Coconut Palm groves leading down to the vast expanse of beach. The Marari Beach is a Brand New Hotel built in the style of a traditional fishing village with 52 thatched villas that have been designed to be in keeping with the local village style. It is 90 kms from Cochin International Airport, 60 kms from Cochin City, 14 kms from Alleppey and 165 kms from Trivandrum.
Accommodation
Garden Villas - Each villa has living cum bed room, private sit out and partly open to sky bathroom. There are 49 standard rooms. Of this 22 are twin bedded and 27 are large bedded. Two rooms are designed for guest with special needs and wheel chair friendly.
Garden Pool Villas - These are the villas which have a small private pool (6m x 3 m size) with each cottage. There are 10 such cottages of which 08 are large bedded rooms and two are twin bedded. Each villa has living cum bed room, private sit out and partly open to sky bathroom.
Deluxe Pool Villas - There are three large bedded deluxe pool villas. A deluxe pool villa has a separate living room, a spacious bedroom, a passage, a private sit out, a partly open-to-the sky bathroom, a closed bathroom, a much larger private pool (8m x 4m) with a garden.
Dining
Chakara - A 120 cover multi cusine restaurant serves Indian and continental delicacies. Between 0930-1230 and 1430 -1930 it is open for snacks and tea.
Beach Grill - An exclusive sea food specialty restaurant, this 30 cover restaurant serves fresh catch of the day and operates only between October to April. It is open for lunch & dinner.
Farm Kitchen - A 8 cover restaurant located in the centre of the organic vegetable garden, provides a unique community style dining experience. Guests start with picking vegetables from the organic vegetable farm along with the Chef and then proceed to cook with the Chef and eat dinner with the Chef.
Palm Bar - The lawn bar opens for pre – dinner cocktails at 5 p.m. and closes late in the evening.
Beach Shack - This is the liquid lounge near the beach. Opens during mid day from 1100 to 1900 Hrs.
EXPERIENCES
Yoga : With master Yoga teacher giving you expert guidance, this ancient science of wellness acquires a new dimension. One of the best things about yoga is that almost anyone can do it regardless of age.
The Poolside : The crisp Malabar sunshine just cries out for a long and leisurely browning session. And even tans come easy at Marari's expansive, Olympic size poolside. This is also a great place to brush up on your swimming before venturing into the sea. Or for that matter, just while away an afternoon with a book from the library.
Butterfly Garden : Spend some time in butterfly garden and enter a dancing, flitting new realm of nature.
Village Experience : On a slow evening, try a little side trip to the nearby village, and you can watch the fascinating process of coir making. This wonder fiber forms the basis of a hundred different items, from handbags to ropes to sandals to mattresses. You can pick up some fine coir handicrafts at the Marari gift shop, if you like.
Sporting Chances : Spend an afternoon on sprawling tennis courts, or if you prefer, take a quick round of Volleyball.
Fauna : Marari Beach is not your average sun, surf and sand beach destination. The resort is a carefully nurtured biodiversity haven that attracts nearly 80 varieties of birds. Sometimes in fact, it is the sunbirds that provide a greeting to arriving guests peeking from their hanging oval-shaped nests on the ivy canopy at the entrance to the resort. Marari Beach has three species of sunbirds—purple, purple-rumped and lotens—that feed mainly on the flowers on trees and shrubs.
Like bees and butterflies, they play an important role in pollination. While it is not unusual to spot sunbirds in the area, the resort has some bird species, whose presence here flummoxes even the naturalists. The iora is usually not seen in coastal areas, nor the brown hawk owl.
At Marari you can actually spot owls even in the daytime. Examples include the jungle owlet, spotted owlet and collared scopes owl. It's wonderful to hear the call of these "wise" birds when you are resting in a hammock or having a drink at the beach bar. Night varieties comprise the barn owl, brown hawk owl and mottled wood owl.
A couple of varieties of the woodpecker too, can be seen and heard here. While the pygmy woodpecker is the more commonly spotted one, the property is also has the rufus woodpecker, which makes its home in a live anthill! It is a bit of a mystery partnership the ants do not attack the chicks, though as is usually the rule in nature for unlikely partnerships, this is not even a mutually beneficial relationship.
AYURVEDA
Ayurveda, the Science of Life, is almost as old as the Indian civilization. Its holistic approach, the efficacy of its therapies and the absence of distressing side effects are some of its more salient features. Throughout the world there is a rising awareness of the benefits of natural health systems. Health in the ayurvedic view represents the Harmony of body, mind and soul. Its pharmacopia is nature herself and its diagnostic and curative tools have been derived from the invaluable legacy of insights, experience and knowledge bequeathed to posterity by its great masters. It is based on natural principles that inform and animate human life. The Marari Beach Resort offers therapies at its Ayurvedic Centre under the guidance of an expert "vaidyan "(physician) whom you may consult for a fuller understanding of symptoms and appropriate treatment. It is well equipped with a dispensary and qualified resident staff.