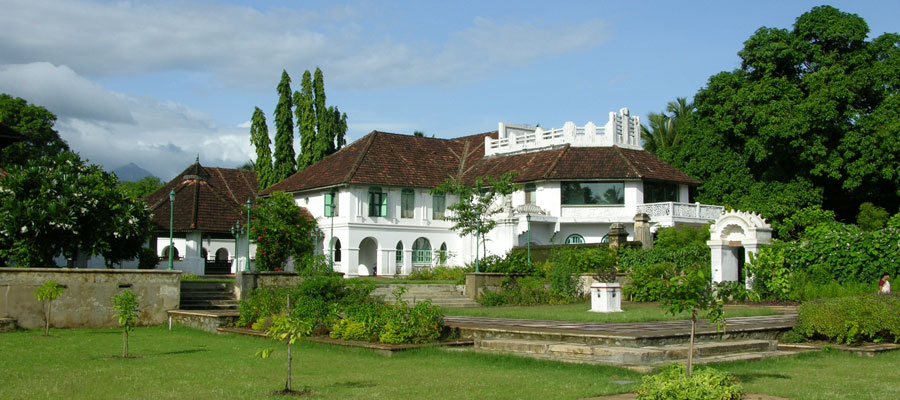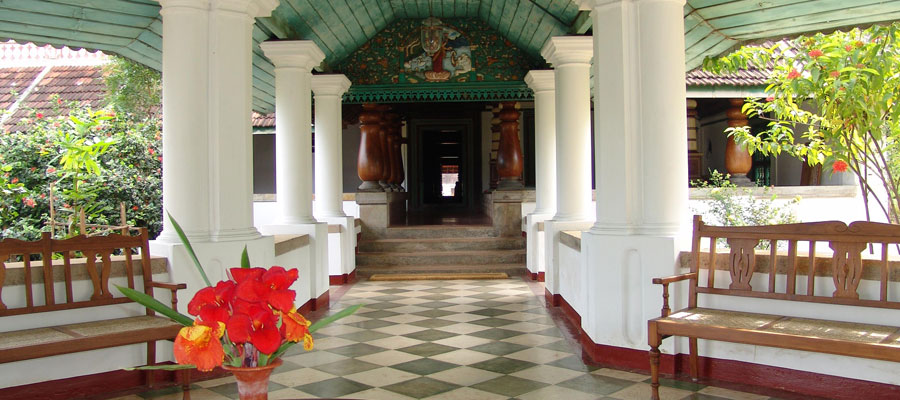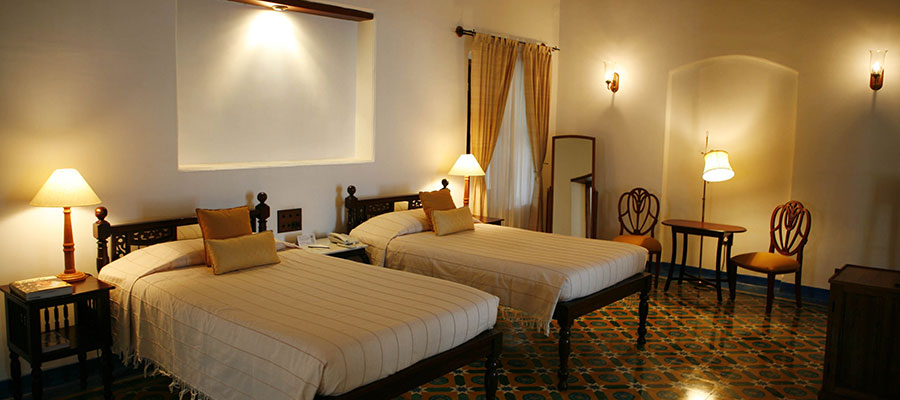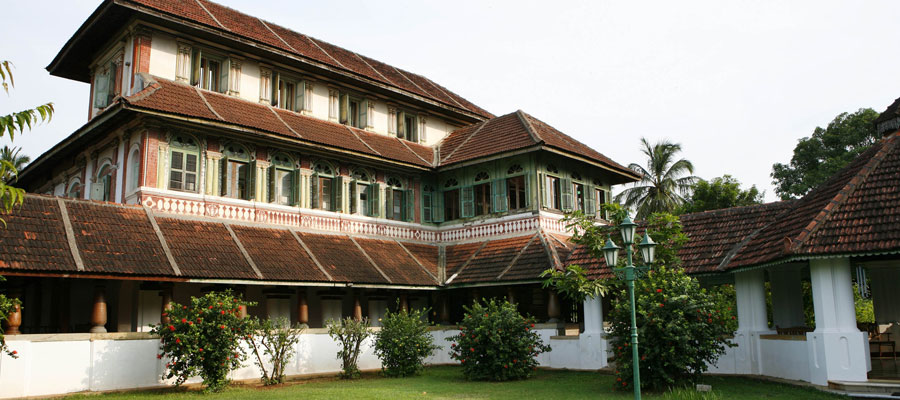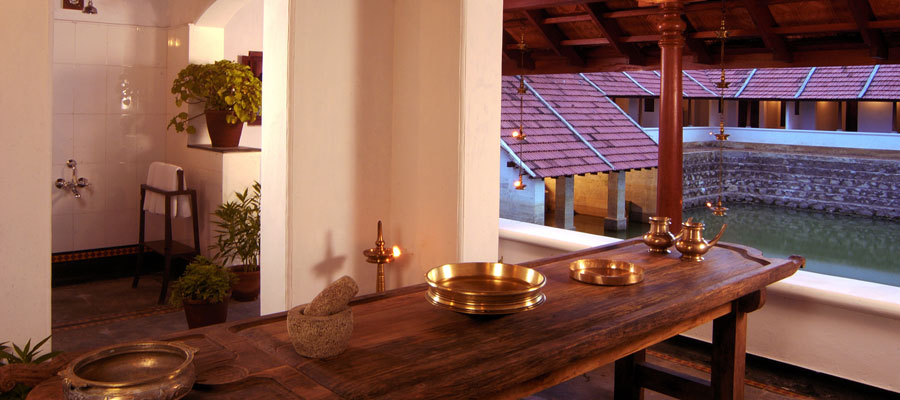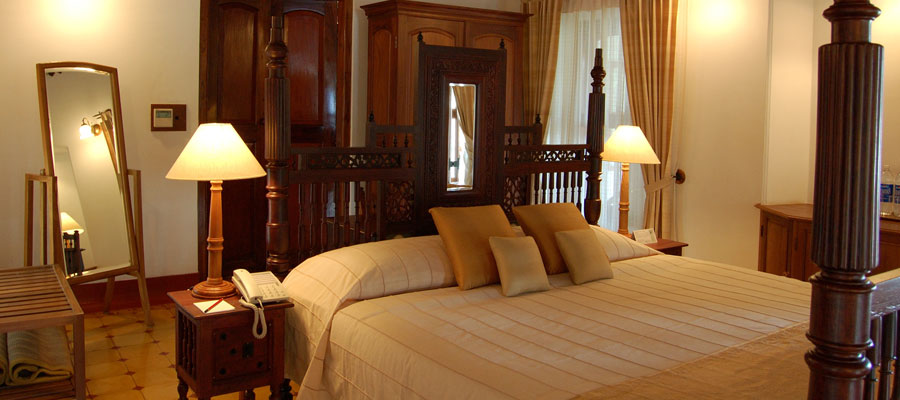 Set in lush Palakkad, Kalari Kovilakom is this century-old palace of the ancient Vengunad Kingdom in Kerala. Today, Kalari Kovilakom has been restored and recreated into a unique Ayurveda hospital.
The intent and purpose of Kalari Kovilakom is to give you a chance to start your life all over again. Ayurveda, if correctly followed, promises not only a new body and mind, but also a deep connection with the spirit. To stay true to the traditions of the palace, no meat, leather footwear or alcohol is allowed at Kalari.
At Kalari, every therapy is personal. The treatments are customised for you by the doctors, often combined with yoga and other methods to provide deep healing from within. Every treatment is based on your needs and your ayurvedic body type. Even the food you're served is individual, with health drinks and herbal preparations that vary with your treatment.
The result is nothing less than a return to the womb. There are no game rooms, no shopping expeditions, no television sets. The evenings are alive with chanting and hymns, unsullied by the sounds of the city. In fact, apart from these post-dinner gatherings where guests and staff alike participate, there is nothing, absolutely nothing, to disturb your new-found inner silence.
Accommodation
- 18 palatial suites that offer the experience of authentic palace living
- The Old Guest Wing, with '20s colonial Western-styled rooms: These are the typical rooms in the Old Wing built specially for European visitors.
- The Palace Wing, which has traditional Kerala architecture reminiscent of the 'zenana':
KALARI KOVILAKOM PACKING LIST : At Kalari Kovilakom, each guest is provided with three sets of complimentary fine cotton Pyjama suits and one pair of footwear for their use. If you do not intend to travel elsewhere other than to Kalari Kovilakom, then you will not require carrying many clothes – so pack light. You may carry a swim suit, a light shawl, and scarf & cotton socks along with Personal toiletries if any. Carry your medical reports, sufficient stock of medications for prior consultation with the Doctor. If you have any concerns, you can consult the doctor vide email. Translators for your first consultation with doctor/yoga teacher/resort manager can also be organized.
Dining
'You are what you eat' isn't just granny's favourite saying. It's one of the key underlying principles of Ayurveda. Ayurvedic diets, contrary to common belief, do not prohibit meats or wines. Rather, they stress moderation, and selection of foods in harmony with your body type.
Ayurveda also gives us the unique idea of food as medicine. The ancients believed that a person's diet had the power to cure many ailments, large and small.
Kalari Kovilakom's pure Ayurvedic kitchen is a shrine to ideas, first outlined by the ayurvedic physicians more than a thousand years ago. Foods are prepared in brass, iron or clay vessels only. And the chefs weave their pure vegetarian magic with only the minimum of oil and almost no heavy spices or chillis.
You may find your first meal at Kalari somewhat bland, specially if you're a curry lover or a steak-eggs-ketchup-and-mustard kind of person. But within a day or two, something strange happens. Your palate softens, becomes more sensitive. Suddenly, the subtle flavours of pure spices and fresh tropical vegetables begin to come to the fore. Each meal becomes a medley of subtle textures and aromas, rather than the taste assaults most of us are used to. Even better, you need to eat less and less to feel completely sated!
Experiences
Ayurveda at Kalari Kovilakom
Kalari Kovilakom is the Palace for Ayurveda, perhaps the first and only one of its kind. It offers ayurveda unveiled in its most authentic form. The herbs used are pure and freshly picked, usually from the herb gardens maintained on its own extensive grounds.
The Palace for Ayurveda is a shrine to nature's healing power, showing you how to enjoy life to its fullest. The complete treatment is conducted under doctors with decades of clinical experience. Every item, be it the herbs used, the diet or the massages and other herbal treatments, all conform to ancient tenets of Ayurveda.
Fresh herbs, usually picked from Kalari Kovilakom's own extensive organic gardens, are used in all the preparations. Pure spices and organic ingredients are cooked in the full fledged ayurvedic kitchen, creating simple vegetarian dishes that will delight the senses and heal the body.
A combination of diet, medicines, herbal treatments, baths and massages specially tailored to your requirements make the Kalari experience more than a memorable one. Indeed, guests tell us it's akin to being reborn.
Yoga And Pranayama
Yoga is the ancient Indian mind-body-spirit discipline, said to have originated in the 'sutras' (philosophical verses) of sage Patanjali, millennia ago.
The word is from the old Sanskrit, and means 'union'. While there are many different forms of Yoga, the purpose of all of them is the same - to achieve oneness with the cosmos. For the serious Yogi, the ultimate aim is to attain 'moksha' or liberation from the karmic cycle of birth and death.
The form of yoga that's most widely known in the West is 'Hatha Yoga', a system of 'Asanas' (postures) meant to perfect and discipline the body, and its accompanying breath exercises, called 'Pranayama'.
At Kalari, they use the Bihar school of Hatha Yoga, a gentle, yet powerful form that combines particularly well with other therapies. Afternoons in the Yoga Centre are reserved for 'Yoga Nidra', a special meditative technique that brings about deep relaxation in the individual.
Like everything else here, yoga therapies too are personal and focused. You'll be guided through a routine that's designed for your age, ailments, body type and general condition.
KALARIPAYATTU (The Dance of Steel)
Kalaripayattu is one of the oldest martial arts traditions in the world. In fact, many historians believe that it was the Buddhist monk Bodhidharma (Daruma to the Japanese), founder of Zen, who first took it to the Far East. Over the centuries, the form was expanded and developed, finally becoming the basis for Kung Fu and other martial arts.
'Kalari' means school or arena, and 'payat' is skill training, exercise or practice. Kalari aims to create the most proficient warrior and so fits out the body and the mind with an elaborate repertoire of movements and exercises.
There are four basic types of Kalari training:
1. Body control exercises
2. Training with wooden staffs.
3. The use of weapons such as swords and shields.
4. Unarmed combat.
There is also training in the use of a unique Kerala weapon, the lethal flexible sword, called the 'Urumi' that can be concealed as a waist belt.
Another special feature of Kalari is training in 'Marma', the art of knowing and activating the 107 energy points in the body. These are vital points for correcting the body's energy flows and replenishing its resources. Kalari therefore aims to make the practitioner not just a warrior but a self-healer, and one who can also help others with his healing powers.
At Kalari Kovilakom, there are regular training sessions in Kalaripayattu, held in a traditional covered pit arena on the grounds. So not only can you watch the experts at play, you can even take a crack at Kalaripayattu yourself. Simple Kalari movements are great exercises for strengthening and toning the whole body, and can make your treatments that much more beneficial.