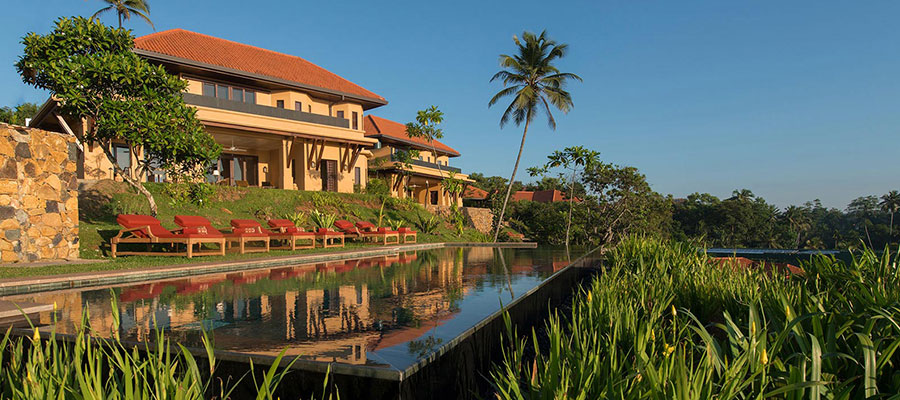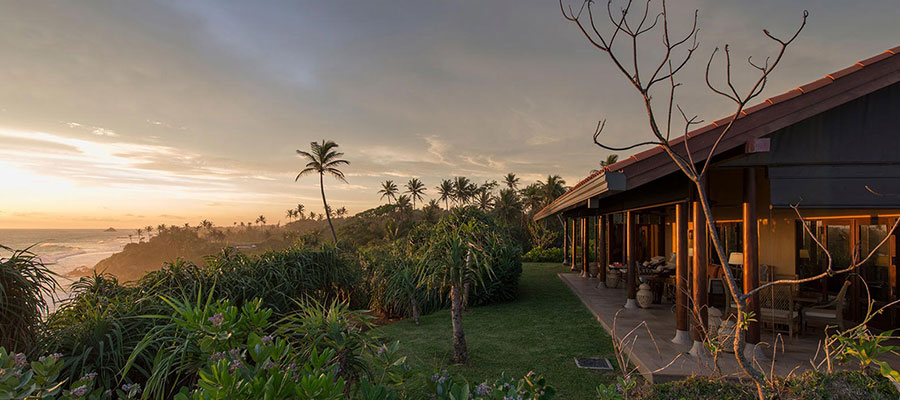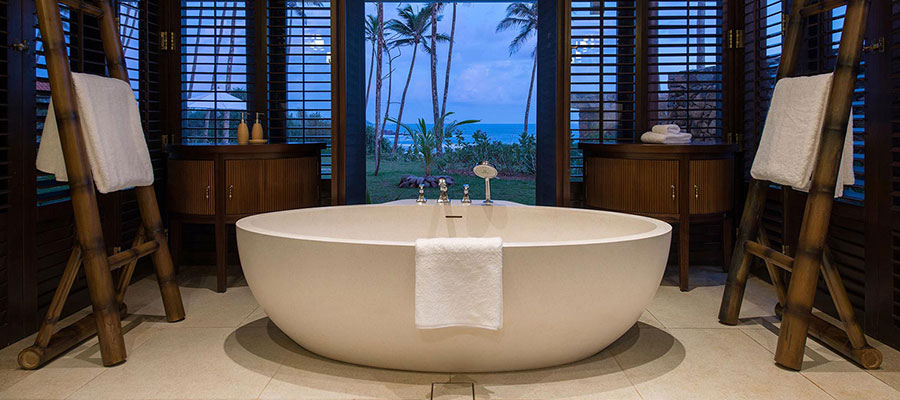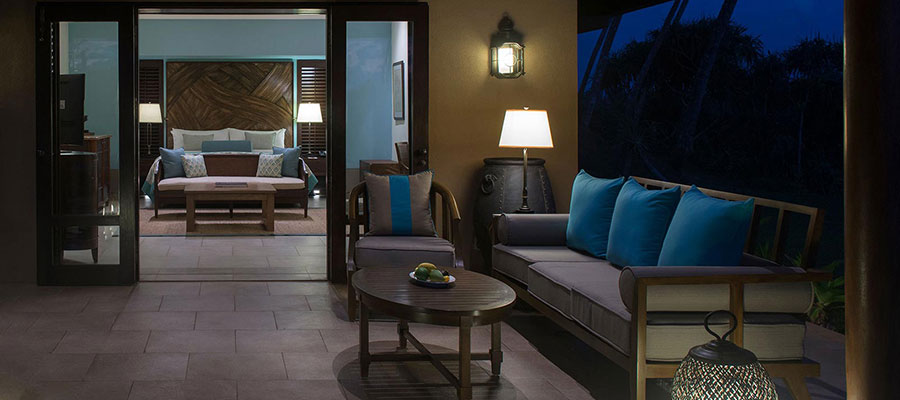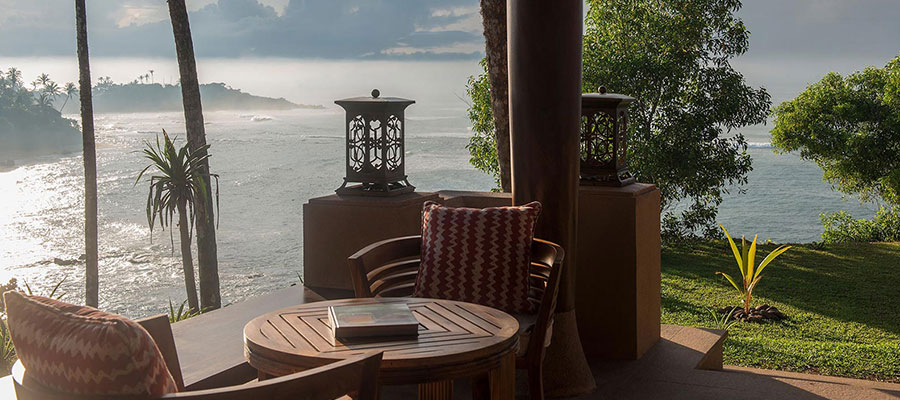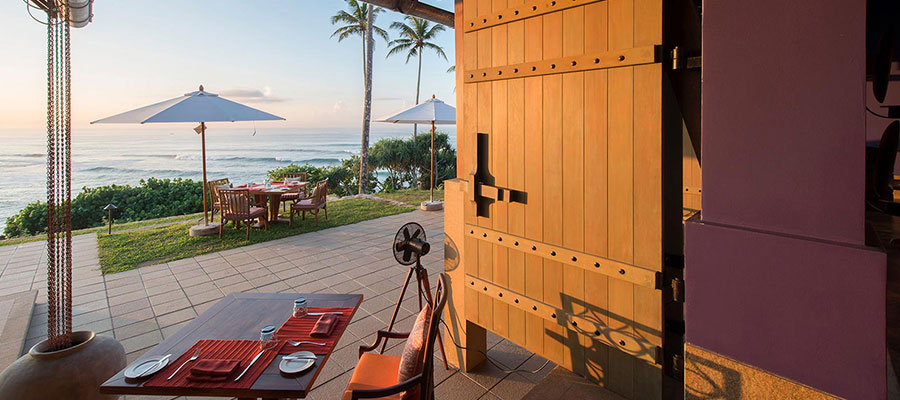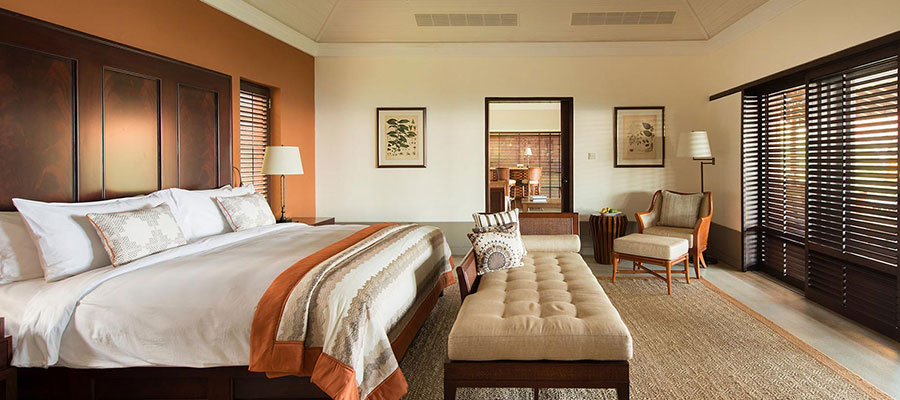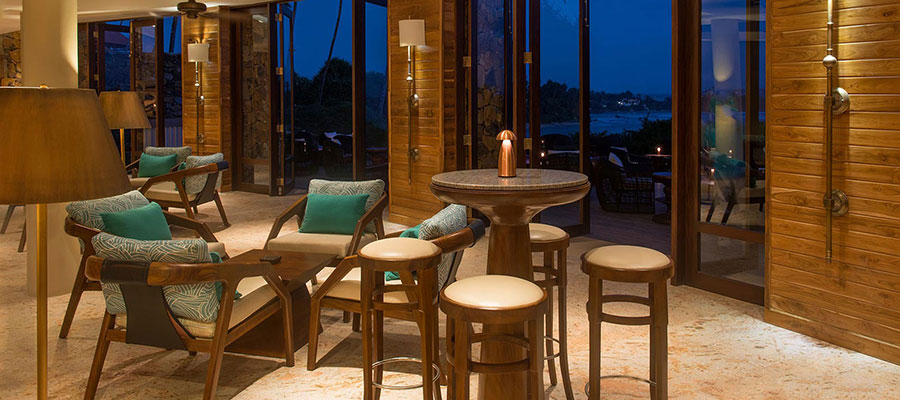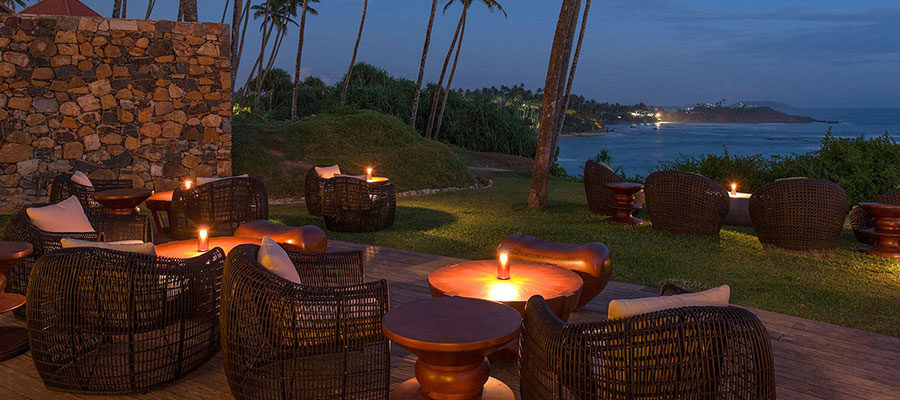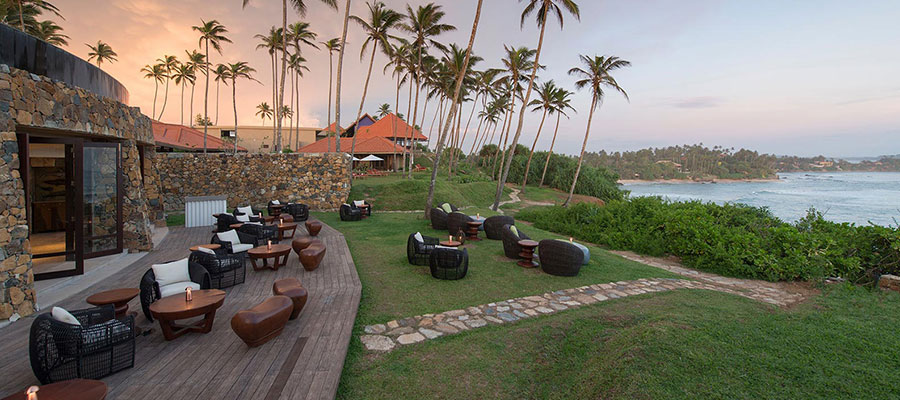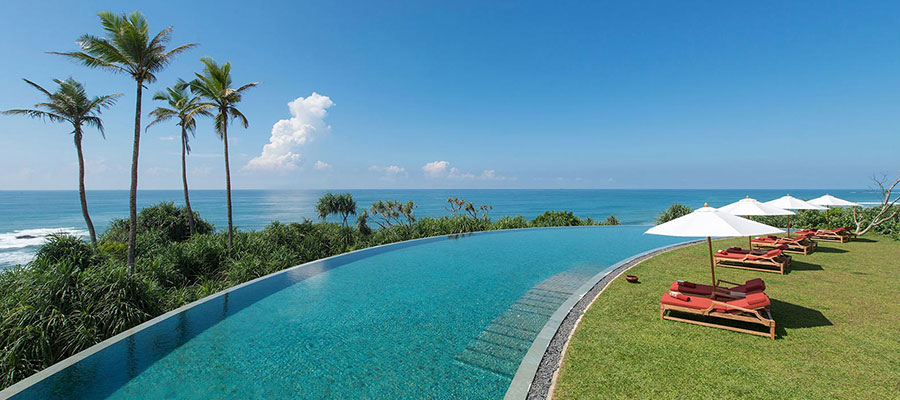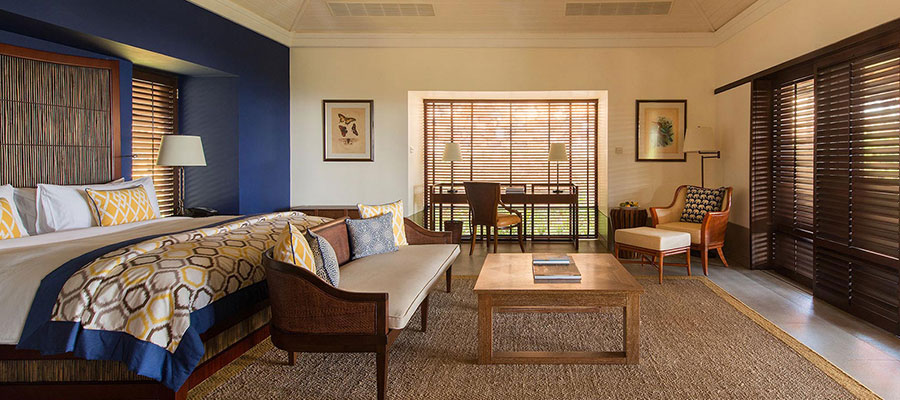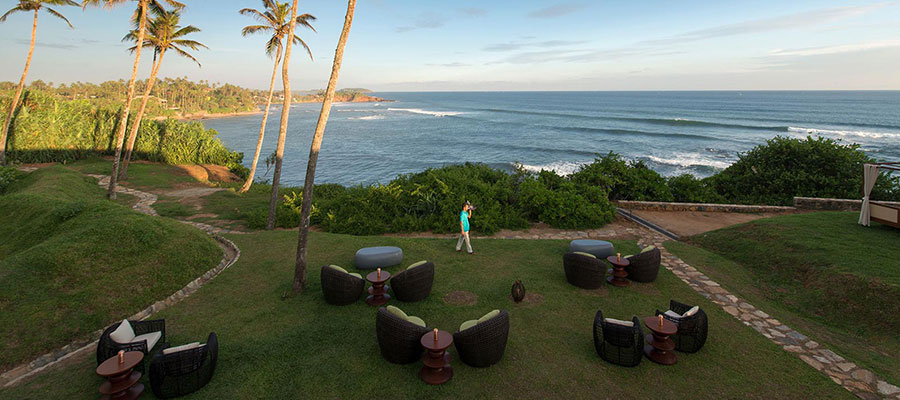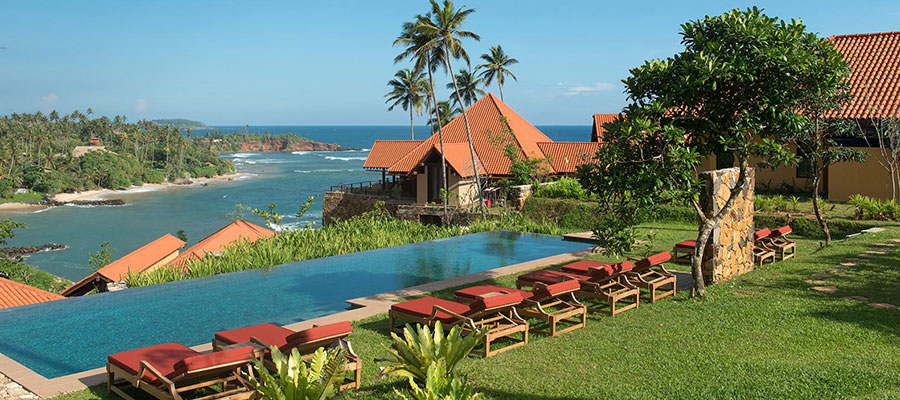 Designed along the lines of a traditional southern village with clusters of villas and residences around a central Main Square, Cape Weligama is a high-end resort on a beach-fringed headland near Galle. Nestled in 12 acres of landscaped garden, atop a singular promontory above the Indian Ocean, the hotel offers stunning views of idyllic landscapes on all sides.
An array of international dining venues captures Weligama's iconic sunsets, as does the 60-metre crescent-shaped infinity pool that appears to flow seamlessly into the shimmering sea, while those timeless breezes ensure elegant swells unfurl onto the sun kissed sand. Exquisite interiors, impeccable service and delicious food makes the stay at the hotel a memorable experience.
Accommodation
Cape Weligama consists of a collection of 20 Residences and 16 Master Rooms scattered across 12 acres of landscaped gardens. With a total of 39 rooms in all, each room is named for a distinguished explorer or writer whose historic Ceylon journey captures the spirit of Cape Weligama.
All accommodations enjoy butler services, a large terrace with dining and spa facilities, spacious walk in wardrobes, Sonos wireless audio with a large music library (or play your own music), a complimentary library of movies on demand on the large screen, custom developed Ophir toiletries, a steam room, large bathrooms with twin vanities and a stone bathtub.
The Residences are set within eight stone ringed gardens. Each garden comprises two or three free-standing Residences plus a 15 metre infinity edge swimming pool. Categories of residences are as below:
Residence - Featuring a king bedroom, a terrace for relaxation or dining, a large walk in wardrobe and bathroom with a separate area for the stone bathtub that opens out to the garden and the 15m infinity edge pool.
Premier Residence - The rooms come with a king size bed, large bathroom with steam room, stone bathtub and a large well furnished terrace overlooking tropical gardens with 15m infinity edge pool.
Grand Residence - These Residences comes with a bedroom with king size bed, a separate living room with its own bar and the largest terrace in the hotel for relaxing or dining, overlooking the Indian Ocean and tropical gardens with 15m infinity edge pool.
Cape Weligama Residence - The accomodation comes with two king bedrooms, each with large ensuite bathrooms. There is a spacious terrace on the ground floor for relaxing or dining, a living room with bar, an upper floor deck and the stunning upper floor 15m infinity edge pool overlooking the Indian Ocean.The two floors are connected by a staircase on one side of the Residence. There is also a second 15m infinity pool in the garden shared with the second Residence which could be reserved for family or friends.
The Master Rooms are situated around the Cove Pool in units of four. They are especially well suited to families or friends traveling together, seeking the beach villa experience for which southern Sri Lanka has become synonymous, with the added amenities and activities of a luxury resort.
Master Room 130: Features a twin Queen bedded room, spacious bathroom with stone bathtub and steam room and a terrace for lounging and dining. The Master Room 130 can interconnect with the adjacent king bedded Master Room 150 via the door on the terrace. The Queen beds can be joined together to make for a single bed much larger than a King.
Master Room 150: Furnished with a large king bedroom, a lavish bathroom with stone bathtub and steam room and a terrace for lounging and dining. The room can interconnect with the adjacent twin queen bedded Master Room 130 via the door on the terrace.
Dining
All Residences and Master Rooms have dining tables on generous terraces where meals can be served by the butler. Cape Weligama also offers a selection of restaurants as below:
De Mauny Dining Pavilion: An ocean facing restaurant where the guest can choose the fresh catch of the day from the market and the food is cooked to order as per guest preferences.
Kumbuk: A casual open air spot showcasing Sri Lankan unique and spicy curries.
Rouge: Located at the cliff edge, Rouge is a steak house and grill with amazing views of the Indian ocean.
Taylor Pavilion: The waterfront Taylor Pavilion provides a relaxed and refined venue for traditional Ceylon high tea, to enjoy sunset cocktails and after dinner nightcaps under the stars.