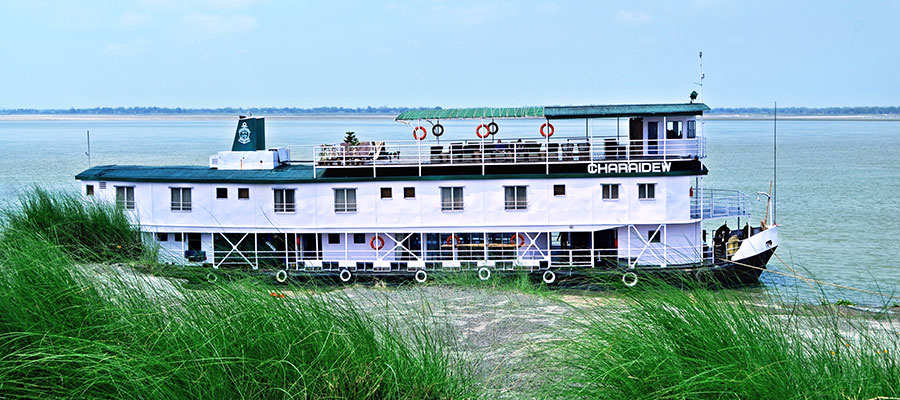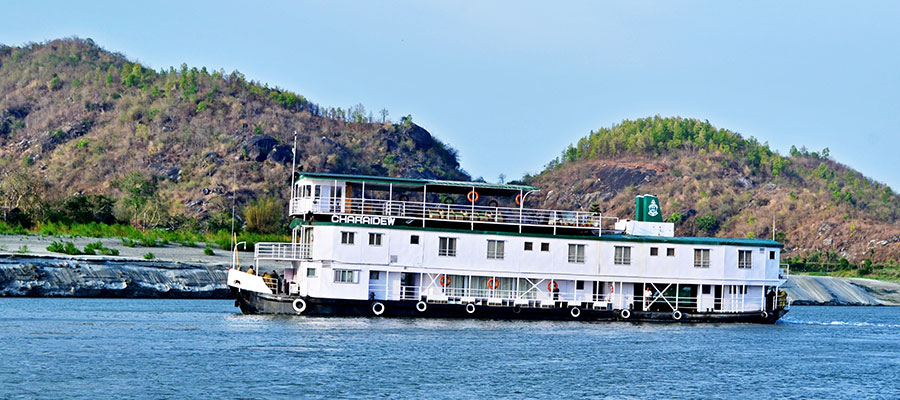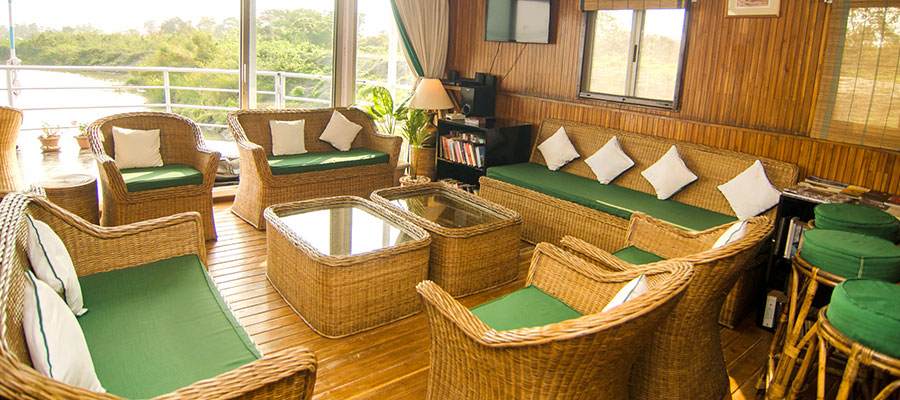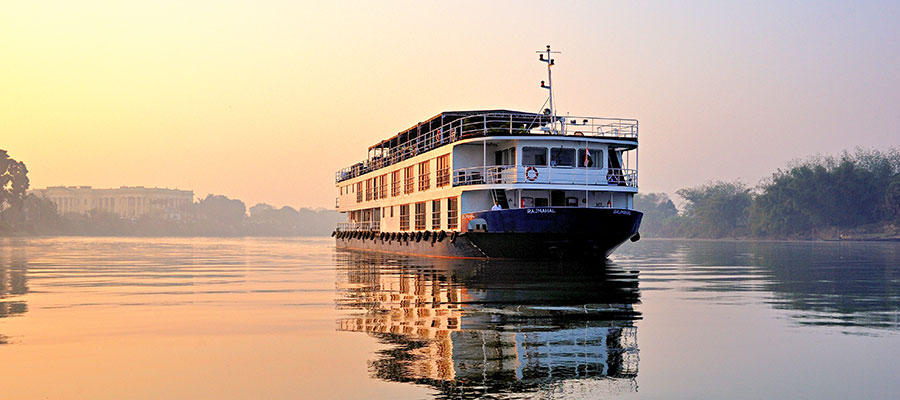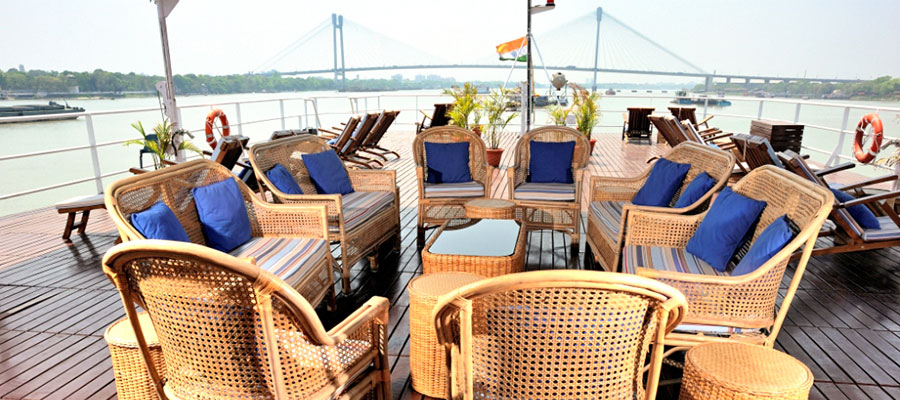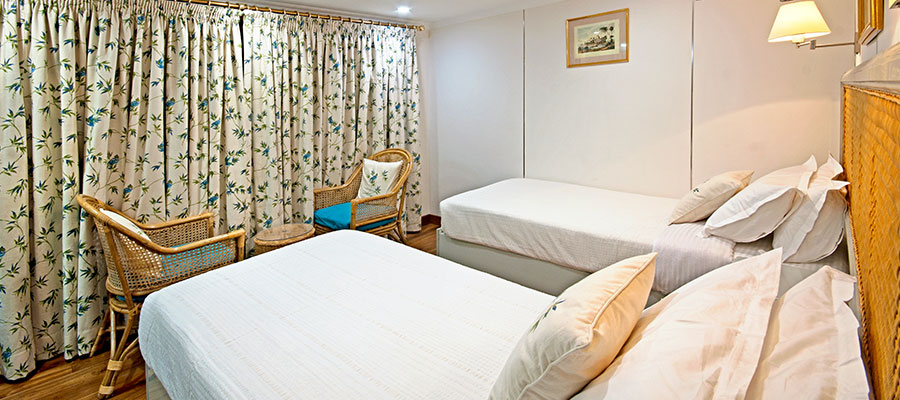 Assam Bengal cruises operates long-distance river cruising in India. An Indo-British joint venture, with offices in Guwahati and the UK, the cruise is a brainchild of Andrew Brock and Ashish Phookan. With 3 cruise ships , the company is the largest and most experienced operator on Indian rivers. In 2003 ABN pioneered long-distance river cruising in India with the unique cruises on the River Brahmaputra in Assam, and in 2007 cruises on the River Hugli between Kolkata and the Ganges was launched. Awarded the Indian National Tourism Award for Innovation in 2004-5, the team is the undisputed leader is leisure cruises in India.
Accommodation
FLEET
The cruise fleet comprises of 3 ships called:
ABN Chairaidew: The "ABN Charaidew" is a 38m long twin-engine steel hulled passenger boat. The ship has 10 twin-bedded & 2 double bedded cabins with en-suite shower and water closet. The grand old lady of the fleet, the ship comes with a lot of character. All cabin accommodation is on the upper deck, as is a bar and saloon opening onto a front deck. A dining room with full length opening glass doors on each side is on the lower deck, while a large top sundeck offers additional comfortable open-air seating in shade or sun. The cabins are furnished with local handloom fabrics and comfortable cane sofas and chairs.
ABN Sukhapha: The "ABN Sukapha" , launched in Assam in October 2006 has been designed keeping in mind the fragile environment of the river Brahmaputra. A small ship catering to a group size of 24 , the ship's capacity is well-matched to the numbers of riding elephants available in National Parks . Designed on similar lines with the "ABN Charaidew", the ship features 12 cabins, a saloon a dining hall and a small spa. The spacious saloon has French windows opening onto a front balcony deck and the dining room has glass doors down each side. The large sundeck offers the opportunity to relax on comfortable cane rattan chairs and sunloungers.
ABN Rajmahal: The "ABN Rajmahal" is the newest ship of the cruise and has been launced on the Hugli and the Ganges in mid-February 2014. Built in Kolkata, she is 50m long, is powered by 3 engines, and with extra-shallow draught and a lower profile than conventional designs she can cruise further upstream than any of her competitors. There are 22 cabins in all, 14 spacious twin/double cabins on the upper deck and 4 twin/double cabins on the main deck, together with 4 single cabins. All cabins have French balconies. The décor is stylish and fresh, with touches of colonial elegance, and uses handblocked cotton fabrics of traditional Indian-inspired designs. As with the other ships in the fleet, there is a comfortable saloon and bar and a dining room, together with a vast canopied sundeck. A small spa offers a wide range of treatments.
All cabins and public rooms on ships are air-conditioned.
Dining
All the three ships have a separate dining area. Food on board is a mixture of Assamese (milder than most Indian cuisine) and continental. Wines, beer and spirits are available.
EXPERIENCES
The experiences offered by the cruises are:
Assam (Brahmaputra River) cruises : These cruises ferrying on the Brahmaputra river (in Assam), feature visits and attractions such as wildlife viewing (both by jeep and on elephant back), village walks, visits to tea gardens, exploring country towns in cycle rickshaws, barbecues on deserted river islands, dance performances, and visits to craft workshops. Between October and April there are a combination of 7-night, 10-night and 4-night cruises. Cruises can be combined to give durations up to 14 nights. The cruises are as follows :
Assam Despatch 1 5: These two cruises downstream and upstream, operate just once a year, covering the river between Guwahati and Dhubri, close to the Bangladesh border. Highlight of the cruise is a visit to the lovely Manas National Park on the Bhutan border, but there are also visits to an archaeological site, a crafts village and a pilgrimage centre.
Assam Despatch 2: This 7-night cruise starts at Guwahati and terminates at Silghat near Tezpur and Kaziranga. Highlights are the Nameri and Kaziranga National Parks, and temples in Tezpur.
Assam Despatch 3: This cruise on the highest reaches of the Brahmaputra highlights the unique culture of the area, fusing Indian and S.E. Asian influences, with a visit to Sibsagar, the old capital of the Ahom kings, as well as to Majuli Island with its unique Hindu monastic communities famous for their dance drama. Wildlife is not forgotten, and the cruise also visits Kaziranga, where sightings of rhino are virtually guaranteed.
Assam Despatch 4: This 10-night cruise starts at a river ghat between Jorhat and Dibrugarh, and terminates at Guwahati. Highlights are the old capital of the Ahom kings at Sibsagar, Majuli Island with its Hindu monasteries, Kaziranga National Park, temples at Tezpur and Madan Kamdev, and the silk weaving village of Sualkuchi.
Assam Despatch 7: This 4 night out-and-back cruise provides a fascinating taster of Assam, with visits to villages and to the rarely visited Pobitora Wildlife Sanctuary, It is also available as a 3-night one-way cruise to Pobitora with road transfer onwards to Kaziranga.
Wild Assam: Wild Assam combines stays in both the Manas and Kaziranga park with a 3-night river cruise, to make a perfect one-week introduction to Assam's National Parks and wilderness areas.
Bengal (Ganges and Hugli river) Cruises : Ganges and Hugli cruises upstream from Kolkata and includes visits to villages, towns, temples and monuments in a little-known but fascinating and culturally rich part of India, on foot, by cycle rickshaw or minibus. Cruises on the Hugli operate all year round, while the Ganges cruises operate in the winter months only. Ganges and Hugli cruises can be taken separately or together to offer a choice of durations from 4 to 15 nights:
Bengal Despatch 1 & 5 : These 7-night cruises, upstream or downstream with return journey by rail, take the guests along the intimate lower Ganges sidestream and includes a visit to Kolkata and the European colonies just outside, Murshidabad –th e capital of the Nawabs of Bengal, the battlefield of Plassey close by, and the many monuments of the medieval Islamic capital of Gaur. A highlight are several delightful and little known Bengali Terracotta temples.
Bengal Despatch 2 & 4: These cruises along the main stream of the Ganges ( 6 nights downstream/8 nights upstream), operate between Farakka (reached by rail from Kolkata) and the city of Patna, and can be combined with the Hugli cruises. The sights covered includes the Mughal ruins at Rajmahal, East India Company relics at Patna and Monghyr, and Buddhist monuments at Bodh Gaya.
Bengal Despatch 3 : The yearly Sonepur Cattle Fair outside Patna is the largest in the world, with everything from elephants to songbirds on sale, and is accompanied by every sort of side show and festivity. These two 3-night short cruises allow for visits from the safety and serenity of a ship, and can be combined with Holy Ganges cruises.
Bengal Despatch 8 : This 4 night cruise starting and finishing in Kolkata takes one through the Bengal countryside to the little town of Kalna, with its superb terracotta temples, as well as visiting the old French, Dutch and Danish settlements north of the city.
Bengal Despatch 9 & 10: Operating only in periods of high water, when India is at its most lush and attractive, these cruise explore untouched villages and towns of rural India along the river between Patna and Varanasi. Both cruises feature two days of sights.