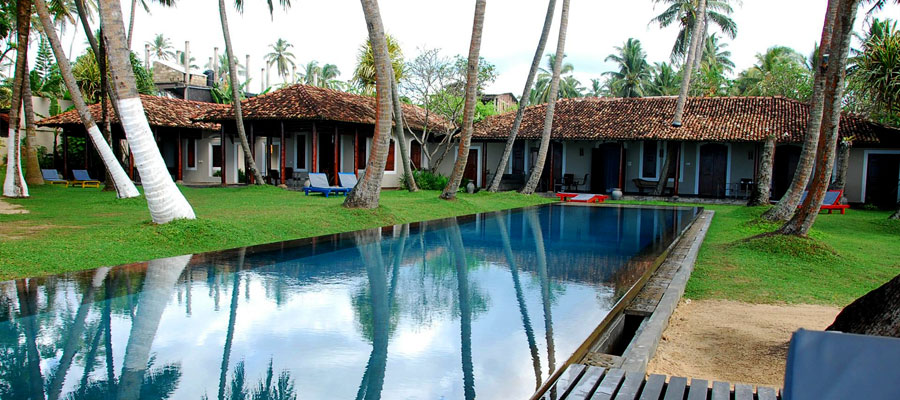 Located 8km east of Sri Lanka's historic UNESCO-listed fortress port of Galle, the Apa Villa is an elegant discreet beachside resort. The Villa consists of 3 individual villas with 7 luxurious and elegant suites which boast of style and simplicity. From a seaside garden and sea deck to an infinity swimming pool and mouth watering cuisine, Apa Villa Thalpe is the ideal holiday destination to explore the South Srilanka or simply laze around under the sun all day. Tiled sloping roofs, elegant pillars, wood-steel-and-glass furniture add up to the aesthetics and charm of the house and garden..
Accommodation
Apa Villa has 3 Villas categorised into:
Cinnamon Villa: The three air conditioned suites in the Cinnamon villa are discreet, light and airy, with a spacious lounge area spilling onto a deep outdoor terrace facing the garden and the ocean. A large double bed sits under a mosquito net canopy on a cool polished cement base. There is an en suite bathroom with hot shower, ample wardrobe space and a writing table-cum-dresser. Cinnamon 1 connects with the neighbouring suite to create a spacious apartment for guest with families. Cinnamon 3 is the largest of the three suites, a standalone suite adjacent to the library and Apa Thalpe's common lounge.
Cardamon Villa: The two Cardamon suites are expansive rooms with en suite bathrooms, walk-in dressing area, lounge and air-conditioned bedroom screened by evocative accordion door panels. Guests can relax on the long shared verandah of cool polished concrete, with comfortable banquette and dining table for breakfast in the cool morning air, or a romantic candlelit dinner. Villa offer views to the pool and the surging ocean horizon beyond.
Saffron Villa: The two Saffron suites are designer suites with their own verandahs overlooking the garden and sea. Doubled bedrooms adjoin a master bathroom with separate doors to the garden, living room and pool. The two suites are separated by a fish-filled lily pond, and one of the Saffron 6 is the most spacious of Apa's seven suites.
Dining
Guest can enjoy breakfast as they sit before the ocean and inhale the energising air. In addition to the usual continental breakfast, pan-hoppers and the regional speciality buffalo milk curd and sweet palm sugar treacle are also available.
Apa Villa Thalpe also offers an All-Day Menu of a range of light meals, salads, sandwiches, savoury snacks, Hoppers and sweet treats. A Kids' Menu of all-time favourite spaghetti, burgers, fried rice, chicken cuts, fish and chips made from fresh ingredients and homemade Popsicles from pure fruit juice are also available.
Dinner at Apa Villa Thalpe is a choice of two- or three-course set Dinner Specials, Seafood Celebration, Singapore Chili Crab Night and signature Rijstafel (Rice Table) or Sri Lankan dinner changing day to day. Guest can also enjoy the newly-introduced Singapore Straits Chinese cuisine and Western-style Dinners with the catch of the day and fresh meat supplies. Vegeterian and vegan dishes are also available.
The villa grows its own local red rice, fruit, vegetables and herbs in a safe organic way without the use of chemical pesticide and fertilizer.
EXPERIENCES
At the Villa: Apa Villa Thalpe is a perfect place for relaxation and leisure. The Villa has an infinity pool framed and shaded by swaying palms. The deck-at-beachside is the perfect location to read and snooze or simply watch the rolling waves and the fascinating fishing style of Lanka's evocative stilt fishermen, tracking ships on the horizon or spotting the giant turtles surfacing for air.
Excurions: Below stated excursions can be organised:
Visit the historic town of Galle
Wildlife lovers can visit Uda Walawe and Yala National Parks
Boat ride on Koggala Lake
Beaches of Unawatuna and Mirissa for swimming, surfing and snorkelling.