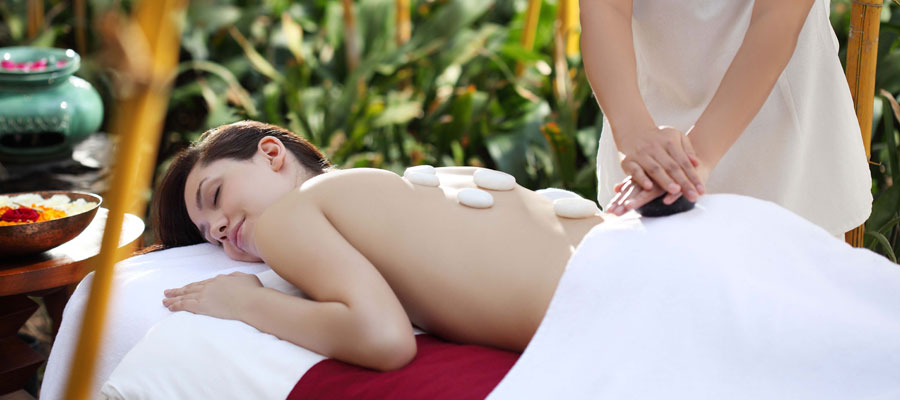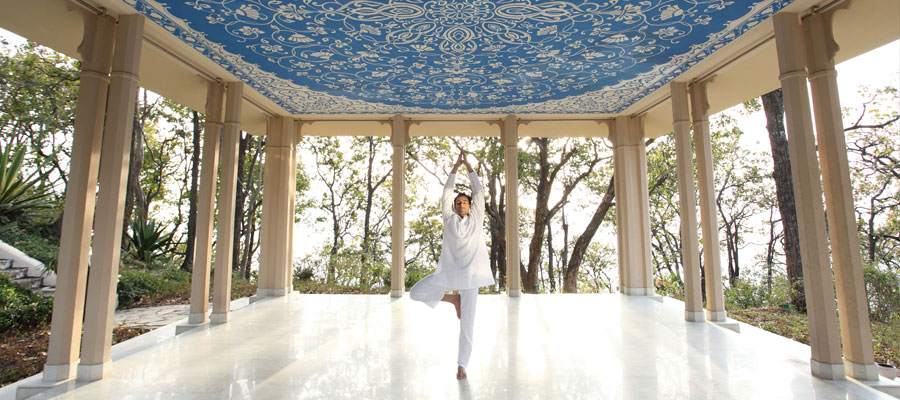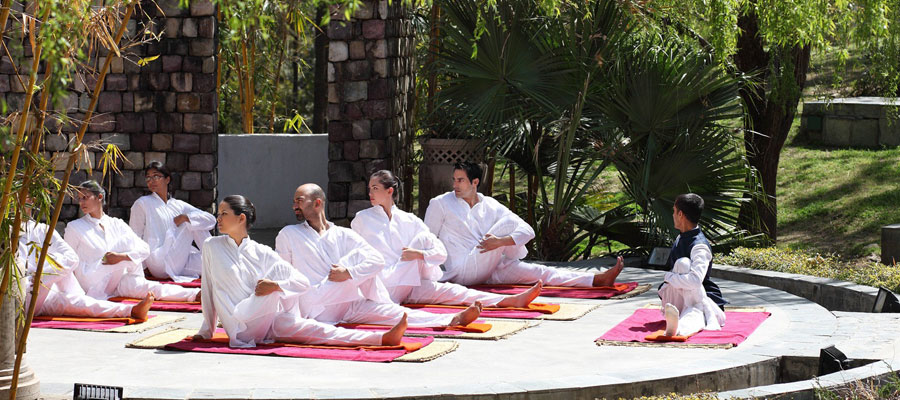 Set in a 100-acre Himalayan mountain estate, amidst Sal forests, Ananda in the Himalayas is a luxury destination spa in Narendra Nagar. Situated close to the twin towns of Rishikesh and Haridwar, overlooking the River Ganges, Ananda's offers Yoga and Ayurveda therapies, combined with international spa therapies. The calming integration of lush greenery, fresh mountain air and Himalayan spring water, provides an ideal environment for rejuvenation of the body, mind and soul at the Ananda.
Accommodation
Ananda has 70 spacious rooms with views of the Palace and the Rishikesh valley. The internal layout of all 4 categories of rooms is identical, each featuring walk-in closets and perfectly appointed bathrooms with windows overlooking panoramic views. Each room opens onto a large balcony with picture-perfect views, ideal for a private meal. The room categories offered are as below.
Palace View Rooms: These rooms have an unobstructed view of the Palace that sits atop the hill.
Garden View Rooms: These rooms have views of the lush green manicured lawns that adorn Ananda.
Valley View Rooms: These rooms have views of the picture perfect Ganga valley.
Premium Valley View: These rooms are located on higher floors and offer unparalleded panoramic views of the Ganga valley.
For high end clients, Ananda offers private villas.
Private Villas: Named after the great mountain ranges Himalaya and Shivalik and the River Ganga that sustains the people of the Valley, Ananda offers three beautiful villas, that are a dreamer's escape. Equipped with a pantry, a private butler and spacious living spaces, these villas are perfect for a family or a couple looking for luxurious comforts with privacy of home . The Villas at Ananda are :
- 2-bedroom villas with private Pool :- There are 2 of these villas, named the Himalaya and the Shivalik. Each Villa measuring about 1800 sq. ft, comprises of a living room and 2 bedroom with ensuite bathrooms featuring a private sauna with an unhampered view of the swimming pool. Each villa has a pantry for the butler, a dressing room and a private pool with a deck area equipped with comfortable lounge beds.
- 1-bedroom villa with Private Pool :- Named the Ganges, the one bedroom villa measures 1200 sq. ft and comprises of an elegantly appointed living room, a pantry for the butler, a dressing room and a bedroom with a large bathroom featuring a private sauna with an unhampered view of the swimming pool. This Villa also features a private pools with a deck area equipped with comfortable lounge beds.
Dining
The Resturant : This is multi cuisine restaurant of the resort offering the finest Indian, Asian and Western cuisine. Built in a grove of old Sal trees, overlooking the valley of Rishikesh, the restaurant offers a menu with light and healthy meals enriched with the vivid flavour of organic vegetables and herbs.
Tree Top Deck : The Tree Top Deck is a delightful outdoor venue of the Restaurant that is built on tree tops. At night this venue offers a unique romantic dining experience with music played at the backgound.
The Pavilion : Is a casual and elegant setting for drinks and light snacks. The Pavilion is an ideal venue for intimate gatherings. It is a perfect place to celebrate special occasion with family and friends.
By the pool : Perched on the side of a hill that slopes down to the valley, flanked by natural forest on one side and the exquisite Spa building on the other, this is the ultimate in relaxation. Sip a fresh juice under clear Himalayan skies, get a healthy sun-kissed tan as you lounge by an aquamarine pool enjoying garden-fresh vegetables and organic greens.
Tea Lounge : Located in the Viceregal Palace, The Tea Lounge is a warm, romantic setting for an afternoon cup of tea and light snacks.
Experiences
Private Dining Experiences: Unique dining experieces can be created by the resort's chef to make special occasions even more special by creating customized menu to suit the occasion.
Ayurveda at Ananda: At Ananda, Ayurveda forms an intrinsic part of the wellness regime. From massages and specialized diet program to fulfill personal goals to the more rigorous transformations in lifestyle, the Ayurveda experience has been designed keeping in mind the individual's desire to heal, cleanse, relax and revitalize. With qualified Ayurveda doctors and therapists to administer treatments ranging from therapeutic massages to more rigorous modes of toxic elimination, the Ayurvedic therapies at Ananda are strongly rooted in ancient traditions, while keeping in mind contemporary preferences and comforts. The personalized therapies are designed to meet individual goals such as de-stress, detox and cleansing, deep relaxation, anti-ageing, weight & inch loss, while also offering guidance in the areas of nutrition and exercise. Ananda provides a wide range of wellness packages like Weight Management Program, Ayurvedic Rejuvenation Program, Detox Program, Yogic Detox Program, Renew Program, Stress Management Program, Ananda Active Program etc.
Yoga at Ananda: Yoga at Ananda is pure and traditional in form. It is a disciplined science consisting of all aspects of life in different ways and levels to balance the mind, body and spirit. This helps to restore perfect health. The experienced Yoga teachers are trained to understand guest's personal objectives and goals during their stay at Ananda. Ananda can design a specific yoga and meditation program for the guest to assist them through their journey of life, balancing their being and assisting them to achieve health and well being.
Ananda also offers a host of experiences for resident guests such as : nature walks, trekking, birdwatching, jungle safari and cooking classes. Apart from this cultural performances and golf at the 6 hole golf course at the resort can also be organized.
Safaris at Raja Ji National Park, Excursions to Rishikesh/Haridwar and Ganga Aarti can also be arranged.