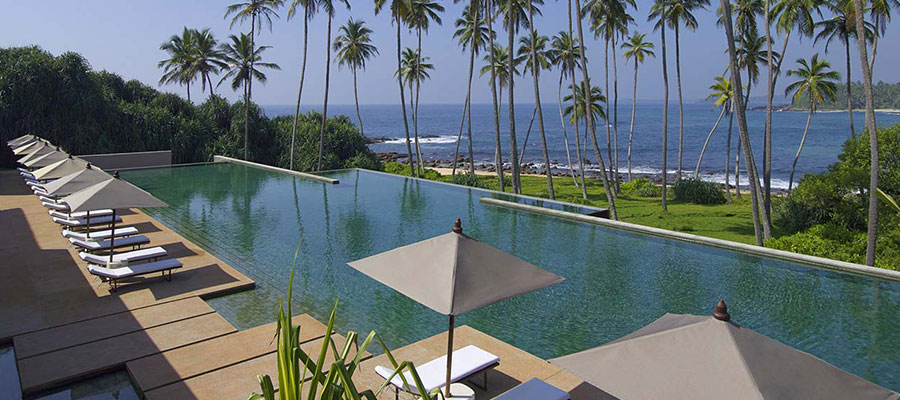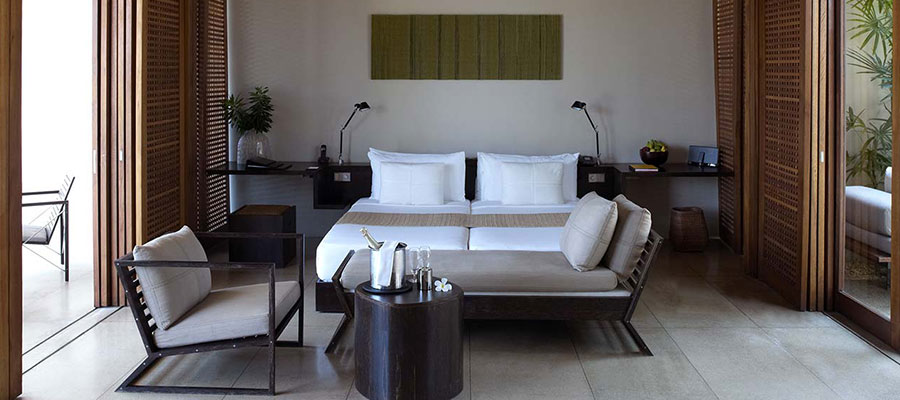 Amanwella is a located in Tangalle in the deep south. The road journey from Colombo's international airport takes about 3.5 hours via the Southern highway. Options of sea plane transfer and air travel to Mattala Airport is also available. The drive from Mattala Airport to Amanwella is 1.5 hours.
Amanwella is a boutique hotel, near the seaside town of Tangalle. Its is a modern, chic and tranquil hideaway with all the comforts, space, and views right on the beach.
Designed with courtyards, waterways and sun terraces, the resort combines contemporary style with local materials such as timber, stone, terrazzo and terracotta. Serene and stylish, the retreat is dedicated to its environment with an innate understanding of what is required to enjoy the spoils of this rich land without compromising on location, authenticity or modern necessities and is a perfect place to relax and unwind.
Accommodation
Amanwella features 27 suites that are identical in layout and design. Based on their location and views, the suites at Amanwella can be categorized into :
The Suites : Situated higher up the hill, terraces offer views of the treetops and sea.
The Ocean Suites : Set close to the beach, terraces provide superior views of the ocean.
All the suites are contemporary in design and comes with a combined sleeping and living room furnished with a king-size bed, writing desk, armchair, and a credenza. Sliding screens divide this area from the open-plan bathroom featuring a freestanding bathtub, twin vanities, dressing area, shower and toilet. The floor-to-ceiling glass and latticed panels form two sides of the dwelling - one opening onto a private walled-in courtyard and plunge pool and the other opens on to an outdoor terrace. The terrace includes a dining table with two chairs and a double sun lounge.
Dining
Perched eight metres above sea level, the main restaurant at the Amanwella is an all day dining restaurant and serves Asian and Mediterranean cuisine with an emphasis on fresh seafood purchased from the local fisherman.
The Beach Club provides an alternative venue for lunch and private dinners. The menu includes simple Asian salads, Mediterranean classics, and seafood cooked over a coconut charcoal barbeque.
The Pool Terrace is ideal for alfresco dining.
Experiences
Private sessions of various types of yoga as well as guided meditation are available throughout the day, beside the sea.