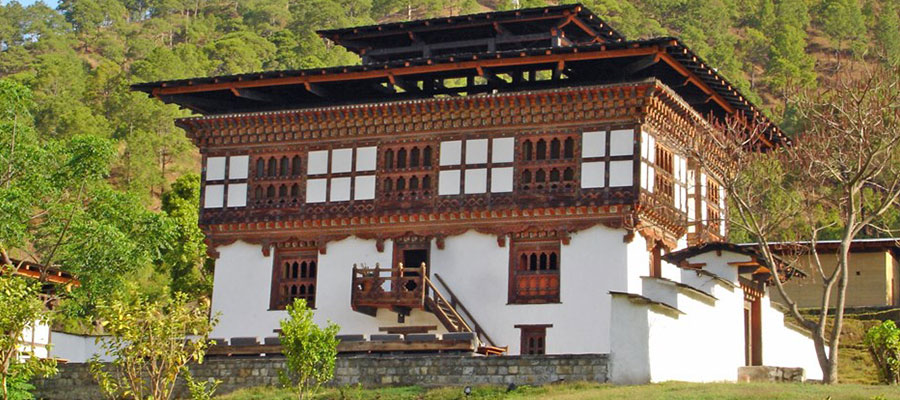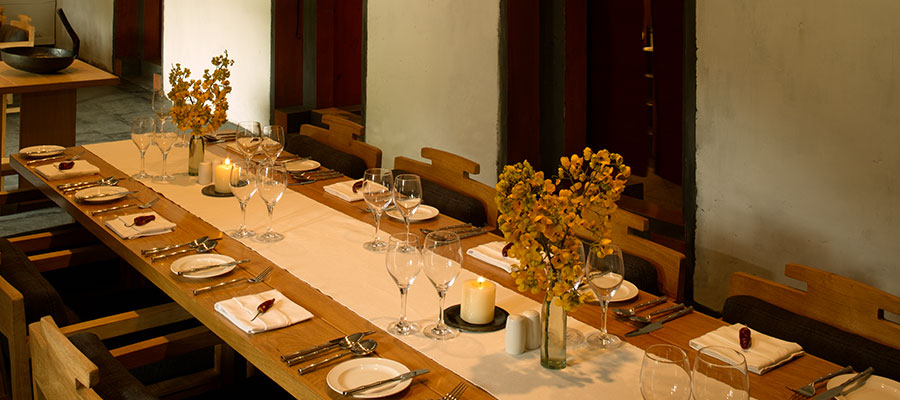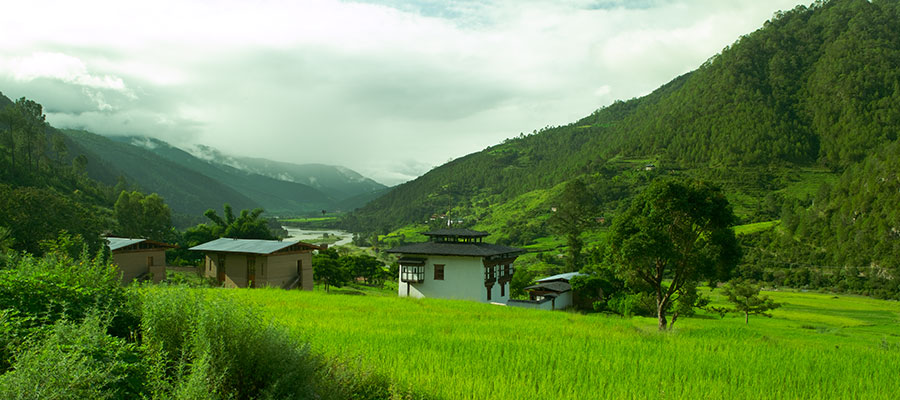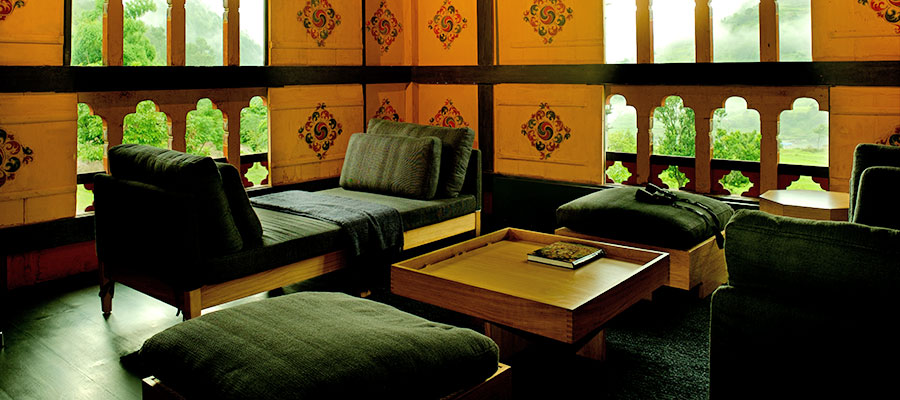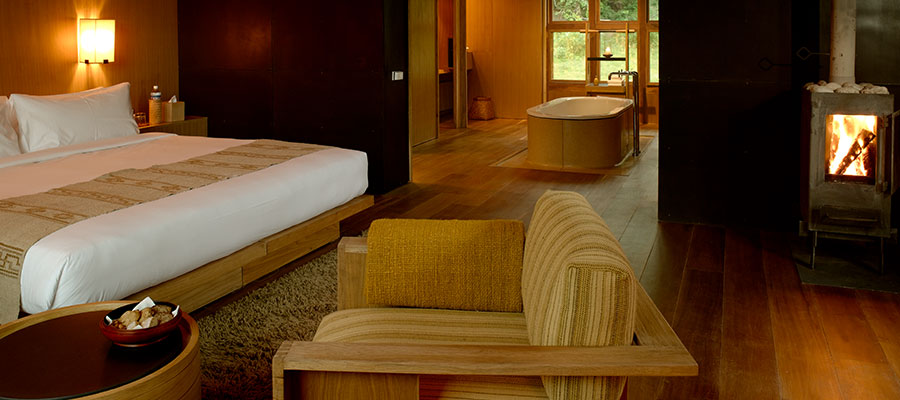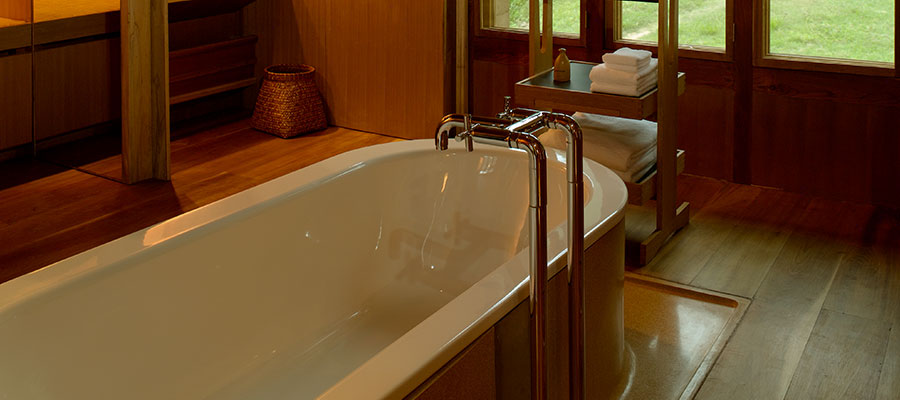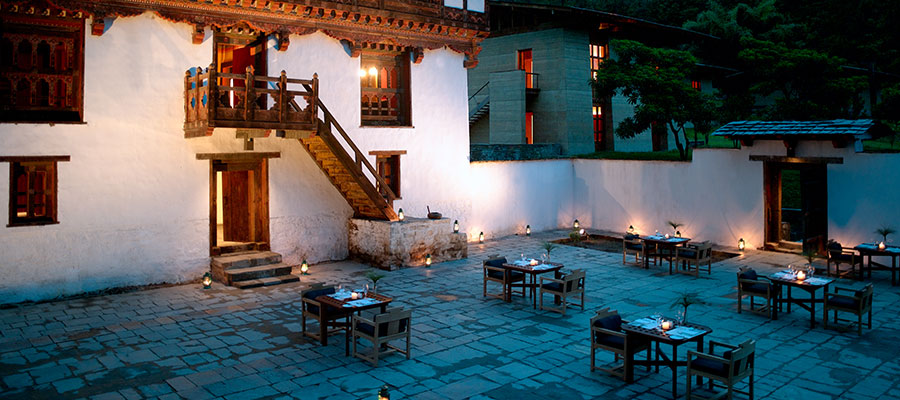 Designed around a traditional Bhutanese farmhouse, Amankora Punakha is situated a short drive away from impressive Punakha Dzong and Puntsho Pelri Palace and is accessed by crossing a suspension bridge over the Mo Chhu (Mother River). This three-storey structure built by the former Chief Abbot of Bhutan, features vegetable-dye wall paintings and houses the Dining room, Courtyard and the Tea pavilion on the ground floor and intimate relaxation areas and a traditional altar room for prayer and meditation on the first floor.
Accommodation
The Amankora Punakha have eight Suites, located in three, rammed-earth buildings set in an orange orchard with views across the rice paddies and up Punakha Valley. Identical in Bhutanese-inspired design to those of Amankora Paro, each suite features a combined lounge and bedroom that is furnished with a king-size bed, banquette window-seat and reading chair. In one corner is the traditional bukhari, a wood-burning stove.
DINING
The Dining Room at Amankora Thimpu specialises in Western & Bhutanese cuisine. Situated on the ground floor of the old farm house, it has an extension in the Courtyard for outside dining and relaxation during Punakha's temperate months. Adjacent to the Courtyard is a Tea Pavilion that was once the kitchen of the summer palace.
EXPERIENCES
The Amankora Punakha offers experiences including a visit to the nearby Punakha Dzong, Phuntso Pelri and the Chimmi Lakhang. Other activities in the area include archery, fishing, trekking and white water rafting.
Amankora Punakha features a Spa which provides a yoga/meditation room on its upper level with open views of the surrounding rice paddies, and two private treatment rooms, a steam room and changing areas on the lower level. The Spa offers therapeutic massages and facials, the signature treatment of the spa being a Holistic Facial, suitable for both men or women.