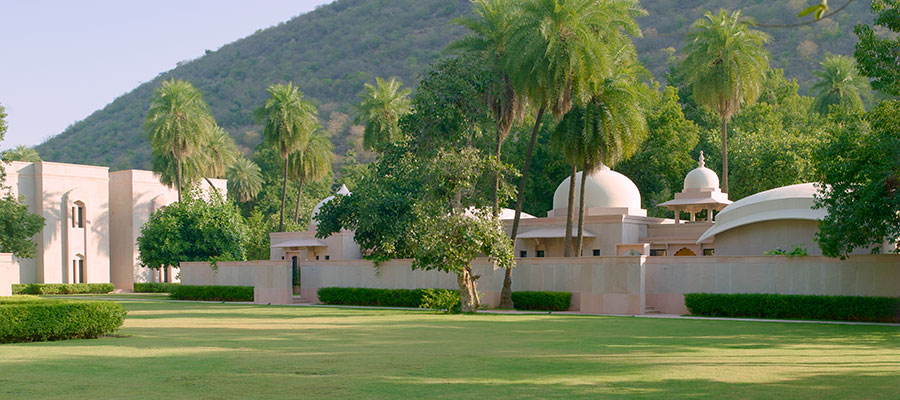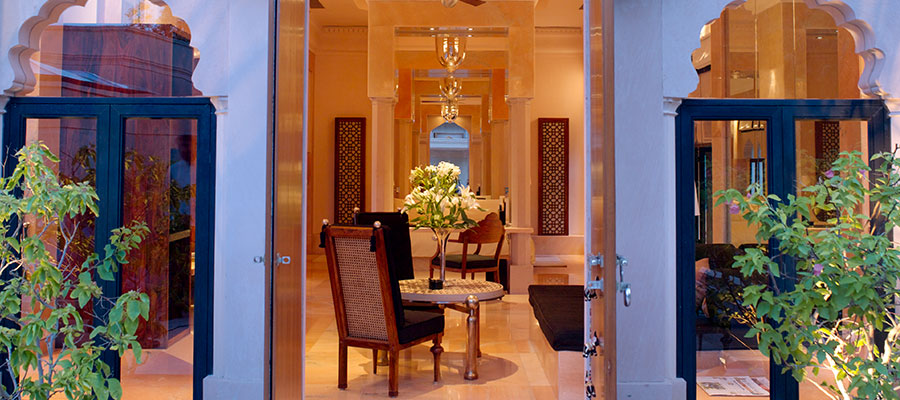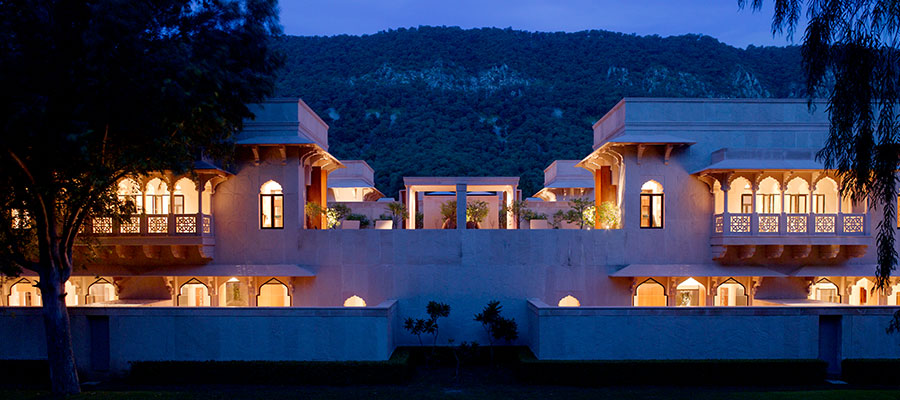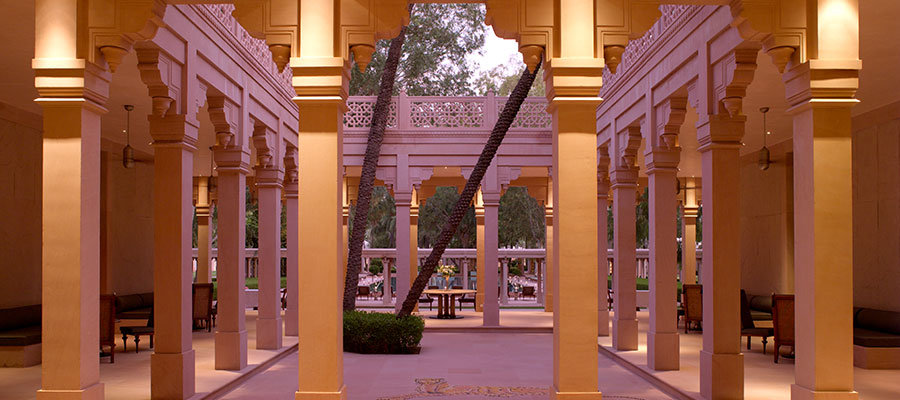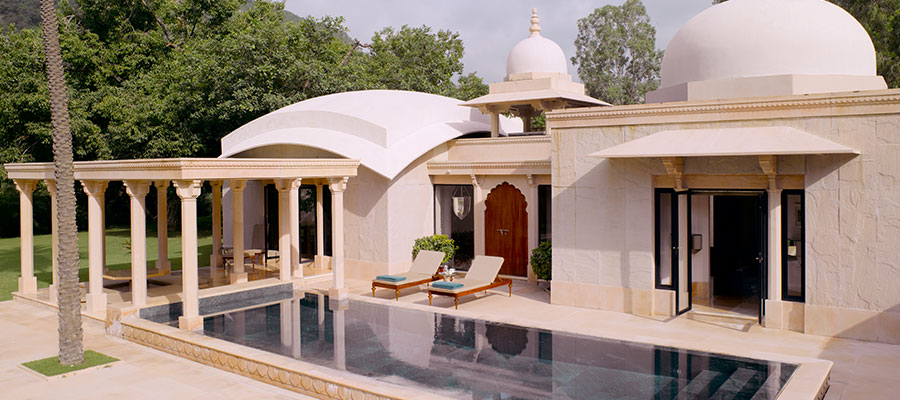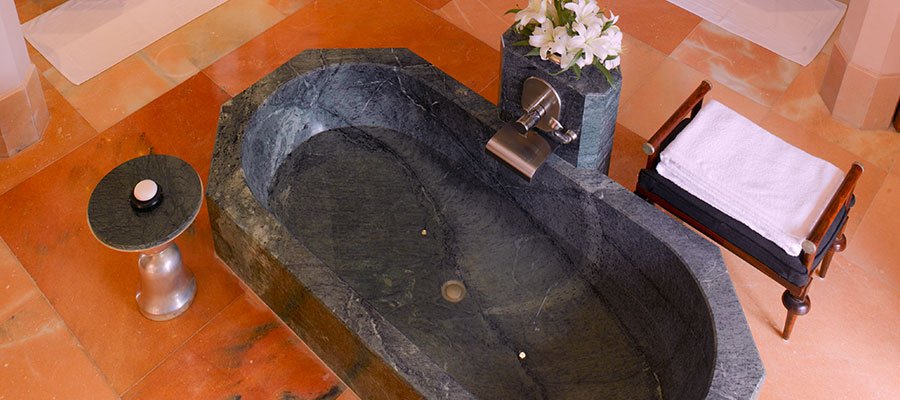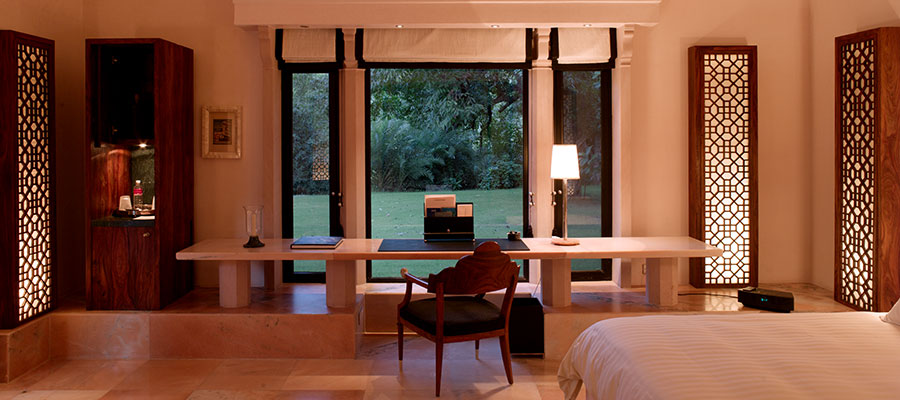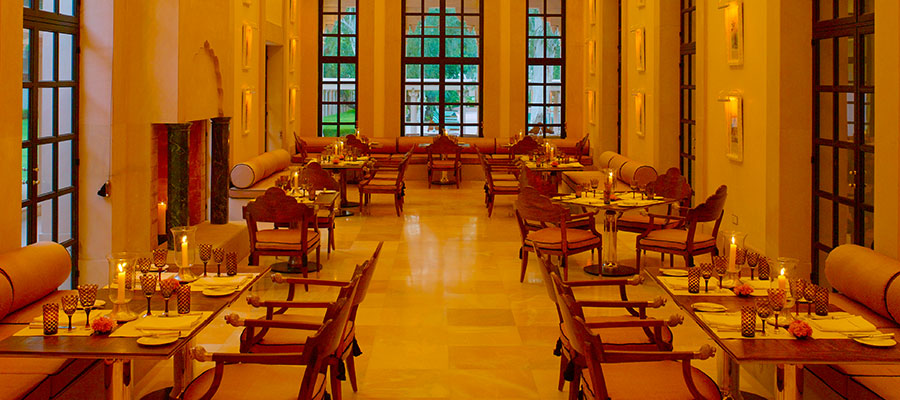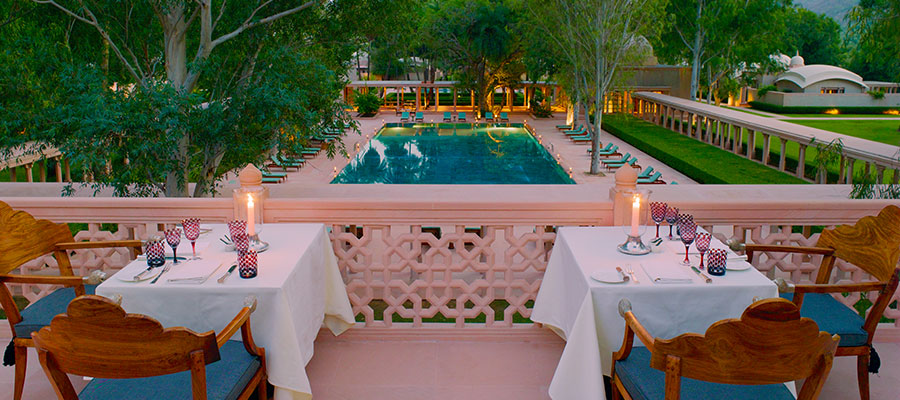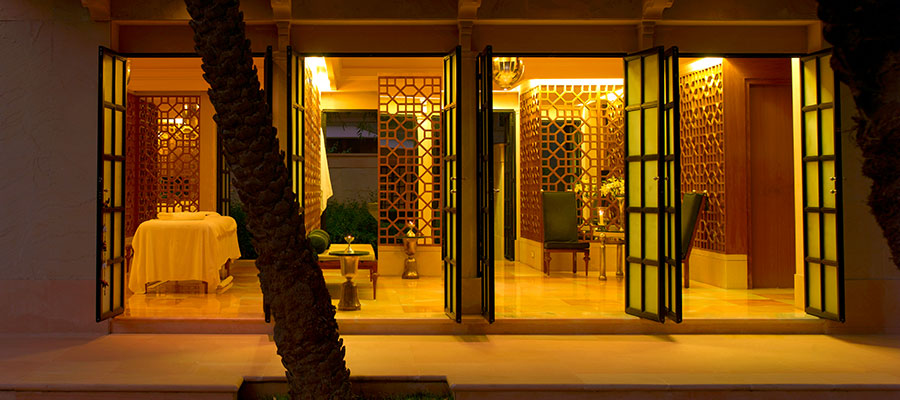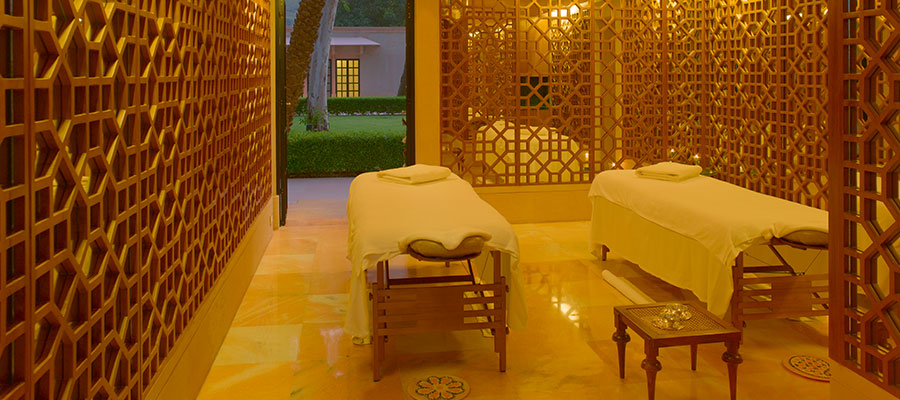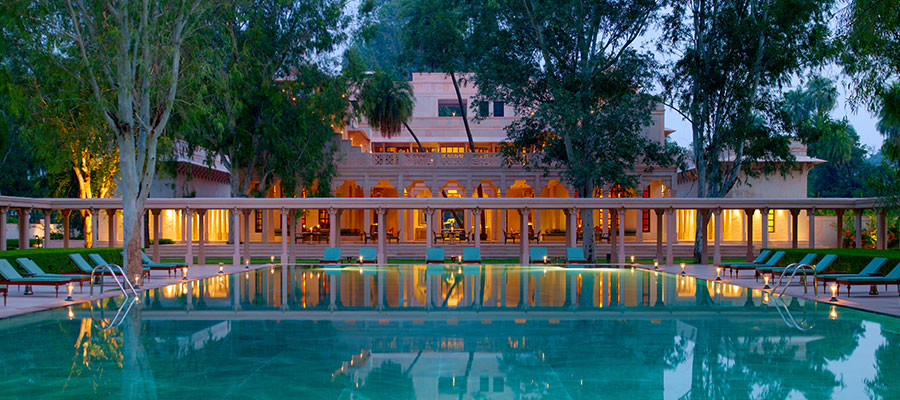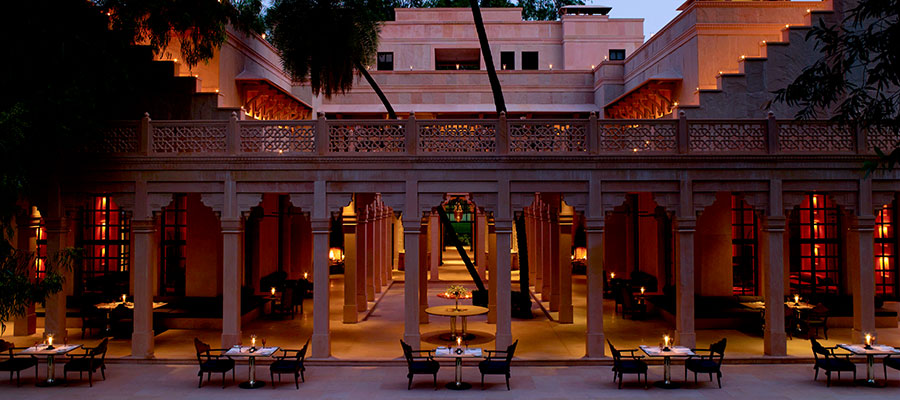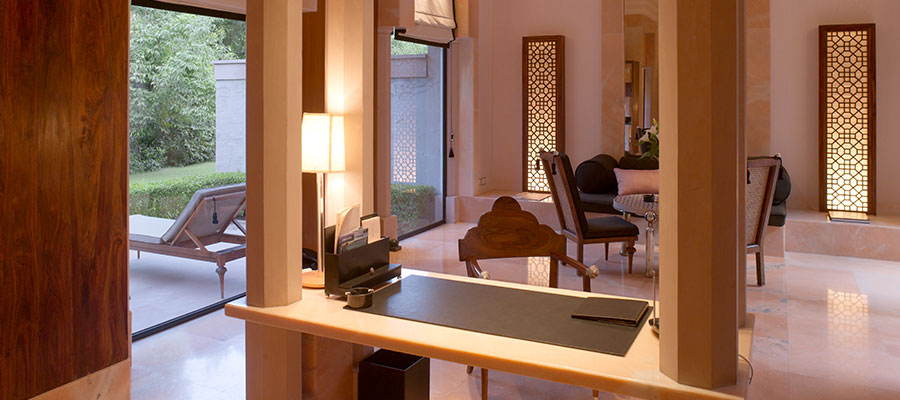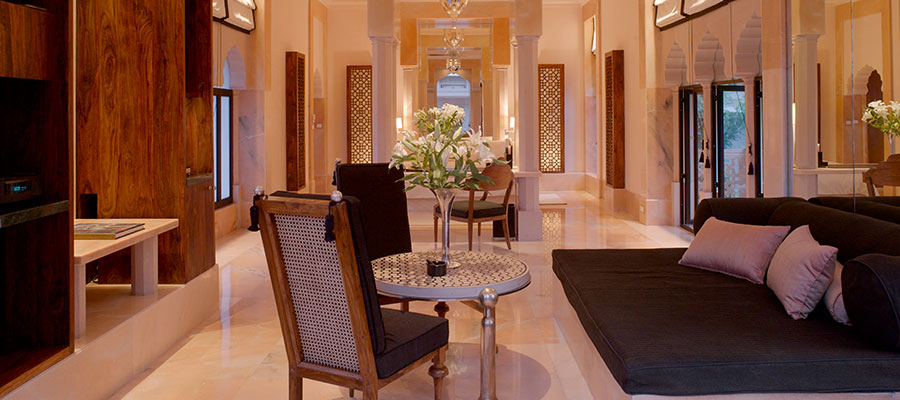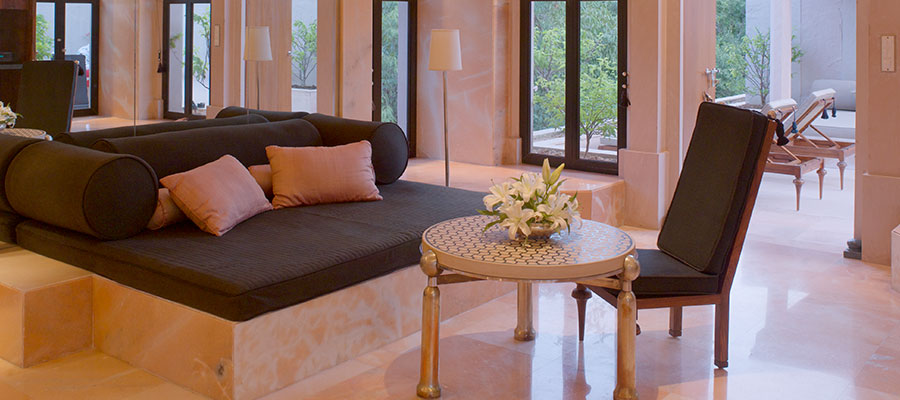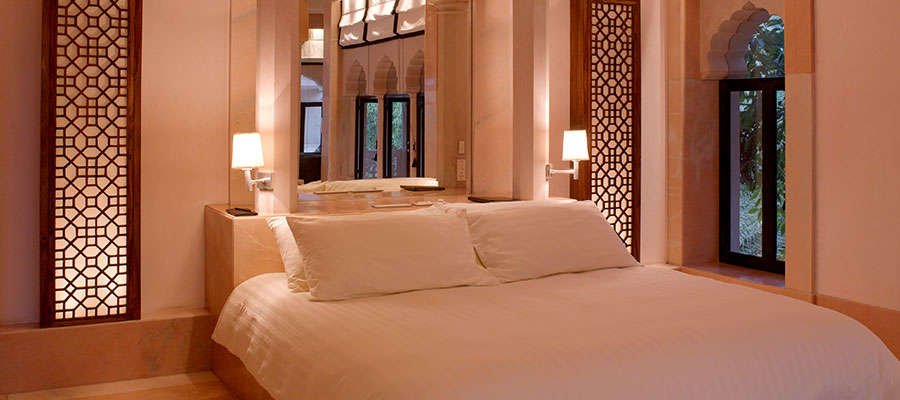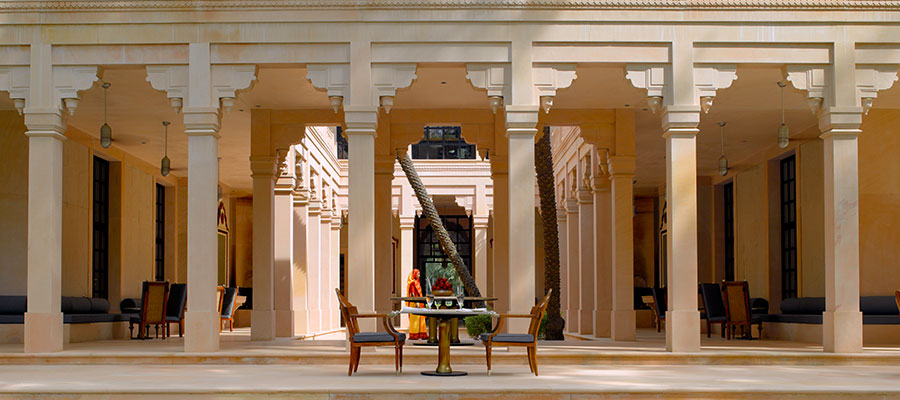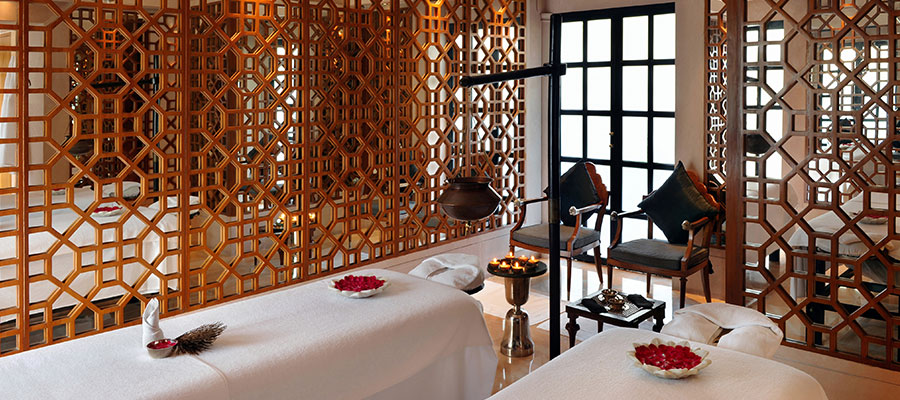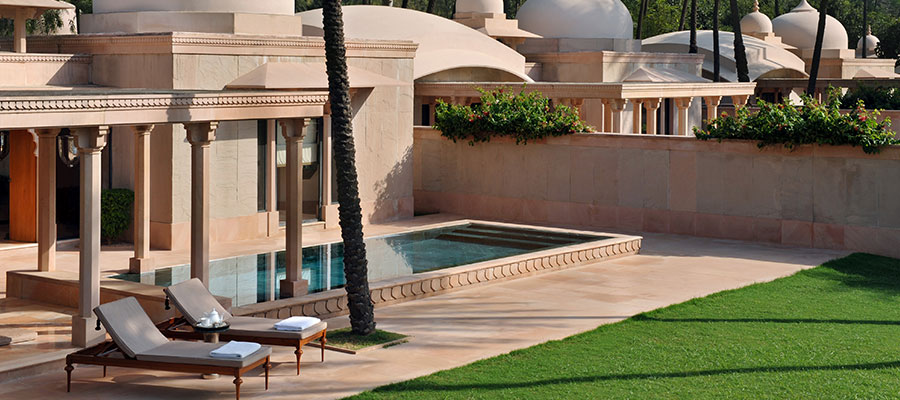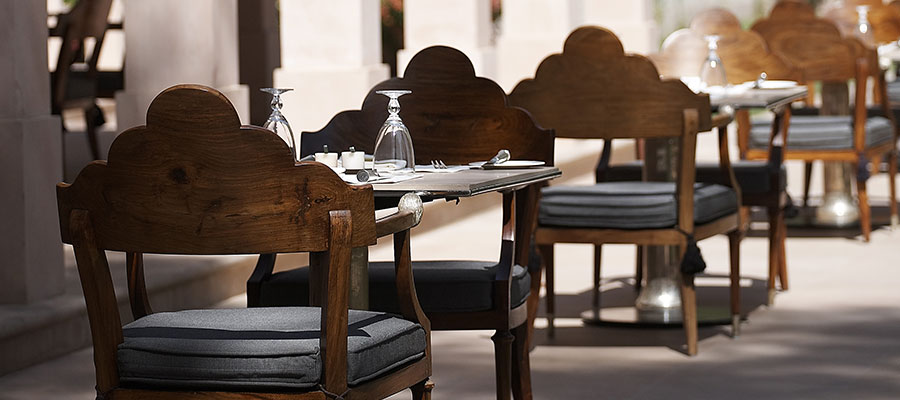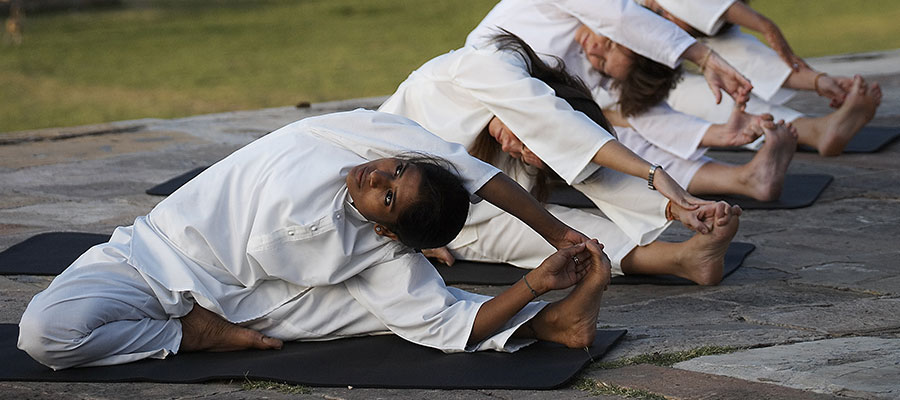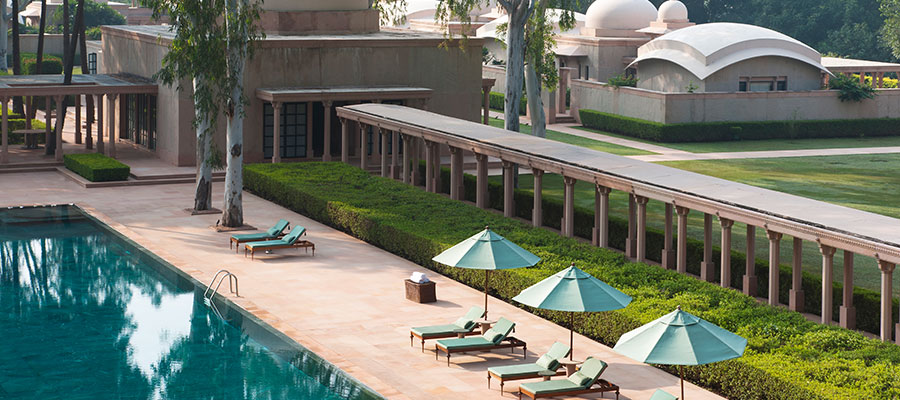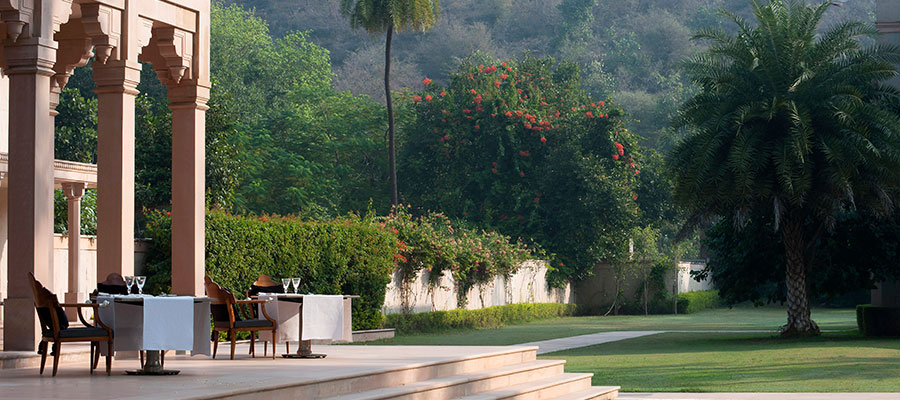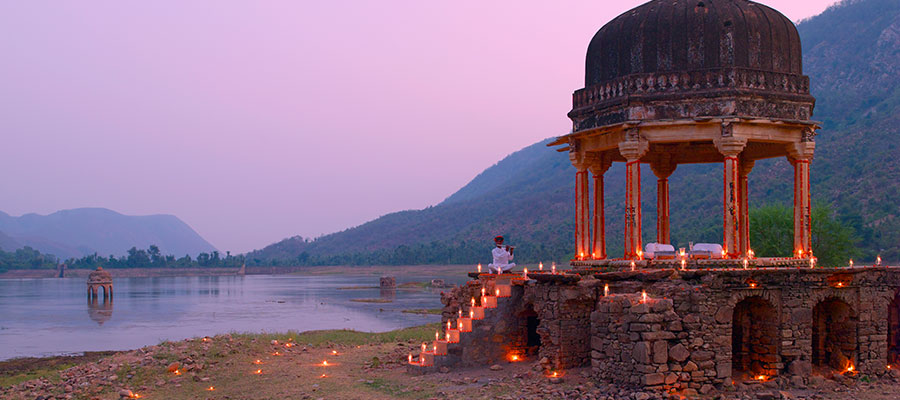 Located in the foothills of Aravalli Hills amidst spectacular setting, Amanbagh is a verdant oasis of mature palm, fruit and eucalyptus trees lying within a walled compound once the staging area for royal hunts. The resort style evokes the palatial elegance of the Moghul era and features domed cupolas and private courtyards. The resort is very much a modern day 'Mughal Palace', conceived in the present, but paying homage to the architecture and design of India's golden age and showcases the rural splendour and strong cultural heritage of the region. The resort provides a tranquil base from which to explore the rich heritage of Rajasthan and a unique opportunity to experience the tradition and culture of this colourful state.
Accommodation
Amanbagh's elegant Suites and Pavilions feature Marble finishes highlighted by intricate wooden screens, while Mughal arches frame the bed. All the Suites and Pavilions has a private courtyard or terrace and a deep soaking bathtub carved from green Udaipur marble. The room categories are as follows:
Pool Pavilion: Pool Pavilion offers a spacious garden courtyard and a private swimming pool which is heated during the winter months. It has Covered outdoor dining area and a lounge and comes with spacious dressing area, with twin walk-in wardrobe. It is suitable for families.
Terrace Haveli Suite: Terrace Haveli Suites offer views over pool or the mountains. Each suite has a large terrace with an outdoor dining area. It has a separate dressing room and can accommodate a family.
Garden Haveli Suite: Garden Haveli Suites are spacious and elegantly appointed. Each has a private terrace overlooking the garden and courtyard with an outdoor dining area.
Courtyard Haveli Suite: Situated near Amanbagh's swimming pool, the ground floor Courtyard Haveli Suites offer a private courtyard ideal for outdoor dining and the bedroom consists of a dome ceiling.
Dining
The restaurant comes with high ceiling and looking over the pool. They serve seasonal menus that are made of the harvest from the resort's organic gardens. Traditional Rajasthani dishes are served with the chef's favourites from across India, all of which can be tailored to suit individual tastes, to a backdrop of local musicians performing Indian folk and popular songs.
EXPERIENCES
Excursions
Guided visit tour can be arranged to Bhangarh which is a national heritage site and has remnants of palaces, temples and pools. The other place to visit is old temple of Ajabgarh, overlooking the jai Sagar Lake where boat rides can be arranged.
Sariska National park, home to tigers, jaguars, sambar deer and Temple town of Neelkanth with more than 80 temples encircled on all sides by mountains is just a short drive away.
Village Visit
Visit the village to experience the rural life as the village that surrounds the Amanbagh is home to Meena tribe and they are known for their colorful dresses.
Dining Experience
Private dining can be arranged at Jhilmil Baada, lit by bamboo mashaals to recreate the ceremonial atmosphere and princely dining experience. The other quite place to enjoy the meals is at resort's chhatri, which is next to the Ajabgarh Dam.
Wellness
The spa provides a range of therapies and treatments that soothe body and mind after a long day of exploration, including massages, facials, scrubs and traditional henna art. It is set amid the verdant grounds of the resort's oasis setting. The spa's highly-skilled team of experts makes use of exclusively prepared skincare products, created only from the purest ingredients.