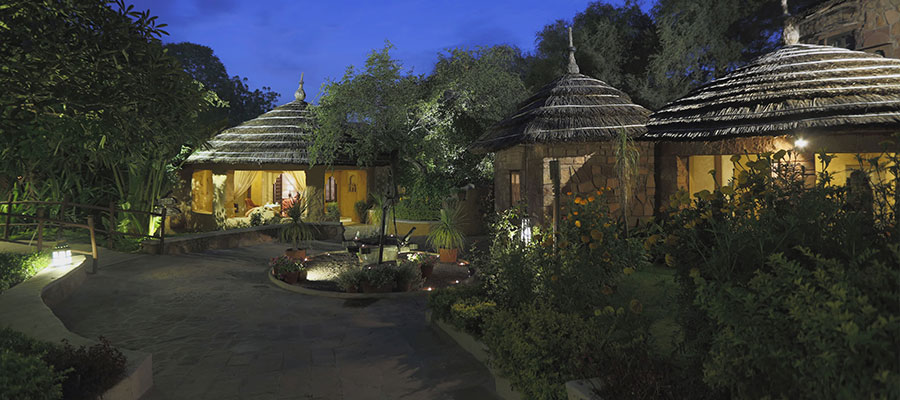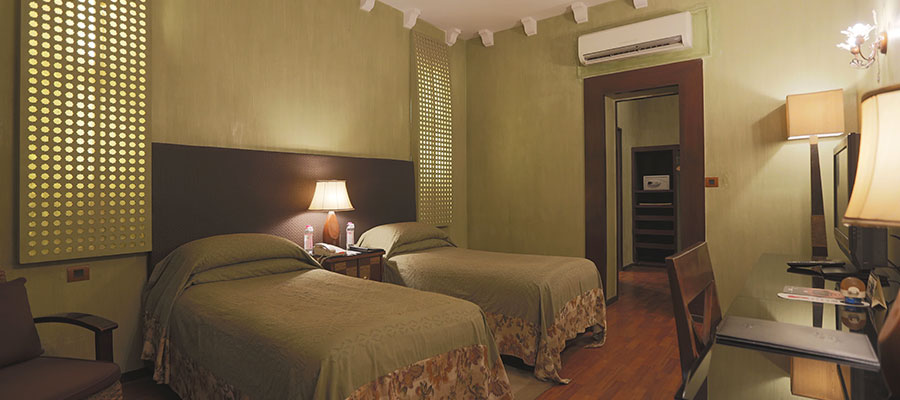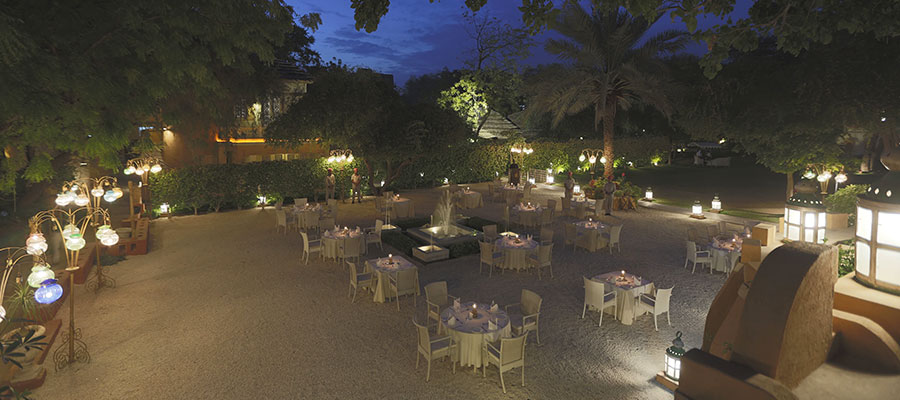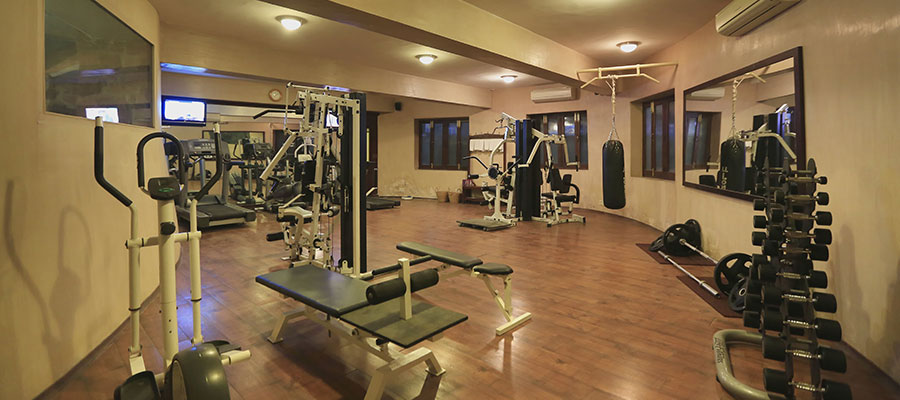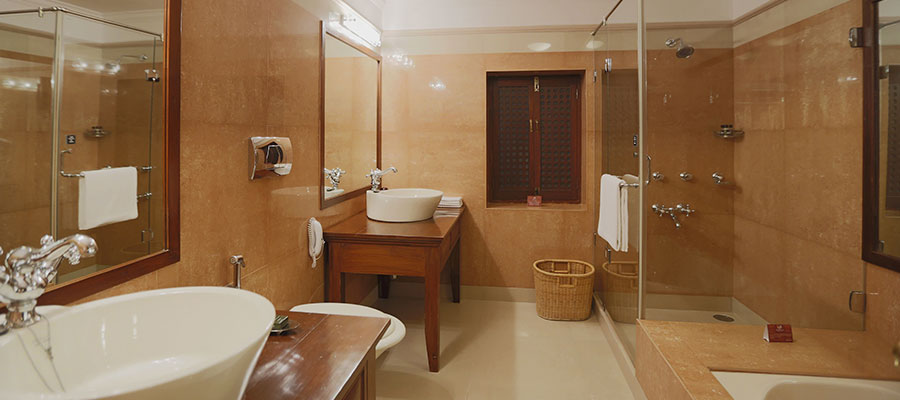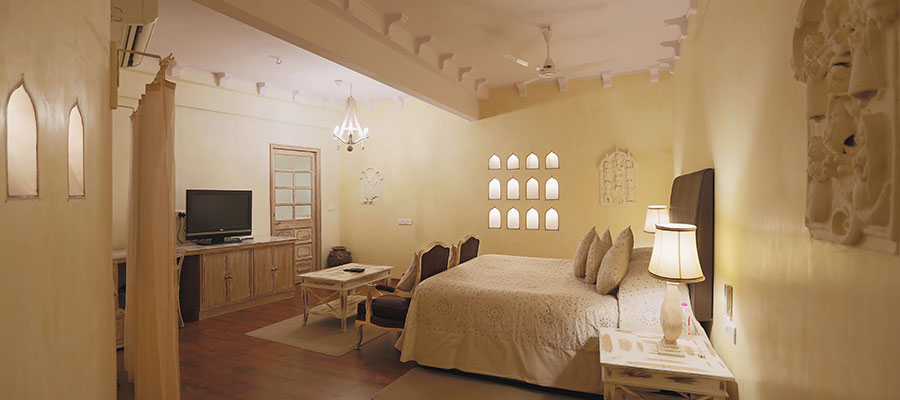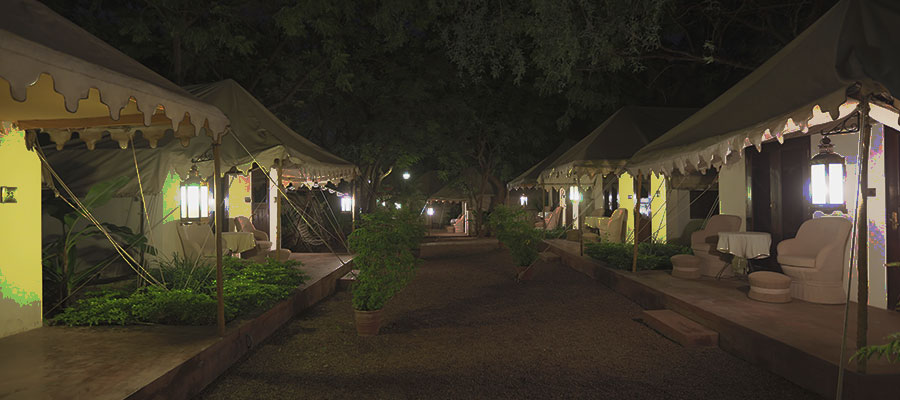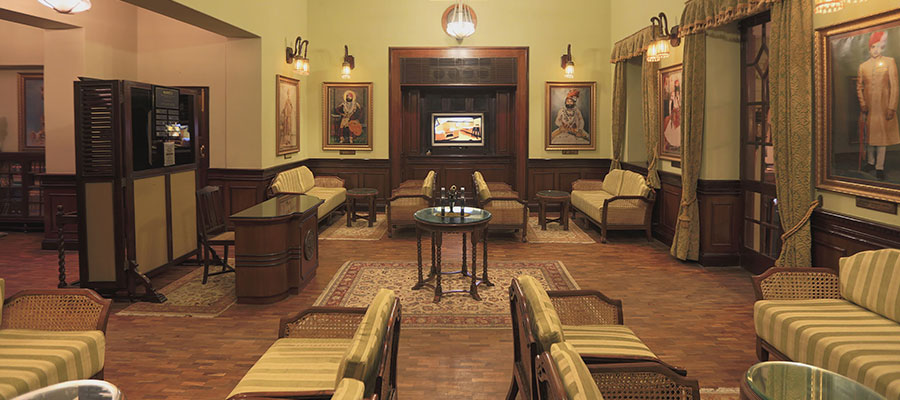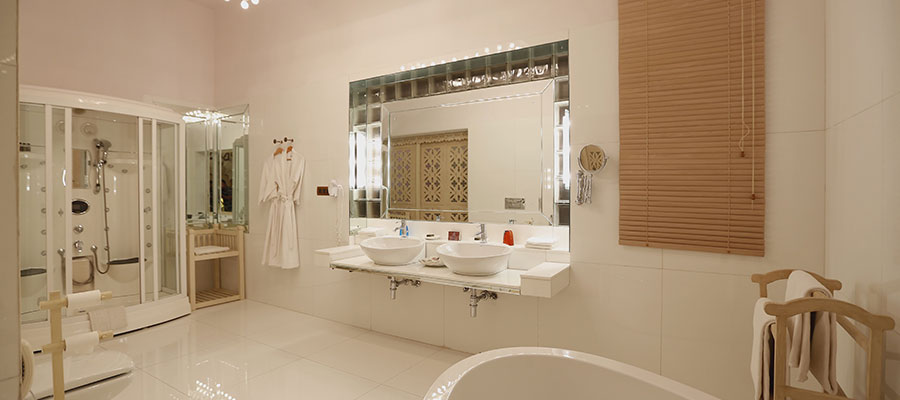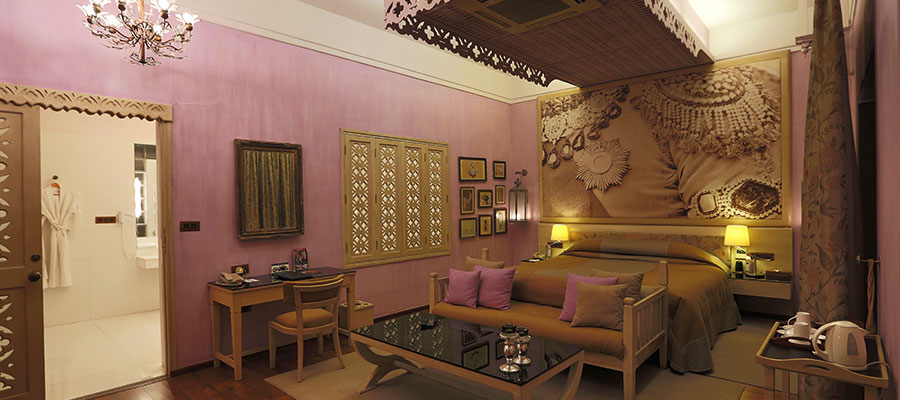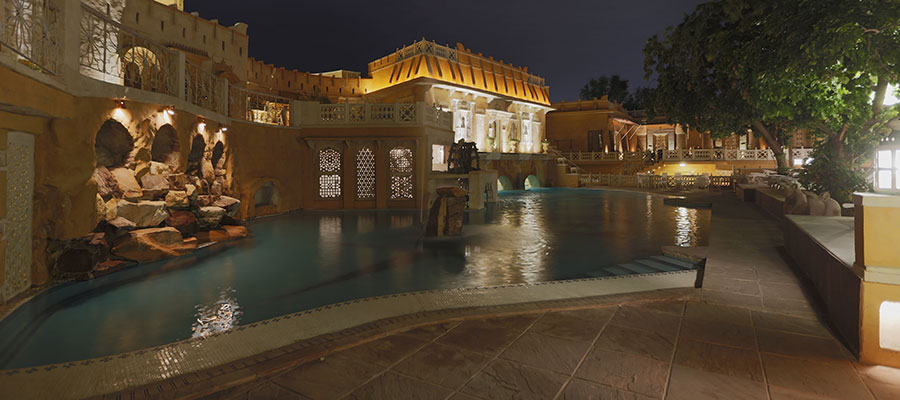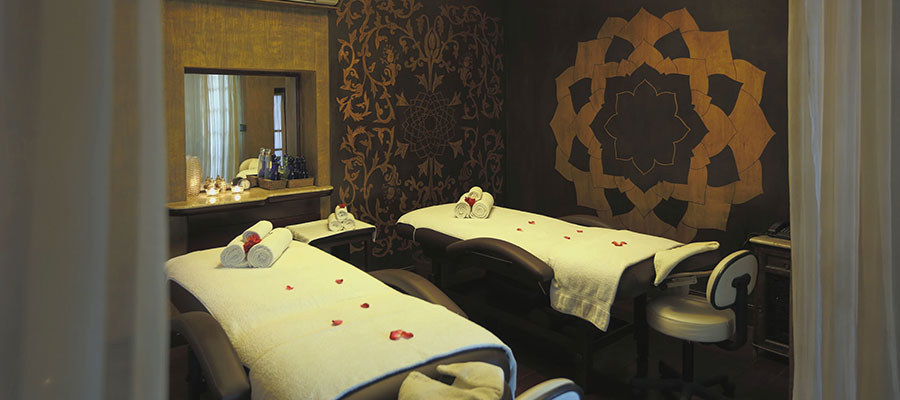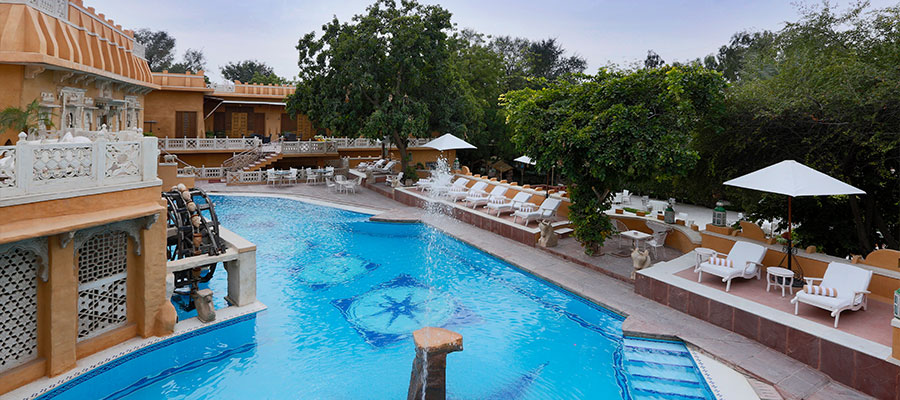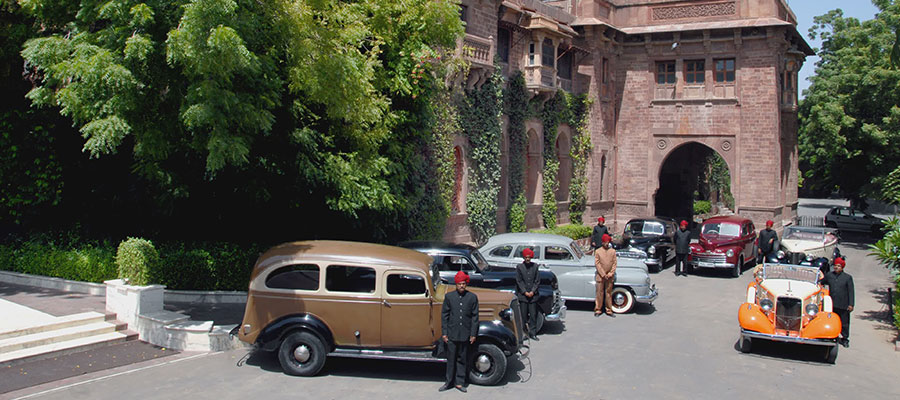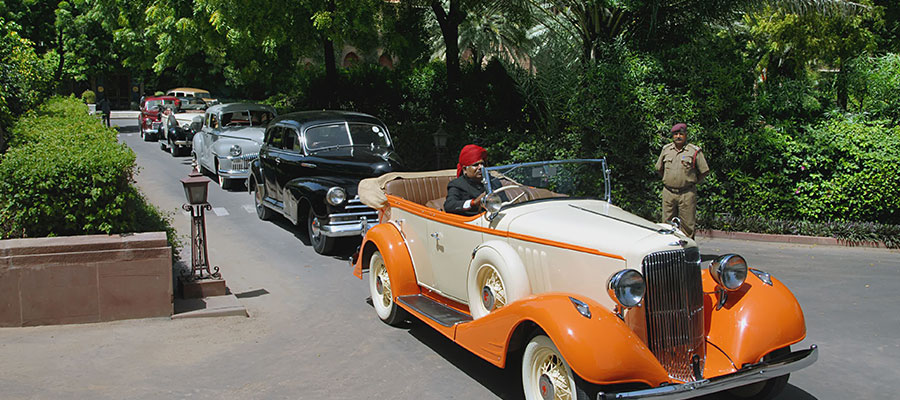 An impressive blend of luxuries and heritage, Ajit Bhawan stands as an epitome of self- indulgent and upscale hospitality in Jodhpur. Built in 1927, it was later opened as the Pioneer Heritage Hotel of India. It covers 20,500 sq. meters and elegantly shares the legacy of Royal Rajputana and its imperial lifestyle with those who fancy Rajasthan as a perfect base to taste supreme luxuries of the gorgeous era. Ajit Bhawan is situated in the heart of the blue city and is located in close vicinity of Umaid Bhawan, historical Monuments, major Shopping destinations and Airport.
Accommodation
Each room at Ajit Bhawan is elegantly furnished, with luxurious bed, royal furnishing and Maharaja's own collection of artifacts for indulgent and romantic ambiances.
Executive Room: The executive room opens to unspoiled view of lush gardens. The regal and tranquil bedroom is amply outfitted to comfort the sleep time.
Luxury tent: Luxury Tents at Ajit Bhawan will take you to era of British rule and make you feel like Royal Raput who travelled the desert. Living in these tents gives a truly unique experience to the guests.
Luxury Room: The luxury rooms give the feel of tiny hamlet furnished with beautiful blend of modern amenities and the delightful essence of traditional Rajasthani architecture. Keeping alive the rustic charm, each luxury room is a retreat for the guests.
Luxury Suite: The Luxury suites at Ajit Bhawan offer a blend of posh lifestyle with pastoral royal culture of Rajasthan. With spacious bedroom and a living room overlooking the becalming green pasture, each Luxury Suite is a retreat of regal Rajputana heritage.
Royal Suite: The Royal Suites are laid out in small clusters that offer privacy for families and couples. The personalized touch of class by internationally acclaimed designer Raghuvendra Rathore makes the theme based suites a gratifying royal experience in itself.
Presidential Suite: The Presidential Suite's, interior is graced with high curved arches, presenting a luxurious combination of Anglo-Indian splendor.
Dining
J Bar: The venue offers alcoholic and non-alcoholic beverages of international standards accompanied by succulent bites and munchies.
Jodhpur Cafe: A multi-cuisine restaurant with regal ambiance aesthetically treats your taste buds and succulent flavours from the royal kitchen of Maharaja. Impeccable service and delectable cuisines leave a memorable gastronomic impact for long.
Garden Restaurant: It is an open air restaurant where multi-cuisine and barbeque dinner is served in a lively ambiance. Enjoy your dinner under the clear sky with live dance and music performances.
Dhani Restaurant: It is an authentic Rajasthani Thali Restaurant that traditionally serves local cuisine in rustic Rajasthani ambiance settings.
Experiences
Royal Dining : Experience the Cocktails followed by dinner at Maharaja's Palace in their Private Dining Room
Desert Safari : Enjoy the camel ride crossing the dunes followed by bird watching, sunset views and dinner under the starry sky in dunes at Osian, also famous for Hindu and Jain temples.
Vintage Cars: Take an exhilarating drive through the enchanting city of Jodhpur in a classic vintage car accompanied by your royal butler.
Village Safari: Bishnoi village safari will give you an opportunity to meet native people and learn the skills of native artists. The scenic beauty of the village marked with khejri trees, natural lake and deer will make your village safari even more adventurous and exciting.
Spa: The Spa provides exquisite treatments coupled with exotic massages amid soothing ambiance for complete rejuvenation. The spa offers authentic Indian massages and body healing to leave you with a retreating impression of ancient Indian royalty.