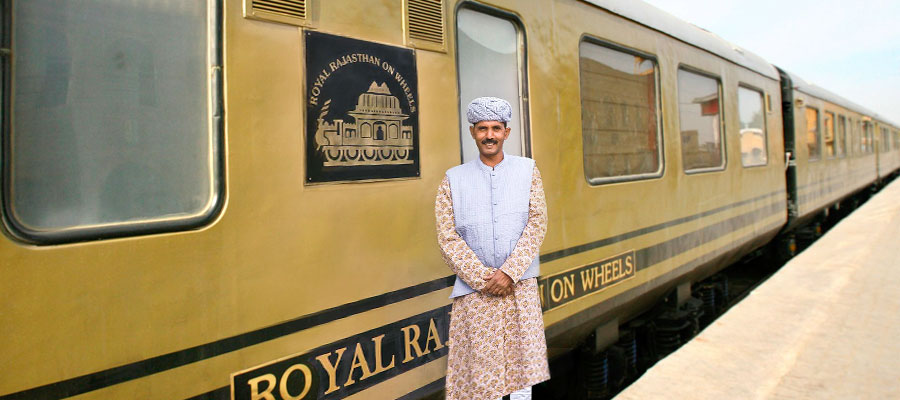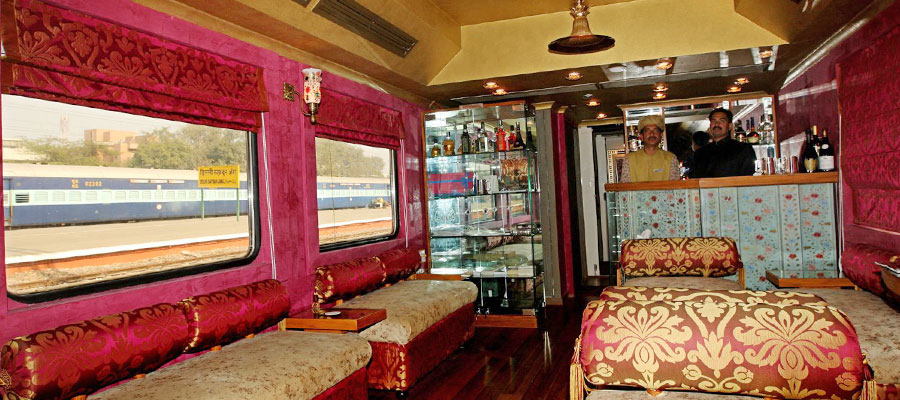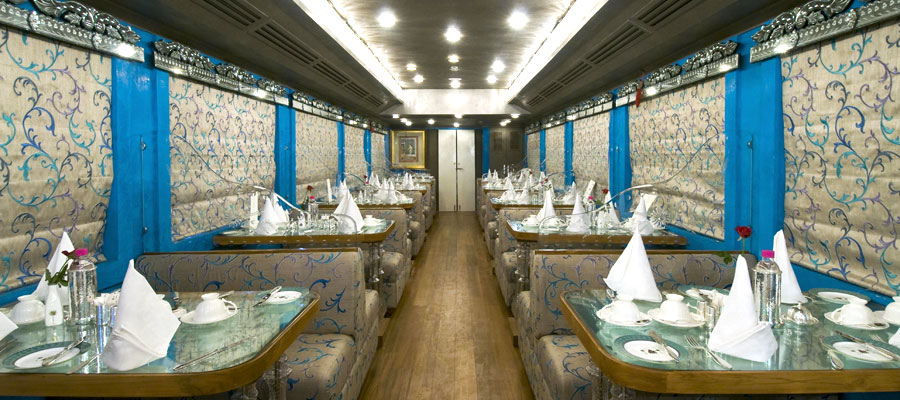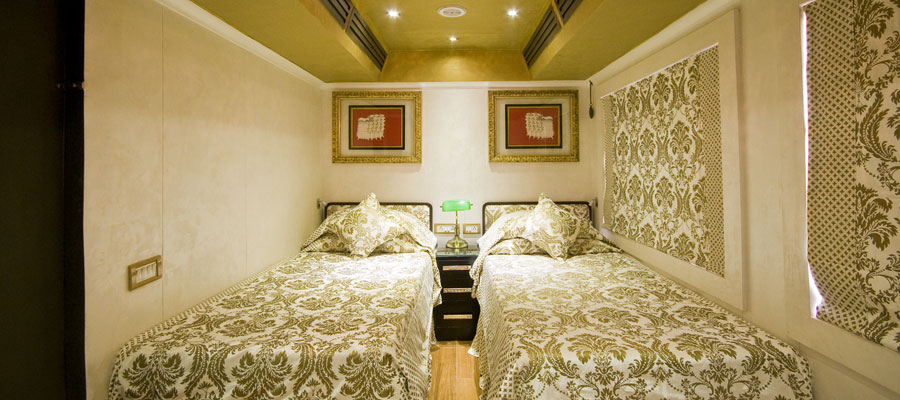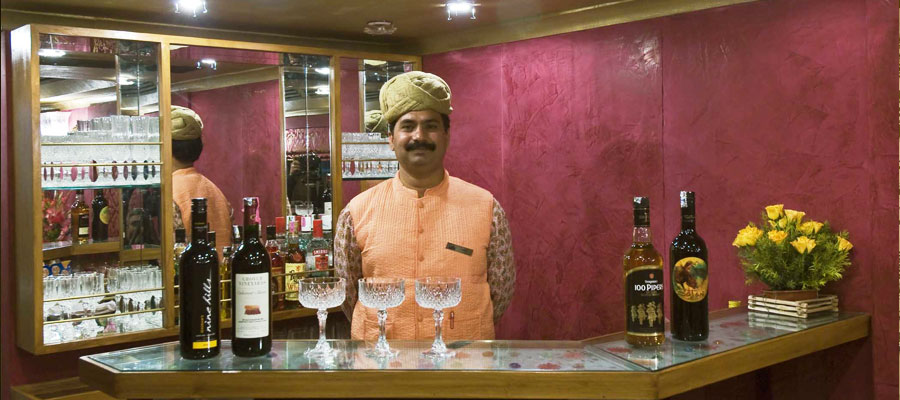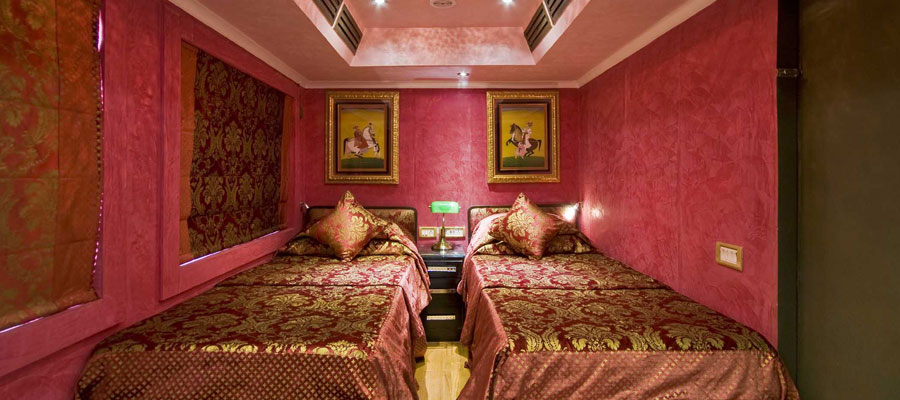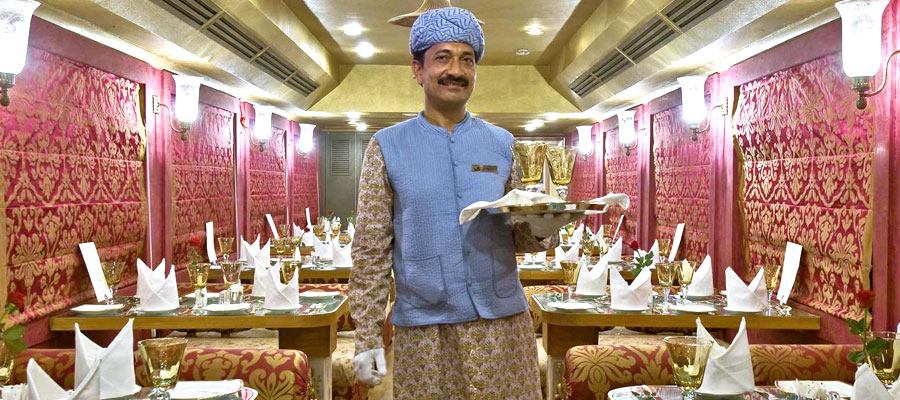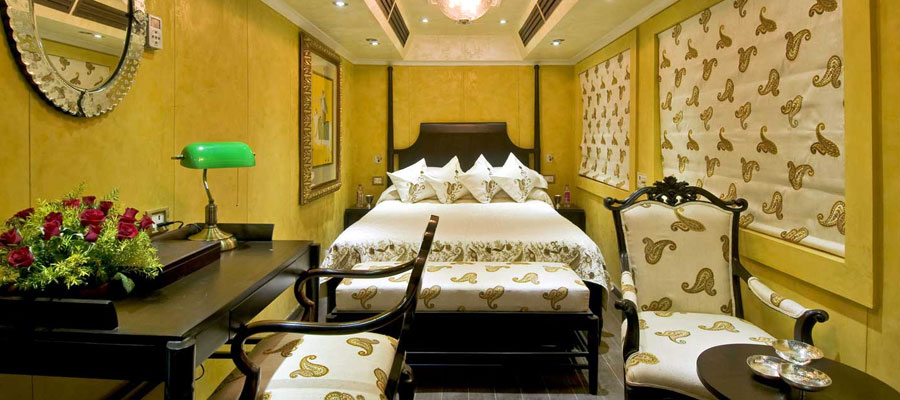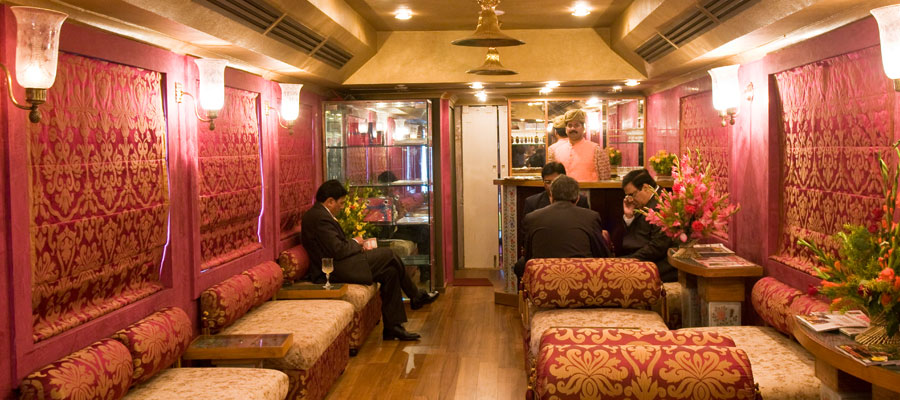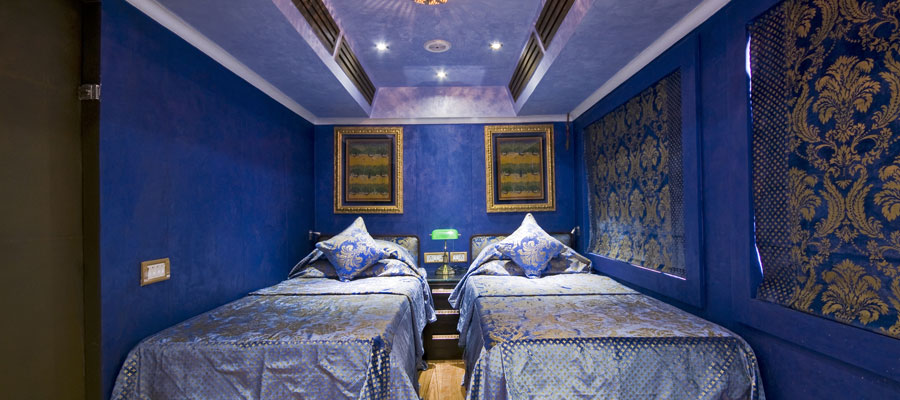 Tour Duration: 7 Nights/8 Days
Tour Route: New Delhi – Jodhpur – Udaipur – Chittaurgarh – Sawai Madhopur – Jaipur – Khajuraho – Varanasi – Agra – New Delhi
---
Day 01 - SUNDAY
New Delhi - Delhi is the capital city of modern, a city known for its rich valorous and exotic history. The tour starts in the evening with a ceremonial welcome aboard the Royal Rajasthan on Wheels at Safdarjung New Delhi. You will be treated like Maharaja & Maharani on welcome by garlanding, tikka and turban ceremony with a welcome glass of wine. You will be introduced to your fellow travellers. Feel free to explore your new palace, and acquaint yourself with its various facilities. Relax with a drink at the bar. Dinner will be served on board.
---
Day 02 - MONDAY
Jodhpur – This morning the Royal Rajasthan on Wheels arrives Jodhpur, a city ringed by a high stone wall with seven gates and several bastions. This second largest city of Rajasthan, founded by Rao Jodha in 1459 A.D. is known for its rock-solid Mehrangarh Fort. The grand palaces within - Moti Mahal, Sheesh Mahal, Phool Mahal, Sileh Khana and Daulat Khana are impressive examples of architectural excellence. Near the fort complex stands the Jaswant Thada, and a group of royal cenotaphs made of white marble. While in Jodhpur shop for the exquisite handcrafted articles including the famous breeches, embroidered shoes, metal curios, silverware, paintings and tie and dye fabrics.
---
Day 03 - TUESDAY
Udaipur – This morning, arrive Udaipur, the land founded by Maharana Udai Singh of Mewar, after the Sisodia dynasty was driven away from Chittorgarh by the Mughal's, in 1559 A.D. Spend the day in Udaipur, popular as the lake city of Rajasthan. Perhaps the two most beautiful sites of Udaipur are the dream-like marble Palaces - the Jag Niwas (Lake Palace) and the Jag Mandir, which appear to rise from the blue waters of Lake Pichola.
Enjoy an exhilarating visit to the famous City Palace. Later, visit the crystal gallery, displaying a magnificent collection of crystal glass furniture, crockery, chandeliers belonging to the erstwhile rulers.
Chittaurgarh - Later this afternoon, arrive Chittaurgarh, where you visit the massive Chittaurgarh fort. Images of love and velour; scars of battles lost and won; thrice-besieged Chittaurgarh Fort is all this and more.
---
Day 04 - WEDNESDAY
Sawai Madhopur – can almost sense a life of the wilderness, as the Royal Rajasthan on Wheels arrives in Sawai Madhopur, a city named after its founder Maharaja Sawai Madho Singh I. Enjoy a morning wildlife safari into the Ranthambore National Park, spread around the ruins of a 10th century fort. This wildlife sanctuary is considered to be one of India's best for observing and photographing tigers in the wild. The park, covering an area of 392 sq. kms is home to more than 300 species of birds. The tiger, hyena, deer, jackal and fox are among popular wildlife found here. Upon return to the Royal Rajasthan on Wheels, you leave for Jaipur, enroute getting an opportunity to watch the colourful countryside passing by.
Jaipur - One of the most well planned cities of India, Jaipur is the capital city of Rajasthan, popularly known as the Pink City, was founded by Maharaja Sawai Jai Singh II, in 1727 A.D. To explore the city, an air-conditioned coach takes you to Hawa Mahal or the Palace of Winds, which is a remarkable five storied building in pink splendor with semi-octagonal and delicate honey-combed sandstone windows, along the main street of the old city. This is followed by a visit to the City Palace, home of the erstwhile royal family. Right across the road from the City Palace is the Jantar Mantar, the largest observatory built by Sawai Jai Singh II.
Enjoy an elephant ride to ascend up the famous Amber fort, a fine example of splendid fusion of Rajput and Mughal style of architecture. You also get an opportunity to shop for Jaipur's famous gems and jewellery, handicrafts, carpets, blue pottery and block printed textiles.
Return back to the Royal Rajasthan on Wheels for your further journey.
---
Day 05 - THURSDAY
Khajuraho - The 9th to 12th century temples of Khajuraho are an evidence of the architectural geniuses during the Chandela dynasty. Situated in Madhya Pradesh, Khajuraho oozes with passion, eroticism, dance and music and other finesses of creative arts depicted in sculpture and images on the temples. Spend the day exploring the wonderful ruins of ancient temples of Khajuraho.
---
Day 06 - FRIDAY
Varanasi – Varanasi is the oldest city of the world, more than 3000 years old and is famous as the city of temples. In Varanasi, there are temples at every few paces. Jyotirlinga Visvantha Temple or Golden Temple, rebuilt in 1776 is dedicated to Lord Shiva. The Jnana Vapi well (meaning 'well of wisdom) is believed to have been dug by Lord Shiva himself. The Ganga Ghats (river front) are the most popular pilgrimage spot of Varanasi and are centers of music and learning. The holy city has been a symbol of spiritualism, philosophy and mysticism for thousands of years and has produced great saints and personalities like Guatama Buddha, Mahavira, Kabir, Tulsi Das, Shankaracharaya, Ramanuja and Patanjali. The city of Varanasi is also famous for its rich silks. Sightseeing include visit to Ghats for Maha Aarti, temples & Buddhist Temples at Sarnath.
---
Day 07 - SATURDAY
Agra – Today, visit Fatehpur Sikri - the red sandstone Mughal palatial complex. Within the enclosure is a mosque built by the Mughal Emperor Akbar and dedicated to the Sheikh Salim Chisti, a Muslim Sufi Saint who blessed Emperor Akbar with a son. Also, enjoy a visit to the Taj Mahal, one of the seven wonders of the world and a pristine monument of eternal love. Taj Mahal was built by Emperor Shah Jahan in memory of his beloved queen Mumtaz Mahal.
Agra is known for its splendid marble inlay work like the Pietra Dura work on the Taj, leather goods and jewelry. This evening, you have some time to shop around in Agra, before enjoing a Light & Sound show on the History of Taj in a covered audition. Later proceed for dinner at a 5* hotel. After dinner, board the Royal Rajasthan on Wheels for your return journey to New Delhi.
---
Day 08 - SUNDAY
New Delhi – Arrive New Delhi this morning and bid farewell to the Royal Rajasthan on Wheels after breakfast on board.