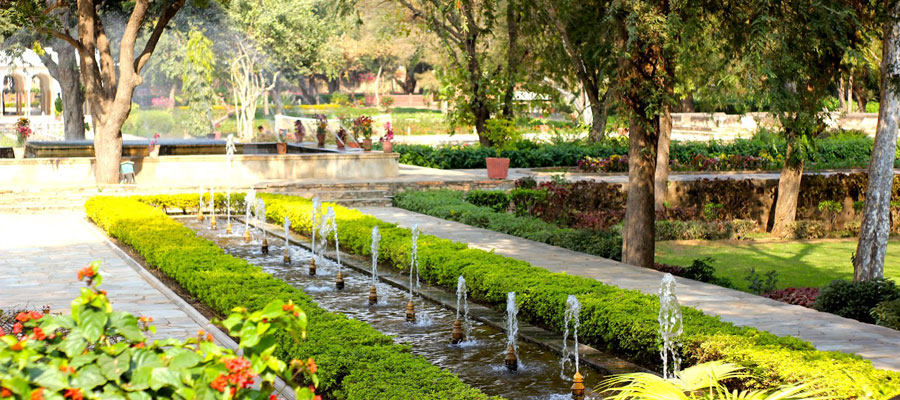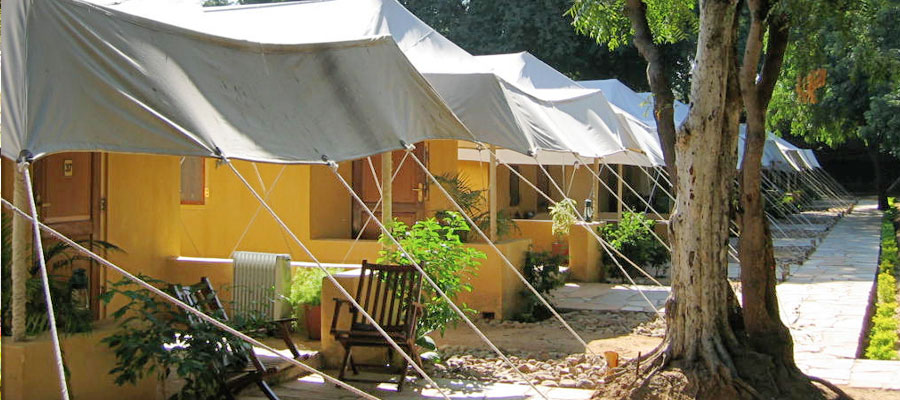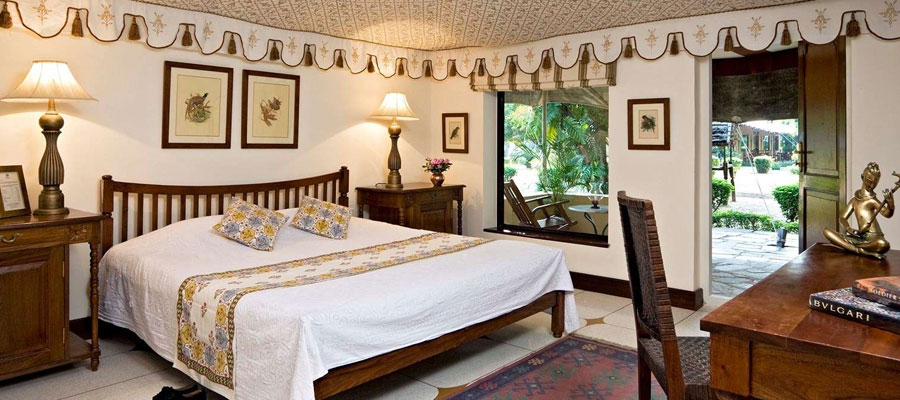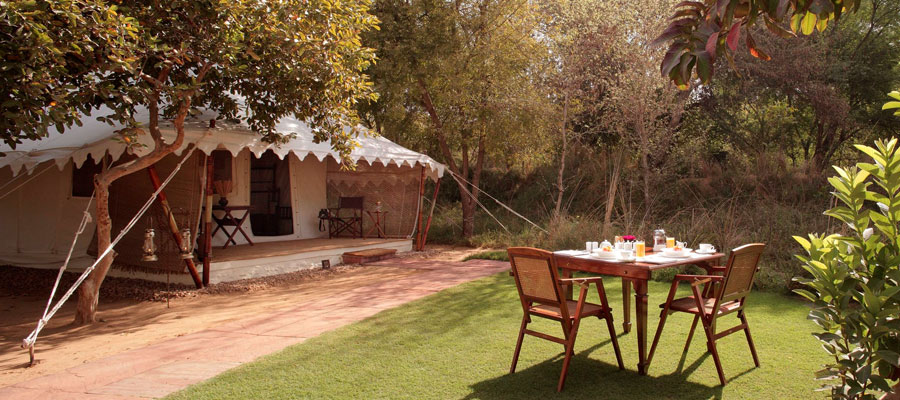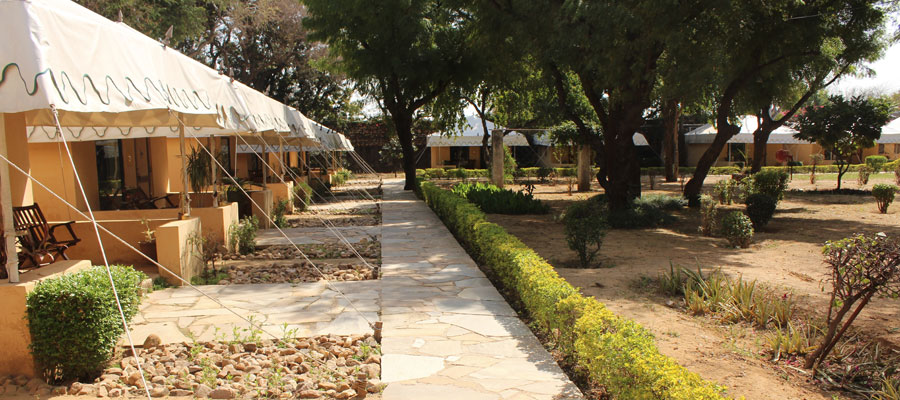 Built 250 years ago by Rawal Sheo Singh ji, son of the illustrious Pritviraj Singh Ji of Amber, the Samode Bagh was known as Sheo Niwas Bagh. Modeled on the geometric style of a Mughal garden, members of the Samode Royal family came here to enjoy rare moments of privacy.
Accommodation
Deceptively simple-looking at first glance, the 44 dune-coloured tented tops are spacious, inviting and attractively furnished.
Air-conditioned comfort and all contemporary conveniences in the rooms and en-suite marble bathrooms would have you forget this was a tent, until you glance up at the muslin ceiling printed with floral motifs in gold that reach up to a tented peak. Each room has a sit-out where you can relax, read, engage with the quiet and with nature or watch the warm buzz of the main pavilion.
Dining
The main dining pavilion is a warm hub that serves royal Rajasthani and international cuisine. You can sit and eat on your own though usually it's a great place to meet up with fellow travelers and swap stories over an excellent meal. If you prefer a quiet intimate dining experience, the poolside offers the perfect spot.
Of course, given the environs of the Bagh, dining al fresco is perhaps the most pleasurable experience and many occasions and celebrations are organized under the trees and the sky and the stars. Rajasthani food, music, song and dance are perfect accompaniments to the natural grandeur that overtakes your senses.
Weddings and Celebrations
Samode Bagh hosts many wonderful weddings and blesses many lucky couples and their families who find the place ideal for marriages and the celebrations that follow.
Impressive, almost spiritual in its natural beauty, Samode Bagh arranges traditional Indian weddings and the vows take place in the garden grounds under the elements. The Bagh is decorated by nature's bounty, but we do embellish it with colourful wedding finery to make the occasion quite unforgettable. The entire retreat is often booked for the wedding and the event is private, personalized and simply lavish in its setting and service.
Incentives & Meeting- The Bagh has hosted successes of companies and teams, their meetings and incentives. What better way to motivate teams than by gifting them a luxurious idyll far removed from the bustle of their busy lives and work? Incentives work successfully at Samode Bagh with ideal spaces to meet, talk and play.
Celebration themes can be mirrored at incentives and meetings or can be created just for the occasion. The intimate nature of the Bagh and the relaxed and luxurious facilities allow for both individual incentives as well as groups who find the experience rewarding.